Mmmmmmmmmmm yum! And did I also mention mmmmm? Because this Cookies & Cream Frozen Yogurt recipe is to die for! It's so delicious, creamy, with just a hint of that awesome froyo tartness that I love.
This recipe didn't exist anywhere online which I thought was just crazy! So I had to make this up myself and adapt it from cookies and cream ice cream and this froyo recipe that I made up myself here.
It's a lot healthier than ice cream and is super easy to make. It does have a couple of quirks so reading these directions is super important. Usually I would say skip to the end and just print out the recipe but this Cookies and Cream Frozen Yogurt Recipe actually has a few quirks.
First of all, make sure your cream cheese is warmed to room temperature before you add it to the yogurt. You absolutely must blend your cream cheese thoroughly into your yogurt before you add it to the ice cream maker. I used a Kitchen-Aid mixer for about 5 minutes to blend my ingredients.
If you don't blend your cream cheese thoroughly, you will end up with chunks of cream cheese inside the frozen yogurt which is even more unappealing than it sounds!
This was the most problematic part in following other's directions because no one mentioned to warm the cream cheese and then blend it thoroughly.
It's also important to add less sugar than you would for a normal frozen yogurt recipe. Because you are adding oreo cookies which are pretty sweet, the overall recipe requires less sugar!
It's not necessary but if you blend your sugar in early, the flavor will be more consistent because the sugar breaks down faster.
The last important thing that you need to know about this recipe is that if you want chunky bits of cookie, be sure to mix in the cookies right before you are done blending all your ingredients together.
If you want a smooth even cookie texture, you can mix your oreo cookies when you add the yogurt & cream cheese mixture.
I chose chunky cookie bits because I love a bit of crunch! Now scroll down to get the full printable recipe and enjoy your delicious Cookies & Cream Frozen Yogurt!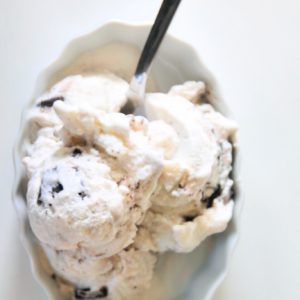 Cookies & Cream Frozen Yogurt Recipe
This Cookies & Cream Frozen Yogurt Recipe is a healthier lighter way to get your cookie fix!  It has just a hint of tartness that you need out of frozen yogurt.  Enjoy!
Ingredients
2

cups

Plain Full Fat Yogurt

4

oz.

Cream Cheese

1/3

cup

White Sugar

1

heaped tablespoon Vanilla Bean Paste

12

Oreo Cookies
Instructions
Allow your cream cheese to warm to room temperature.

Mix together your yogurt, vanilla bean paste, and sugar.

Once your cream cheese is at room temperature, blend it together with the yogurt mixture using a Kitchen-Aid or electric mixer.  Mix until thoroughly blended - several minutes.  Scrap the sides of the bowl several times.

Add your ingredients to an ice cream maker and churn for 30 minutes.

No ice cream maker?  No problem!  Just add you mixture to a large plastic tupperware and place in the freezer.  Remove from the freezer every 45 minutes and mix thoroughly until frozen (approximately 2-3  hours).

Break your Oreo cookies until large chunks and add them to the nearly frozen mixture.

Serve immediately.
Let's Stay Friends!
Insta | Pinterest | Enews | TikTok