Enter to Win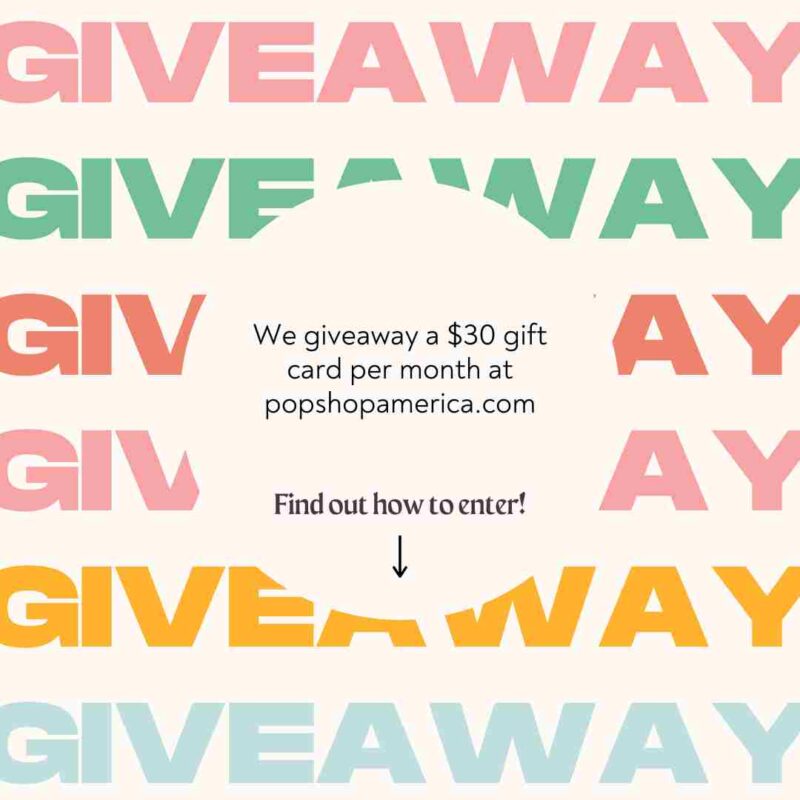 We give away a $30 gift card every month on the 1st of the month! We give this away to a lucky person that shares our kits, recipes or crafts on social and tags us properly. Gift cards are sent as a unique coupon code and expire at the end of the 2nd year in which the card is issued. For example if the card is issued 9/1/2021, the gift card would expire 12/31/2022.
You do not have to make a purchase to enter to win.
Simply make a video or series of photos (carousel or multiple posts) that you share publicly to: Facebook, Instagram, or Tiktok.
For Tiktok, tag us in the description as well as under "tag people" in post settings.
For Instagram, posts must be in feed posts. Tag us on the image.
For Facebook, tag us in the written description of the post.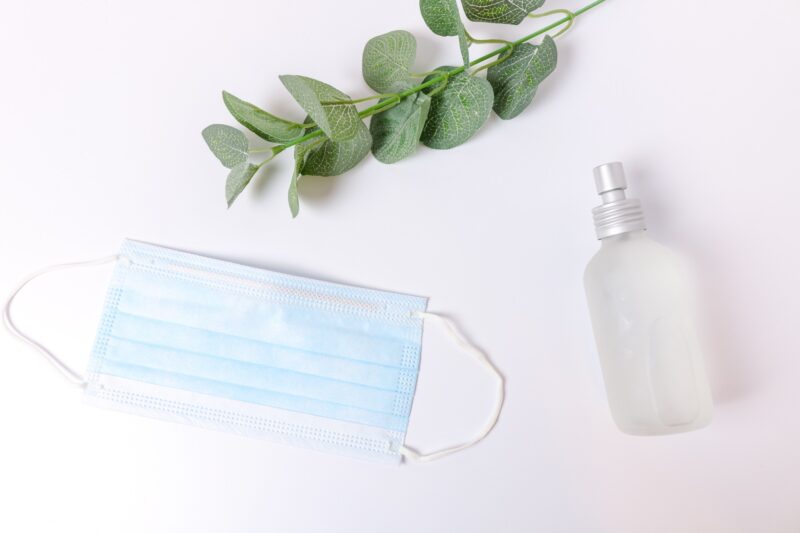 Special Statement on Covid-19
Your health and safety is imperative to us. On March 9th 2020, Pop Shop America took added measure to protect our staff, customers, and ourselves.
We are happy to say that we are shipping your craft kits daily and weekly.
We ship craft kits at our private office in Houston, TX.
Upon entering the office, all surfaces are cleaned and we wash our hands thoroughly. We do this again upon exiting.
We are no longer adhering to social distancing but we have kept a minimal staff for safety. 3 staff members currently work to pack your orders.
If you have any concern about your package through the delivery process as it is brought to your door, please do the following:
1. Clean the exterior of your package thoroughly before handling.
2. Wait 2 days upon receipt to handle your box.
3. Immediately unpack the box completely, throw the box away and then wash your hands thoroughly.
This may seem extreme to some, but please do remember that many of our customers and friends are seniors, immune compromised, or just prefer to do what they can to protect themselves. For any reason, we support you and are here for you.
Please contact us if you have any questions or concerns.
Terms and Conditions
Policies are one of the many necessary and tedious details related to a business. So please read on and contact us if you have questions.
TERMS AND CONDITIONS
This website, located at popshopamerica.com or any of our affiliated sites including mobile and/or Internet applications or "apps" (collectively, the "Site"), is provided by Pop Shop Houston, LLC ( Pop Shop America, "we," "our," or "us") to the person accessing this Site ("you," "your").
1. You Agree to These Terms by Using This Site
Your access to, and use of, this Site is subject to the following Terms and Conditions and all applicable laws and regulations. By accessing and using the Site, you accept, without limitation or qualification, these Terms and Conditions. Pop Shop America may, at any time and without notice, modify these Terms and Conditions by revising them on the Site. Your continued use of the Site constitutes your acceptance of any such revisions. You should therefore periodically visit this page to review the current Terms and Conditions. You cannot modify these Terms and Conditions. These Terms and Conditions can only be modified in a writing signed by Pop Shop America. If you do not agree and accept, without limitation or qualification, these Terms and Conditions, you must stop your use and exit the site immediately.
2. Permitted Use of the Site; Termination
The information and materials on this Site are provided for general informational purposes. You may use this site solely for the purpose of learning about and/or purchasing Pop Shop America or its services and products. You may not use, reproduce, or distribute the text, graphics, downloads, tools, or any other content on this Site for any other purpose. This site is not directed at children and you may not use this site if you are under the age of thirteen.
You agree that Pop Shop America may, without cause or prior notice, and without liability to you or any third party, immediately terminate your Pop Shop America membership, any promotion or virtual currency associated with your membership and/or email address, access to your membership page, access/participation in any special marketing groups, access to our blog, access to or participation in any promotions or contests, or access to any of our social networking pages, in accordance with the these Terms and Conditions. Any suspected fraudulent, abusive, or illegal activity that may be grounds for termination of your membership may be referred to appropriate law enforcement authorities. These remedies are in addition to any other remedies Pop Shop America may have at law or in equity.
Cause for such termination shall include, but not be limited to, (a) breaches or violations of the Terms and Conditions or other incorporated agreements or guidelines, (b) requests by law enforcement or other government agencies, (c) a request by you (self-initiated membership deletions), (d) discontinuance or material modification to the Site (or any part thereof), (e) technical or security issues or problems, (f) inactivity, (g) engagement by you in fraudulent or illegal activities, (h) nonpayment of any fees owed by you in connection with the Site, and/or (i) no cause at all.
Termination of your Pop Shop America membership includes (a) removal of access to all offerings and features on the Site, (b) deletion of your password and all related information, files, and content associated with or inside your membership page (or any part thereof), and (c) barring of further use of your membership. Further, you agree that all terminations for cause shall be made in Pop Shop America sole discretion and that Pop Shop America shall not be liable to you or any third party for any termination of your membership, any associated email address, or access to your membership.
You may terminate your membership, this Agreement, and your right to use your membership at any time and for any reason or no reason, by contacting us at: [email protected]
3. User-Submitted Content
The Site may, from time to time, offer interactive features that allow users to submit content to the Site. Pop Shop America does not and cannot review all such content, and is not responsible for such content.
You acknowledge that by providing the ability to view and distribute user-generated content on the Site, Pop Shop America is merely acting as a passive conduit for such distribution and is not undertaking any obligation or liability related thereto. By submitting any user-generated content, you represent and warrant that: (a) you are the sole creator and/or author of any such content including any intellectual property rights therein, or before posting, you obtained from the copyright owner the right to use and authorize Pop Shop America to use; (b) you hereby waive any moral rights you may have in such user-generated content; (c) and all such content is true and accurate; and (d) you are the person appearing in any photograph or content uploaded. In any event, Pop Shop America reserves the right to block or remove communications or materials that it determines to be unacceptable to Pop Shop America in its sole discretion.
By submitting any user-generated content, you hereby grant Pop Shop America (1) a perpetual, irrevocable, royalty-free, transferable right and license to use, copy, modify, delete in its entirety, adapt, publish, translate, create derivative works from, and/or sell and/or distribute such content and/or incorporate such content into any form, medium, or technology throughout the world without compensation to you; and (2) the rights to publicity to use your name and/or likeness. If you are between the ages of 13 and 17 (i.e., not yet 18), you represent and warrant that you have your parents' permission to make such grants. All content that you submit may be used at Pop Shop America's sole discretion without any obligation of confidentiality.
Harassment in any manner or form on the Site, including via email, chat, or by use of obscene or abusive language, is strictly forbidden. Impersonation of others, including a Pop Shop America employee, host, or representative, as well as other members or visitors on the Site is prohibited. You may not upload to, distribute, or otherwise publish through the Site any content which is false, misleading, inaccurate, libelous, defamatory, obscene, threatening, invasive of privacy or publicity rights, abusive, illegal, or otherwise objectionable in a manner in which may constitute or encourage a criminal offense, violate the rights (including intellectual property rights or rights of publicity or privacy) of any party, or which may otherwise give rise to liability or violate any law.
4. Interaction with other Users
You alone are responsible for your involvement with other users. If you have a dispute with one or more users, you irrevocably and forever release Pop Shop America (and Pop Shop America's officers, directors, agents, subsidiaries, joint ventures, and employees) from claims, demands, and damages (actual and consequential) of every kind and nature, known and unknown, arising out of or in any way connected with such disputes. IF YOU ARE A CALIFORNIA RESIDENT, YOU WAIVE CALIFORNIA CIVIL CODE SECTION 1542, WHICH SAYS, A GENERAL RELEASE DOES NOT EXTEND TO CLAIMS WHICH THE CREDITOR DOES NOT KNOW OR SUSPECT TO EXIST IN HIS FAVOR AT THE TIME OF EXECUTING THE RELEASE, WHICH IF KNOWN BY HIM MUST HAVE MATERIALLY AFFECTED HIS SETTLEMENT WITH THE DEBTOR.
5. Notice; Electronic Communications
When you visit this Site, send emails to Pop Shop America, or when we post notices on our site or services or communicate with you via email, you are communicating with us electronically. This section informs you of your rights when receiving electronic communications from us. By accessing and using the Site, you consent to receive communications from us electronically. You agree that all notices, disclosures, agreements, and other communications that we provide to you electronically satisfy any legal requirement that such communications be in writing. Your consent to receive communications and do business electronically, and our agreement to do so, applies to all of your interactions and transactions with Pop Shop Houston LLC.
We may also use your email address to send you other messages, such as changes to features of our service, newsletters, and additional email messages about our products, services, contests, and promotions that we feel may be of interest to you. If you no longer wish to receive these types of promotional communications from us, you may select the unsubscribe link which is present in each email. You may also customize your communication preferences by accessing the email preference center in your Pop Shop America membership page and adjusting your settings accordingly. Opting out may prevent you from receiving email messages regarding special offers, improvements, or other updates.
Please keep us informed of any changes in your email address so you may continue to receive our communications without interruption.
6. Privacy
Pop Shop America's Privacy Policy is incorporated and made part of these Terms and Conditions. You hereby agree to such Privacy Policy. Any personal data (for example, your name, address, telephone number or email address) you transmit to the Site by electronic mail or otherwise will be used by Pop Shop America in accordance with the Privacy Policy. Any other communication or material you transmit to the Site, such as questions, comments, suggestions, or the like, will be treated as non-confidential and non-proprietary. We encourage you to read our Privacy Policy for more details.
7. Practices; Typographical Errors; Colors
You acknowledge that Pop Shop America may establish general practices and limits concerning use of any content, including without limitation the maximum number of days that email messages, message board postings, or other uploaded content will be retained, the maximum number of email messages that may be sent from or received by a membership account, the maximum size of any email message that may be sent from or received by a membership account, the maximum disk space that will be allotted on Pop Shop America servers on your behalf, and the maximum number of times (and the maximum duration for which) you may access your membership in a given period of time. You agree that Pop Shop America has no responsibility or liability for the deletion or failure to store any messages and other communications or other content maintained or transmitted. You acknowledge that Pop Shop America reserves the right to log off, delete, or disable memberships that are inactive for an extended period of time. You further acknowledge that Pop Shop America reserves the right to modify these general practices and limits from time to time.
In the event that a product is mistakenly listed at an incorrect price or with incorrect specifications, Pop Shop America reserves the right to refuse or cancel any orders placed for product listed incorrectly, whether or not the order has been confirmed and your credit card charged. If your credit card has been charged for the purchase and your order is cancelled, Pop Shop America shall issue a credit to your credit card account in the amount of the incorrect price charged. In no event shall Pop Shop America be obligated to provide you the merchandise at the incorrect price.
The colors shown on the Site may be influenced by the settings of your computer or your monitor. Accordingly, Pop Shop America makes no guarantees that any actual colors of products or features will be true or accurate.
8. Disclaimer – Warranty
THIS SITE, ITS CONTENT, AND THE MATERIALS AND PRODUCTS ON THIS SITE ARE PROVIDED "AS IS." TO THE FULLEST EXTENT PERMISSIBLE PURSUANT TO APPLICABLE LAW, POP SHOP AMERICA HEREBY DISCLAIMS ALL WARRANTIES, EXPRESS OR IMPLIED, INCLUDING, BUT NOT LIMITED TO, IMPLIED WARRANTIES OF MERCHANTABILITY AND FITNESS FOR A PARTICULAR PURPOSE AND NON-INFRINGEMENT.
Pop Shop America does not represent or warrant that the functions contained in the Site will be uninterrupted or error-free, that the defects will be corrected, or that this Site or the server that makes the Site available are free of viruses or other harmful components. Pop Shop America does not make any warranties or representations regarding the use of the materials in this Site in terms of their correctness, accuracy, adequacy, usefulness, timeliness, reliability, or otherwise. Some states do not permit limitations or exclusions on warranties, so the above limitations may not apply to you.
9. Indemnification
You agree to indemnify, defend, and hold harmless Pop Shop America, its officers, directors, employees, agents, licensors, and suppliers from and against all losses, expenses, damages, and costs, including reasonable attorneys' fees, resulting from any violation of these Terms and Conditions or any activity related to your membership (including negligent or wrongful conduct) by you or any other person accessing the Site using your Internet account. You are responsible for protecting and not disclosing your user name and password to others.
10. Limitations of Liability
YOUR USE OF THE SITE IS AT YOUR OWN RISK. NEITHER POP SHOP AMERICA, NOR ANY OF ITS SUBSIDIARIES, AFFILIATES, OFFICERS, OR DIRECTORS, NOR ANY OF ITS AGENTS OR ANY OTHER PARTY INVOLVED IN CREATING, PRODUCING, OR DELIVERING THE SITE OR ITS CONTENT, ARE LIABLE FOR ANY DIRECT, INDIRECT, PUNITIVE, INCIDENTAL, SPECIAL, CONSEQUENTIAL OR OTHER DAMAGES ARISING OUT OF OR IN ANY WAY CONNECTED WITH THE USE OF THIS SITE WHETHER BASED ON CONTRACT, TORT, STRICT LIABILITY OR OTHERWISE, EVEN IF ADVISED OF THE POSSIBILITY OF ANY SUCH DAMAGES. Some states do not permit limitations or exclusions on warranties, so the above limitations may not apply to you.
11. Third-Party Links
In an attempt to provide increased value to our visitors, Pop Shop America may link to sites operated by third parties. However, even if the third party is affiliated with Pop Shop America, Pop Shop America has no control over these linked sites, all of which may have separate privacy and data collection practices, independent of Pop Shop America. These linked sites are only for your convenience and therefore you access them at your own risk. Without limiting the foregoing, Pop Shop America specifically disclaims any responsibility if such sites: infringe any third party's intellectual property rights; are inaccurate, incomplete or misleading; are not merchantable or fit for a particular purpose; do not provide adequate security; contain viruses or other items of a destructive nature; or are libelous or defamatory.
Pop Shop America does not endorse the content, or any products or services available, on such sites. Nonetheless, Pop Shop America seeks to protect the integrity of its website and the links placed upon it and therefore requests any feedback on not only its own Site, but for sites it links to as well (including if a specific link does not work). Any feedback you provide shall be non confidential and non proprietary.
12. Intellectual Property
Unless otherwise noted, the design of the Site, the Site as a whole, and materials that are part of the Site (collectively, 'Contents') are copyrights, trademarks, trade dress, or other intellectual property owned, controlled, or licensed by Pop Shop Houston LLC or its affiliates. The Contents, including its trademarks such as Pop Shop Houston LLC and Pop Shop Houston LLC and design, the Logo and word phrasings, may not be used by you for any commercial purpose without Pop Shop Houston LLC's written consent.
Copyright 2002-12, Pop Shop Houston LLC, Inc. ALL RIGHTS RESERVED.
All software used on this Site is the property of Pop Shop Houston LLC or its software suppliers and protected by copyright laws and may not be used for any purpose by you. You agree not to change or delete any proprietary notices from materials printed or downloaded from the Site.
13. Copyright Complaints
If you believe that your copyright or other rights have been infringed, please provide the following information to our Designated Agent who can be reached by email at [email protected]:
(i) an electronic or physical signature of the person authorized to act on behalf of the owner of the copyright or other interest;
(ii) a description of the copyrighted work or other work that you claim has been infringed;
(iii) a description of where the material that you claim is infringing is located on the Pop Shop Houston LLC's website;
(iv) your address, telephone number, and email address;
(v) a written statement by you that you have a good faith belief that the disputed use is not authorized by the copyright owner, its agent, or the law;
(vi) a statement by you that the information in the notification is accurate, and under penalty of perjury, that you are the copyright owner or are authorized to act on the copyright owner's behalf.
14. Export Control
Software and other materials from this Site may be subject to United States Export Control. The United States Export Control laws prohibit the export of certain technical data and software to certain territories. No software from this Site may be downloaded or exported: into (or to a national or resident of) Cuba, Iraq, Libya, North Korea, Iran, Sudan, Syria, or any other country to which the United States has embargoed goods; or anyone on the United States Treasury Department's list of Specially Designated Nationals or the U.S. Commerce Department's Table of Deny Orders.
Pop Shop Houston LLC does not authorize the downloading or exportation of any software or technical data from this Site to any jurisdiction prohibited by the United States Export Control Laws.
15. Law and Jurisdiction
These Terms of Use and your use of the Site are governed by the laws of the Commonwealth of Delaware, USA, without regard to its choice of law provisions. The courts of general jurisdiction located within New Castle County, Delaware, USA, will have exclusive jurisdiction over any and all disputes arising out of, relating to, or concerning these Terms and Conditions and/or the Site or in which these Terms and Conditions and/or the Site are a material fact.
16. Assignment
Pop Shop Houston LLC may assign its rights and duties under these Terms and Conditions to any party at any time without notice to you.
17. Rewards
Rewards, referral credits, and other forms of virtual currency provided to you by Pop Shop Houston LLC or its partners for use on popshopamerica.com (collectively Rewards) are not transferable and may not be combined with Rewards belonging to others. At no time may you purchase, sell, or barter any Rewards. Rewards have no cash value. They are promotional in nature and are issued without any exchange of money or value from you. As such, Rewards do not constitute property and you do not have a vested property right or interest in the Rewards. Rewards will expire 24 months after the date of issuance, unless otherwise stated by Pop Shop Houston LLC. We reserve the right at any time in our discretion, and without prior notice, to discontinue the Rewards program or to add or change Rewards program rules, terms or conditions, including changing expiration periods or Rewards values for existing or future Rewards.
18. Gift Certificates
Gift certificates for Pop Shop America cannot be redeemed for other currency, are non-returnable, but never expire. Gift certificates are valid for any online shopping at popshopamerica.com, event passes, workshop passes, or any items by Pop Shop America at our events. Most other presenting artists at Pop Shop events accept gift certificates however any shop at a Pop Shop event has the right to accept or deny the certificate. The gift certificate can be used all at once or in pieces accept when it is used with separate artists at an event – in that case it must be used all at once.
To redeem the gift certificate online, add your unique code in the box labeled "Have a coupon" in your shopping cart. To use it in person, present it to the vendor in which you wish to make your purchase.
19. Events
We want all of participating businesses to have a easy set up and great experience in a safe and fun environment. Thus, everyone must uphold these rules.
All Pop Shop events are by application only. Events are juried by a small group of artists, event organizers, and participating makers. There are no refunds on application but we can accomodate with many perks and freebies in trade. Please read the rules before you apply. If an application has typos, or other errors don't worry, we will notify you to resubmit at no cost!
Vendor fees are due before set up and failure to pay vendor fees will result in losing vendor's space at said event. If a vendor cancels, for any reason, they must do so before 20 business days to receive a refund less a small transaction fee of 10% to cover our time, credit card fees, etc.
Vendors must contact Pop Shop Houston if they have to cancel. Vendors do not receive refunds outside of these specific terms and vendors may not break down their area early once they are at the event. Businesses who break down early or leave mid event will be fined the amount of their original fee payment. This is because when a business leaves early it not only damages the event but additionally damages all of the participating businesses. This fee will be waived for emergencies. Unfortunately, vendors that don't uphold these rules cannot come back.
Vendors can only share spaces with other approved vendors that have gone through the application process. Vendors can however, stock their section with any way they wish and with brands other than their own. Stocked product must be predominantly handmade and vintage items. Pop Shop does not allow xxx rated items.
Vendors make change and take all transactions themselves. They use their own tables, chairs, tablecloths, and pop up tents unless they are renting from Pop Shop Houston. Pop Shop is not responsible for any injury that occurs while a participating in an event or workshop. Vendors are required to have a sales tax permit and another other necessary permits (such as food permits) to operate their business. Vendors must uphold professional conduct with patrons and may be denied space at future events if professional and courteous conduct is not upheld. In some instances, lack of professionalism may result in being asked to leave the event early.
Pop Shop America can not be responsible for the financial success or failure of any participating business. Participating businesses must recognize that there are many factors that can lead to success and failure such as global and regional trends, professionalism and attitude, booth display, adequate signage, clear and easy to understand pricing, as one as each individual businesses dedication to promoting their own presence at the show.
There are also items that cannot be valued – like future clients that are met at the shows. New Enews subscribers, new social media follows, new press and public attention, and more.
All artists that sell at Pop Shop are given a click through link on the corresponding blog and maps. A participating artist may, at any time, asked to be removed from the list. Any artist that displays unprofessional behavior will have their link removed. This is because we cannot encourage shoppers to support unprofessional businesses. All artists receive 10% off goods (other than vendor fees) from Pop Shop America.
Gossip is destructive and can hurt people. Exhibitors caught gossiping about other exhibitors or gossiping about events will be barred from participation in future events.
Outdoor events are cancelled for inclement weather. In the case of inclement weather, all vendors are reimbursed 80% of their exhibitor fee and are refunded by paypal or credit card. Exhibitors can also choose to take a full credit to a future event.
Vendors may bring drinks to Mini Pops but may not bring outside beverages to Pop Shop Houston Festival. This is a TABC requirement that must be upheld. Those caught bringing in outside beverages will be immediately removed.
Pop Shop America reserves the right to remove exhibitors at any time before, during, or after an event.
20. Traveling Workshops/Virtual Workshops
Workshops are only available in the Houston area and some surrounding areas or online via popshopamerica.com. Gas surcharge may apply for traveling to outlying areas. Background checks required for all workshops to be scheduled. Background checks are non-refundable but may be waived for groups hosting a private event any of Pop Shop America's locations or at a location, like a restaurant, that is open to the public. Workshops have an educational component, but should not replace continuing education credits or educational requirements for children. Pop Shop America is not responsible for injuries incurred during workshop participation. Adult supervision is required for minors participating in Pop Shop America workshops.
Workshop fees are due for reserving any date, time, and location. But 50% is refundable anytime until 6 business days before the workshop. After reservation, class activity can only be changed for an added fee due to the workshop materials that must be stocked, packed and prepped for each event. All workshops require 48 hours notice for rescheduling or cancellation. All workshops require 6 business days for a 50% refund.
Pop Shop America workshops are rescheduled or cancelled for inclement weather such as flooding, hurricanes or any major weather advisory. If a workshop is rescheduled or cancelled for inclement weather, attendees have the option of a refund, less their booking or background check fee, or to transfer their traveling workshop to a future date.
Pop Shop America reserves the remove guests at any time. If traveling to a purchaser's destination, Pop Shop America reserves the right to leave at any time.
If additional guests arrive or in certain circumstances a monetary balance may be due after the event. If this occurs, the event host will be notified immediately. Any balance is due upon receipt. If the remainder is not paid within 30 days any discounts will be voided. If the remainder is not paid within 90 days Pop Shop Houston reserves the right to take legal action or send the outstanding fees to collection. If a balance is due, no other workshops can be scheduled. If legal action is taken, the client will be banned from scheduling any future workshops.
21. Pop Shop America Monthly Craft Workshops
Monthly craft workshops take place at many different Pop Shop America locations or take place virtually. Attendees must be over 18 to participate. 12 and up are welcome with adult supervision. Workshops have an educational component, but should not replace continuing education credits or educational requirements for children. Pop Shop Houston is not responsible for injuries incurred during workshop participation. Adult supervision is required for minors participating in Pop Shop Houston workshops.
Your class fee is good for that class only and cannot be transferred without request with 48+ hours notice. With 48+ hours notice, class passes can be refunded, transferred to a future class, or can be used for shop items online. Without 48 hours notice, the class pass is non refundable.
Pop Shop America workshops are rescheduled or cancelled for inclement weather such as flooding, hurricanes or any major weather advisory. If a workshop is rescheduled or cancelled for inclement weather, attendees have the option of a refund or to transfer their class pass to a future event. Because workshops have different fees based on materials, a cost difference may occur.
Pop Shop America reserves the right to remove guests at any time.
22. Marketing
Pop Shop America, newly under digital.popshopamerica.com, performs marketing services for clients. Clients are never put under contract and can quit at anytime. Unfortunately, refunds are not given under any circumstances.
To protect your data, no private information (such as logins and passwords) is kept after partnerships have ended. Thus we cannot help, store, revise any previous work after the agreements end.
Any modifications must be sent by the client in writing before that log out date to insure that any and all modifications have been made and approved by the client.
We welcome those modifications as we are here for your benefit!
23. Questions and feedback
We welcome your questions, comments, and concerns about this Site. Please send us any and all feedback pertaining to this Site to hello at popshophouston.com
24. Our cookie policy
In compliance with the European Union legislation, we inform you that our website will store some information about your preferences on your own computer inside a tiny file called a 'cookie'.
A cookie is a small piece of data that a website asks your browser to store on your computer or mobile device. The cookie allows the website to "remember" your actions or preferences over time.
You can delete all cookies that are already on your computer and you can set most browsers to prevent them from being placed. If you do this, however, you may have to manually adjust some preferences every time you visit a site and some services and functionalities may not work.
Most browsers support cookies, but users can set their browsers to decline them and can delete them whenever they like. A third-party website called aboutcookies.org has been setup to help you with instructions how you can do that on various browsers.
We use cookies to:
1) Identify you as a returning user and to count your visits in our traffic statistics analysis;
2) remember your custom display preferences;
3) Suggest any recent searches youíve made on our site
4) Other usability features including tracking whether you've already given your consent to cookies
Enabling cookies from our website is not strictly necessary for the website to work but it will provide you with a better browsing experience.
The cookie-related information is not used to identify you personally and the pattern data is fully under our control. These cookies are not used for any purpose other than those described here.
There may also be other types of cookies created after you've visited our website. We use Google Analytics, a popular web analytics service provided by Google, Inc. Google Analytics uses cookies to help us to analyse how users use the site. The information generated by the cookie about your use of our website (including your IP address) will be transmitted to and stored by Google on servers in the United States. Google will use this information for the purpose of evaluating your use of our website, compiling reports on website activity and providing other services relating to website activity and internet usage. Google may also transfer this information to third parties where required to do so by law, or where such third parties process the information on Google's behalf. Google undertakes not to associate your IP address with any other data held by Google.
Third Party Advertising
We may have third-party advertising companies serving ads to you when you visit our website. These companies may store information about your visits to our website and to other websites in order to provide you with relevant advertisements about goods and services.
These companies may employ cookies and other identifiers to gather information which measures advertising effectiveness. The information is generally not personally identifiable unless, for example, you provide personally identifiable information to them through an ad or an e-mail message.
Information Gathered by Third Party Advertisers
Cookies enable advertisers to learn about what ads you see, what ads you click, and other actions you take on our site and other sites. This allows advertisers to provide you with more useful and relevant ads. For example, if they know what ads you are shown while visiting our site, they can be careful not to show you the same ones repeatedly. They do not associate your interaction with unaffiliated sites with your identity in providing you with interest-based ads.
We do not provide any personal information to advertisers or to third party sites. Advertisers and other third-parties (including the ad networks, ad-serving companies, and other service providers they may use) may assume that users who interact with or click on a personalized ad or content are part of the group that the ad or content is directed towards (for example, readers in the Pacific Northwest who read certain types of articles). Also, some third-party cookies may provide them with information about you (such as the sites where you have been shown ads or demographic information) from offline and online sources that they may use to provide you more relevant and useful advertising.
If you would like to learn more about what options you have about limiting the gathering of information by third-party ad networks, you can consult the website of the Network Advertising Initiative.
You can opt out of participating in interest-based advertising networks but opting out does not mean you will no longer receive online advertising. It does mean that the companies from which you opted out will no longer customize ads based on your interests and web usage patterns using cookie-based technology.
Type and Purpose of Collection
We collect information at various points in the Website to facilitate its use by our customers. Non-Personal Information: Upon accessing the Website, certain non-personal information will be automatically collected without your knowledge or consent, such as your IP address, location data (which is anonymous) and the referring website (ìNon-Personal Informationî). We use Non-Personal Information to examine our traffic and to view how our customers use the Website. This type of information will not allow you to be personally identified. For example, we use ìcookiesî, which contains only certain statistical information. You can instruct your computer to inform you whenever a cookie is being sent, or you can disallow cookies through your web browser. If you do choose to disallow cookies, your experience on the Website may be diminished, or your ability to choose some of the options on the Website may be limited.
—————————————–
Sharing Information
We will not sell, rent or disclose to outside parties the information we collect, save and except that we may share the collected information with other parties as follows:
(a) Affiliated Service Providers: We have agreements with various affiliated service providers to facilitate the functioning of the Website, with whom we may share the information we have collected. For example, we may share your credit card information with the credit card service provider to process your purchase. All administrative service providers that we use are required to have the same level of privacy protection as we have, and therefore we expect that your information will be handled with the same level of care that we employ. Additionally, for example, we may use analytic or marketing services such as Google Analytics, Google Adsense, Taboola, or RevContent, to which collection you hereby unconditionally consent.
(b) Where required by law: We may share the collected information where required by law, specifically in response to a demand from government authorities where such demand meets the legal requirements.
(c) Statistical Analysis: We may share Non-Personal Information and aggregated information with third parties, including but not limited to for advertising or marketing purposes. No Personal Information will be shared in this manner.
(d) Transactions: In connection with, or during negotiations of, any merger, sale of company assets, financing or acquisition, or in any other situation where Personal Information may be disclosed or transferred as one of our business assets.
—————————————–
Choices and How To Opt Out Of Interest-Based Advertising
(a) Opting Out of Interest-Based Advertising Services This website is a member of the Network Advertising Initiative (NAI) and adheres to the NAI Codes of Conduct as described on the NAI website. This website also adheres to the Digital Advertising Alliance (DAA) Self-Regulatory Principles. For a description of the DAA Program, please visit the DAA website. As described above, this website may use or transfer Device Data that it directly collects or that it receives from this websiteís Customers, who may use cookies or non-cookie technologies, to enable advertising that is more tailored to Consumersí inferred interests, preferences, and locations. This practice is known as interest-based advertising.
(b) Opting Out of Interest-Based Advertising by Third Parties
This website may permit third parties to collect information on its Site and combine that information with other information collected on non-affiliated websites or applications over time. These third parties may use technologies, including cookies and web beacons, to collect information about Consumersí or Customersí use of the Site in order to analyze, report on, or customize content or advertising on the this website or on other sites, or to help us operate and improve the Site. To find out more about interest-based advertising in the web environment, and how to opt-out of information collection for this purpose by companies that participate in the Network Advertising Initiative or the Digital Advertising Alliance, visit NAIís opt-out page or DAAís Consumer Choice Page.
Mediavine Programmatic Advertising
The Website uses Mediavine to manage all third-party advertising on the Website. Mediavine serves content and advertisements when you visit the Website, which may use first and third-party cookies. A cookie is a small text file which is sent to your computer or mobile device (referred to in this policy as a "device") by the web server so that a website can remember some information about your browsing activity on the Website. The cookie may collect information relating to your use of the Website, information about your device such as the device's IP address and browser type, demographic data and, if you arrived at the Website via a link from a third-party site, the URL of the linking page.
First party cookies are created by the website that you are visiting. A third-party cookie is frequently used in behavioral advertising and analytics and is created by a domain other than the website you are visiting. Third-party cookies, tags, pixels, beacons and other similar technologies (collectively, "Tags") may be placed on the Website to monitor interaction with advertising content and to target and optimize advertising. Each internet browser has functionality so that you can block both first and third-party cookies and clear your browser's cache. The "help" feature of the menu bar on most browsers will tell you how to stop accepting new cookies, how to receive notification of new cookies, how to disable existing cookies and how to clear your browser's cache. For more information about cookies and how to disable them, you can consult the information at www.allaboutcookies.org/manage-cookies/.
Without cookies you may not be able to take full advantage of the Website content and features. Please note that rejecting cookies does not mean that you will no longer see ads when you visit our Site.
The Website may collect IP addresses and location information to serve personalized ads and pass it to Mediavine. If you would like more information about this practice and to know your choices to opt-in or opt-out of this data collection, please visit https://www.networkadvertising.org/managing/opt_out.asp. You may also visit https://optout.aboutads.info/#/ and https://optout.networkadvertising.org/# to learn more information about interest-based advertising. You may download the AppChoices app at https://www.aboutads.info/appchoices to opt out in connection with mobile apps, or use the platform controls on your mobile device to opt out.
Mediavine partners with the following data processors: