If you've been on Pinterest this year, you've probably seen the starlight mint diy's. It's pretty hot right now. I've seen it in many version with green or red starlight mints, plates, bowls, holiday ornaments, and other decorations.
To create a Starlight Mint Platter:
-Cover a springform pan or cookie sheet with parchment paper.
-Set the mints as close as you can to each other inside a springform pan (or for ornaments inside a metal cookie cutter)
-Bake the mints at 350° for about 5 minutes until the mints melt just enough to form together into 1 solid mass
-Remove the mints from the oven and allow to cool to the touch
-Remove the platter from the springform pan (or the ornament from the cookie cutter by gently stretching the cookie cutter)
They are beautiful, kinda psychedelic, and super fun.
It's a seemingly easy thing to make. It's quick, fun and it smells really nice. It's inexpensive too. In a ton of different ways it's the ideal craft but this is a DIY that can give you one of those "pinterest fails". There are some things that can go wrong if you're not familiar with the nature of candy.
Here are some tips on how to make the Starlight Mint DIY's rock this holiday.
Candy is Sticky
First of all candy is super sticky. If you are in a humid area, combat the sticky immediately. Even in a dry area this will become an issue over a few days time. When you get your candy out of the oven and after it's cooled, wrap it and put it in the fridge. The better seal around the starlight mints, the longer they will last. So tupperware is better than a plastic bag and a plastic bag is better than wrapping it with wax paper. But any will do. The fridge helps keep your starlight mint creations dry and the cold and prevent stickiness. After that, coat your mints. If you are creating ornaments, you can paint on polyurethane or give it a resin coat. No your ornaments won't be edible after that, but did you really want to hang something on your tree for a month and then eat it?
If you are creating a platter, be sure to use a coat that is food safe. You can check out these different options. You still won't want to eat it afterward but the food on top will be good to go!
Keep parchment or something that can catch any sugary messes underneath your starlight mint platter at all times. Dry packaged items are ideal for the bowls and platters because anything moist – even cupcakes will promote the stickiness. Perhaps something packaged like holiday cookies or pretzels? Check on your mint plate every couple of days. Whatever you do, don't forget about it for a month!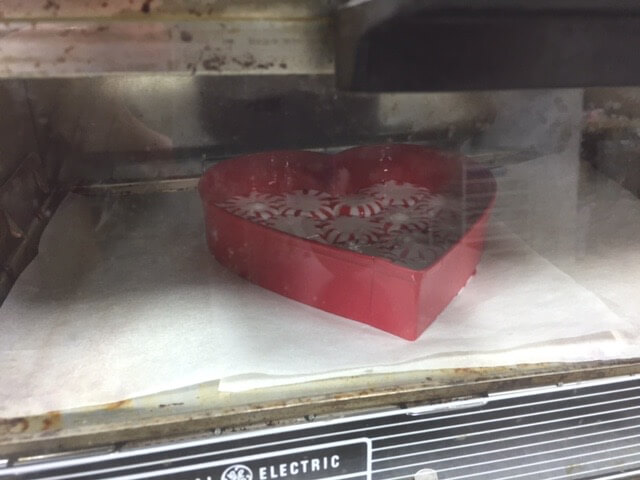 Starlight Mints are Fragile
You know how hard candy has that snap that people call hard crack? Well made candy will break apart when you are eating it, and never stick to your teeth. The starlight mint diy is no exception. When you create a mint ornament or plate, be sure to use a simple shape. The more curves and angles, the harder it will be get the mint out of the mold in one piece. It will likely snap along the curved edges.
Shapes like circles and hearts are ideal. Intricate snowflakes or stars are a lot harder. The bigger the ornament the better chance you have of it living outside of the mold. Small ornaments break easier. When you are creating small ornaments break the mints into multiple pieces to make them fit. But when using small pieces, your starlight creation will not be as strong as when you use whole mints over a large surface area so that's when you have to be particularly careful.
Follow these simple guides to create the most perfect Starlight Mint DIY! Or looking for other holiday fun? Check out our holiday playlist (of songs that don't suck) here.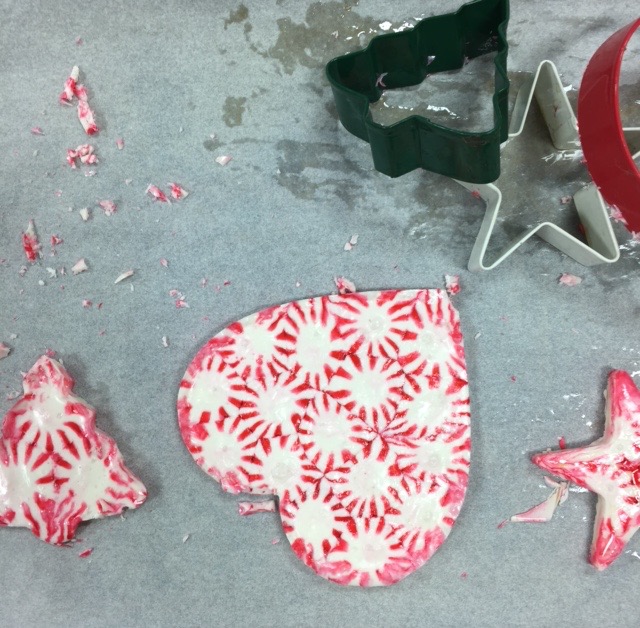 Let's Stay Friends!
Insta | Pinterest | Enews | TikTok