Do you love to paint? Then you are going to love Let's Paint Together Subscription Box. Get new art supplies delivered to you every month – everything you need to make gorgeous paintings from beginning to end.
Let's Paint Together also includes easy to follow video instructions. Get inspiration, see step by step tutorials, and learn new painting techniques every month. This is going to be your new favorite hobby – because we do the heavy lifting so you can focus on painting, relaxing, and having fun!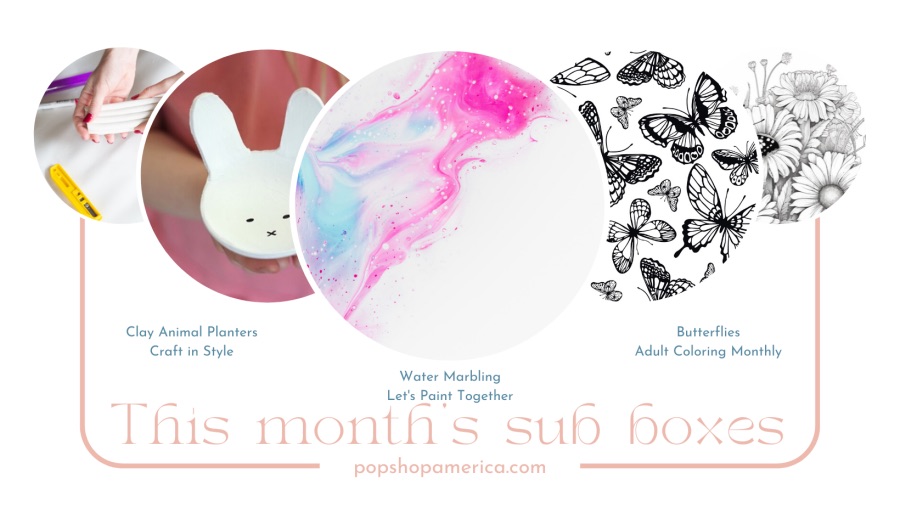 Current: August 2023 Box
Water Marbling on Paper
✨ 💖 ✨
Upcoming: Inside the September 2023 Box
Oversized Moon Painting
Upcoming: Inside the October 2023 Box
The Eiffel Tower in Acrylic
Upcoming: Inside the November 2023 Box
Winter Scene Painted Holiday Card Set
✨ 💖 ✨
Previous: July 2023 Box
How to Make Textured Paint + Textured Flower Painting in Acrylic
✨ 💖 ✨
How the Subscription Box will Work:
Each box ships within 3-5 business days of your purchase! You don't have to wait to receive your box!

Ships worldwide from United States.
Subscriptions automatically renew. Cancel anytime.
At the beginning of every month you will get an email with the new month's featured box.
Don't like it? No sweat. Skip a month or switch it with another of our subscription boxes.
All orders ship via USPS/UPS with tracking numbers provided.
We aim to keep your subscription easy to manage and totally fun!
6 month subscribers receive a free issue of Adult Coloring Monthly.
1 Year subscribers receive a $42 gift card to Pop Shop America!
♥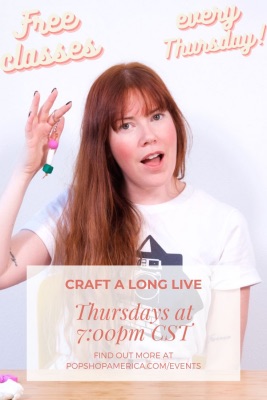 Join us on Facebook
Craft in Style Live
Craft Together.
Explore Your Craft in Style Box.
Join the Community. Ask Questions.
With your monthly painting subscription box, get beginner friendly tutorials to make paintings in an array of different styles and different subjects like landscapes, animals, flowers, and more. Try new supplies that you have never seen before! Most months feature the classic acrylic paint on canvas. But some some months will feature supplies like charcoal, watercolor, or acrylic on foldable paper cards.
Each box comes packaged with prompts, goodies, paint brushes, palettes and lots of fun. Tutorials are sent as QR code links because video is always the best way to learn how to paint!
Pop Shop America creates unique DIY Kits like candle making, body care products and more. Want to say hi? Contact us anytime here.
Things you need to know before you buy: 1. Order a 3, 6, year subscription to immediately active the choose your own box feature. Any month can be skipped. Skip 30% or more and your subscription may be cancelled. 2. For a refund, you must return your box intact. All contents must be returned. No exceptions. We recommend that you send us a photo before your return to protect yourself. 3. A better option is to skip a box or choose your own box! It's easy, fun, and you can get everything you want! 4. Forced returns will not receive a refund. 5. Fraud/credit card disputes are sent to a collection agency and thus might damage your credit! Don't do it. You will have to agree to these terms during checkout. 6. Don't like it? Don't worry! You can cancel early. Early cancellations DO NOT receive box discounts. You will pay the regular rate.