Craft your heart out! Now you can get your craft on anytime, anywhere in style! The Craft in Style Subscription Box delivers monthly craft supplies to your door. Each month comes with new projects that range from acrylic paint pouring, watercolor, terrarium building, diy planter boxes, calligraphy, soap making, and more! Each month's box has multiple projects that all fit together as a theme.
Each month includes easy to follow instructions in addition to blog posts, videos, and Facebook Live Videos to help you explore your box contents and have fun with all your supplies. Take the stress out of ending up with too many or too little supplies. Take the guesswork out of what brands work and what craft tutorials turn out great! We deliver everything you need all together every month.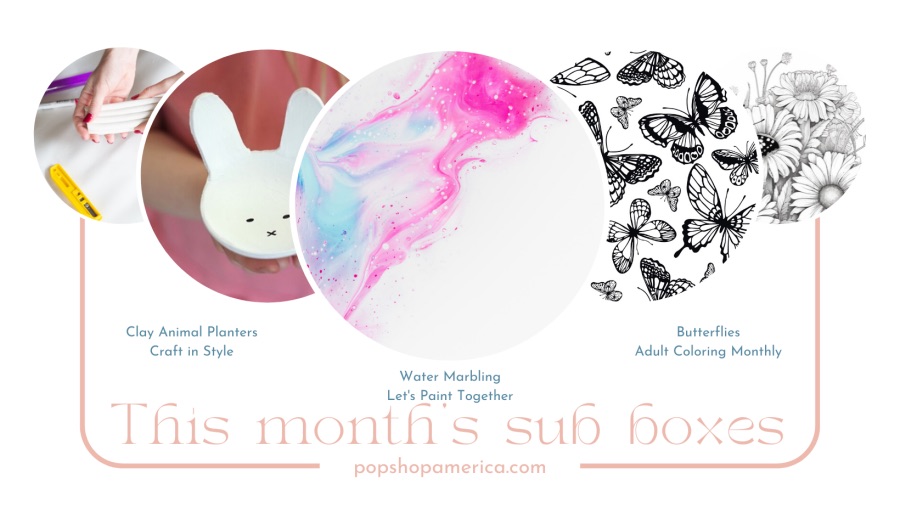 Current: Inside the August 2023 Box
Clay Animal Planters
✨ 💖 ✨
Upcoming: Inside the September 2023 Box
Stenciled Welcome Mats
Upcoming: Inside the October 2023 Box
Essential Oil Blending
Upcoming: Inside the November 2023 Box
Glass Etched Bakeware
✨ 💖 ✨
Previous: Inside the July 2023 Box
Make Your Own Fabric Kite
Previous: Inside the June 2023 Box
Hand Knit Pouf Pillow+ 11 Beginner Friendly Crochet Coasters Tutorials
Previous: May 2023 Box
Lava Lamp Lip Gloss + DIY Flavored Lip Gloss
Previous: Inside the April 2023 Box
Citrus Stamped Napkins + Dip Dyed Placemats
Previous: Inside the March 2023 Box
15+ Crepe Paper Flower Tutorials + DIY Pajaki Chandelier
Previous: Inside the February 2023 Box
DIY Concrete Vase + How to Make Felt Flowers
Previous: Inside the January 2023 Box
Black Canvas Kandinsky Painting + Black Canvas Cactus Painting + Black Canvas Flower Bouquet Painting + Black Canvas Moon Painting
Previous: Inside the December 2022 Box
Foil Card Making Set
Previous: Inside the November 2022 Box
Fresh Eucalpytus Wreaths

How the Subscription Box will Work:
Each box ships within 3-5 business days of your purchase! You don't have to wait to receive your box!

Ships worldwide from United States.
Subscriptions automatically renew. Cancel anytime.
At the beginning of every month you will get an email with the new month's featured box.
Don't like it? No sweat. Skip a month.
All orders ship via USPS Priority/UPS with tracking numbers provided.
We aim to keep your subscription easy to manage and totally fun!
♥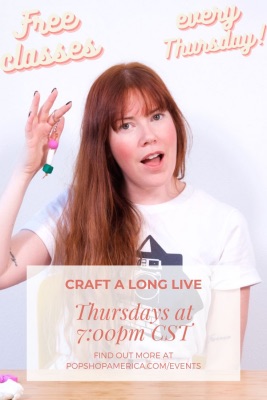 Join us on Facebook
Craft in Style Live
Craft Together.
Explore Your Craft in Style Box.
Join the Community. Ask Questions.
With your monthly craft supply subscription box, try new supplies that you have never seen before! We've crafted everything under the sun from terrariums to macrame and from every brand of acrylic paint to every kind of air dry and oven bake clay. We know all the best supplies so you don't have to suffer with Pinterest fails. Each box comes packaged with fun, individual detail, full color instructions, and lots of fun. Each month's craft supplies will explore a new theme and include completely different supplies. Every month is different!
Pop Shop America creates unique DIY Kits like candle making, body care products and more. Want to say hi? Contact us anytime here.
Things you need to know before you buy: 1. Order a 3, 6, year subscription to immediately active the choose your own box feature. Any month can be skipped. Skip 30% or more and your subscription may be cancelled. 2. For a refund, you must return your box intact. All contents must be returned. No exceptions. We recommend that you send us a photo before your return to protect yourself. 3. A better option is to skip a box or choose your own box! It's easy, fun, and you can get everything you want! 4. Forced returns will not receive a refund. 5. Fraud/credit card disputes are sent to a collection agency and thus might damage your credit! Don't do it. You will have to agree to these terms during checkout. 6. Don't like it? Don't worry! You can cancel early. Early cancellations DO NOT receive box discounts. You will pay the regular rate.