Summertime means salad season. It's the perfect time for fresh veggies, delicious fruits on warm nights, and enjoying outdoor meals with family and friends. This Easy Firework Veggie Kabobs recipe makes a fun appetizer, it's perfect for a potluck, and kids will love it. I could imagine taking this to a picnic and it is perfect for the 4th of July!
[Tweet "I'm a dreamer. I reach for the stars, and if I miss one I grab a handful of clouds. #4thofJuly http://bit.ly/29GHtTM"]
These Easy Firework Veggie Kabobs are simple and fun veggie skewers. You know any foods that come on a stick are extra fun to eat! And these Easy Firework Veggie Kabobs are about the healthiest food on a stick you can imagine!
You can use lots of different veggies beyond the ones we used in this recipe. We used carrots, cucumber, and radishes, but you could also try bell pepper, zucchini, and yellow squash too. All of these veggies would pair perfectly!
With any vegetable that you choose to use for this recipe, thoroughly wash it, peel it if necessary, and slice it into 1 inch or thicker slices.
The trick in making these Easy Firework Veggie Kabobs is using small cookie cutters to punch fun firecracker shapes! You can use stars, diamonds, or a variation of firecracker shapes that you can find. It's important that the cookie cutters are metal and that they can punch through the vegetables easily. Here's the set of cookie cutters I used here.
Once you punch your shapes with the cookie cutters, slide them onto the wooden bamboo skewers.
[Tweet "…Cause there's a spark in you. You just gotta ignite the light. And let is shine. – Katy Perry http://bit.ly/29GHtTM"]
As a dipping sauce. I used this lovely Litehouse Dressing.
You can find it in the refrigerated produce section. These are so much more delicious than the dressings that are not refrigerated! It's night and day. To give my dipping sauce a special twist, I blended the dressing with fresh herbs. I added a sprig of sage and thyme to a food processor whirled and sprinkled across the dressing.
Isn't this such a simple recipe? The hardest part getting the vegetables on the skewers before eating them! Punching them into the firecracker shapes makes them perfectly bite sized and irresistible.
On those hot summer nights, a great way to cool down is with a refreshing salad or veggie dish filled with the best seasonal ingredients. To top off your dish, reach for another cool and delicious choice – refrigerated Litehouse dressing. Cold is where it's sold.
[Tweet "If you'll be my star, I'll be your sky. #SeetheLite http://bit.ly/29GHtTM"]
To serve them, place them on a large platter with the ranch dip in the center. Or pair them with a protein that's as easy to eat and hands free as these Firework Veggie Kabobs. These Skinny Turkey Jalapeño Poppers would be perfect!
Don't you want to make these Firecracker Veggie Kabobs for your next barbeque or for 4th of July?
Get the Printable Firework Veggie Kabobs Recipe Here: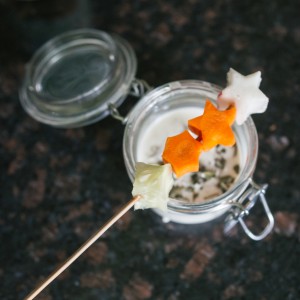 Easy Firework Veggie Kabobs Recipe
Make these Fireworks Veggie Kabobs!  They are easy to prepare and don't require any cooking.  They are perfect for summertime picnics, kids and 4th of July celebrations!
Ingredients
1

Carrot

1

Cucumber

1

bunch Radishes

1

bottle Litehouse Homestyle Ranch Dressing & Dip

1

sprig fresh Sage

1

sprig fresh Thyme
Instructions
Peel the carrots and peel part of the cucumber.

Use a mini star shaped cookie cutter to punch the veggies into firework shapes!

Twist the veggies on to wooden skewers.

Blend your fresh herbs into the Litehouse Homesyle Ranch Dressing & Dip.

Now dip your firecracker in your dressed up ranch!  Time for some crunch!
Let's Stay Friends!
Insta | Pinterest | Enews | TikTok