Mlee Marie isn't your average badass. The brainchild, and sometimes solo artist, Hearts of Animals has been called some of the best avant garde musicians in Houston.
She plays a ton of different instruments sax, guitar, keyboards, and more. She's also an illustrator and avid crafter. This summer she created a new video with Ramon Medina that's so fun and a perfect summer pool romp. Check it out.
Mlee made this Spotify Playlist just for us full of sugary-sweet but totally weird songs that's part pop and part psychedelic. And we got to ask her a few questions about Hearts of Animals, playing music, and other goodness.
Q: What's the difference between playing solo and playing with a band?
A: Playing solo allows me to have complete control over the way everything is arranged and sounds.  When I do a solo set I use backing tracks that I have recorded for every instrument.  So the sound is very tailored and very me.  Playing with a band allows my songs to grow under the influence of different musicians.
Q: What do you like about each?
A: Sometimes it is hard for me to relinquish control over my sound and allow different people to add their own flavor, and that is one difficult thing about being in a band.  But overall, I have the best band mates who really get my style and songwriting and are great musicians to top it off.  Playing solo gets boring and lonely after awhile, and it is hard to keep the motivation alive when it's just me doing all the work.  I love being in a band right now.  I will continue to do solo side projects/albums in the future, but playing with a live band is energizing.  It keeps me going.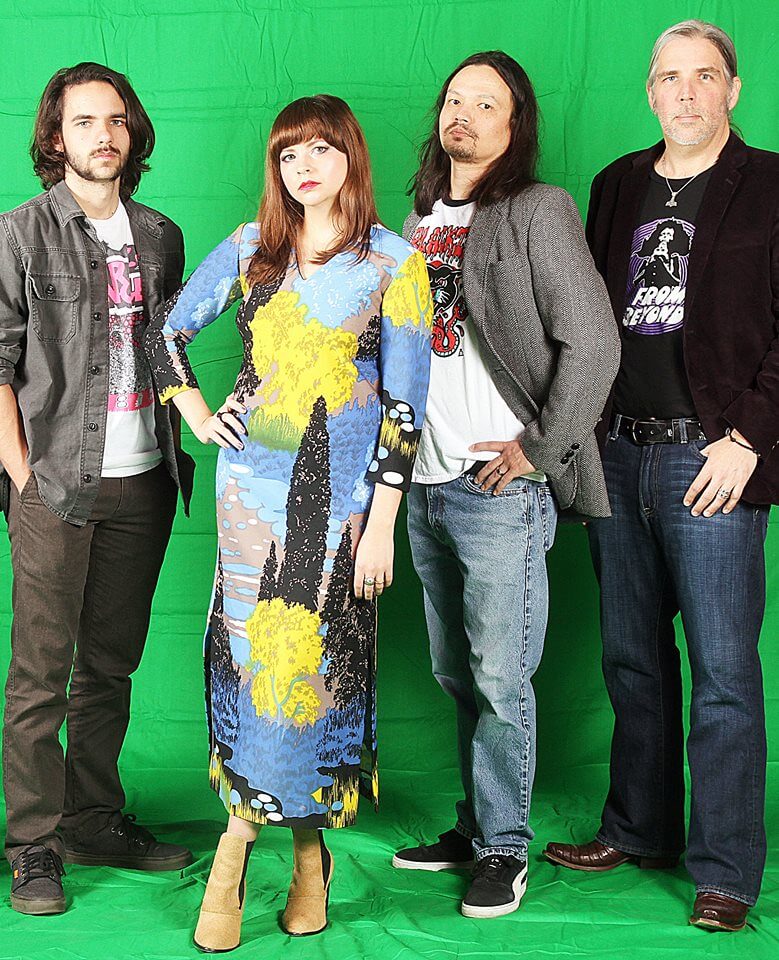 Q: In the beginning of your video your spinning around a wooden practice rifle. Were you in Color Guard? Drill Team? ROTC?
A: I was in the marching band color guard for only one year in high school.  I was on rifles and flags.  It was an honor for me to join and immediately be given the rifle, usually you have to have a few years experience on the team.  I practiced a lot the year before with a friends rifle so I knew a little bit about what I was doing.  
Q: And have you been practicing ever since or what?
A: I have not been practicing ever since, but my parents did buy my me my own rifle about 10 years ago for Christmas, because I used to try to toss and twirl anything I could get my hands on.  I had a makeshift rifle that was basically a broomstick with electrical tape on it.  I guess I just really liked that activity.  I knew I wanted to put it in a music video so I started practicing again with it in the spring, and shot the video in the summer.  
Q: Tell us a little bit about the songs on your playlist?
A: These are songs that have either been in my head lately or that I just felt went well together.  I love making playlists that sort of curate a feeling in my head.  I guess right now that feeling is staying positive but also feeling the magic of the change of seasons and the darkness of winter creeping in.  I've been listening to a lot of Crowded House lately, it's very comforting.  
Q: What upcoming events and shows do you have?
A: Hearts of Animals will be playing at the Day for Night Festival on Sunday December 20th.  I will also be doing a Solo Improv Sax Set at Poison Girl the very next night.  It may or may not be X-mas themed.  I'll also be at Pop Shop Houston Holiday Fest with my handmade goods Black Friday Weekend.
Check out more music by Hearts of Animals here.
Or follow Hearts of Animals to stay up to date on events and happenings here.
Let's Stay Friends!
Insta | Pinterest | Enews | TikTok