Brand New and so much fun for adults and kids too!
Color your heart out! Now you can get your color on anytime, anywhere in style! The Color in Style Subscription Box delivers monthly coloring pages to your door. Each month comes with 15 new coloring sheets in a pad + 15 digital downloads! You can keep and reprint the digital downloads forever.
Each month has its own unique theme and all of the coloring sheets fit together as a collection! Themes range from illustrated scenes of Paris France, plants, elephants, mandalas and more! .These coloring books are more than just pages. Coloring sheets also include yearly coloring calendars, posters, bookmarks, coloring stickers and more.
Get a 6 month subscription for a free pack of colored pencils. Get a 1 year subscription and you will receive a free coloring book at the time of purchase! +Must fulfill the entire duration of the subscription.
♥
How the Subscription Box will Work:
Each month comes with a pad of 15 coloring pages on artist paper.
Plus each month comes with 15 digital downloads you can keep forever!
Adult Coloring Monthly ships within 3-5 business days of your purchase! You don't have to wait to receive your box!

Your Digital Downloads will be sent same day.
Unfortunately, there are no refunds after the digital downloads have been sent.
Ships worldwide from United States.
Subscriptions automatically renew. Cancel anytime.
6 Month Subscribers get a free pack of colored pencils.
Year Subscribers get a free coloring book.
At the beginning of every month you will get an email showing you the theme of the current box.
Don't like it? No sweat. Skip or cancel anytime! Looking for different themes? Email us anytime.
All orders ship via USPS Priority with tracking numbers provided.
We aim to keep your subscription easy to manage and totally fun!
♥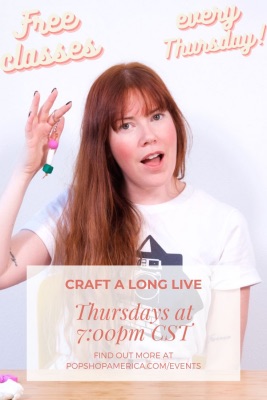 Join us on Facebook
Craft in Style Live
Craft Together.
Explore Your Craft in Style Box.
Join the Community. Ask Questions.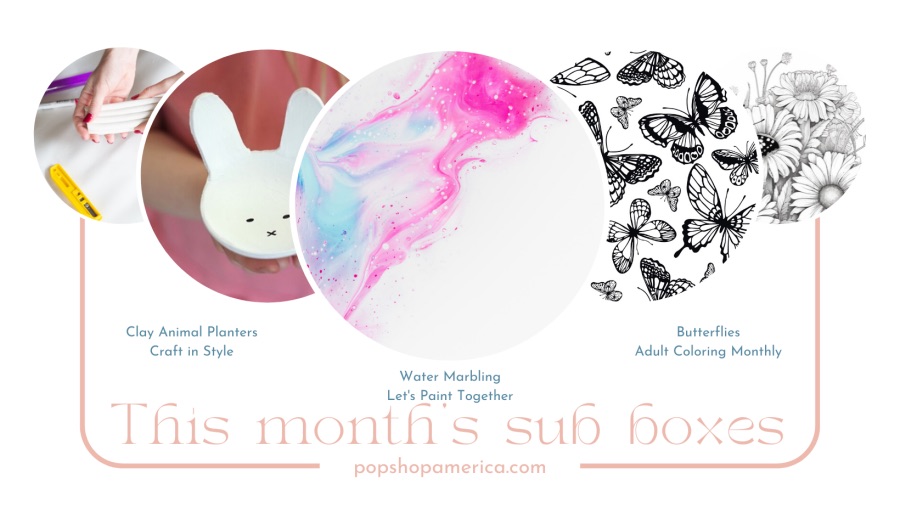 August 2023 | Butterflies:
Embark on a colorful journey of creativity as you bring to life the intricate patterns and delicate beauty of butterflies fluttering amidst whimsical gardens and lush meadows.
July 2023 | Inspired by Thomas Kinkade:
Immerse yourself in the enchanting world of Thomas Kinkade's signature luminous scenes, inviting you to infuse your own artistic touch into charming cottages, serene gardens, and idyllic landscapes.
June 2023 | The Desert:
Explore the tranquil beauty of the desert landscape through intricate illustrations, inviting you to add vibrant hues to majestic sand dunes, cacti, and sun-soaked horizons in this captivating issue of Adult Coloring Monthly.
May 2023 | Coloring Posters:
It's the first ever Adult Coloring Monthly featuring coloring posters! These posters are huge – 24 inches by 36 inches and subscribers will receive 2 posters.
April 2023 | Mushroom Forest:
Color your way through a magical forest full of mushrooms, raccoons, butterflies, and frogs.
March 2023 | Spring Fling:
It's finally spring and we're celebrating by coloring plants, flowers, and garden scenes.
February 2023 | Love is in the Air:
Hearts are everywhere if you look for them! In this issue of Adult Coloring Monthly, color heart shaped trees, flowers, candy and more. It's a love fest!
January 2023 | Chinese New Year:
It's the year of the rabbit and 2023 is all about hope. Color Chinese Zodiac symbols, lotus flowers and more.
December 2022 | 2023 Annual Coloring Calendar:
This calendar is filled with gorgeous, boho, minimalist designs. It's the perfect way to color all year long.
November 2022 | The Jungle:
It's a jungle out there! This month's coloring books has 15 seamless patterns that put you right inside a forest of green.
October 2022 | Gemstones & Flowers:
This month is full of beautiful things! Color your way through 15 pages of geodes, crystals, gemstones, and so many flowers.
September 2022 | Ship in a Bottle:
Daydream and wonder with a ship in a bottle. It's like a little universe inside. In this issue, we'll color flags, ropes, ships, anchors, and unusual shaped bottles.
August 2022 | Dreamcatchers:
Dreamcatchers are tools that are made to catch your bad dreams and help protect you in your sleep. Color your way through an array of gorgeous dreamcatchers, feathers, and more.
✨ 💖 ✨
Pop Shop America creates unique DIY Kits like candle making, body care products and more. Want to say hi? Contact us anytime here.