I've never seen anything more darling than the flower girl dresses by Monbebe Lagos! Florence Adeboye handcrafts gorgeous childrens dresses for parties, weddings, and other special occasions. Her Etsy shop is full of sweet, refined handmade dresses perfect for any little princess. I got to talk to Florence about her shop, being a maker, and all about Monbebe Lagos.
BB: How did you get started making children's dresses?
FA: I started making dresses 4 years ago after the birth of my first daughter. I was so intent on putting her in gorgeous dresses that I decided to start my own clothing line! I believe every little girl deserves to look and feel like a princess.
BB: What is your studio like?
FA: My studio is small and has the feel of home. Since all my dresses are handmade, I like to be comfortable and to take time when making all my dresses. My goal is to make all dresses to perfection.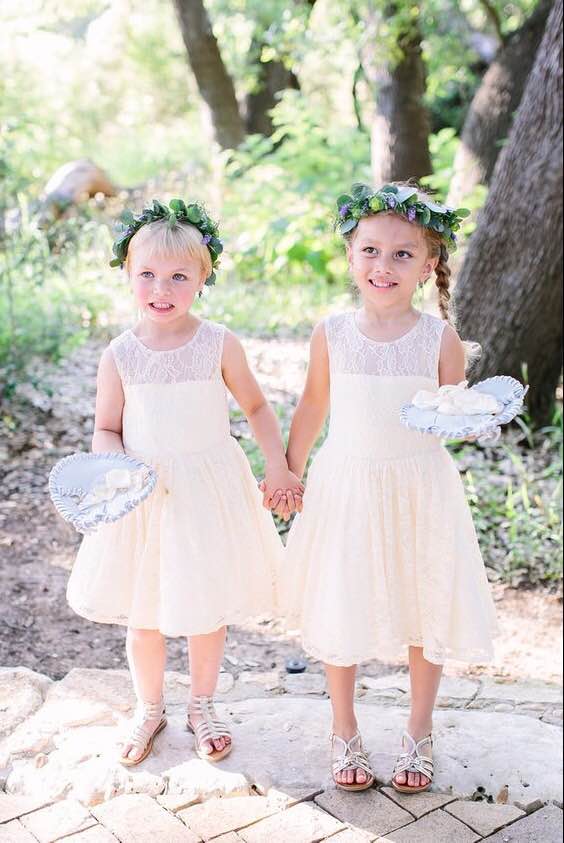 BB: What are your favorite fabrics? What are the kid's favorite fabrics?
FA: My favorite fabric is lace because lace always looks absolutely gorgeous on the kids! The kids love lace as well.
BB: What is your favorite piece that you ever made and why?
FA: My favorite piece was for a wedding "senuhi". It was very simple yet elegant. The dress was made with a soft tulle in layers and layers. The clear crystal beads going around the waistline were really my favorite part.
BB: Are there occassions other than weddings that you are interested in?
FA: Yes! I make dresses for birthday celebrations, baptisms, even children's parties. My dresses are very comfortable and it's always a joy to see kids having fun in it!

Photo Courtesy of Style Me Pretty Blog
BB: Do you have any great stories from the weddings for which you have supplied dresses?
FA: I have so many great stories! That is to say that I am fully involved with my customers, and I don't take anything for granted. I have worked with so many wonderful client and many stood out to me. One bride in particular, she was very calm and we walked through designing her dresses. We combined 2 different dress designs in my shop for her flower girls. Her wedding was a blending of cultures that took place it the Midwest. I turned out absolutely gorgeous and I couldn't be more thrilled than to have had the pleasure to work with her. You can see the wedding here.

Let's Stay Friends!
Insta | Pinterest | Enews | TikTok