How adorable are these kid's t-shirts, dresses, and rompers? Bon Temps, from New Orleans Louisiana, creates soft cotton wearables for kids that are fun and bright! We got to talk to Laura McPhail, creator of this fun brand and learn all about how Bon Temps came to be and what's next for her business. We even have a Bon Temps giveaway! Just scroll to the bottom to find more about what you can win completely for free! 
How did you get started making kids clothes?
After leaving my corporate design job, I uprooted my little family and headed back to my home town of New Orleans. We moved back to the same street I grew up on. I did some freelance textile design after coming home but it wasn't fulfilling our financial or creative needs. New Orleans is full of city pride, I decided to use my skills to design fun and functional tees, dresses and onesies that are extra comfortable and super durable. I have a 6 year old son that plays hard, I always had trouble finding easy tee shirts that didn't have a message.
In two years time, Bon Temps has created a following of moms and grandmas that can count on our designs to be their kid's favorite.
What types of materials do you use and why?
I try to use 100% soft cotton knit. Our screen printing method uses an undercoat of white so that the designs won't fade or flake.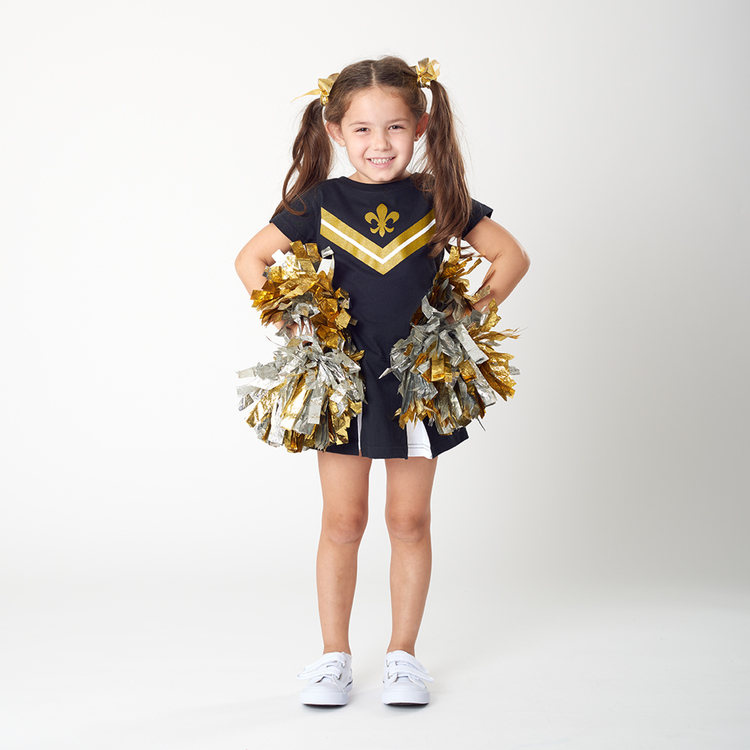 What's inspiring about working with kids?
I love kids. I love meeting them face to face and seeing what they honestly think of my product, they will always tell you what they like. When a little girl gasps at the color of the dress or a little boy won't leave without a tee, it makes me feel like I'm filling a need for them. I have lots of moms who have to hide my products from their kids or they will wear it everyday. I love being a favorite!
What is it like to be a maker in NOLA?
NOLA is a great place to be a maker. We love small business and a good story here. There is a constant flow of markets and festivals here that can really keep you busy year round. We have a great community of makers here too, always willing to give you a hand on products and venues.
You work with your family & kids for your product shots. Does that make your work extra fun or extra challenging?
My husband is an amazing photographer so we always have great pictures. My son is my muse and model. At first he loved it but now I have to pay him to model. He does a great job but it does take some extra patience!
What is your studio or office like?
When we moved back to New Orleans we bought a house that had an extra unfinished room. We left the concrete floors bare and sheet rocked the walls. My husband and I share the space, it makes for great collaboration and an easy commute!
Tell us about the item you will be giving away?
Our Holiday Streetcar tee is a favorite for kids and moms. It's inspired by the St Charles Avenue Streetcar in New Orleans, probably one of the most beautiful streets in the world. This tee is an easy solution if your kiddo needs something festive. Layer it up with a plaid shirt underneath to make it a little dressier!
What's next for your business? What are your dreams and goals?
We are hoping that 2017 brings a storefront for Bon Temps where we can expand our collection to include locally made shirts, shorts and dresses. Our shop will also feature toys and books that are southern made. In addition, we are hoping to expand our festival and market circuit to include more of Louisiana and Texas.
---
Want to win an awesome Holiday Street Car T-Shirt? Visit Bon Temps and Comment Below Your Favorite Bon Temps Item! 1 Winner will be chosen at Random!

Let's Stay Friends!
Insta | Pinterest | Enews | TikTok