When I was maybe 20, I made a butternut squash risotto at my parents' house for the first time. It used white wine, and my parents don't drink wine, so we couldn't get the bottle open. My dad had to run up to the Dollar General in town and try to find a corkscrew! Oh, the memories.
But that risotto was amazing. It was the dish that made me fall in love with both risotto and butternut squash. My biggest problem was that it took forever and a day to make. You had to add a little liquid, reduce it completely, and repeat and repeat and repeat.
I was just never sure it was worth the effort. And truthfully, I started just ordering risotto at restaurants instead of making it at home.
And then came the Instant Pot. It took two years of me having my Instant Pot to realize I could probably pressure-cook risotto in mere minutes. And, with the creation of some beautiful, delicious risotto, I found out I was right. The risotto was so good that it became my toddler's favorite food. What toddler names risotto as their favorite??
Recently I decided it was time to try a new type of risotto, so I created this Instant Pot Cranberry Apple Cider Risotto. Everyone in my house loved it, and I am so excited to share it with you!
Let's get cooking!
What is Risotto, Anyway?
Simply put, risotto is a dish made with broth or another liquid slowly absorbed over a period of time by risotto rice. There is a specific risotto rice to use; I order mine in bulk on Amazon for a really great price!
So, basically, in the classic stovetop way, you cook your risotto rice and a small bit of stock until the stock is fully absorbed. Then you add more, and repeat the process 3 or 4 times until the rice is tender. After that, you mix in any meat, vegetables and other additions like cheese before serving.
In the Instant Pot though, you're able to add all the liquid at once, as well as most of the additional ingredients and cook it all together at the same time for just a few minutes!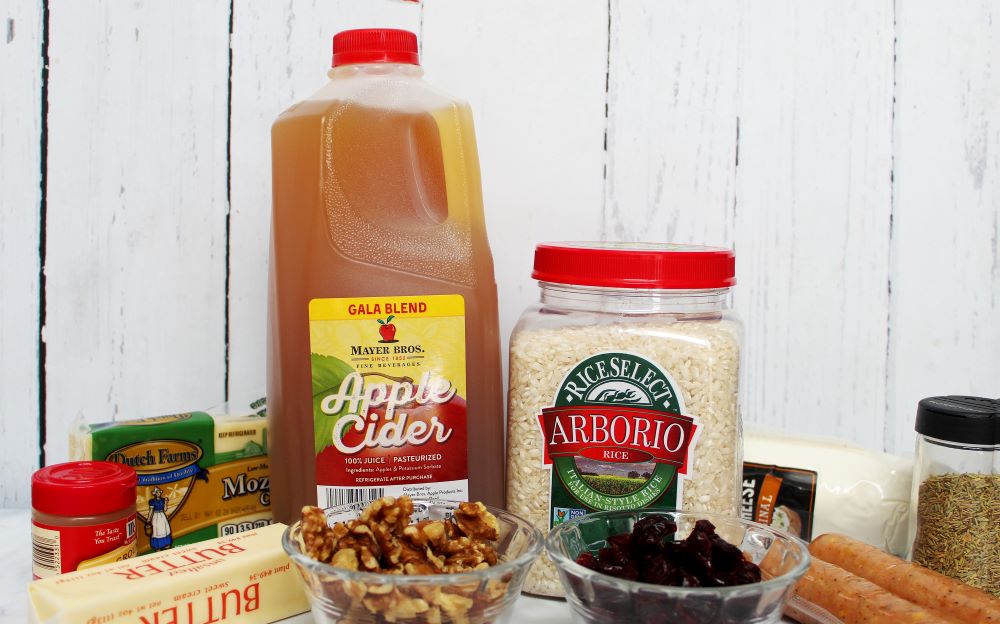 Instant Pot Cranberry Apple Cider Risotto – the Ingredients
Risotto takes a few more ingredients than my typical recipes, but it's so worth it! Here's your handy grocery story list:
butter
risotto rice
apple cider
dried cranberries
walnuts
shredded mozzarella
goat cheese
milk
2 links chicken sausage (brat-size)
balsamic glaze OR vinegar
spices: dried rosemary, cloves
Grab your ingredients – better get double, so you can make this Instant Pot Cranberry Apple Cider Risotto again!
Making the Instant Pot Cranberry Apple Cider Risotto
Chop your walnuts into small pieces if they are not already chopped.
Turn your Instant Pot to saute and let it heat. Add the butter and let it melt. Once the butter is melted, pour 2 cups of dry risotto rice in and toast for about a minute. Stir the rice constantly to coat it with butter and keep it from burning.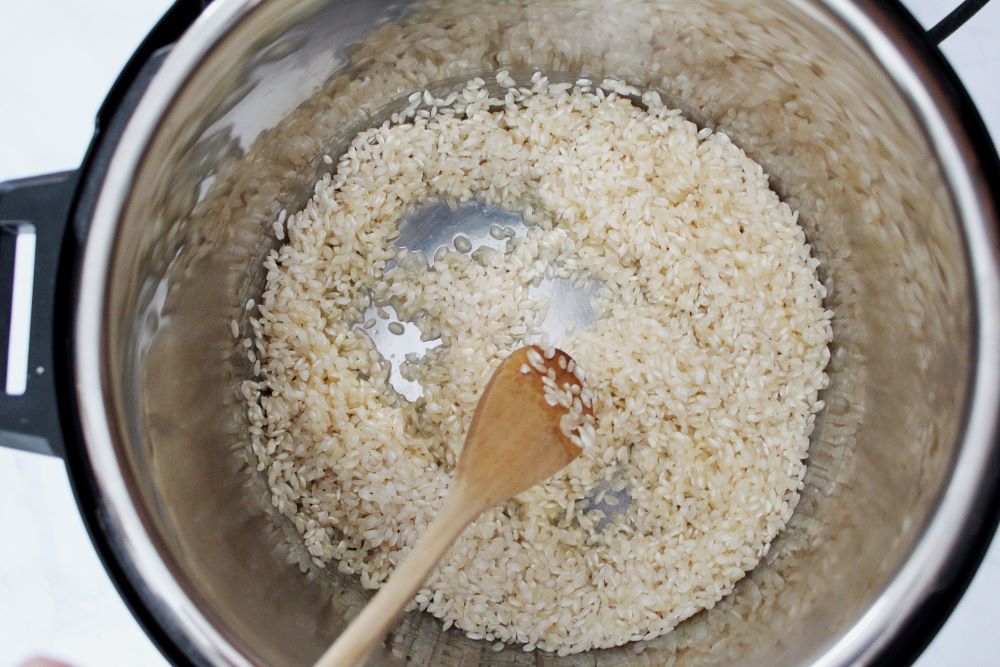 Turn the heat off and pour in 2 cups of water and 1 1/4 cups of apple cider. Add 1 cup of dried cranberries, 1 cup of chopped walnuts (less – or none – if desired), and rosemary and cloves. Stir everything together. Place the lid on the Instant Pot, turn to close and turn knob to sealing. Set the pot to Manual for 8 minutes and let it cook!
If you're reducing balsamic vinegar to make the glaze (see below for instructions), do that while your risotto is cooking. Slice chicken sausages into small pieces.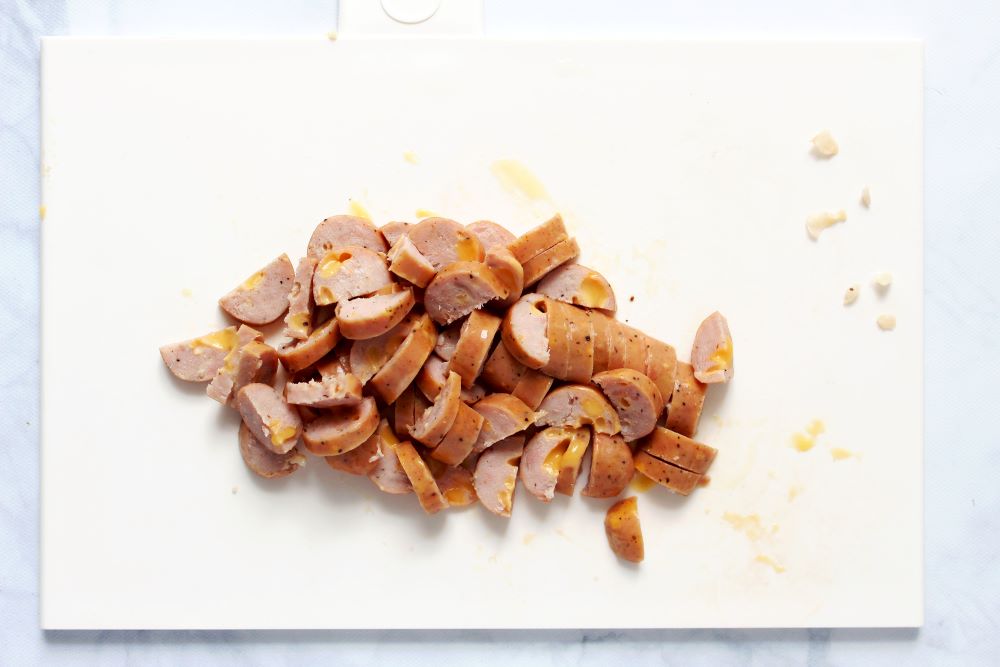 When the timer goes off, let the pressure release naturally for about 5 minutes (this helps prevent spraying liquid), then turn the knob to 'venting' and release the rest of the pressure. When the pressure button drops, turn the lid and open the pot.
Keep the pot on 'keep warm' while you finish the risotto. Add 8 ounces of crumbled goat cheese, 1 cup of shredded mozzarella and 1/2 cup of milk (or milk substitute). Stir until cheeses are completely melted. Add up to another 1/2 cup of milk if it seems dry.
Stir in the chopped chieken sausage and let the risotto rest for a couple of minutes before serving. That will allow the sausage to heat through.
Serving the Instant Pot Cranberry Apple Cider Risotto
When your risotto is hot, creamy, and ready, scoop heaping servings onto plates or into big bowls. Generously drizzle your balsamic glaze over the top of each serving. My favorite is a raspberry balsamic glaze that you can find in most grocery stores in the vinegar aisle. Sprinkle a few additional dried cranberries over the top and serve.
What Should You Serve Alongside Risotto?
Risotto is a complete meal on its own, but if you feel like you need a little something to go along with it, here are a few ideas:
bread: a good, crusty Italian bread would be delicious with the risotto
bruschetta: a good bruschetta (bread topped with tomatoes, basil, and balsamic) compliment the flavors of this Instant Pot Cranberry Apple Cider Risotto
a light, simple side salad
or go simple, and just serve with a glass of wine!
How to Reduce Balsamic Vinegar
If you can't find a balsamic glaze, you can easily reduce balsamic vinegar to make a thick glaze yourself. Heat one cup of balsamic vinegar (add 2 tablespoons of brown sugar if you want to add some sweetness) in a pan over medium heat.
Bring the vinegar to a boil, then reduce to medium-low and simmer until sauce thickens, stirring occasionally. It will thicken a little faster with sugar in it, but either way, it should take less than 20 minutes. When the sauce is thick enough to coat the back of a spoon, it is done.
Instant Pot Cranberry Apple Cider Risotto
Creamy, sweet and tangy risotto - finished in the Instant Pot in under 15 minutes!
Ingredients
2

tbsp.

butter

2

c.

dry risotto rice

1 1/4

c.

apple cider

2

c.

water

1

tsp.

dried rosemary

1/2

tsp.

ground cloves

1

c.

chopped walnuts

1

c.

dried cranberries

1

c.

shredded mozzarella

8

oz.

crumbled goat cheese

1/2-1

c.

milk

2

links chicken sausage

brat-size

balsamic glaze*
Instructions
Turn Instant Pot to saute. Add butter and let melt.

Add risotto rice and stir to coat with butter. Continue stirring and toasting for 1 minute.

Turn heat off and add apple cider, water, rosemary, cloves, walnuts and cranberries.

Place lid on pot and turn knob to sealing. Set to manual  for 8 minutes. Slice and chop chicken sausage while risotto cooks.

When timer goes off, let pressure release naturally for 5 minutes, then turn knob to venting to release remaining pressure.

When pressure button drops, turn lid and take it off. Add goat cheese, mozzarella and 1/2 cup of milk. Stir until melted and combined. Add up to another 1/2 cup of milk if risotto seems dry.

Plate risotto and drizzle with balsamic glaze* before serving. Top with more dried cranberries if desired.
Notes
*See blog post for directions on making balsamic glaze from vinegar if you can't find glaze at the store. 
Let's Be Friends!
Insta | Pinterest | Enews | TikTok