Metal, Wood, and Resin meet Mettle by FMW FabLab and the handcrafted design oriented gorgeous pieces of furniture. We've been collaborating with Ford and Hillary Waters, the creators of FMW Fab Lab for years. You've probably seen their creations at Pop Shop and not realized it. They've build mountains that sat behind our dj's at the event and even our front desk from this Summer's Fest.
We got to talk to Ford and Hillary about their work.
How did you and Ford meet?
Technically we met on Facebook in January 2010. Ugh. That answer is so uncool. But we met because we have about 300 mutual friends.  We both grew up in Baton Rouge, Louisiana in the exact same neighborhood less than a mile apart.  We know most of the same people from back home.  But Ford went to a magnet school across town and I went to the neighborhood public school so we didn't know each other as kids.  We've pinpointed events and parties we were both at though so we feel like we probably met a time or two and just never really clicked until later. By the time we met, I had been living in Houston for nearly 10 years and Ford had just moved back to Louisiana from Austin about a year and a half prior.  At first we just emailed back and forth and then one day we moved to phone calls. We talked on the phone for about 2 months before we met in person.  Then Ford drove to Houston for a weekend and that was that. We saw each other in person 5 times before he left Baton Rouge and moved in with me in my 500 square foot loft.
When did you start Mettle & FMW Fab Lab? 
We started FMW|fablab in December of 2012.  Ford had been working as the shop foreman for another metal fabrication company. He and the owner liked each other a lot but couldn't seem to get along during office hours. They just had different management styles.  One of them had to go and it wasn't going to be the owner so Ford found himself out of a job.  His resume is really wide but not very deep.  Former jobs include: criminal profiling for the Baton Rouge police, superintendent for a luxury home builder, working offshore on an oil rig, managing the crew and vehicle operations at an automotive center and repair manager for an apartment complex.  He has four degrees: criminology, psychology, English literature and Automotive Technologies and he was a licensed bartender in Texas.  But he always came back to metal work and that morning after he lost his job, he had no idea what he was going to do.  I said, "start your own business".   And FMW|fablab was born.     METTLE was conceived in the summer of 2015 but didn't open until May 2016.  And actually we had been talking about a retail component before that but it didn't come into being for awhile.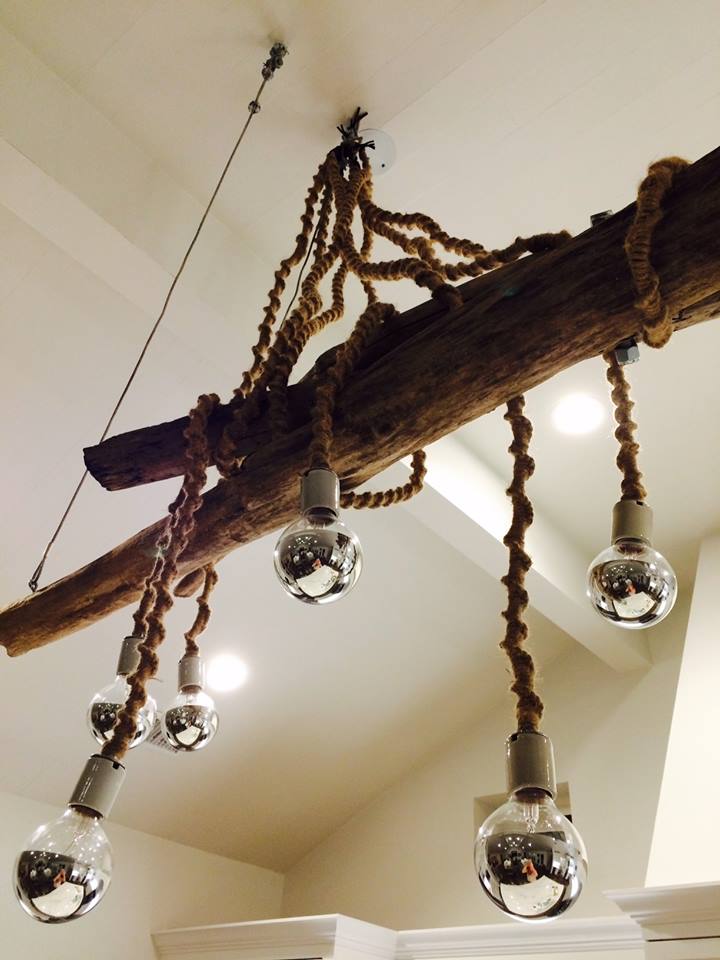 What is your background? What is Ford's? 
My degree is in Interior Design and I practiced commercial design for 18 years.  I still maintain my license.  I worked hard for that so I'm keeping it!  I didn't really know I was headed into Interior Design when I started college but looking back, I was drawing plans and elevations at 10 years old to rearrange my room; I would locate everything in my drawings down to the art on the walls.  Design is just who I am. 
When Ford was a kid, his family owned a company selling cast aluminum furniture and mailboxes.  They had a foundry in Mexico where everything was made and shipped to Louisiana.  The majority of the mailboxes they installed were in suburban neighborhoods and they were frequently vandalized or hit by vehicles.  It was much more economical for them to be repaired in-house than to ship them back to Mexico so Ford was taught to weld aluminum at 14 years old and became the repairman.  Cast aluminum is one of the hardest materials to weld but he had no idea. It was all he had ever done.  So a few years later, when a friend's dad was hiring a welder, Ford interviewed and got the job even though he had never welded steel.  He learned to blacksmith during his time there and metalworking became a lifelong passion.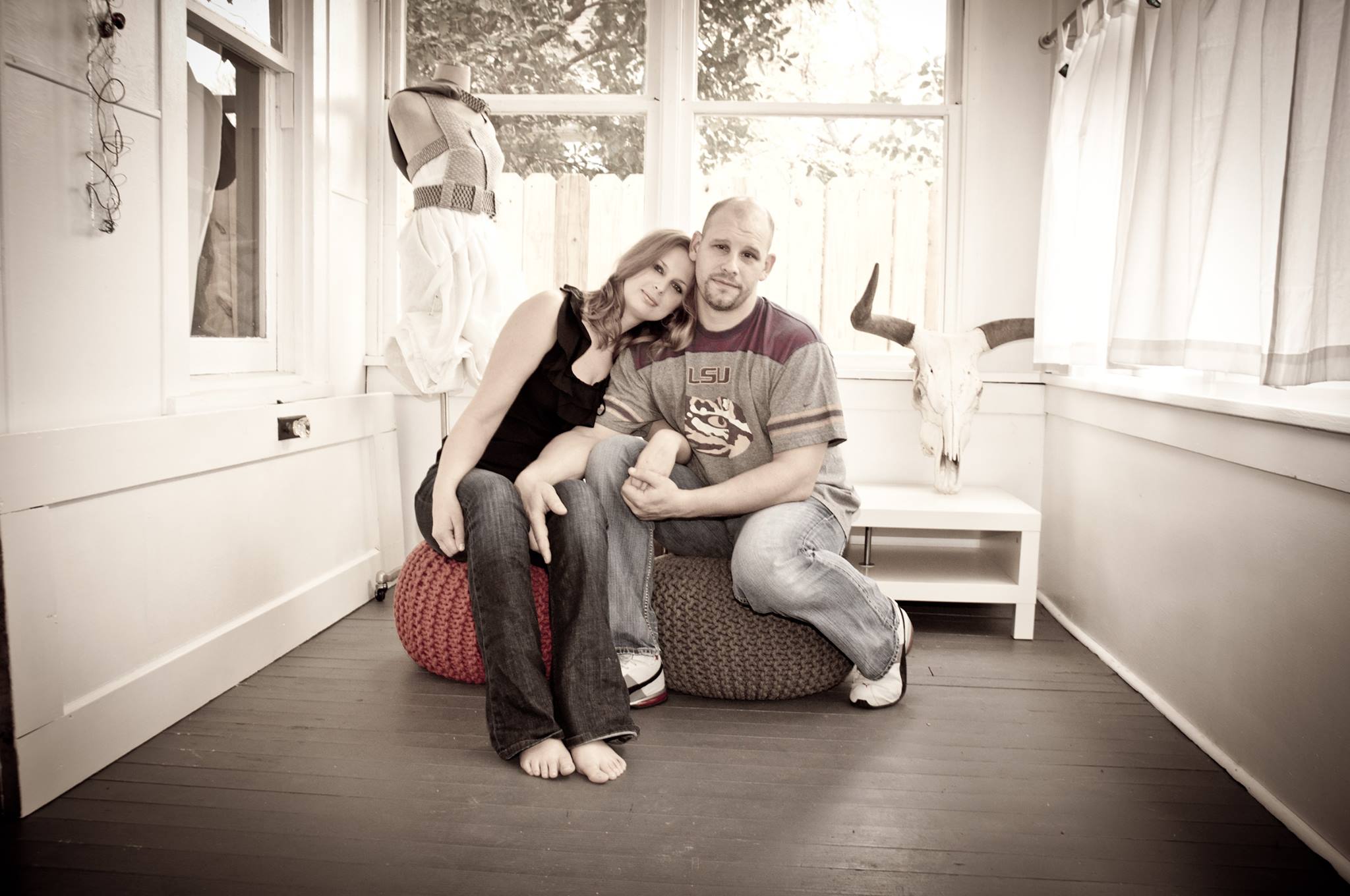 Tell us about your home and how it inspires the pieces you make?
 Our home. Wow.  Well we were just included on the Eastwood Historic Home tour a few weeks ago and I wrote a ton of stuff for that so here's a little blurb that kind of tells you how we ended up in our home.
 The story of this house is as much about us as it is about the house.  We were living in a beautiful but overpriced rental in the Timbergrove area, truly struggling to make ends meet when we decided we had had enough and needed to make a dramatic life change.  We started looking for a small-ish home we could fix up and build some equity in, with the plan to sell it as quickly as we could and pay off debt with the profit.  We had lived in a 500 square feet loft downtown before moving into the 2700 square foot townhome in Timbergrove and neither were ideally sized for us but to help with saving up for a home down payment, we terminated our lease on the townhome and moved into a 650 square foot sublet apartment to begin our home search.   
We had about 1200 square feet in mind when we started looking.  Hillary, having spent most of her adult life in and around The Heights area, suggested we focus our search there and we quickly found out we couldn't afford the lowest priced homes.  Defeated after searching for what seemed like the 100th day in a row, we were having lunch at a "new" place she had read about in an area she had never heard of:  The Moon Tower Inn in the Greater East End.    When Ford looked around and said "why aren't we looking over here?", the only answer she could give is that she had never known about it.  That day we called our realtor up and revised our search parameters. 
For another several months, we looked at houses in the East End.  We looked at properties as low as $30,000. But those come with their own set of problems like not being livable.  Banks wouldn't loan us the money to buy something we couldn't live in and we didn't have the cash to buy outright.  We overlooked the house we ended up buying several times because it was only 900 square feet.  Finally one day we said, what the heck? Let's just look at it. 
For the first time, we were looking at a livable home with a price tag we could afford.  This story could get really long so we'll skip the parts about the inspector telling us not to buy it, the owners who turned out to be felons and the months of negotiation.  At the end of the day, we bought the house.   
And we hated it.  When we moved in, it represented everything that we felt had gone wrong for us.  It was something we were settling for. It wasn't our style, it wasn't all that functional and it certainly wasn't in very good shape.   But happiness is a choice and getting out of a hole was the goal so we smiled and went to work.  It is an understatement to say this house has been life changing.  We have put our hearts and soul into making this into what it is.  We started our now booming furniture design business in the little metal shop in the backyard.   We had costume parties, gumbo dinners, dance off's, crawfish boils and holiday open houses here.  And we never waited until it was "finished" to do it because there is no such thing. We're still not finished….
 So that's a little about our house.  It was built in 1910 and moved to the site it sits on now in 1945.    Since we purchased it and started renovations, it has been in the newspaper twice, it's been in Houston House and Home magazine twice and an independent film was shot here.   It's an incredible house and we are so, so proud of it.  It also influences almost every single thing we design because it's so small at 900 square feet.   We really do practice what we preach when we tell people to consider multi-purpose or outside the box solutions when selecting furniture.
What is your favorite piece you have made thus far?
 My favorite piece ever was one we made three years ago named Audrey.  It is a polished aluminum blanket chest with a wood inlay on the top made up of over 1000 hand cut and hand dyed cedar triangles that were arranged to form a houndstooth pattern.  The cedar was reclaimed from someone's deck demolition and it took over three weeks to hand polished the aluminum to the shine we were looking for.  It's one of the only pieces I have ever genuinely wished we had back after it sold.  It's a true heirloom. 
 Ford's favorite piece is pretty recent.  It was inspired during a trip to New York in May 2015. We went for the International Contemporary Furniture Fair but made a quick stop to the WANTED design fair while we were there and got to see all of the entries for a student design competition. Someone had done a kind of retro stereo console.  Immediately Ford wanted to do one.  His design is 180 degrees from the one we saw in New York. It's modern and funky and neon green.  He researched the speaker placement over and over again to make sure he got it right and spent weeks working on this thing.  It was only recently completed and moved into METTLE. He named it Gilbert after the main character in Revenge of the Nerds.  
What's next for Mettle & FMW Fab Lab?
 METTLE is sort of status quo right now. We're still learning what works and what doesn't for the retail side of things.  But it's been really fun and we've been blessed with people's amazing response to it.  I smile every time I walk into it.  Like, holy cow, this is ours! We did this.  It's so beautiful and we're really grateful that we've been able to take that chance and make it work.
 For FMW|fablab, we're moving into the commercial world more and more.  We still primarily do residential projects but the commercial side of things has just sort of exploded and we've had to bring in extra hands to get things done on time and meet demand.  It's truly exciting! 
Let's Stay Friends!
Insta | Pinterest | Enews | TikTok