Hello my fellow Pop-Shoppians! So glad to have you here. Today I'm introducing a Pop Shop veteran, Kelly Kielsmeier. You have probably seen her work at one of our Mini Pops or Festivals; you may even own some! She dabbles in a lot of crafts, but we are going to focus on her re-purposed China & illustrations.
Kelly's art is adorable and totally affordable! Let's get to know this hard-working mother and artist…
---
Please tell us a little about yourself and your artistic background. Where are you from? Where are you meow?
I grew up in the friendly wood of suburban Houston, spending after school and summers running around in the ditch by my father's automotive shop with a sketchbook in hand trying to capture what I saw around. I took a few classes at community college, but I describe myself as a self-taught artist that has participated in various galleries and pop up markets around Houston since 2012.
I've taken a step back from the art scene these days, but I always make time to do little sketches to keep all those fine motor skills in check and keep tabs on my favorite artists.
Have you always been crafty and drawn to making things?
Yes, when I was a kid I had a lot of time on my hands after school and summers- drawing was a way to pass time. I still need to write a thank you card to my mom for all those scented markers and Klutz DIY kits.
When I became a mother, (I was a stay at home mom for her little years) I found myself bursting with creative energy that I haven't had before. My daughter was a major inspiration for making me pick up the pen again.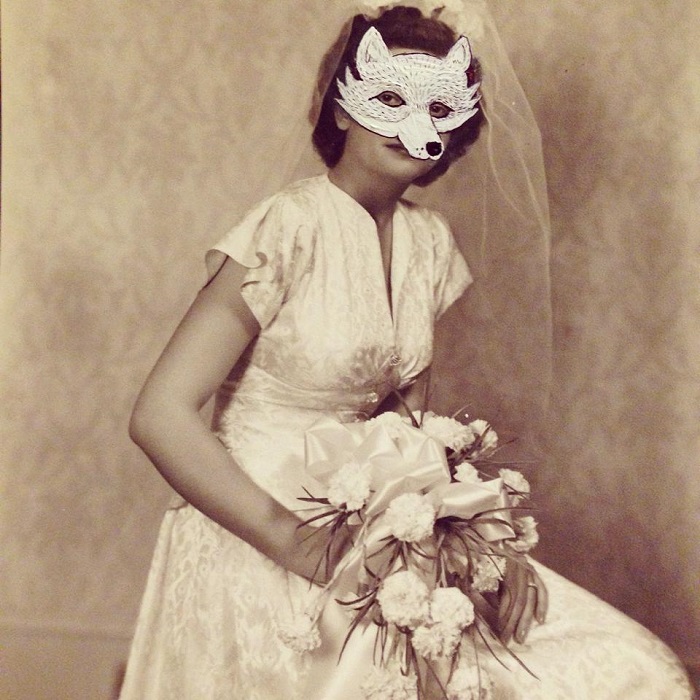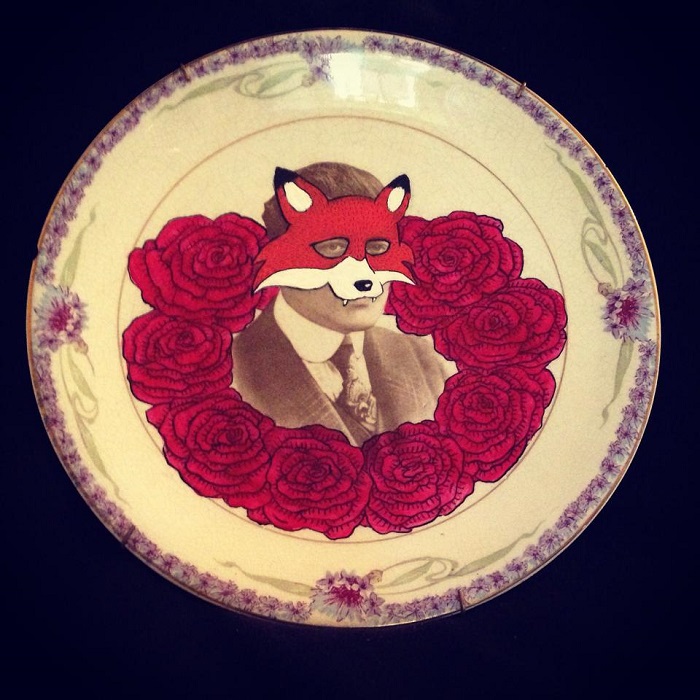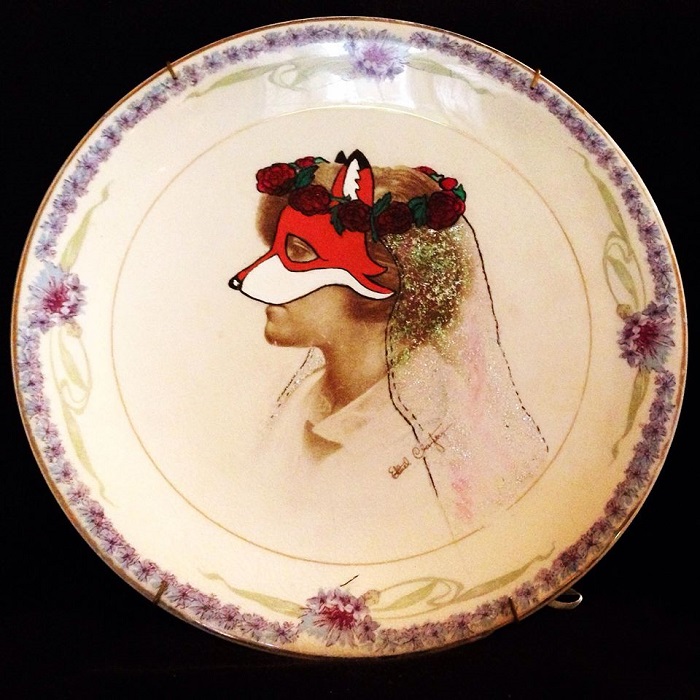 What's your process like when you start a new project? Do you like to sketch and plan or just wing it?
I can go both ways. Sometimes, I see a plate and know what exactly I will draw- the designs or shape will just "speak to me". Other times I get an idea, I just can't shake and will sketch it a thousand times until I find the perfect piece of china to fuse with it.
What's your studio/workspace like?
I'm pretty nomadic these days. I keep plates at home, in my truck, bring them to the office so I can work when I have a moment.
As a working mother, I am usually juggling multiple things at once but I try to manage to squeeze in time.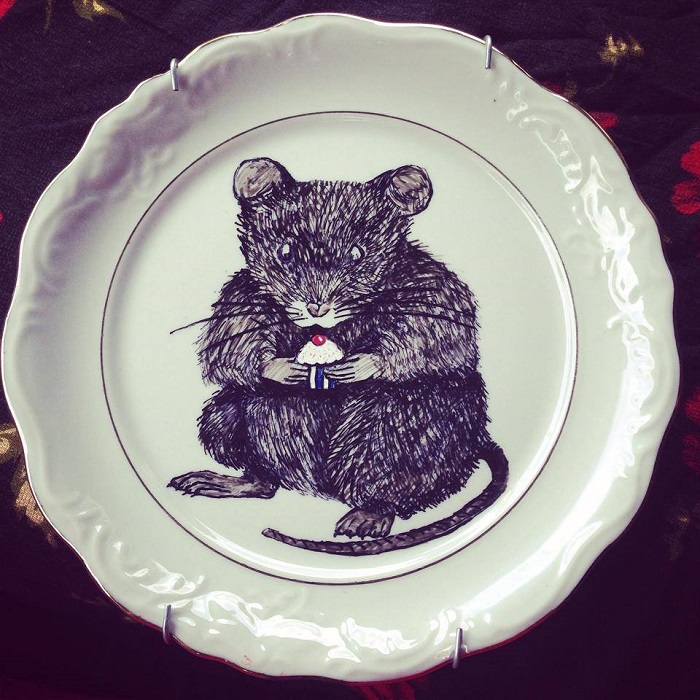 What keeps you coming back to Houston's Pop Shop Festival?
Besides all the lovely things to ogle and buy?
It's like a twice a year reunion with like-minded friends, I had great times with so many people and I love meeting all the new faces each year and making new memories!
Are you stirring up any other ideas for the future of your sweet, unique characters?
I'm dabbling in needle felting, which is a time consuming, laborious task of stabbing wool strands with long needles to create 3 dimensional objects and I have an idea or two for a series of plates- right now, I'm recharging my batteries.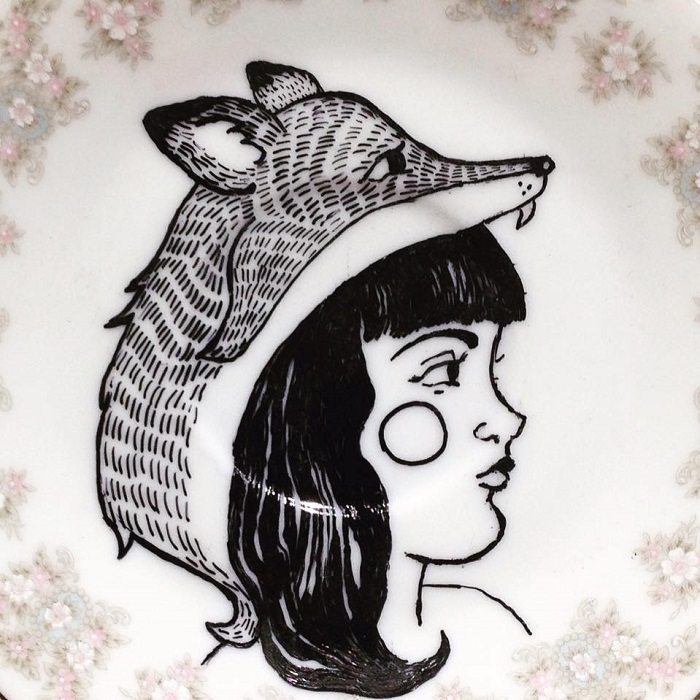 What are your favorite art supplies?
A good ole fashioned pen and sketchbook does the trick, it's the handiest tool for when an idea strikes.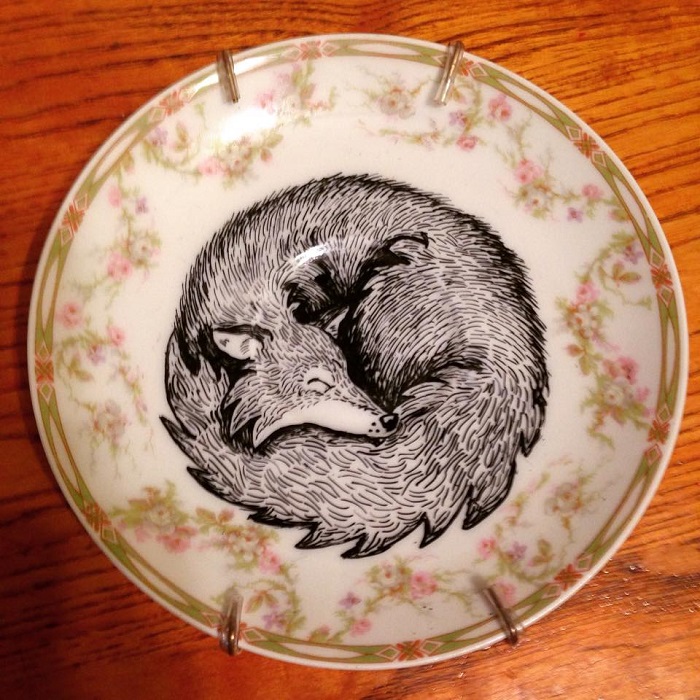 What makes you happiest in life?
My daughter and that sense of accomplishment after a day's hard work.
---
Keep up with Kelly's work on Facebook & Instagram.
Let's Stay Friends!
Insta | Pinterest | Enews | TikTok