This blog may contain affiliate links. 
I know that you know I spend way too much time and money on Etsy. However, my obsessive browsing really pays off when I come across artists like this one. Miss Rasa Vilcinskaite's bead-work is mind-blowing and vibrant and unique, and ah – I am just gushing over here!
Welcome these wonderful creations to our Pop Shop Blog and prepare to be awestruck…
---
First, please tell us a little bit about yourself and your artistic background. Where are you from? Where are you now?
I'm Rasa Vilcinskaite. I am a professional visual artist based in Lithuania. Currently I am continuing my MA studies in painting department of Vilnius Art Academy. I've been inspired by jewelry since 2013. These creations are deeply inspired by my passion for colors and oil painting. Sometimes I even feel that by sewing beads I am just using another media to paint colorful images. I try to select and compose my colors in a way that gives it the strongest visual aesthetic pleasure. Form is also an important aspect of my work. I use sharp, edgy and architectural shapes to assemble my crafty visions.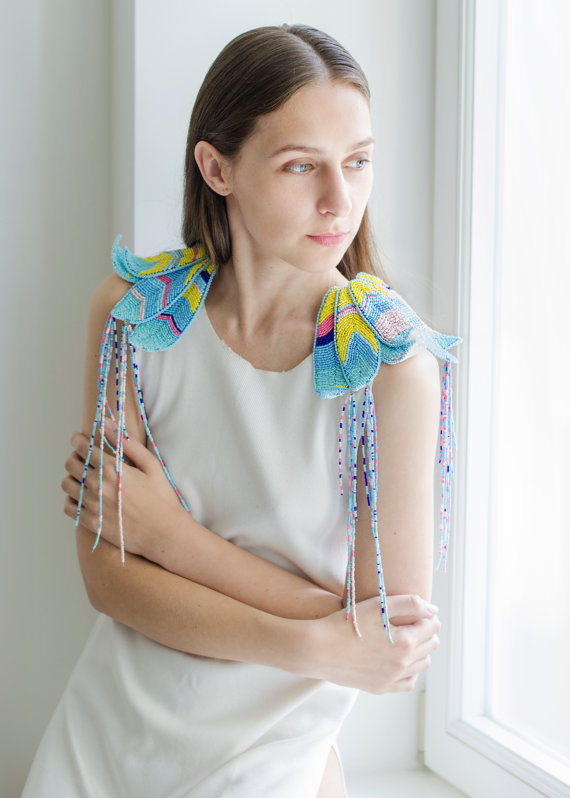 Did you always feel destined to be an artist? Were you ever unsure?
I always felt passion in art. Since early childhood I wondered about fashion design. Since I was 13, I was a part of art school in my home town Elektrenai. The teenage years were easy going, and I was pretty far away from the art. So yes, I was unsure about being an artist, but since 2009 I have never thought to change the direction of my life.
What's your process like when you start a new piece? Do you spend a lot of time working out concepts or do you just create for the moment?
Usually I work on impulse. I have never ever done sketches, but I usually have some abstract view in my head – what kinds of colors I will use and the main style direction, but I think the most impressive thing in jewelry creation is an opportunity to create in the moment. I can change forms and colors, even change the ideas in the same time when I am sewing. I never know how my new piece will look in the end. That is spectacular, to me.
My last collection and the new one still in my head have strong primary style ideas. So I can state that the process is impulsive, but the ideas and style are already in my head for the full collection.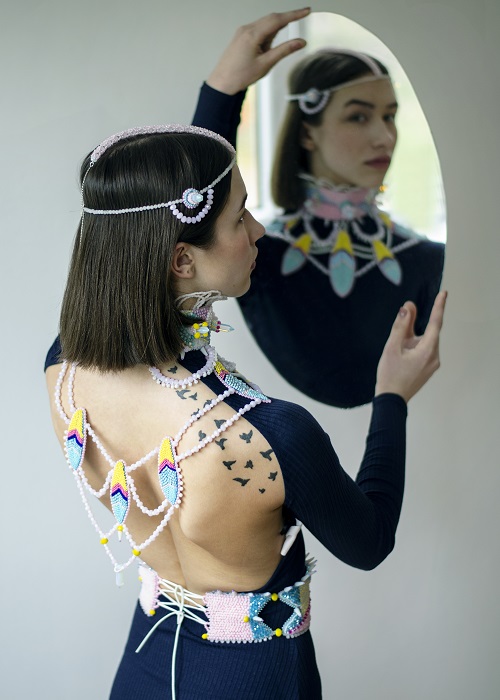 What are your favorite art supplies? Are there any mediums that intimidate you?
My jeweling medium is bead embroidery. I love seed beads, crystal beads, natural crystals and stones in all different kind of forms. In my previous works I did not like glitter or shiny stuff, I was quite scared of it. But my taste has changed over the years, and now I use shiny beads and crystals. These days, I'm in love with quartz stones, I love to do a relief and play with the planes. I like to work with the simplest expression of this technique, because I call myself a minimalist.
How has your art changed your life?
I do not know actually. I guess my life changed my art.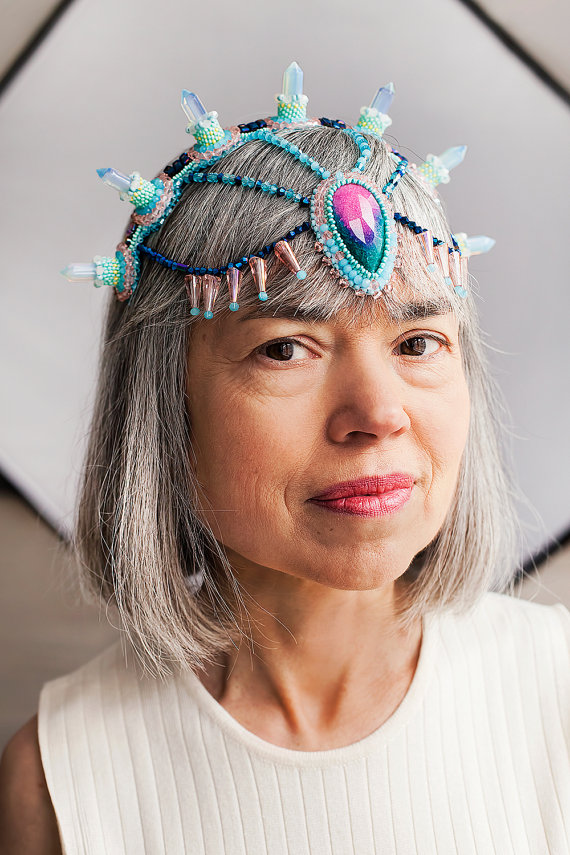 Do you collect anything?
When I was a very little kid, I collected fashion photos. I had a lot of fashion magazines, too. These days I do not collect anything, probably because I do not have any free time for it. I just want to spend as many hours as I can on my work.
What makes you happiest in life?
My happiness is my family – they keep me strong and are there for me every time I need a hand. Also, my lovely cat, Devil, and my super busy friends like myself.
Featured Collection Concept: The other side
The collection is about everything that is outside of our limits of perception, or everything that is beyond them..something that exists in the astral and disappears in the esoteric, earthly understanding (but it does not mean that it does not exist on this side or beyond) – all of this, I call 'cosmos'. This term unifies the concept of the whole collection.
---
This blog and other blogs at Pop Shop America may contain affiliate links.
Let's Stay Friends!
Insta | Pinterest | Enews | TikTok