I came across Brass Thread while shopping at our Holiday Pop Shop last year. Their work was with Skout Shop, an awesome jewelry collaborative for independent jewelers and selling one-of-a-kind handmade accessories. I have been obsessing over the tiny details and sweet rhinestone accents that really make Brass Thread pieces stand out. Though putting beads onto a shape seems simple enough, the time and work they put into each piece shows in the magnificent craftsmanship. These are actually very luxurious and exclusive pieces to collect.
Learn about the couple that gave Brass Thread life, and feast your eyes on their wonderfully intricate charms!
---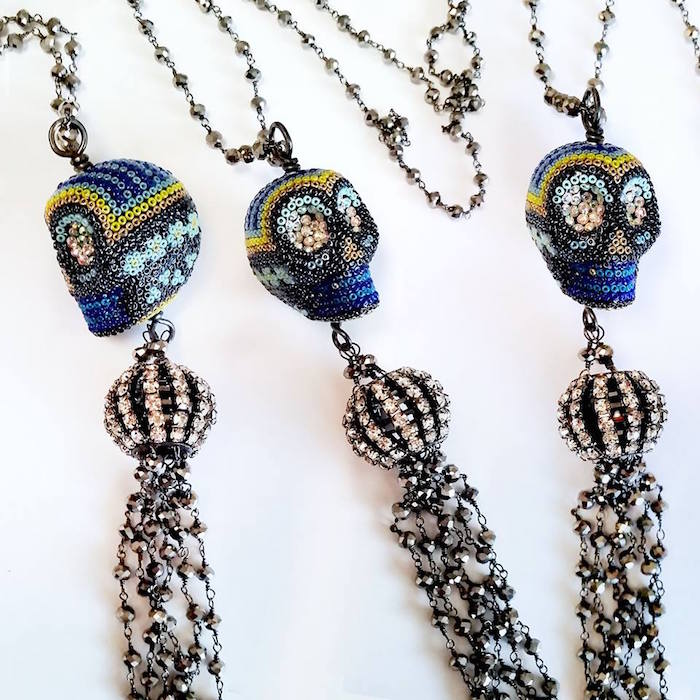 Please tell us about your team and your artistic backgrounds.
Brass Thread is a marriage, both literally and figuratively. Myself, Jessica, and my husband, Jason, make up Brass Thread. My background is in Apparel and Accessory design. I have a BFA from Pratt Institute where I majored in Fashion Design. I have worked for small and large brands such as Champion, Alice Ritter, Jordache, Chloe Dao and Fit Couture to name a few. I have also designed and styled a variety of important people. I have a background in art, design, and technology. Including Brass Thread, I currently teach an Apparel Computer Systems certificate program within the Houston Community College Fashion Program and I also teach fashion classes at the Glassell Junior School (MFAH).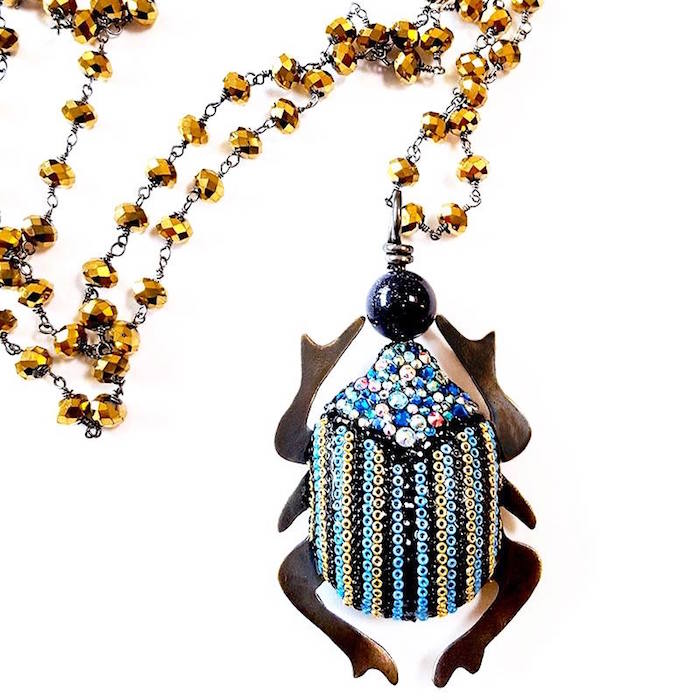 Jason's background is in Fine Jewelry and as a Bench Jeweler. He is a bench jeweler with a GIA certification. He started working as a bench jeweler and fine jewelry designer over a decade ago and has designed numerous pieces for musicians, athletes and socialites. He also has a background in Visual Merchandising Management for a luxury and reputable fine jewelry store.
We have just added a production assistant to our team due to our company growth! His name is Alan, and he is a very talented past-student of mine. We are excited to be working with him.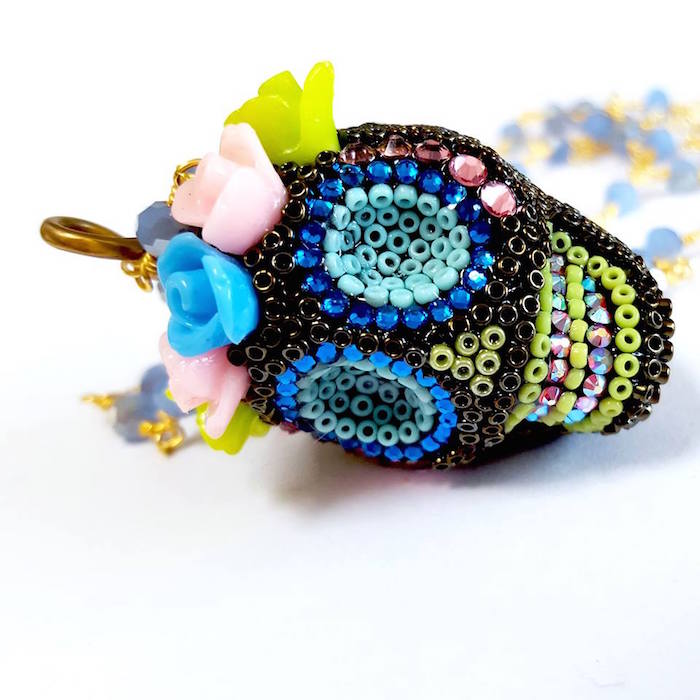 What's the process like when you start a new project? Do you like to sketch and plan or just wing it?
Jason and I each have different processes when we do a piece. Jason usually always sketches a rough sketch beforehand. I will sketch directly on the piece or I will wing it. Sometimes, we also lay the bead patterns out on the table before they get put on the pieces.
What's the work-space like?
Right now our studio is the downstairs of our house! We set it up so that instead of having 2 separate table to work on, we have one large work table and we sit across from each other. This works very well for us so that way we are able to bounce ideas off of each other and constantly be creative. We are both big believers that the best creative work develops through collaboration. Our two little dogs also have their own beds in our studio so they can feel like they are part of the process 😉
How did your initial ideas blossom into a business?
We developed this out of a personal desire. On a trip to Mexico, we were really intrigued with Huichol beaded sculpture. I had told Jason that I would love if the same idea could be a wearable piece. It took us about 6 months to develop the right process and source the proper components to develop the first beaded skull. Jason has even made our tools that we need to use. The first piece was supposed to be for me but it sold almost immediately. We placed a few pieces in a local boutique that wanted to sell them and now we sell within shops in 4 countries and custom orders on our website and we haven't even done any marketing or trade shows yet! The closest we have to marketing is Instagram. I also do all of our branding and deal with a lot of the day to day business "stuff".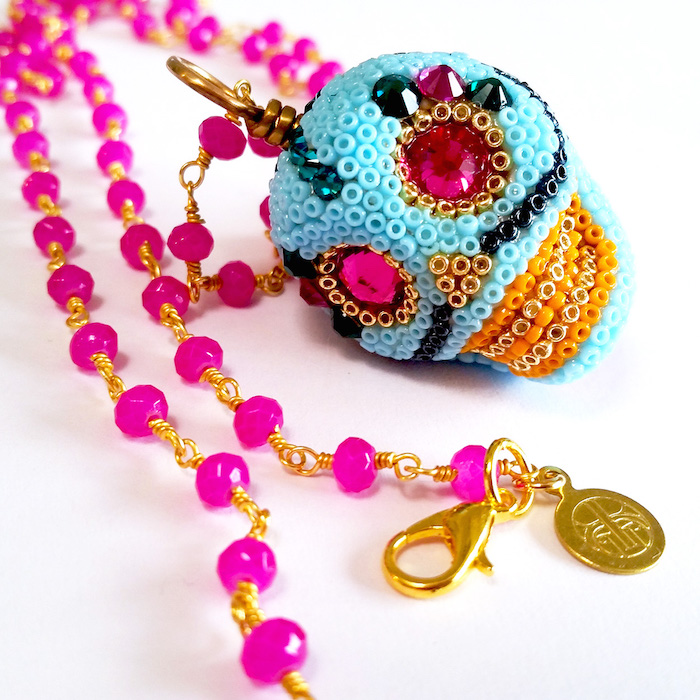 What are your favorite art supplies?
Jason loves Micron pens! He is very detail oriented and his drawings are extremely detailed and technical. As a jeweler, his absolute favorite supplies are semi precious and precious stones but I don't know if that counts as an art supply.
I absolutely love textiles. I grew up around textiles and I love everything about them including the yarns and threads that make up fabric. My traditional art supply love would be soft lead pencils and colored pencils and a high quality drawing paper. Other then that, I love ANYTHING that I can make something with.
Does your creative team work on any projects outside of Brass Thread?
We work on personal projects often. With the combined skills that we each have, we constantly create. Jason even designs and builds furniture. However, Brass Thread is growing so much that it is keeping us quite busy lately!
Do people ever ask you to turn their personal objects into charms? Have you ever done it?
We haven't had the specific request to turn an existing item into a pendant, however, we do custom requests for new styles or animals/objects that are meaningful to an individual. We always make it happen unless it is completely impossible. But we are amazing problem solvers 😉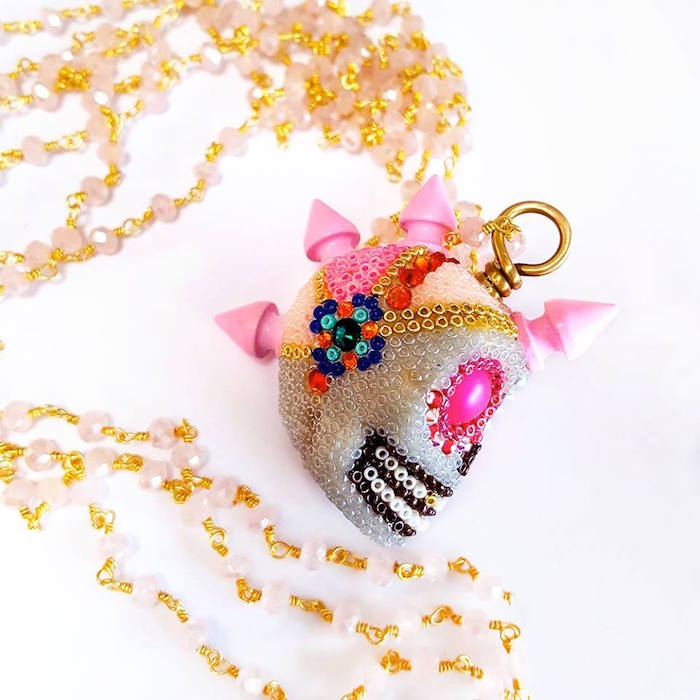 What makes you/y'all happiest in life?
Experiencing life, art, culture and creating. And, of course, our two little dogs, Audrey & Annabelle.
---
Keep up with this unique, local company on Instagram, Facebook, and Twitter.
Shop custom creations at brassthread.com/collections.
Let's Stay Friends!
Insta | Pinterest | Enews | TikTok