I love pantry foods! Anything you can make with a combination of flour, milk, and butter is just fine with me. They are the perfect ingredients to keep around through ugly weather. Last time it was Hurricane Harvey and this time it was a monster cold front that hit the NE USA so much more than it affected us in Texas.
Before the cold front I had to stock up so my family and I could stay indoors, well fed, and toasty warm. Think recipes like Chicken Pot Pie, Homemade Chicken Noodle Soup, and Split Pea Soup. That is where this Savory Herb Drop Biscuits Recipe was born.
It's the perfect accoutrement for soup and they are just heavenly when served warm! These Savory Herb Drop Biscuits would also be delicious for breakfast with a bit of sausage and gravy. Mmmmm! And they are quite simple and quick to make. Scroll to the bottom for the full printable recipe or keep reading for helpful tips and tricks in making this Savory Herb Drop Biscuits Recipe.
For this recipe, you must use good quality butter, milk, and herbs! It makes all the difference. I used Plugra, my favorite European Butter. I included a pink Himalayan Sea Salt and herbs from Dean & Deluca. The herbs are truly special. Any salt that has a bit of weight to it will give you a delicious flavor. Think Kosher Salt or if you fresh grind your salt, use a wider grind for a chunkier salt crystal.
Beyond the quality of ingredients used, the Savory Herb Drop Biscuits Recipe just requires a simple stir and drop onto a pan! It's incredible. And they do not take long to bake either! This is an everyday recipe that's simple and delicious.
I mentioned before that I made these to accompany soup, but they are perfect to just keep around the house as a snack. And they work as breakfast, lunch, and dinner.
When you are dropping your biscuit dough onto your greased cookie sheet, don't worry at all if they form into odd shaped globs! It's totally normal. You could take a moment to shape them, and it will give you a prettier shaped result.
But if you are like me, and love a handmade homemade Southern Style food aesthetic, there's no sense it wasting the time to make them look perfect!
I love that you can see the fresh herbs in every bite! It's like a garden in a biscuit. So what will you pair with your Savory Herb Drop Biscuits? Tell us below in the comments!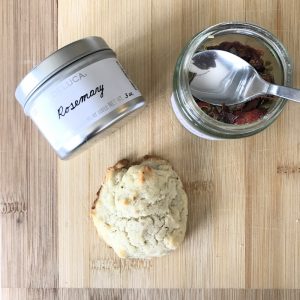 Savory Herb Drop Biscuits Recipe
Make these Savory Herb Drop Biscuits that pair perfectly with breakfast and soup, too!  They are the quickest and easiest way to make bread.
Ingredients
2

cups

All Purpose Flour

1

tablespoon

Baking Powder

2

tablespoons

Sugar

1/4

teaspoon

Kosher Salt or Fresh Ground Salt

1/2

cup

Melted Butter

not hot

1

cup

Milk

1

teaspoon

Grigliata by Dean & Deluca

1/4

teaspoon

Rosemary

1/4

teaspoon

Basil
Instructions
Preheat your oven to 450 degrees F.

Set out your butter and milk to allow it to warm to room temperature.

Mix together the flour, baking powder, sugar, and salt.

First, add the melted butter and mix thoroughly.

Next, add the room temperature milk and mix thoroughly. Cold milk will seize the batter, so you will have to mix it more. But it will not affect how the biscuits turn out.

Add all your herbs, mix and drop into 2 inch wide balls on a greased cookie sheet.

Bake at 450 degrees F for 10-14 minutes until the edges and tops turn golden brown.
Get More Recipes!
Grilled Wedge Salad | Skinny Turkey Jalapeno Poppers | Recipes on Pinterest
Let's Stay Friends!
Insta | Pinterest | Enews | TikTok