Energy Corridor: DIY Smudge Bundles & Clay Dishes
September 27, 2019 @ 7:00 pm

-

9:00 pm

$36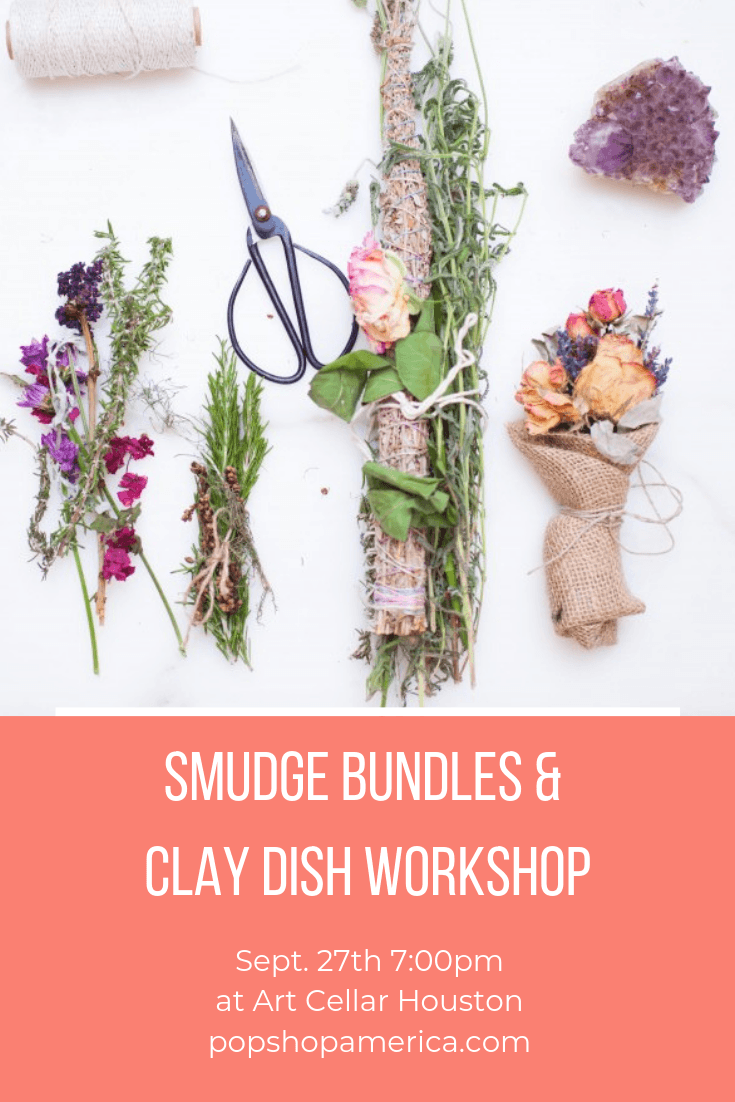 Pop Shop America
DIY Smudge Bundles & Clay Dishes
Friday, Sept. 27th 7:00pm-9:00pm
at Art Cellar Houston
1460 Eldridge Pkwy, #120
Houston, TX 77077
This workshop will be a relaxing way to make your own smudge bundles that you can burn in your home. We'll use dried flowers, dried herbs, and twine to make the most gorgeous and gorgeously scented incense. And working with clay is ultra relaxing! Join us at our next craft workshop by Pop Shop America to make your own clay dishes. We'll use an easy to use clay – polymer clay that you can work with at home. Add some color and fun to the perfect setting for your smudge bundles.
Everyone will make a set of 6 smudge bundles and 1 clay dish!
Pop Shop America art classes are a super fun way to spend a Friday night. If you are looking to have some extra fun, this workshop is BYOB! Please feel free to bring your favorite bites as well! We play great music and socialize while we craft!
We take care of all the supplies you need and you get to keep your work! You will walk away with professional quality design goods. You don't need to be an experienced crafter to join us – we choose supplies that will lead to professional results.
The Art Cellar of Houston located in the Energy Corridor is a beautiful and tranquil studio space where you can let your creative energy flow. They offer regular scheduled painting classes and private parties/workshops in a fun and creative environment to adults and kids alike.
Can't make it to a workshop, but still want to make something special? No sweat! With our "Craft In Style" Subscription Box, you can craft with us no matter where you are located! This subscription box is oh so fun and stylish. Each month you will receive a new surprise project on your doorstep, full of the necessary supplies and instructions to make something magical. Have a certain craft in mind that you want to try? Check out our DIY Kits that you can order anytime!