In my house, we are both blueberry fans and goat cheese fans; I feel like I say that every time I make a new recipe. In fact, goat cheese risotto is one my toddler's absolute favorite foods. And you can check out my latest blueberry recipes in the links above.
Since we love goat cheese so much, we always, always have some in our refrigerator. So when I needed a quick recipe to take to a party, I knew I wanted to make a sweet goat cheese dip. Blueberries pair perfectly and this recipe was so easy to make!
This Blueberry Goat Cheese Dip recipe is 3 things: easy, only 6 simple ingredients, and the perfect mix of sweet and tangy.
Blueberry Goat Cheese Dip – the Ingredients
Like I said just a second ago, this dip only takes 6 ingredients:
goat cheese
fresh blueberries
lime juice*
honey
cream cheese (you could also use Neufchatel cheese)
sugar (which I forgot in the picture!)
*Instead of lime juice, I use True Lime, which is crystalized lime (no other ingredients!). You just mix it with a little water and you have lime juice! It tastes exactly the same as lime juice – because it's just lime – but it's a shelf stable option so you don't have to keep limes on hand. 
We're going to use these 5 ingredients to make a blueberry compote and a goat cheese spread, before layering them together.
Making the Blueberry Compote
In a medium saucepan, add 1 cup of blueberries, 2-3 tablespoons of sugar (start with 2, and if it isn't sweet enough for you, add more), 1/4 cup of water and 1 tablespoon of lime juice (or equivalent of True Lime – a 1/2 tsp., I believe). Bring the mixture to a boil over medium-high heat. Boil for 1 minute, stirring constantly.
Reduce heat to medium and cook for a couple more minutes, or until the mixture thickens. Remove the blueberries from the heat and let cool.
If you want to make it a bit thicker, you can use a potato masher to burst some of the blueberries. Make sure you leave some whole, though. You don't want all pieces and no whole berries in your dip!
Making the Goat Cream Cheese Layer
In the bowl of a stand mixer, combine 8 ounces of goat cheese and 8 ounces of cream cheese. Mix thoroughly. Drizzle 2 tablespoons of honey over the mixture and stir to mix it in. Taste, and if it is not sweet enough for you, add another tablespoon of honey.
Putting the Blueberry Goat Cheese Dip Together
Use a large round or rectangular serving dish that is at least an inch deep.
Use a spatula to spread the goat cream cheese mixture over the bottom of the dish. Spread evenly to cover the bottom. Use a large spoon to spoon the blueberry mixture over the top of the goat cheese. Dollop the blueberry mixture in 6 or 8 places, and then gently spread with the large spoon to cover the top.
Once dip is layered, refrigerate for at least 30 minutes so that it will be chilled when serving. Keep chilled until you serve it.
Serving and Presenting the Blueberry Goat Cheese Dip
I served this dip with fresh sliced baguette at the party that I took the dip to. Fresh baguette is even better if you're able to heat it slightly before serving alongside the dip, as the heat makes it a bit softer.
Some other ideas to serve alongside the Blueberry Goat Cheese Dip:
pretzel crisps or pretzels
crackers – use a neutral kind like a water cracker for the best taste companion
wheat thins
cinnamon sugar pita chips
for a healthier option, serve alongside celery sticks or apple slices
Place a soft cheese spreader or a small spoon in the dip for people to scoop the dip out onto their plates.
Alternatively, if you're using baguette slices, you can pre-spread the dip onto the baguette. Place a small spoonful of dip on each baguette slice. Then place your baguette slices on a pretty platter for a beautiful, easy presentation!
Can I Use Other Berries in This Dip?
Absolutely! If you don't like blueberries, you could substitute the same amount of raspberries or chopped strawberries. You may have to cook the strawberries a little longer, and you'll definitely want to mash them with a potato masher.
Or you could make a mixed berry compote and use a combination of all three! Whichever berries you choose – this dip is going to be a new easy favorite!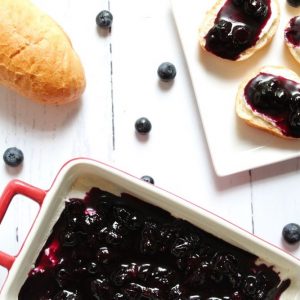 Blueberry Goat Cheese Dip
This sweet-and-tangy combination of blueberries and goat cheese makes the perfect dip for any get together - or for your own indulgence at home!
Ingredients
1

cup

blueberries

2-3

tablespoons

granulated sugar

1

tablespoon

lime juice

or crystalized lime equivalent

1/4

c.

water

8

oz.

cream cheese

8

oz.

goat cheese

2-3

tablespoons

honey
Instructions
In a medium saucepan, heat bluberries, water, lime, and sugar over medium-high heat. Bring to a boil and let boil for 1 minute, stirring constantly.

Reduce heat to low and cook for 2-3 more minutes, or until thickened. Remove from heat and let cool.

In the bowl of a stand mixer, combine cream cheese and goat cheese until smooth and creamy.

Drizzle honey over goat cheese mixture and mix in.

Spread goat cheese mixture in round or rectangular serving dish.

Spoon blueberry compote on top in 6 or 8 dollops. Then use spoon to gently smooth blueberry compote so tht it covers entire layer of goat cheese.

Chill for 30 minutes or more before serving.

Serve alongside baguette slices, pretzels, crackers or fruit-and-veggie dippers.
Let's Stay Friends!
Insta | Pinterest | Enews | TikTok