Peaches are the epitome of summertime produce season to me. The ripe, juicy fruit is perfect on hot summer days, and they kind of lead the transition into fall, which is my favorite season.
Growing up, my mom always made apple crumble once the orchards were open for fall. I didn't even know until I was older that other types of crumbles and crisps existed. Where was the peach crisp, the cherry crumble, mixed berry bars, the blueberry crisp all those years, mom? 
Luckily, as an adult, I've taken steps to correct that issue. We are all about the fruit crumbles and crisps in our house. I started out making this recipe as just a simple peach crumble, but then I knew I just had to dress it up. So this plain ol' peach crumble put on its fancy pants, and now you've got this dressed-up Bourbon Honey Vanilla Peach Crumble.
Bourbon Honey Vanilla Peach Crumble – the Ingredients
Peaches are in season, so you can get your hands on some perfect ones from the farmer's market or your local grocery store! Use a sweet, cling free peach (that's my preference).
Aside from peaches, you'll need honey, good quality bourbon and vanilla to make the peach part of your peach crumble. Don't use a cheap bourbon; the flavor isn't as strong and it won't lend that gorgeous bourbon taste to your peaches. I used Angel's Envy, which is my husband's favorite bourbon ever. (I won't be telling him I took some of it!)
For the peach crumble topping, you'll need brown sugar, unsalted butter and all-purpose flour.
Crumble vs. Crisp
Do you struggle to know whether the dish you're making is a crisp or a crumble? Here's a general definition: crisps usually have oats or nuts in the toppings, while crumbles are a combo of just flour-butter-brown sugar (like a streusel topping).
This recipe is considered a crumble because there are no oats or nuts. Although, both are delicious and in the end, who really cares whether you're eating crisp/crumble/cobbler/streusel – as long as it is melt-in-your-mouth delicious? Am I right?
Peeling the Peaches
Peaches can be a pain to peel. You can use a peeler or paring knife to peel them, but it will take a long, long time. To make it faster, boil a couple of cups of water on the stovetop. Drop your peaches in and boil for 20 seconds. Remove immediately and put them straight into a ice bath (bowl of ice water) to stop the cooking process.
When you pick up each piece, you should be able to just slip the skin right off! Use a paring knife to help you if it doesn't just come right off.
Making the Bourbon Honey Vanilla Peach Crumble Filling
Thinly slice each of your peeled peaches and add to a large bowl. Drizzle the honey, bourbon and vanilla over the top of the peaches and stir well.
Pour the peaches into a buttered 9×13 rectangular baking dish.
Making the Peach Crumble Topping
You can choose to combine your peach crumble topping ingredients by hand or by food processor.
By hand: use a pastry cutter or two butter knives to cut butter, brown sugar and flour together until the biggest chunks are only about pea-sized.
Food processor: Add butter, brown sugar and flour to the bowl of a food processor (or blender with food-processing capabilities).
Pour topping over sliced peaches in baking dish. Spread topping to evenly cover entire pan. Drizzle the remaining tablespoon of honey over the top.
Bake at 350 degrees for 25-30 minutes, until peaches are bubbling and topping is golden.
Ideas for Serving
Top with ice cream – vanilla would be classic and delicious, but a homemade caramel ice cream would be over-the-top amazing!
Top with caramel drizzle – you can use a jar of caramel topping; just heat and drizzle over each serving.
Top with homemade whipped cream.
Do it all! – Top with ice cream, caramel and homemade whipped cream. Prepare for sugar coma and live it up!
Suggestions to Take Your Bourbon Honey Vanilla Peach Crumble Up a Notch
Add 3/4 c. blueberries to the sliced peaches to create a blueberry-peach crumble.
Add 3/4 c. raspberries to the sliced peaches.
Add 2 tsp. cinnamon to the topping.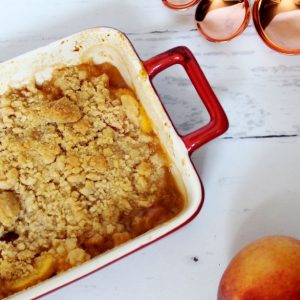 Bourbon Honey Vanilla Peach Crumble
A gorgeous, bourbon-spiked peach mixture topped with a crisp, buttery golden topping.
Ingredients
7-8

cups

peeled

sliced peaches

3

tablespoons

honey

1

tablespoon

vanilla extract

2

tablespoons

good quality bourbon

I used Angel's Envy

2

cups

all-purpose flour

1

cup

light brown sugar

1

cup

2 sticks unsalted butter

1

tablespoon

honey

for topping
Instructions
Peel and thinly slice peaches (see post for water-bath peeling method). Place peaches in large mixing bowl.

Add bourbon, vanilla, and 3 tablespoons of honey to the mixing bowl. Stir peaches gently with a large spoon.

Pour honeyed peaches into a butter 13x9 rectangular dish.

To make topping, cut unsalted butter, brown sugar and all-purpose flour together, either in a food processor or by hand, until pieces are pea-sized.

Top peaches liberally with topping mixture.

Drizzle with remaining tablespoon of honey.

Bake at 350 degrees for 25-30 minutes, or until peaches are bubbling and top is golden.
Let's Stay Friends!
Insta | Pinterest | Enews | TikTok