I'm the worst at eating breakfast. Or rather, I'm the worst at allotting time to eat actual breakfast in the morning. As hard as I try, I've always been the kind of person who is rushed in the morning. Thus, I always end up having to eat my breakfast on the go. When I worked at the bakery, I was literally walking down the street at 5:30am in the dark while eating yogurt and granola with a spoon out of a magic bullet cup. Pretty sure I even had to pack a fried egg in Tupperware once and eat it en route to the bakery. Smoothies were my go-to breakfast of choice for a long time, but sometimes I just don't want something so cold first thing in the morning. These past couple weeks I had been eating something random and small, so I decided I had to use my meal prep skills to make myself some kind of bar for breakfast. After a lot of searching and recipe tweaking, these mixed berry bars were born.
I had originally planned on making date squares, but those can sometimes be too sweet and actually have a ton of butter in them! I knew I wanted something healthier with a few servings of fruit, not too much fat and not a lot of carbs either. I looked around a bunch and eventually found these mixed berry bars. I loved that they were gluten free and vegan! Plus, they didn't require a ton of ingredients or too much butter!
I knew that I had to make a few tweaks though. I changed up the ratio of crust to crumble, added a few more spices, doubled the amount of berries, and threw in a few other things. These mixed berry bars are now one of my favourite things to make for breakfast because the pan lasts me the entire week! I also have a problem where if something is super delicious, I'll have a hard time not eating it all at once. I think they call that a lack of self control. So, these are the perfect balance of tasty, but not sinfully tasty, so they actually last me the entire week.

They're also great because you can choose from a ton of different berries or fruits to put in them. So far I've tried strawberry-raspberry mixed berry bars (not my fav), and the blueberry-raspberry version I'm sharing today. You could also try using blackberries, cherries, currants and even stone fruit when it's in season!
Mixed Berry Bars
Yield: 8-16 Bars (depending on how small you cut them)
Prep Time: 15 Minutes
Bake Time: 40 Minutes
Recipe adapted from Project Om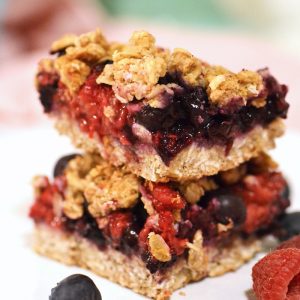 Mixed Berry Fruit Bars (Gluten Free & Vegan!)
These berry bars are gluten free and vegan!  They are a healthy, easy and delicious breakfast and will make you glad that it is morning.
Ingredients
1 1/2

cups

Oats

3/4

cups

Oat Flour

1/4

cup

Almond Flour

or use one full cup of Oat Flour instead

1/3

cup

Pure Maple Syrup or Raw Organic Honey

1/3

cup

Coconut Oil

1

teaspoon

Cinnamon

1/2

teaspoon

Cardamom

1

teaspoon

Pure Vanilla Extract

1/4

teaspoon

Vanilla Salt

or sub. regular salt

4

cups

Mixed Berries

I used raspberries and blueberries

1/2

juice of 1 Lemon

1

tablespoon

Chia Seeds

1

teaspoon

Cornstarch
Instructions
Preheat your oven to 375 degrees F.

Mix all but the last 4 ingredients in a bowl with a fork until it is a crumbly texture and will stick together when pressed between your fingers.

Take about 2/3 of the mixture and press it down into an 8x8 glass baking dish.  Reserve 1/3 for the crumble topping.

Combine 2 1/2 cups of the mixed berries with lemon juice, chia seeds and cornstarch.

Using a fork, mash the berries up until they resemble a chunky jam.  Spread on top of the oat crust.

Place the remaining berries on top of the chunky berry jam mixture, spreading them out evenly.

Crumble the remaining oat mixture evenly overtop the berries and press down gently.

Bake for 40 minutes, or until the berry mixture is bubbling slightly around the edges of the pan.

Allow to cool and slice into squares.

Serve with yogurt.
Sometimes when I have a little extra time on the weekends, I like to eat these bars with some greek yogurt. It's the perfect blend of sweet juicy berries, with creamy tangy yogurt. Such a great way to start the day!
The great thing about these bars is that there are so many options for making them. Don't have oat flour? No problem, use normal flour. No chia seeds? No worries, leave em out! Is it peach season? Great, use peaches! Or better yet – combine peaches and raspberries! The combinations are endless – and delicious.
Let me know what you think of these mixed berry bars! Hopefully they'll be on your breakfast rotation soon!
Need more berry recipes in your life? Try these below!
xo, tess.

Let's Stay Friends!
Insta | Pinterest | Enews | TikTok