I'm on a mission. That mission is to discover the most delicious cereal to make the most delicious marshmallow crispy treats known to man. I've tried with so many cereals that I can't wait to share with you…
Of course there's Honeycomb Marshmallow Crispy Treats – one of my absolute favorites. Another favorite are these Neapolitan Rice Crispy Treats. Why eat just one flavor when you can have chocolate, vanilla, and strawberry all in one?!?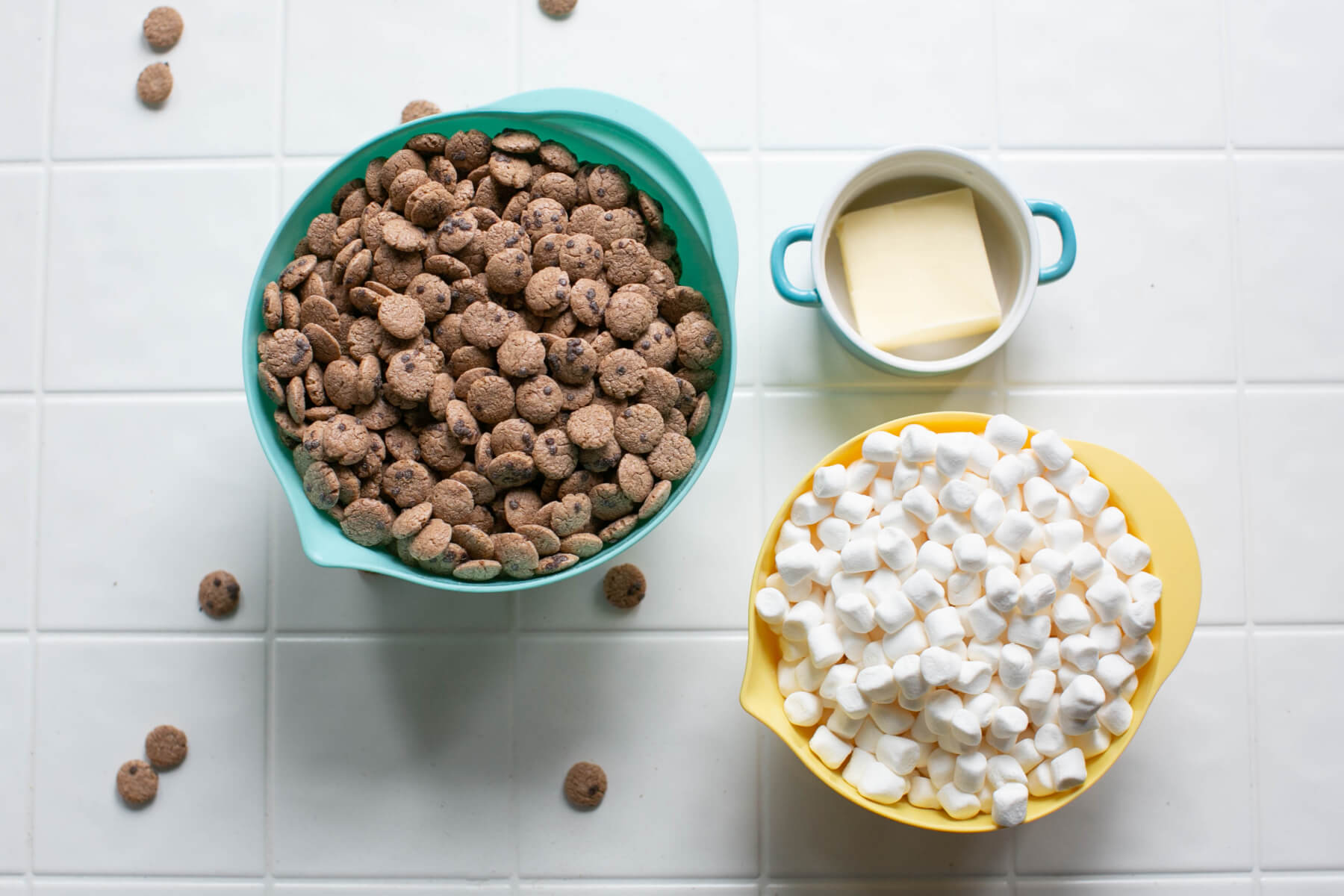 But these Cookie Crisp Marshmallow Crispy Treats are at the top of my list! They are a kid-favorite because Cookie Crisp is just so much fun. They are chocolatey but not too chocolatey. They are crispy, crunchy and fun!
Marshmallow crispy treats are a great dessert for so many reasons. First of all, they are no bake so you don't need an oven and they just take a few minutes to make. It's fast and easy.
I also love that they are low fat because they don't use a lot of butter. They are sweet, crispy, crunchy and have all my favorite characteristics of a delicious dessert – but just aren't as bad as many other desserts. They also keep really well – at least a few days longer than cupcakes or cakes.
How to Make the Perfect Marshmallow Cream
Making heavenly marshmallow cream is a snap if you follow these tips. First of all, use a nice quality butter. The butter flavor will come through in any crispy treats because we aren't cooking the butter – just melting it. It can be salted or unsalted, but it should be a nice butter, like my favorite Plugra.
Second, keep the heat on low. Just be sure to prevent your butter or marshmallows from burning.
Third, add a dash of extract – vanilla, almond, even butter extract. For most crispy treat recipes, I add a dash of vanilla extract. But imagine Fruity Pebbles Marshmallow Crispy Treats with just a hint of lemon extract. Yum!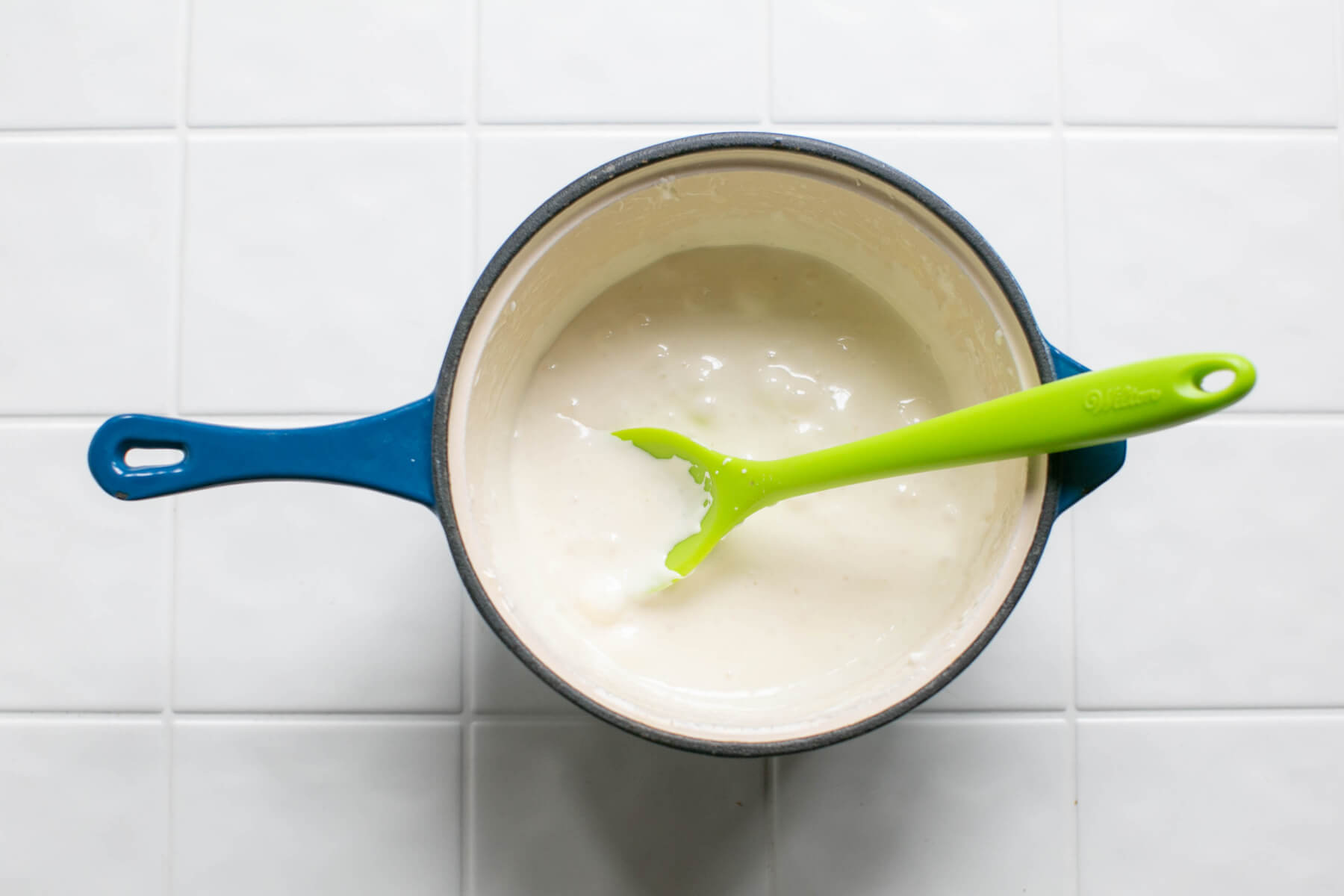 Now to make marshmallow cream, just melt your butter first, which creates a great non-stick surface for your pot and mixing spoon. Once your butter is completely melted add the marshmallows. Stir every few seconds until the marshmallows are completely melted.
After everything is melted, add the extract. Mix it in thoroughly and completely. Adding the extract last will help keep them flavor bright and punchy.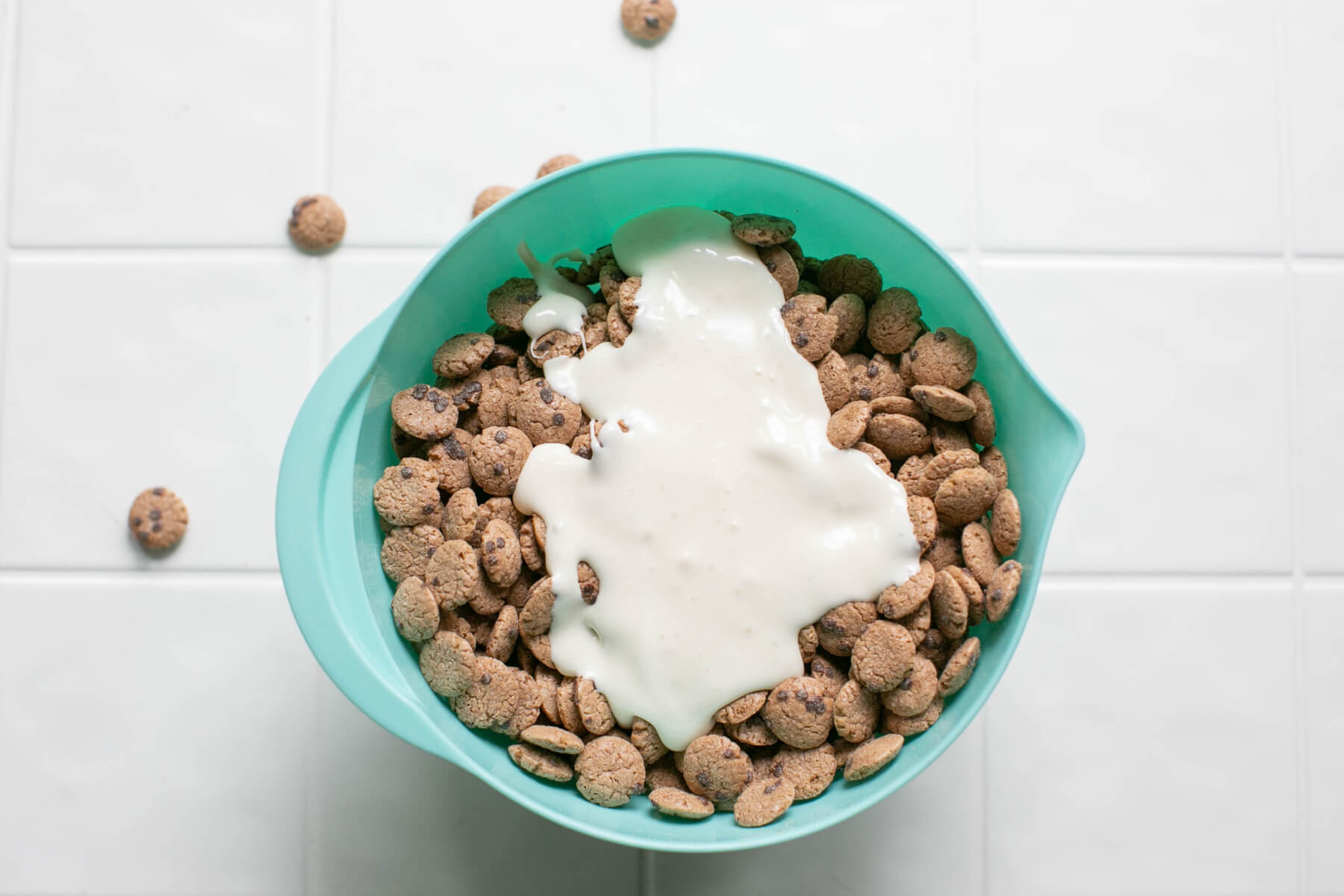 Why You Need to Work Quickly
Once you remove your marshmallow cream from the heat, you need to work quickly. The marshmallows become tacky and begin to set quickly so the whole process is a race against time.
That's why you should set up the rest of your recipe, tools, and supplies before you remove the marshmallow cream from the heat.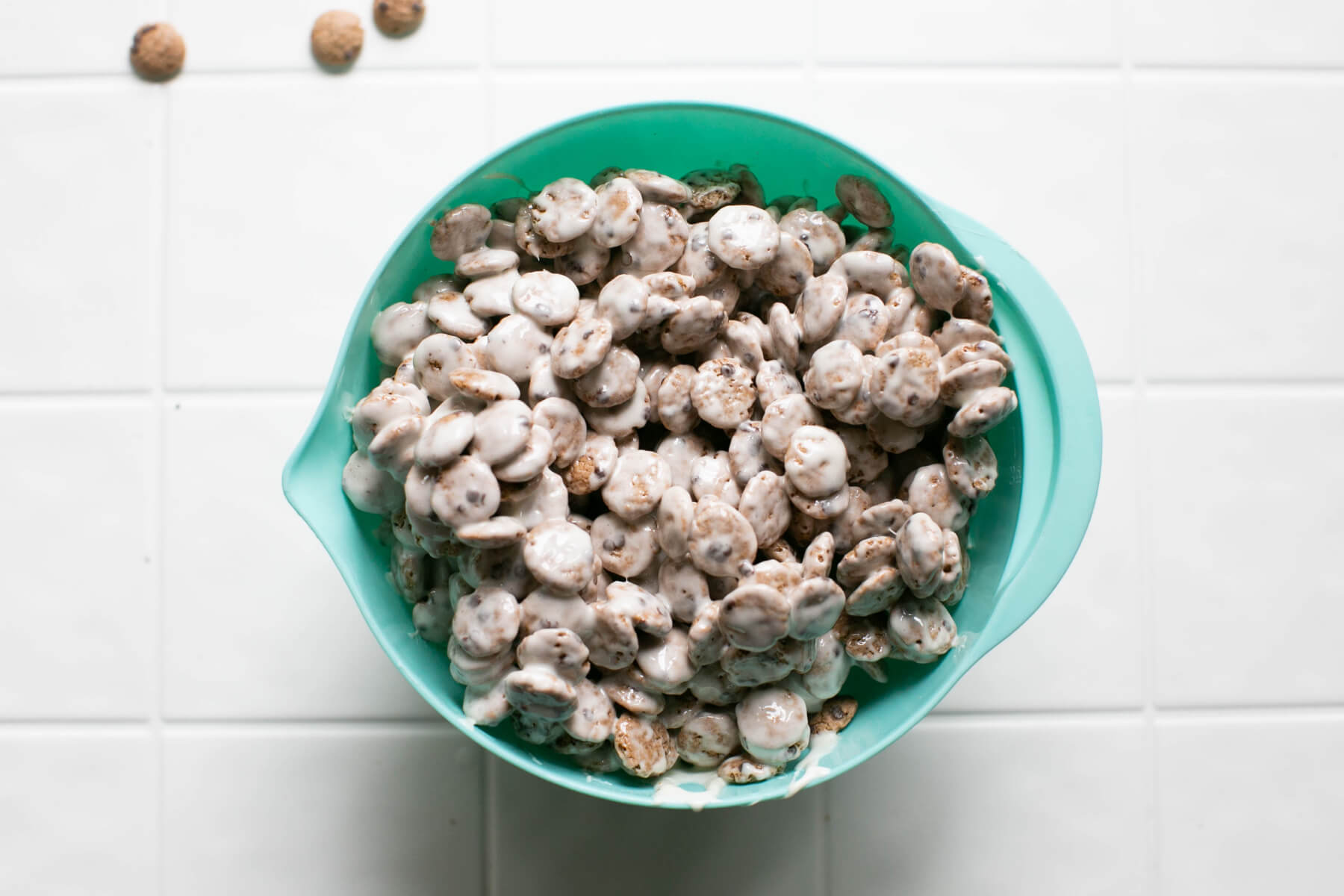 So make sure your 13×9 inch baking pan is ready and that everything is in close proximity. Once you remove the marshmallow cream from the heat and add it to the Cookie Crisp cereal, stir it gently to not crush the cereal, but blend the ingredients as fast as you can.
You can add the cereal to the marshmallow cream over the heat, to give yourself a few extra seconds to stir them and blend them. But adding the cereal over the heat, can soften the cereal and almost make your crispy treats taste a bit stale.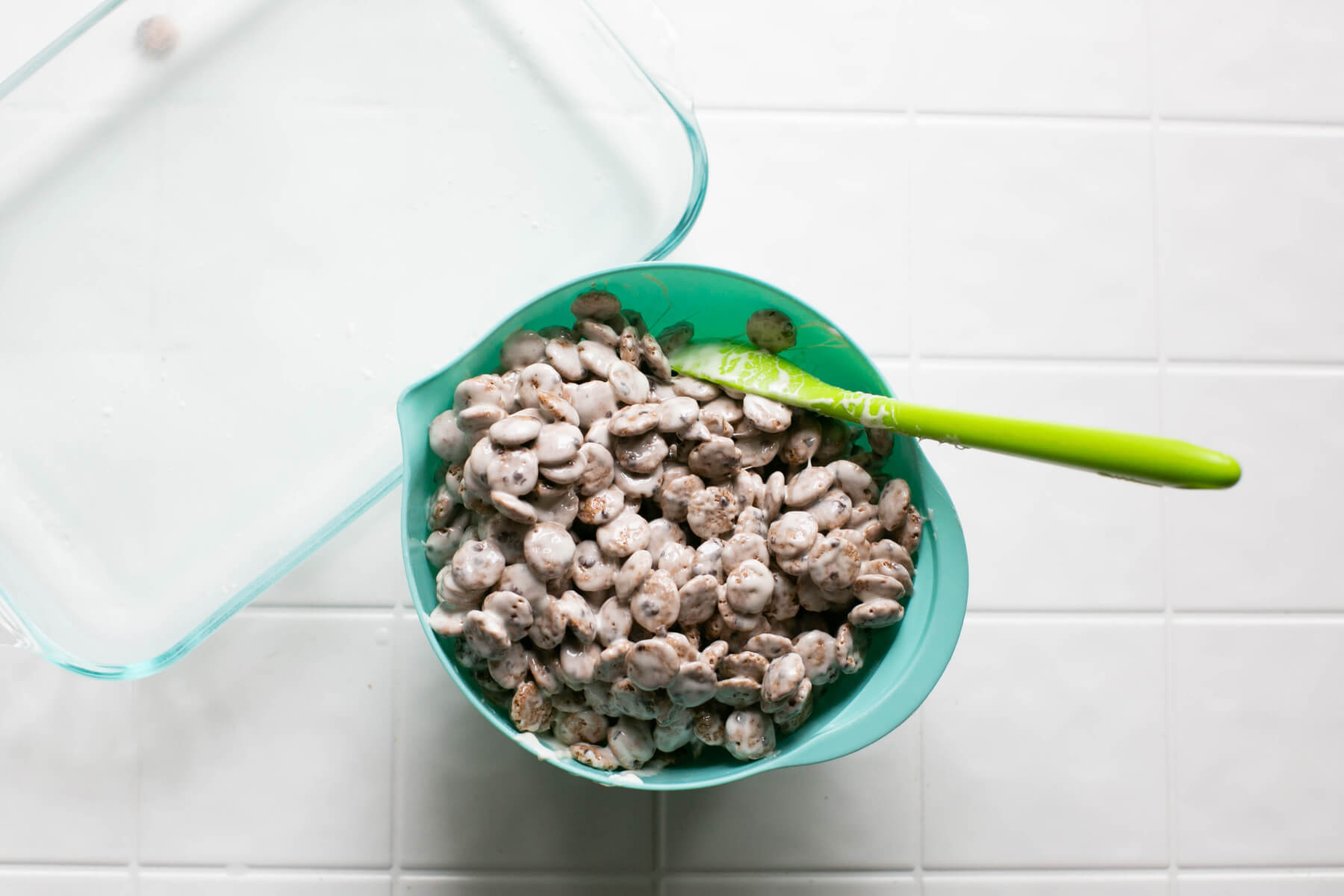 How to Keep Everything from Sticking
Spraying the 13×9 inch pan with non-stick spray before you pour the crispy treats in is a must! But you can make the whole process easier if you spray everything with non-stick spray before you use it.
Spray these Kitchen Supplies with Non-Stick Spray:
13×9 inch Pan
Mixing Bowl
Mixing Spoon
Wax Paper (for pressing the treats into the 13×9 inch pan)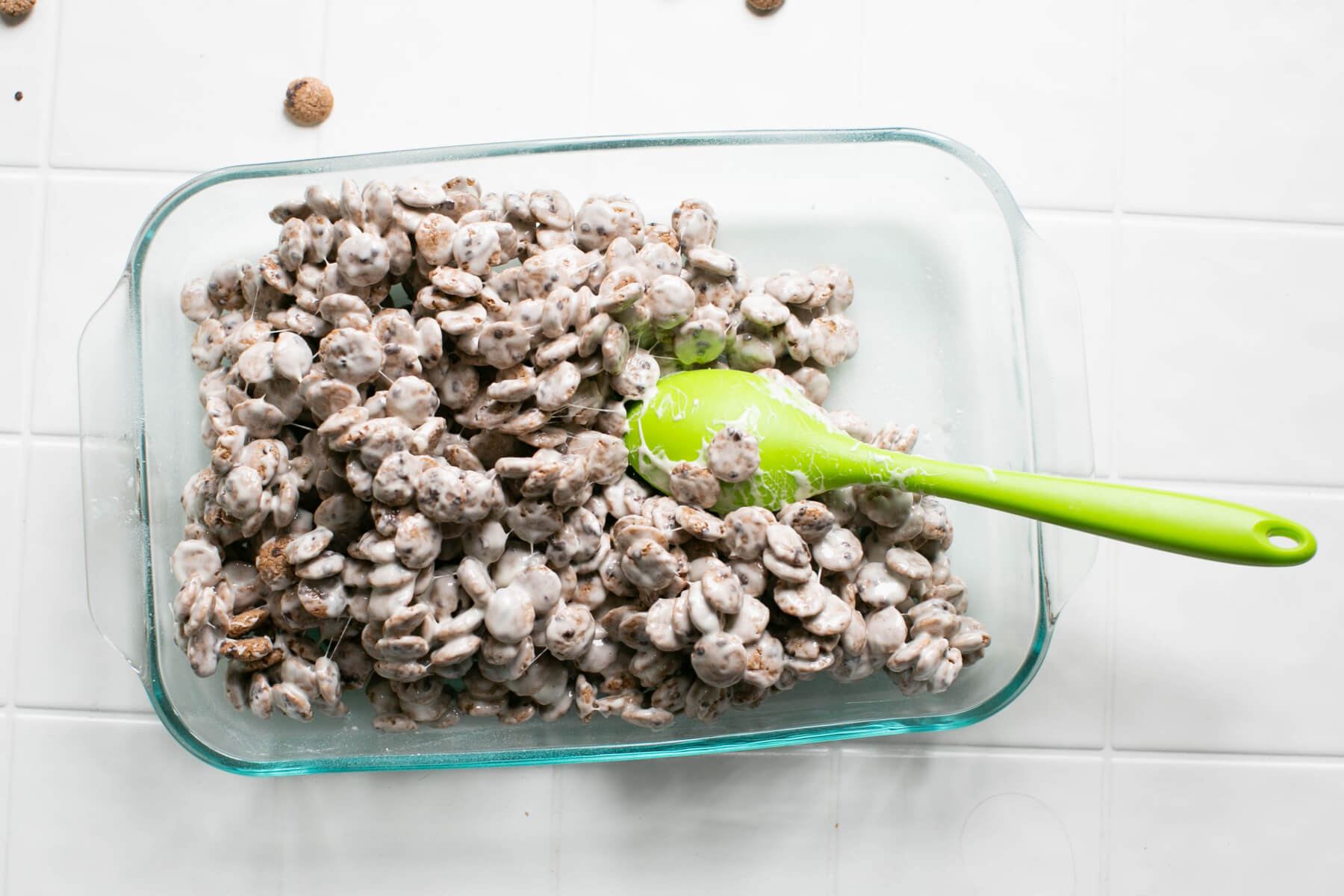 If you spray these items with non-stick spray before you use them, the crispy treats will just fall right off into the 13×9 inch pan. Nothing will stick to the bowl of the mixing spoon. It makes clean up soooooo much easier and it also maximizes how many crispy treats end up in your pan instead of getting stuck to your tools.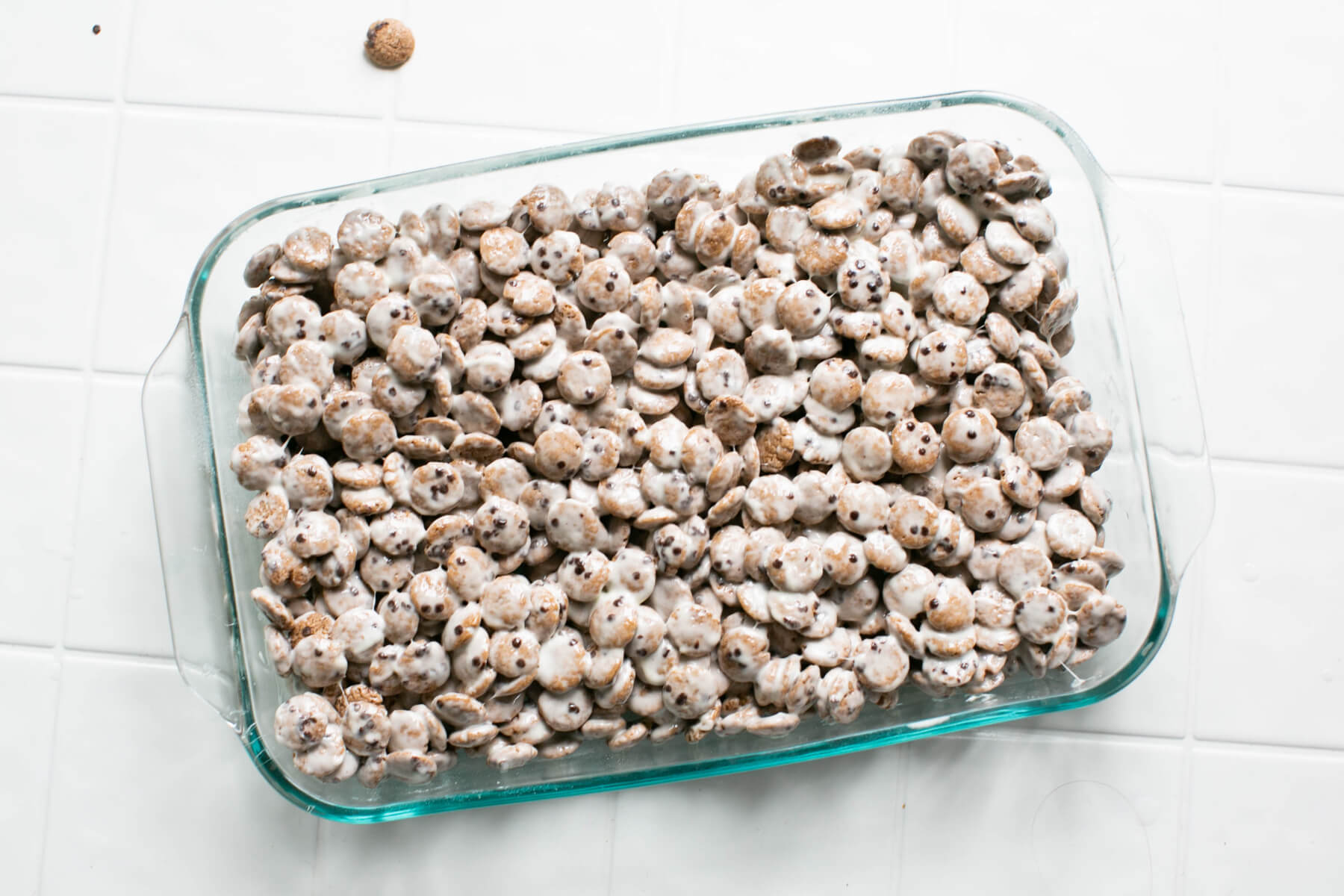 Always Let Your Marshmallow Crispy Treats Rest
My least favorite thing about marshmallow crispy treats is that I can't resist them. I start picking at them almost immediately. But unfortunately, all marshmallow crispy treats need to set for 1-2 hours before serving to let the marshmallows set.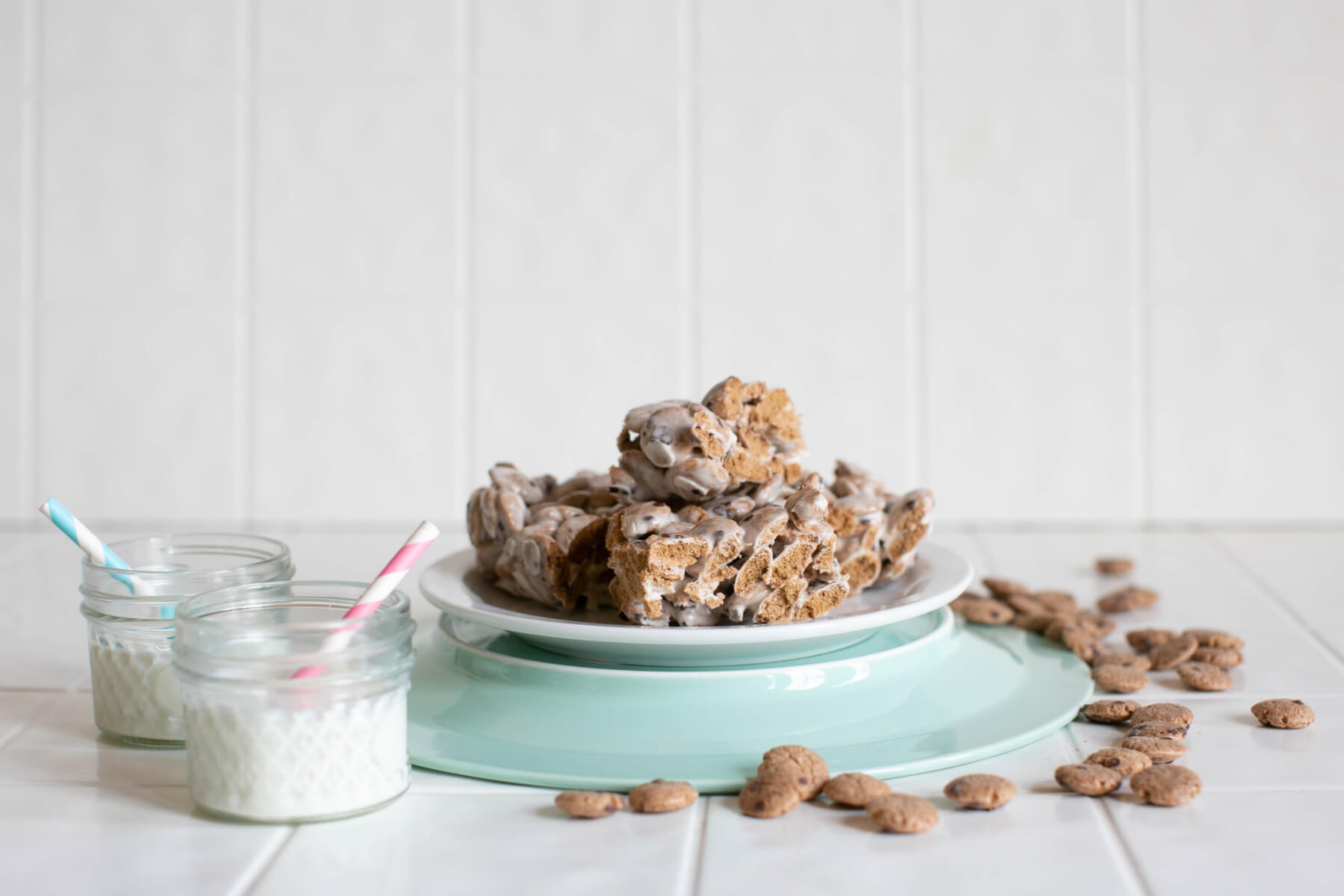 Cookie Crisp Marshmallow Crispy Treats won't hold together if you start cutting into them immediately. I would not recommend speeding this up with a fridge. Just leave the tray on the counter for an hour or two and serve once you can see the treats hold together when you cut them.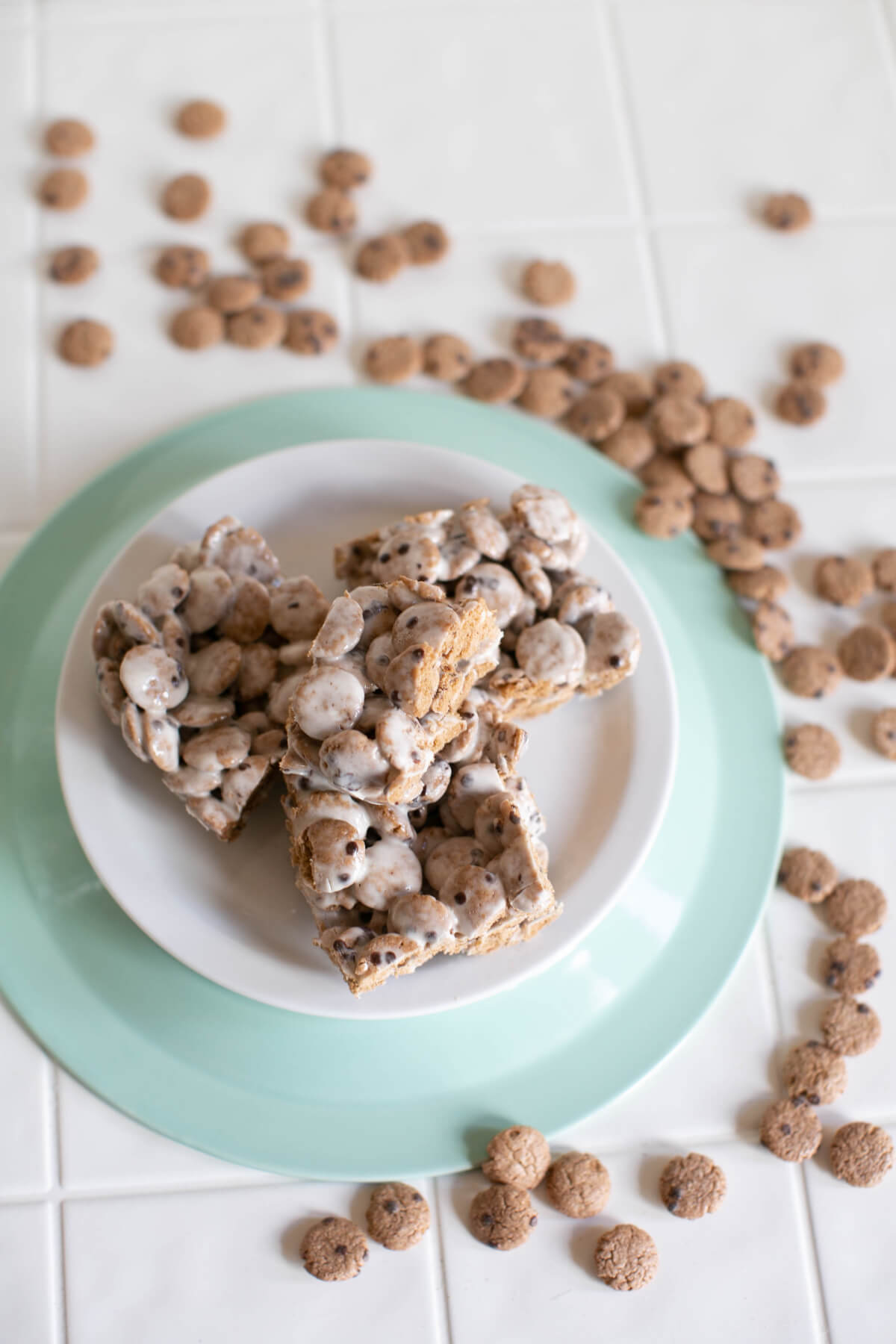 How to Store and Keep Marshmallow Crispy Treats
These Cookie Crisp Marshmallow Crispy Treats keep longer than a lot of other desserts and are easy to store right in the 13×9 inch pan covered with plastic wrap. To help them keep even longer, place them in a air-tight container and if you need to stack them, layer wax paper in between the layers.
You can store them on the counter and if you choose to store them in the fridge, let them warm to room temperature before you serve them.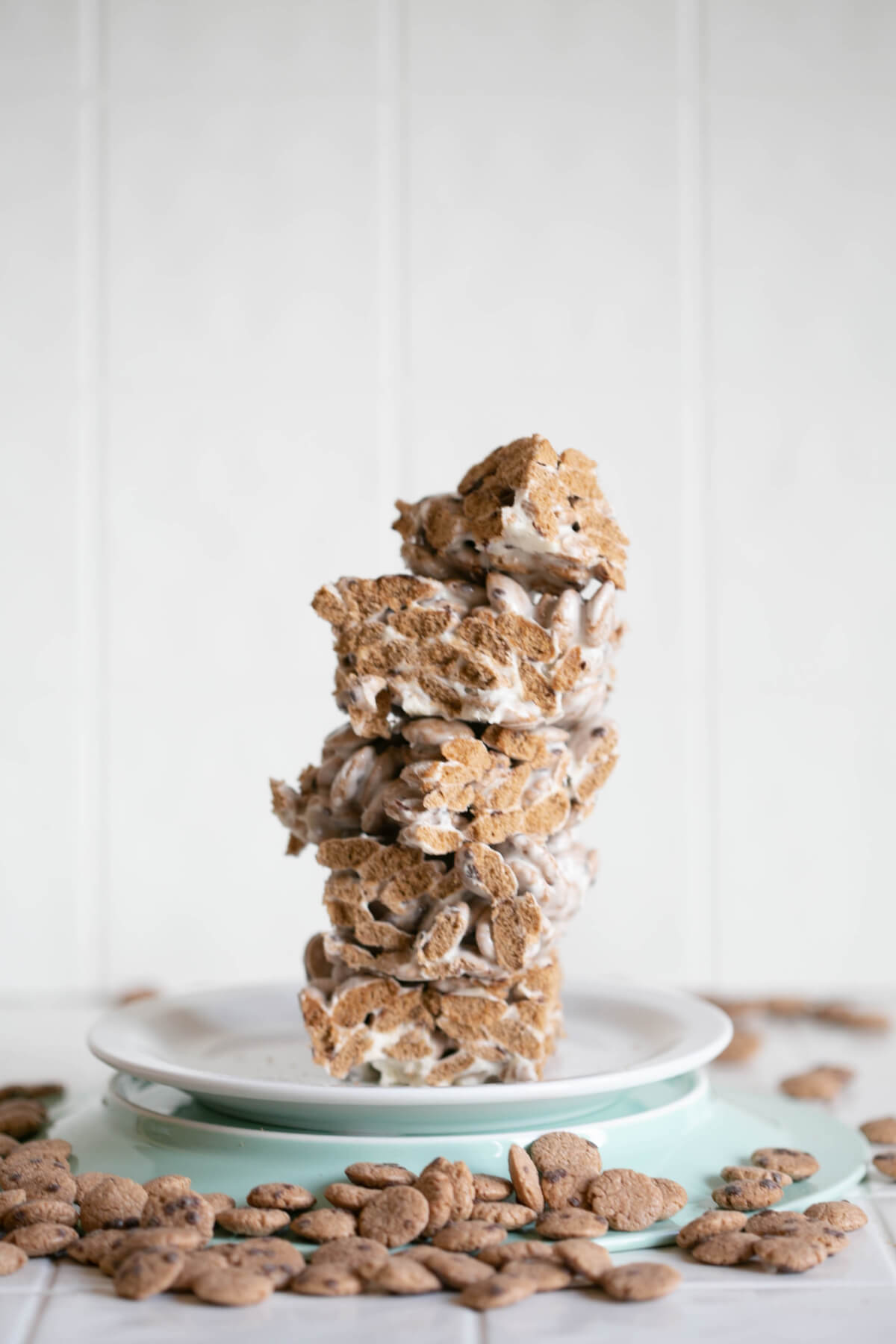 Other Cereals to Make Marshmallow Crispy Treats
Now, this is the fun part. What cereals can't you make into Marshmallow Crispy Treats?! It's a challenge! Some of my favorites are:
Cinnamon Toast Crunch
Cookie Crispy (obviously)
Apple Jacks
Cocoa Pebbles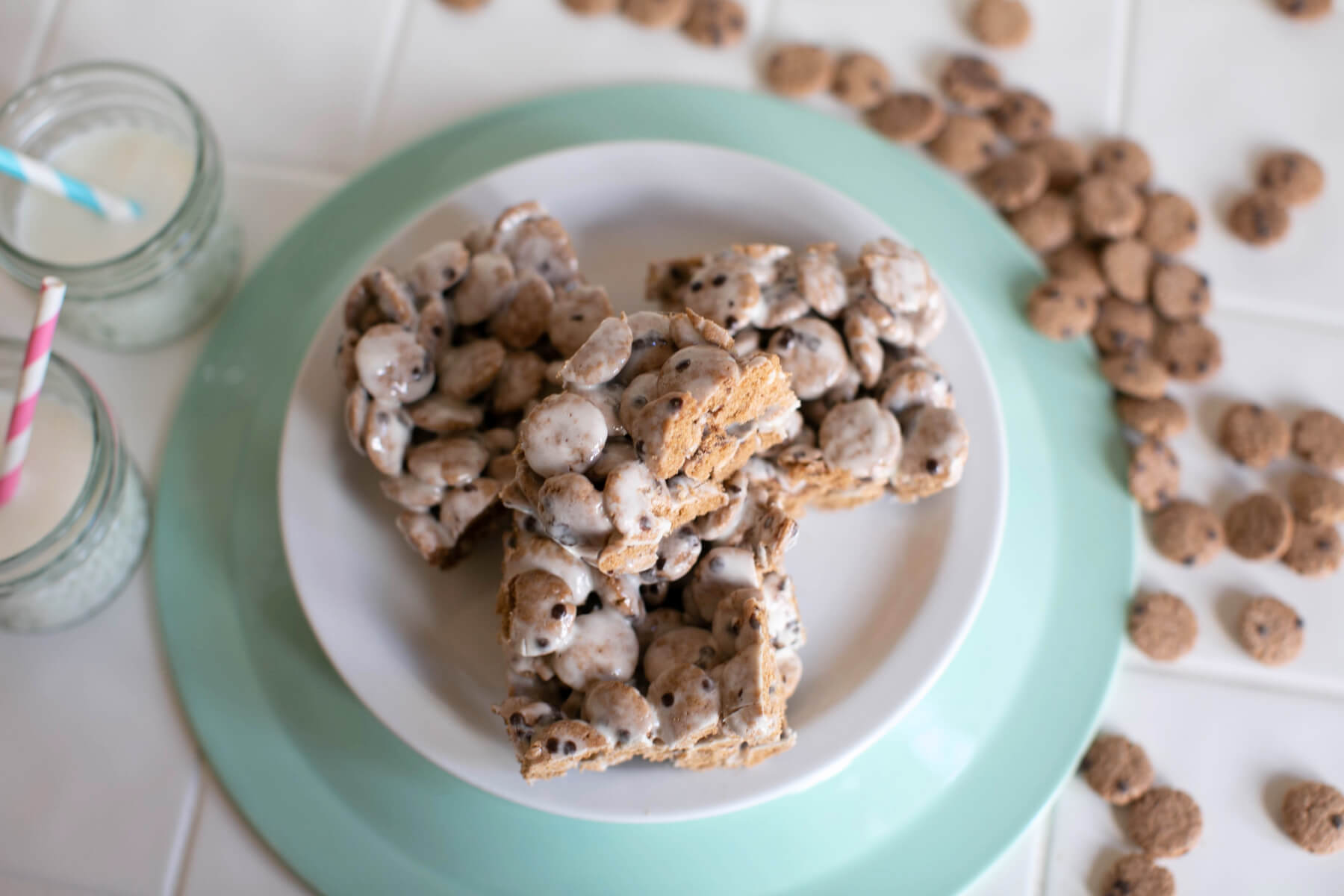 Which ones sound the best to you? Got other cereals at the top of your list? Tell us in the comments below!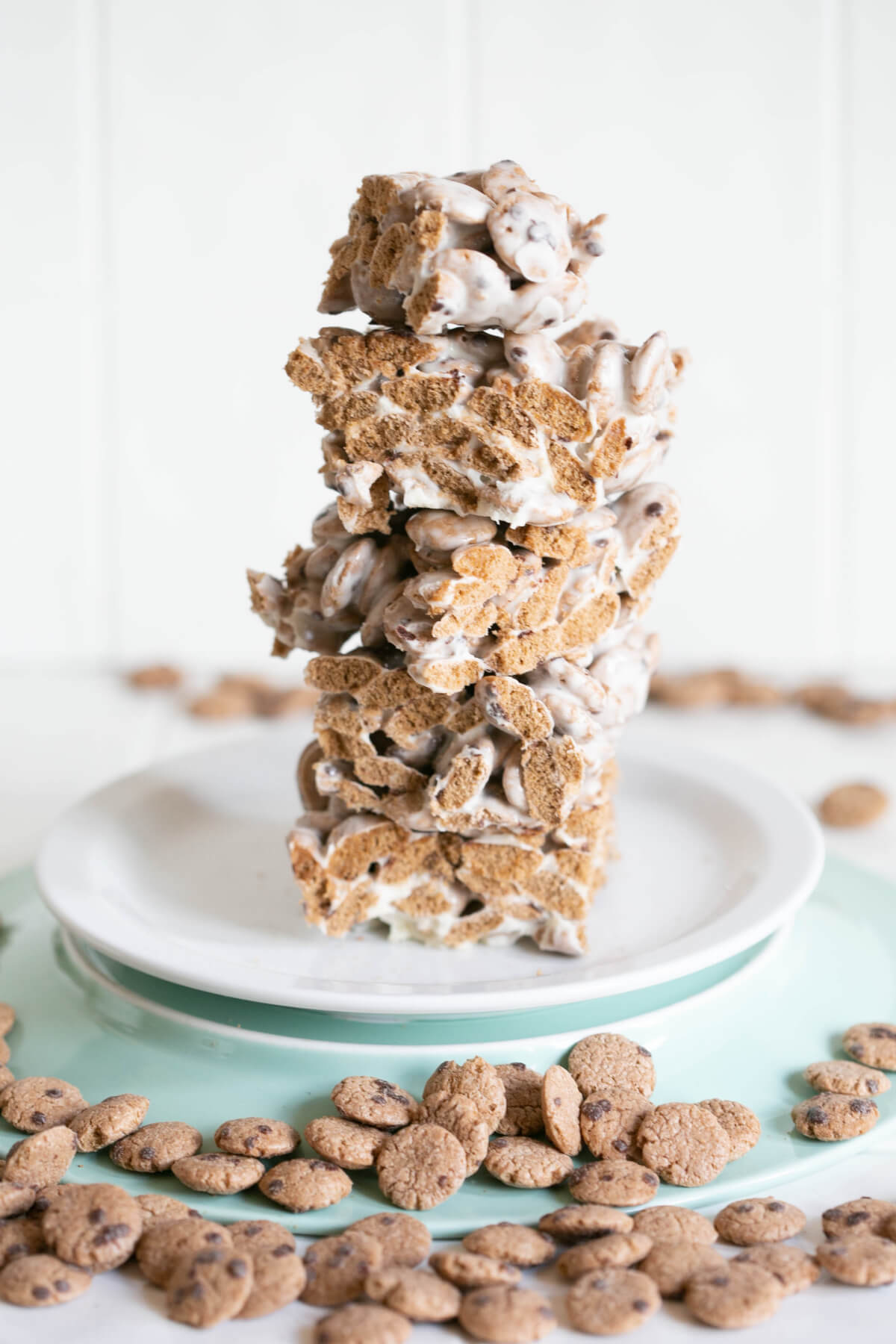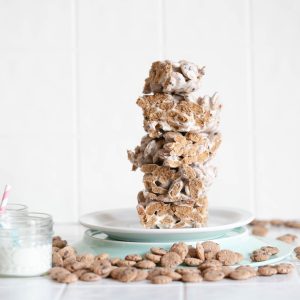 Cookie Crisp Marshmallow Crispy Treats Recipe
These Cookie Crisp Marshmallow Crispy Treats may be the perfect cereal bar! If you haven't made them, you must try this recipe. It's easy.
Ingredients
Ingredients:
8

cups

of Cookie Crisp Cereal

1 10

ounce

Bag of Mini Marshmallows

¼

cup

butter

Dash of Vanilla Extract
Supplies:
Non-Stick Spray

Wax Paper

9

x13 Baking Dish

Heavy-Bottomed Saucepan

Heat Resistant Spatula
Instructions
Melt the butter in your saucepan over low heat.

Once butter is completely melted, add in the entire bag of marshmallows. Keep at a low-to-medium heat and stir occasionally. The marshmallows will melt down into a luscious goo.

Add a dash of vanilla extract to the marshmallows and butter and blend together thoroughly.

Spray your mixing bowl with non-stick spray.

Add 8 cups of Cookie Crisp Cereal to the mixing bowl. Once the marshmallows are completely melted, pour it over top of cereal.

Spray a spatula with non-stick spray and use it to mix the melted marshmallow and butter with the cereal. Work quickly!

Pour the cereal mixture into sprayed 9x13 baking dish.

Use the spatula to spread the cereal and marshmallow mixture evenly throughout the dish. Coat a sheet of wax paper with non-stick spray and use it to push the cereal mixture down slightly, to pack the marshmallow treats into dish.

Let your Cookie Crisp Marshmallow Crispy Treats cool for 2 hours or until they are completely set.

Cut with a sharp knife and serve.
Notes
Tip: If you are going to stack these for storage, separate them with a layer of wax paper.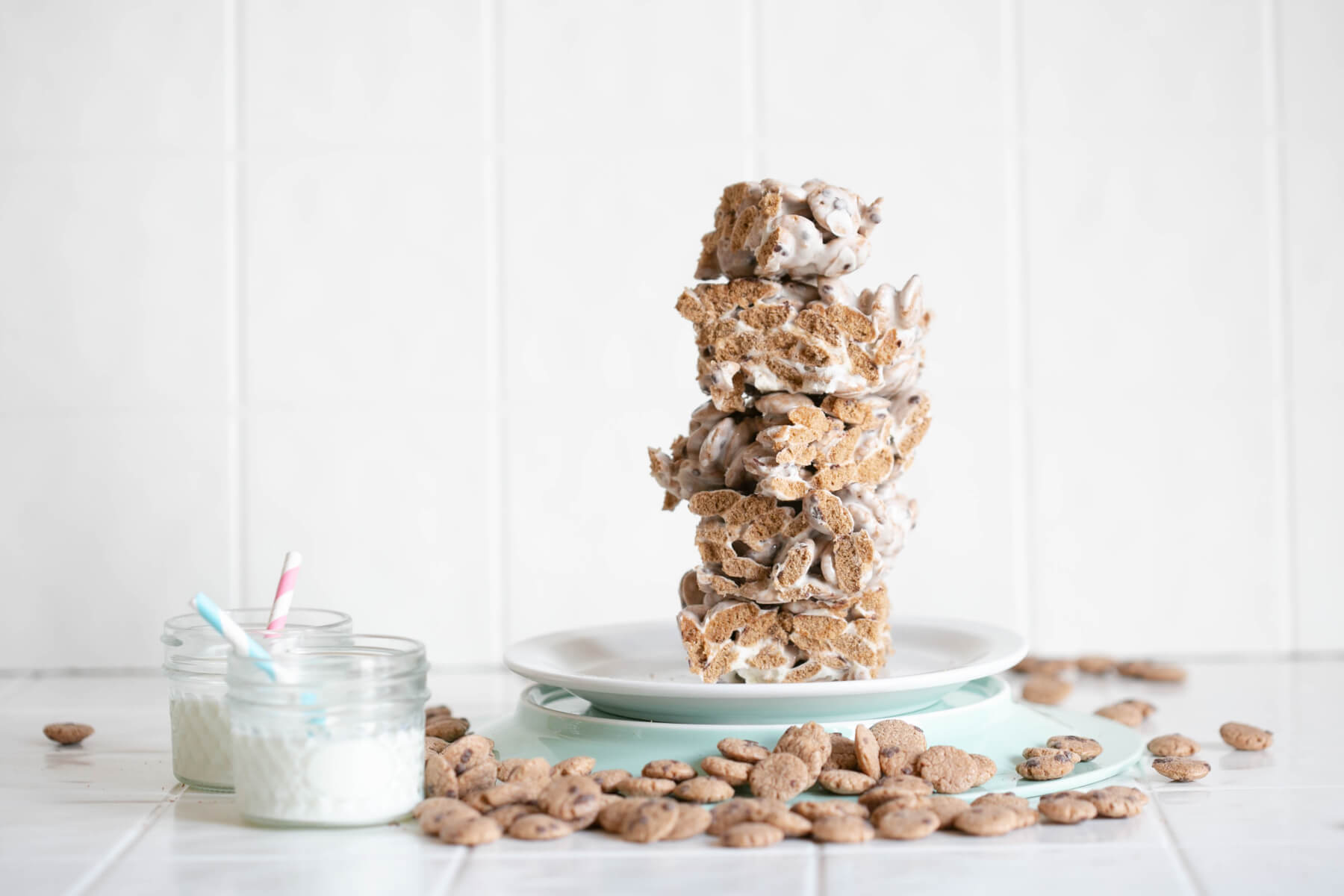 Let's Stay Friends!
Insta | Pinterest | Enews | TikTok