Who's craving marshmallows?! You know this sweet treat is one of my absolute favorites! It's a shelf stable candy that's easy and fun to make.
The trick with making marshmallows is that having a professional stand mixer (I have a Kitchen-Aid mixer) is an absolute must!
Best of all, these Oreo Cookie Marshmallows are part chocolate and part vanilla and offer a little bit of marshmallow fluff with a little bit of cookie crunch. But if you are looking for a different flavor, check out our list of 15 other Marshmallow Recipes here.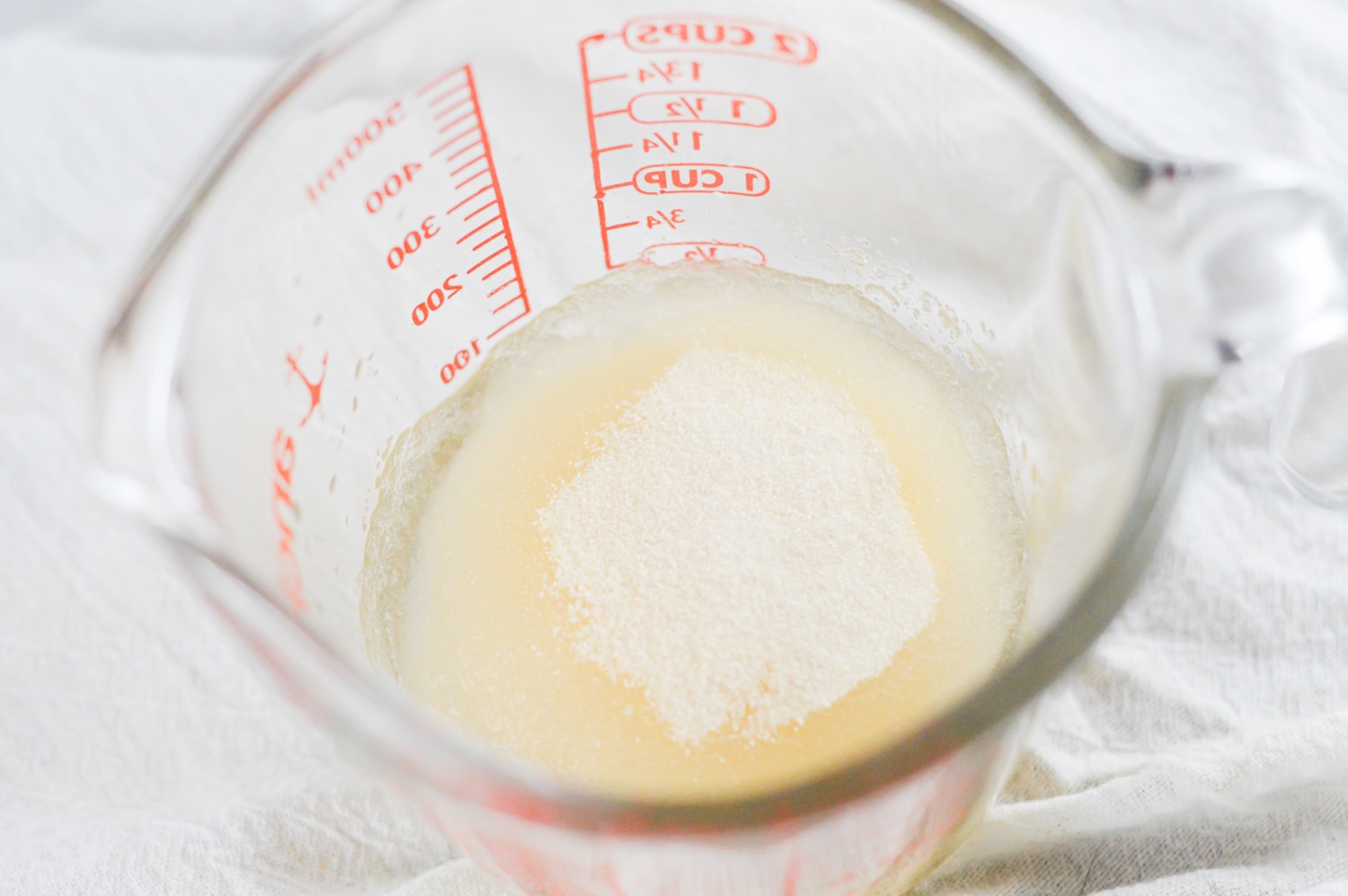 So let's get started making them! If you want the easy printable recipe card, scroll down the the bottom.
If you are looking for tips and tricks on how to make the perfect marshmallows read on.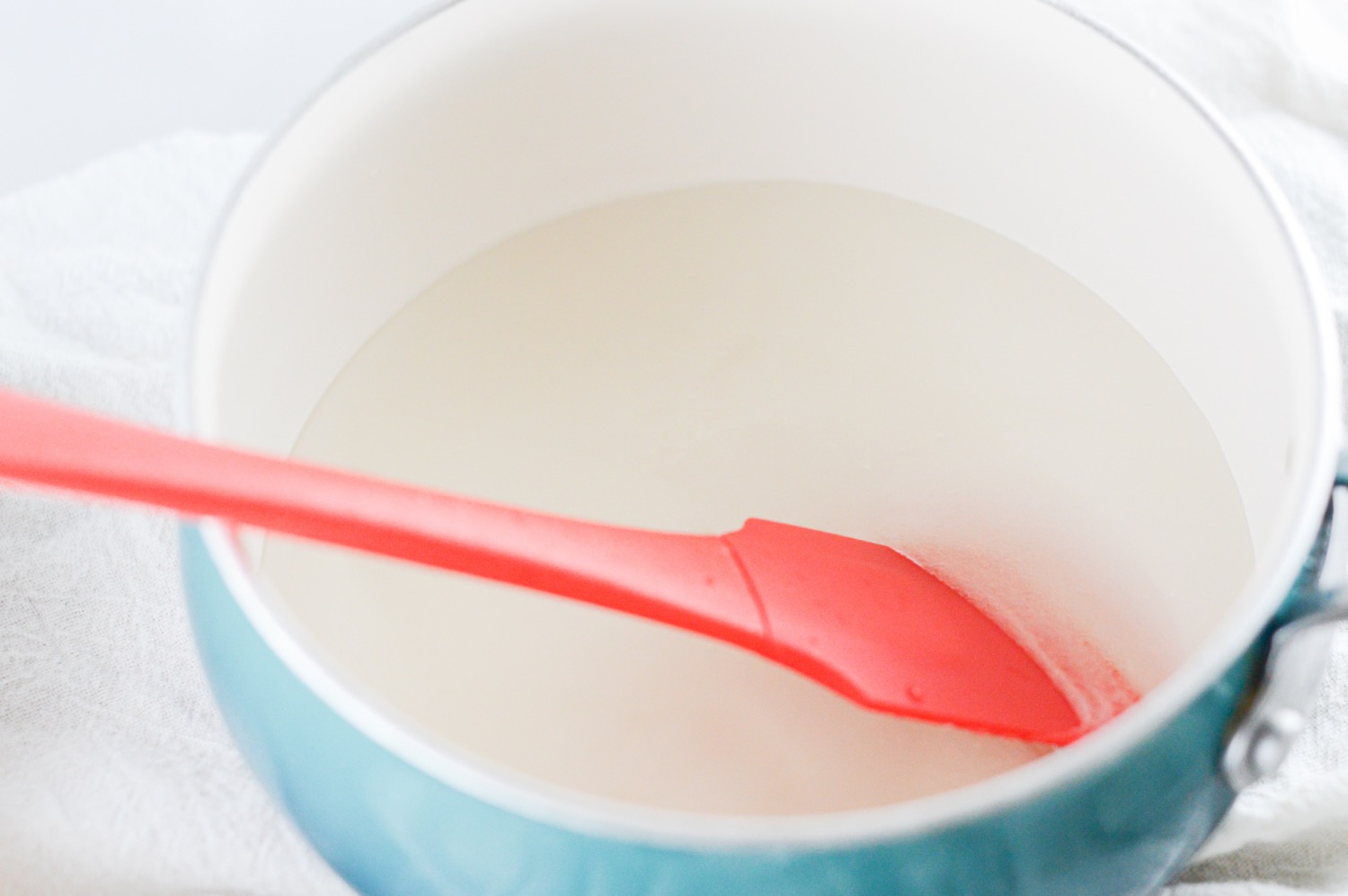 Marshmallows are really a combination of gelatin and corn syrup! It's about whipping the ingredients together and getting the right consistency. That's why I say having a stand mixer, like a Kitchen-Aid is really important.
To make them: start by adding 1/2 cup of cold water to 1 ½ Packets of Knox Unflavored Gelatin and stir until combined.
Next, in a small pot that is suitable for boiling, combine the corn syrup, sugar, salt, and 1/2 cup water.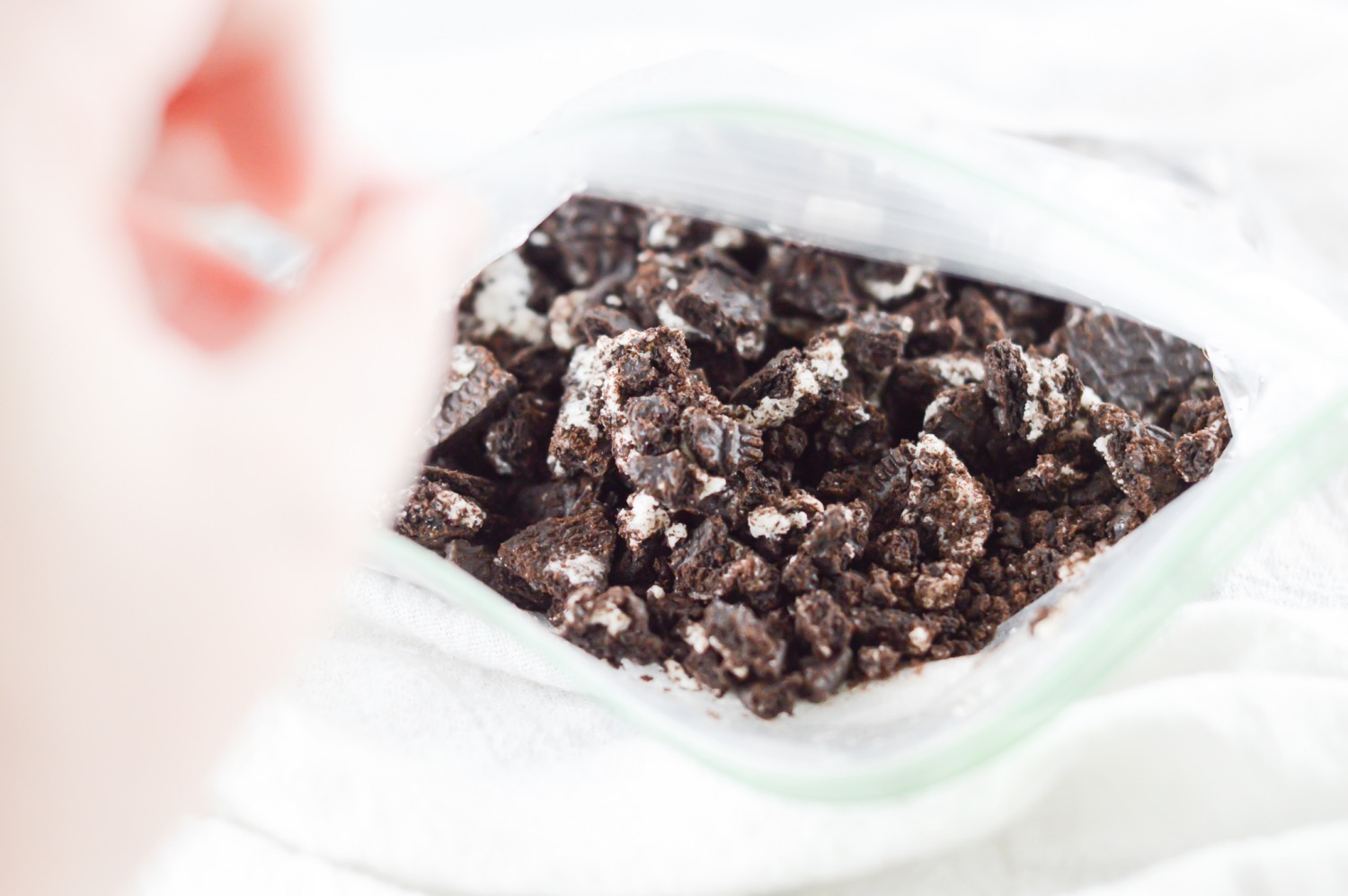 Turn your stove to low heat, stir and cook your ingredients until the sugar has melted. Once the sugar is completely melted, turn the heat up to medium and allow the mixture to lightly boil. If you have a candy thermometer, you will want to cook your marshmallow mix until it reaches 240 degrees. If you don't have a thermometer, let the marshmallow mix boil until a small drop in cold water immediately sinks to the bottom and becomes solid.
This process should take between 7 and 10 minutes.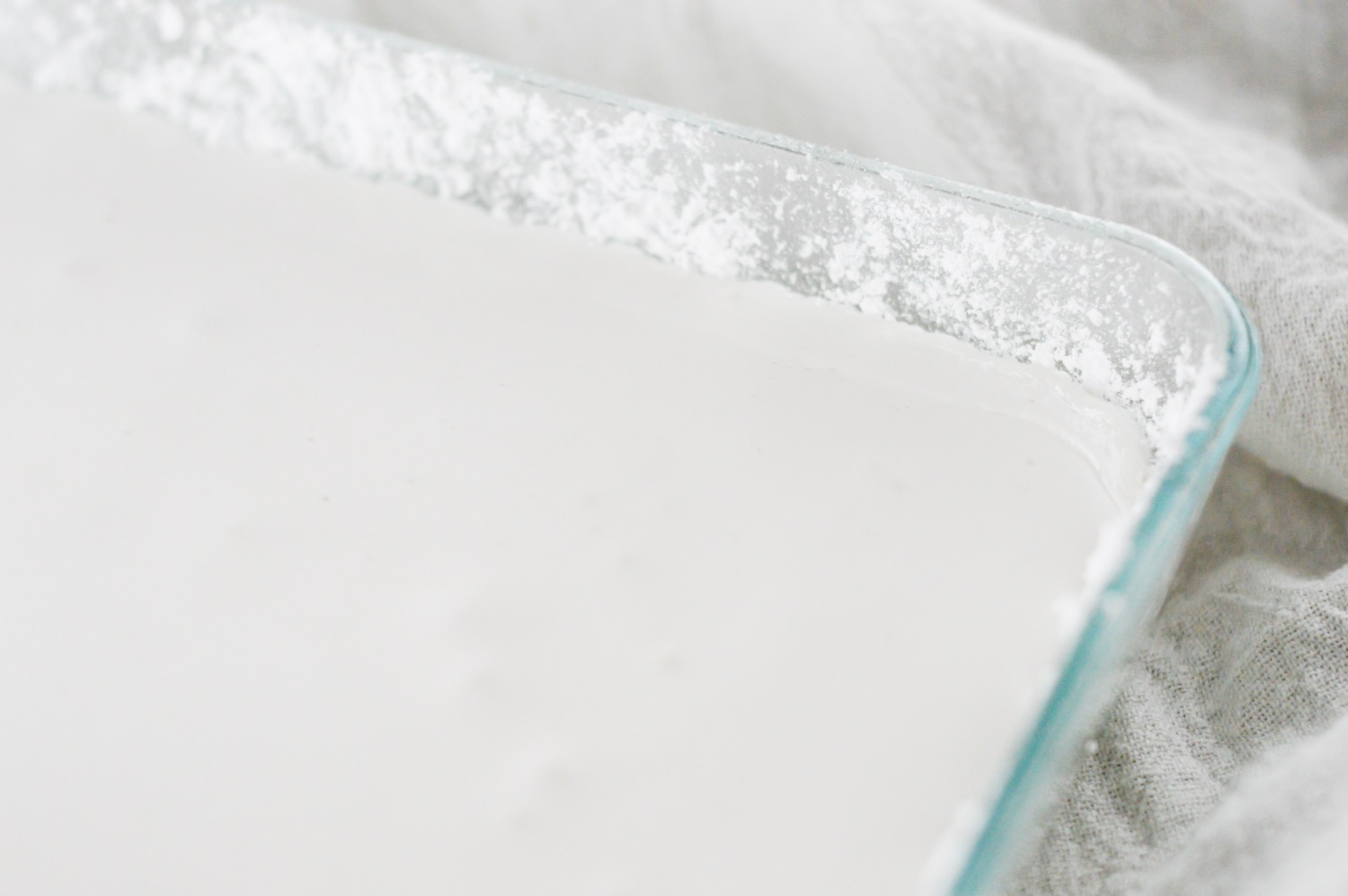 Next add your vanilla, your gelatin mixture and your hot marshmallow mix all together into your Kitchen-Aid mixer and beat on high!
Continue to beat the mixture until it becomes gorgeous and fluffy – like the texture of marshmallow cream. This should take between 10 and 15 minutes.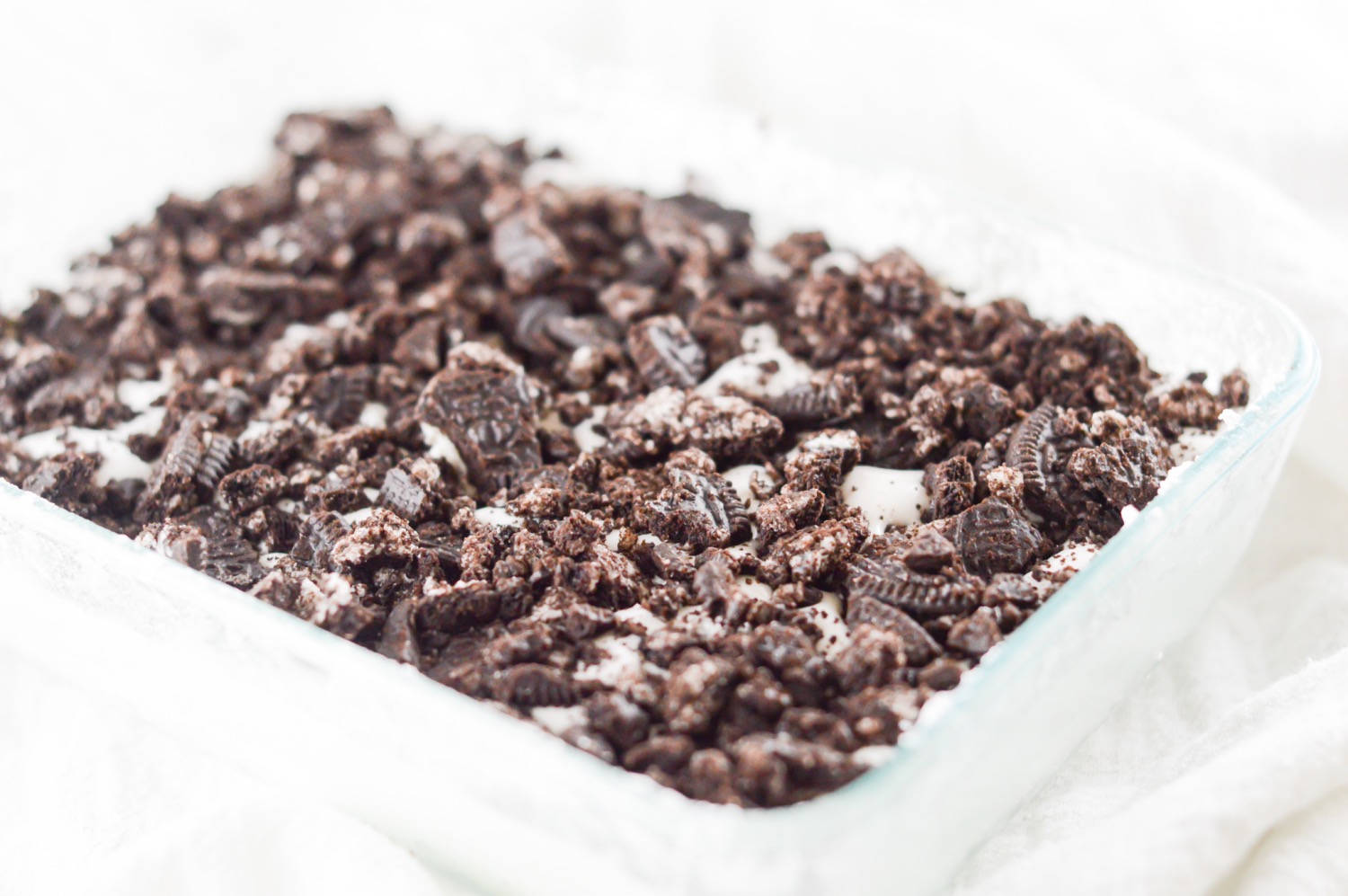 While your marshmallow mixture is being beat, you can prepare your pan where your marshmallows will cool and set. To prepare your pan, combine the cornstarch and powdered sugar.
First, coat the pan with non-stick spray and then completely coat the entire pan with a thick coating of the cornstarch and powdered sugar mixture.
For any other kind of marshmallow, you would want to keep the extra cornstarch and powdered sugar mixture to coat the top, but for these Oreo Cookie Marshmallows, we're going to coat the top with cookies!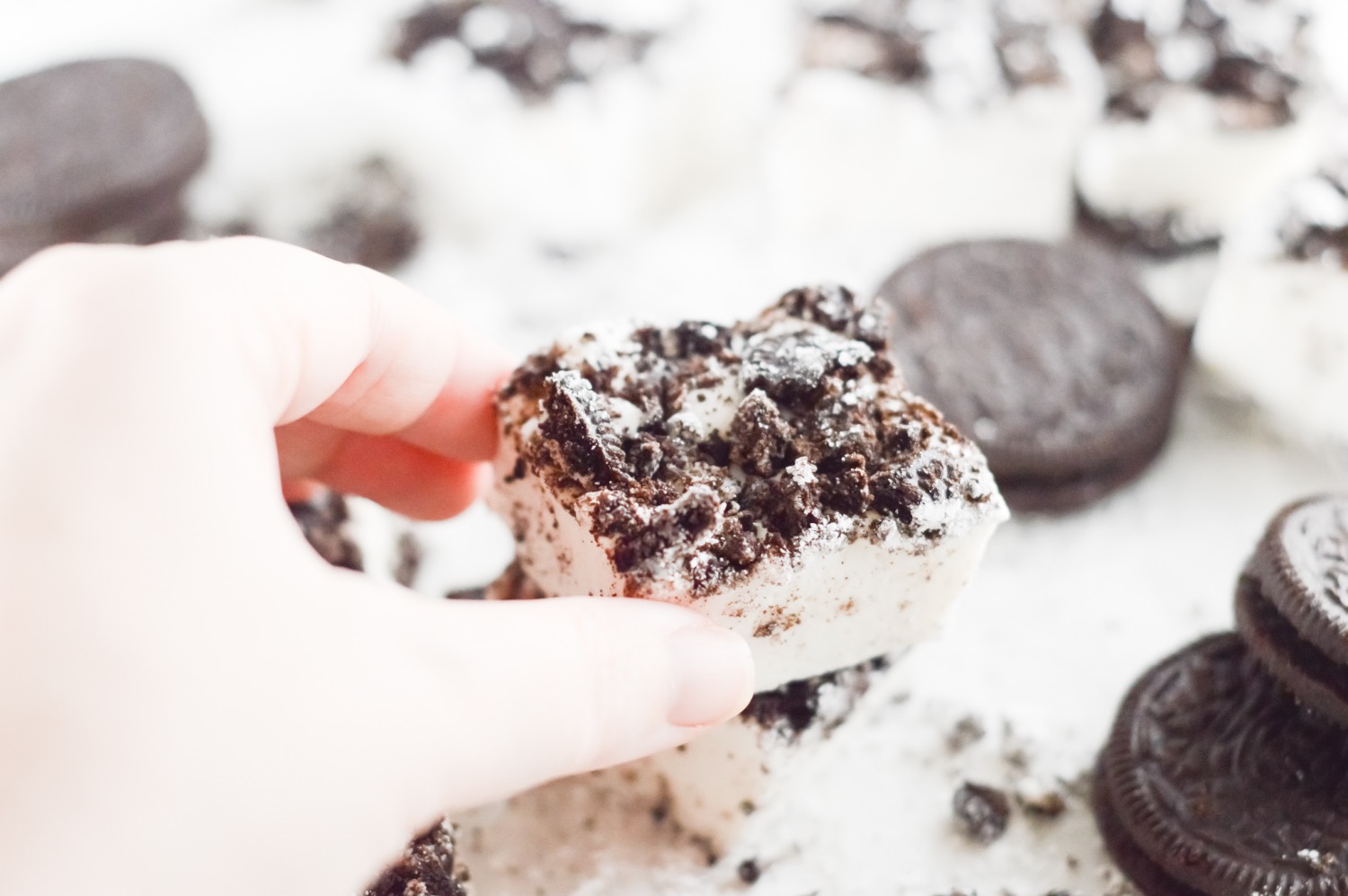 Once your marshmallow mix is perfectly whipped, pour the mix into the pan. Immediately top with your crushed cookies so the cookies blend and sink ever so slightly into the marshmallow cream.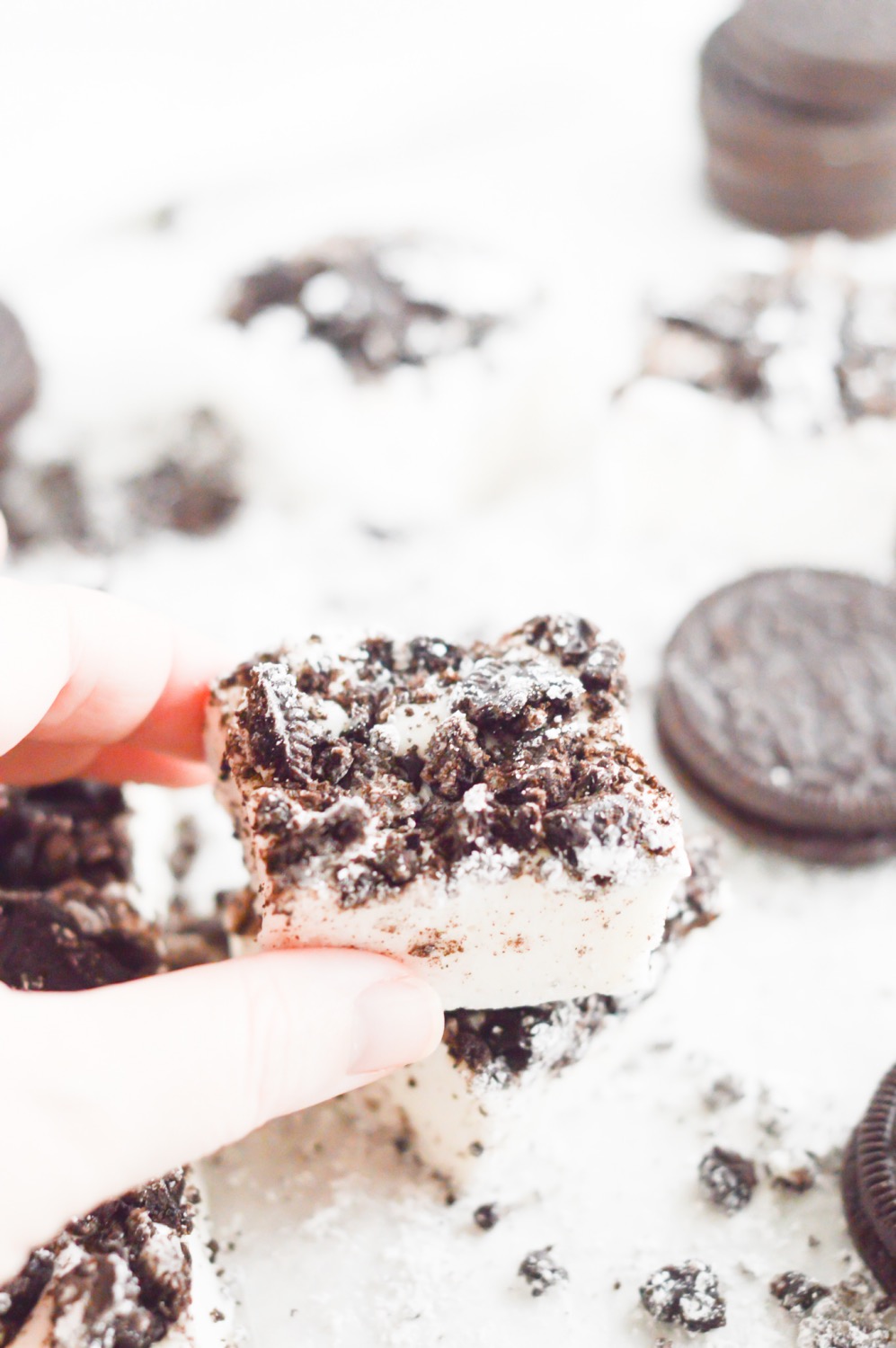 Allow your marshmallows to cool and set overnight. 8 to 12 hours is best but 4 hours is a decent minimum. You can also let them set for a bit longer.
There are several different enemies to perfect marshmallows, and one is specific to me – humidity!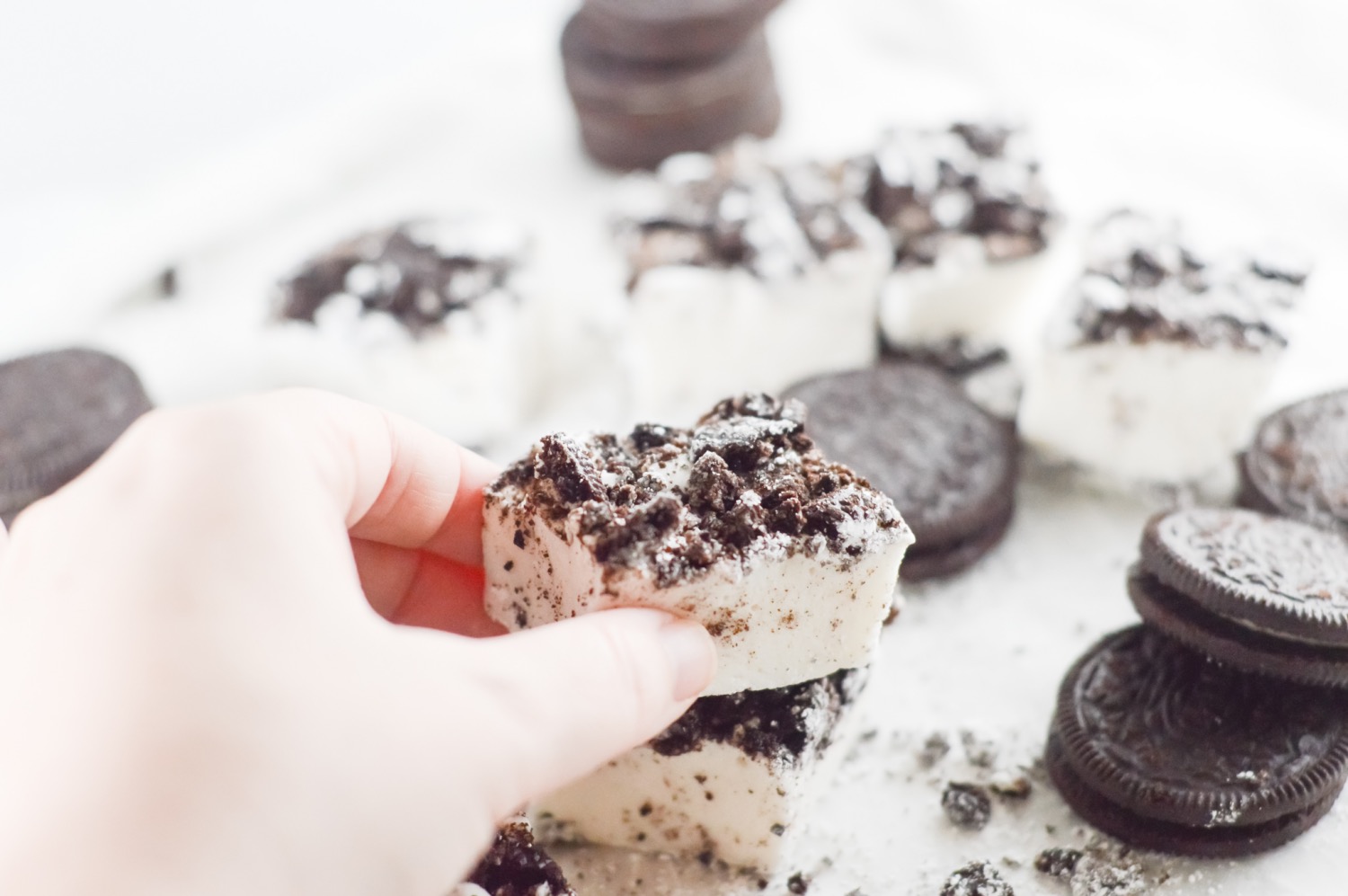 If you are in a humid environment like I am, don't let them sit out for too long! They will start to get gooey. After your 8ish hours of set time, remove the marshmallows from the tray and cut them into squares.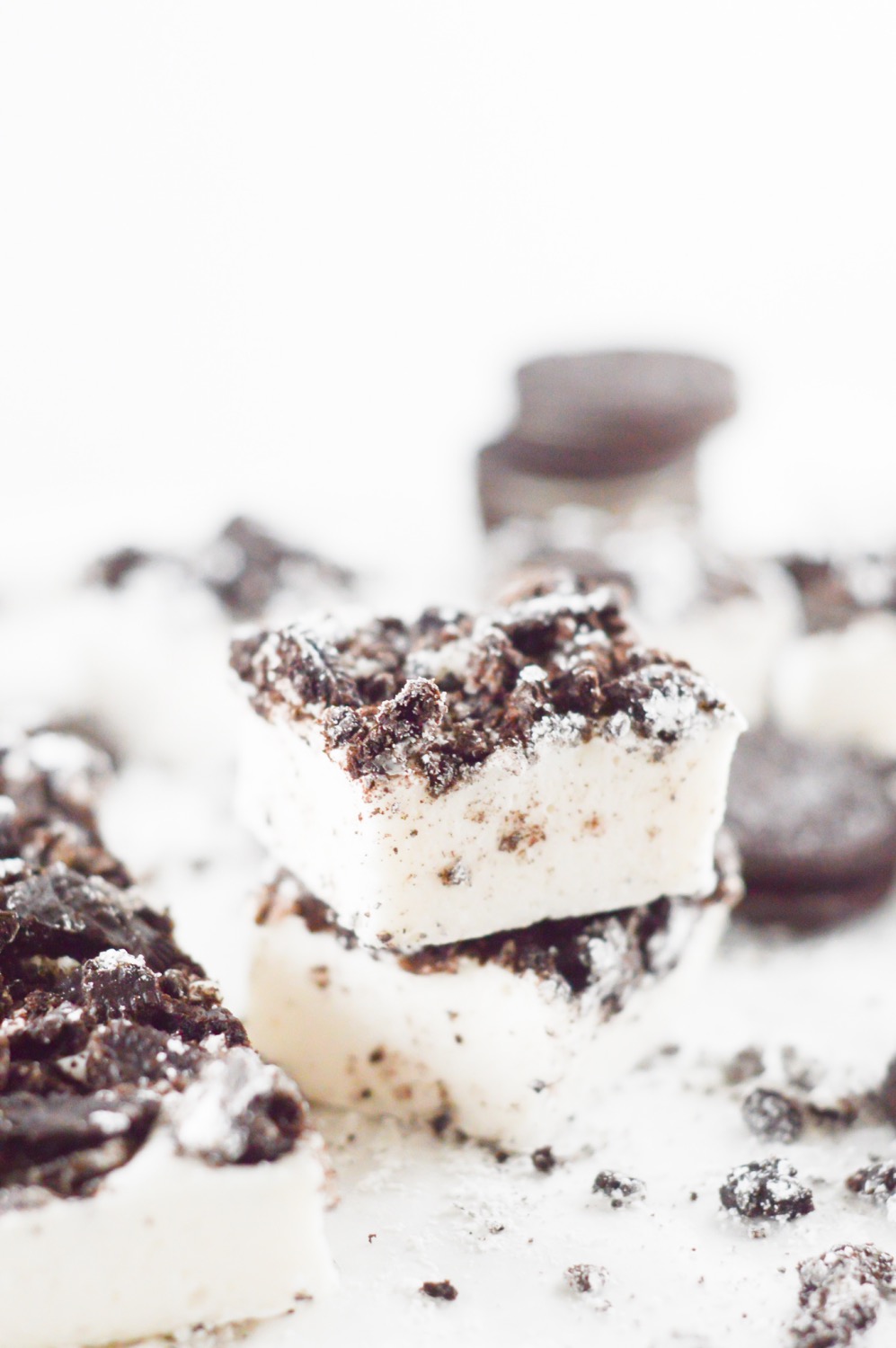 If you have any trouble cutting them, try using a pizza cutter! It's a great trick. You can also try keeping some cornstarch and powdered sugar mixture to dust your knife.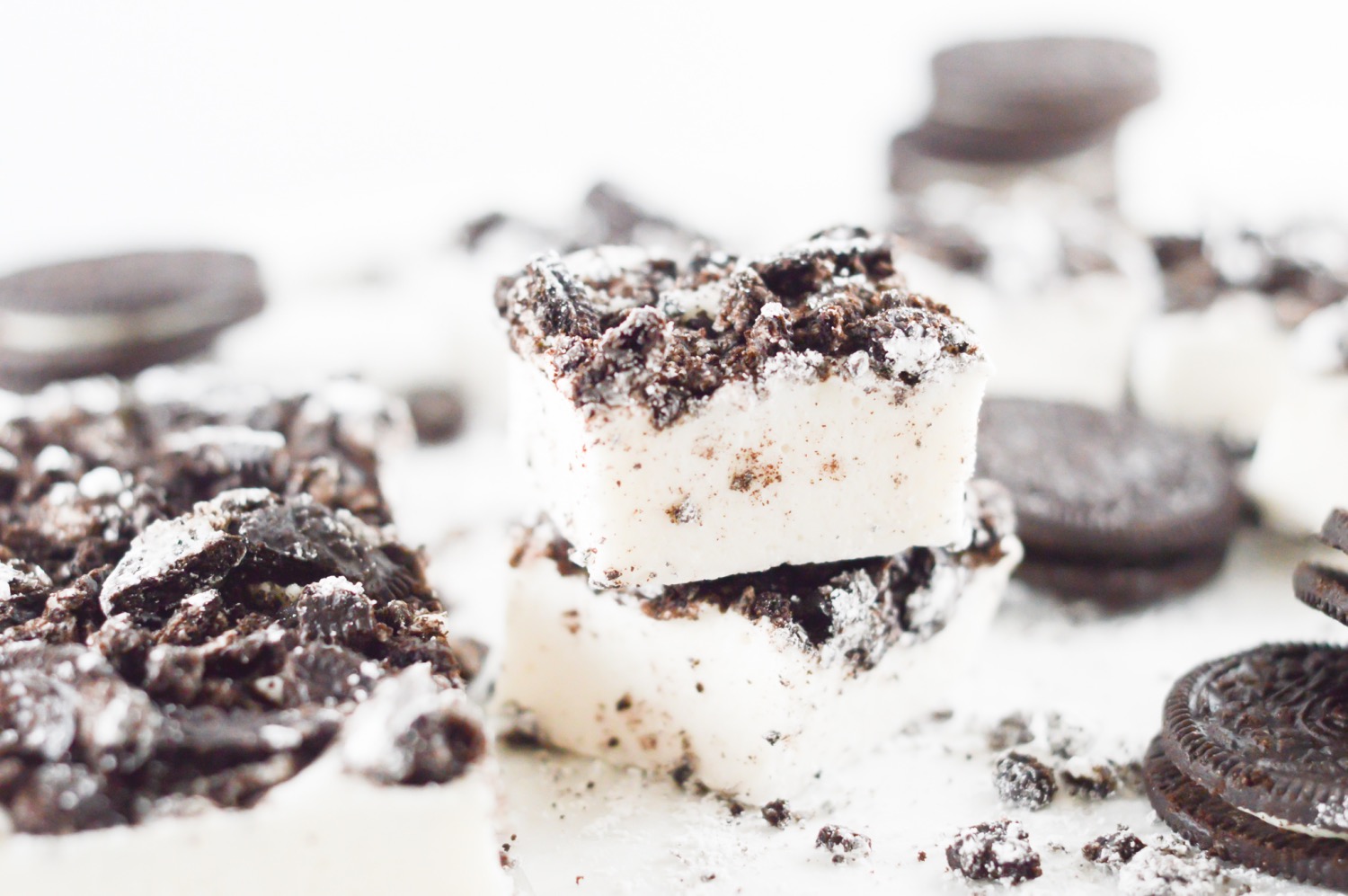 Store your Oreo Marshmallows in an air tight container like a Tupperware. Cello bags also work great! The fridge is a great place to store them if you are worried about humidity.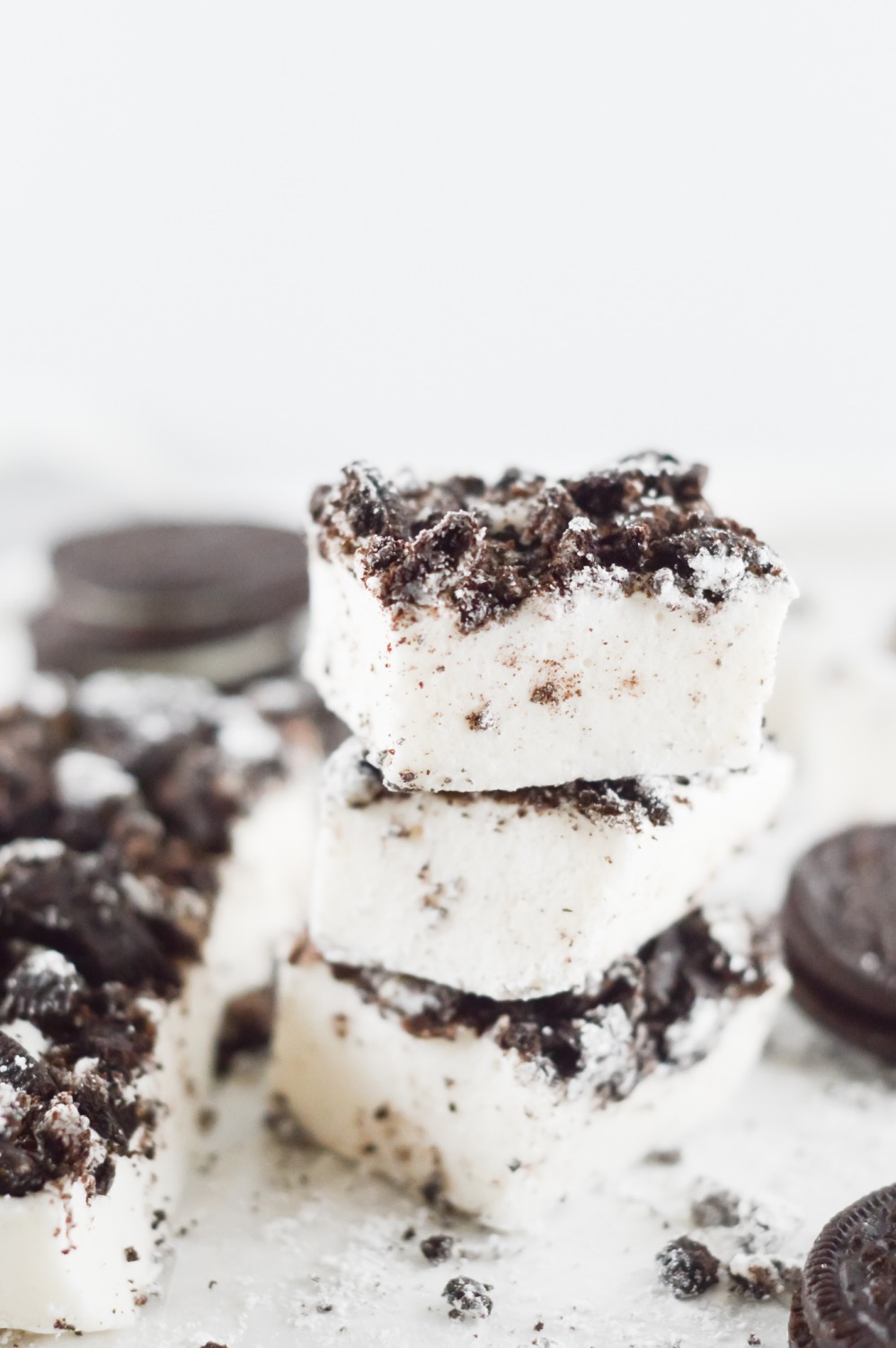 Most marshmallows will keep at least 3 weeks or even longer depending on how your store them. They make awesome gifts are so fun for DIY Hot Chocolates like these.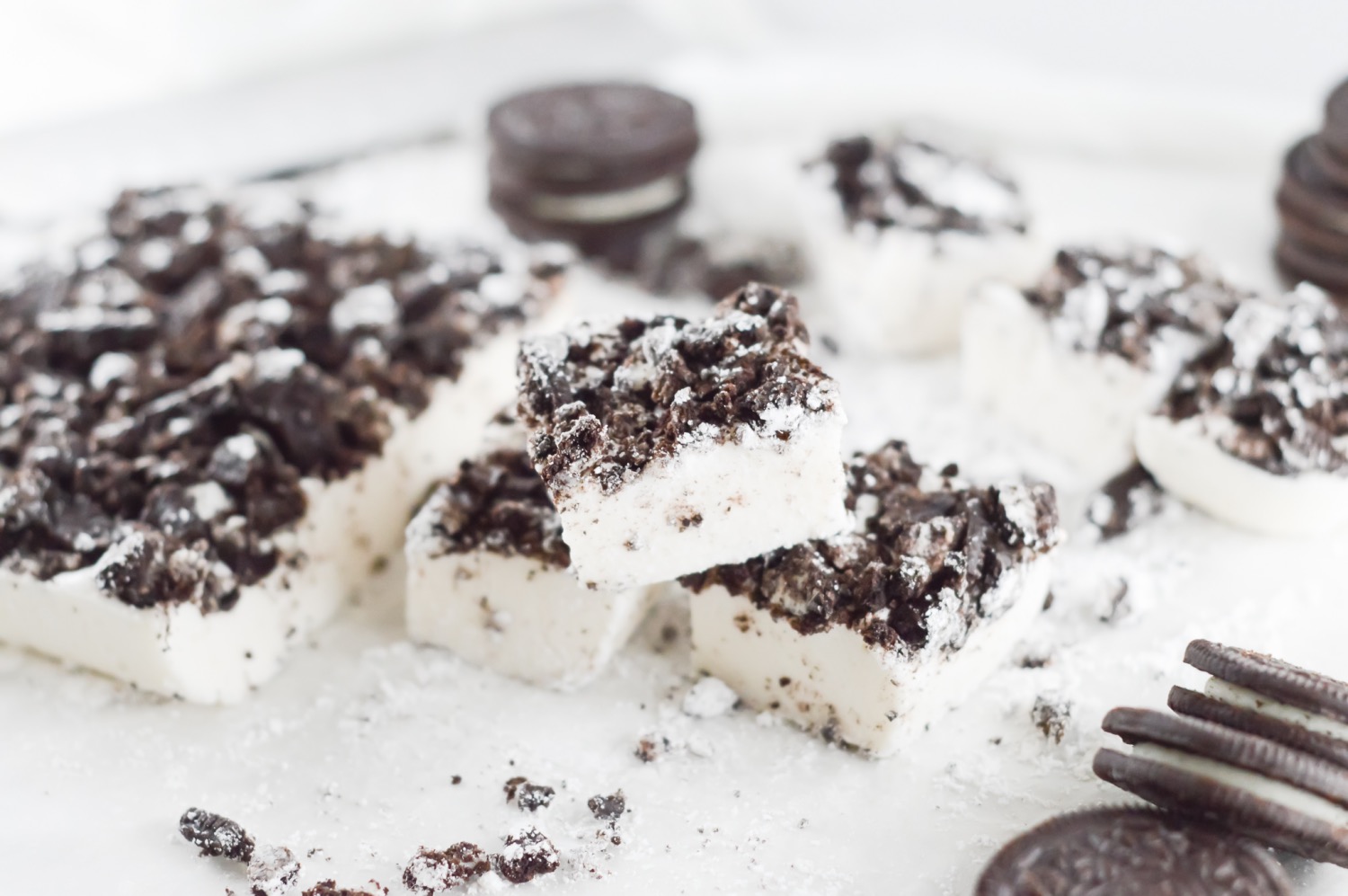 If you love these Oreo Cookie Marshmallows you have to check out this blog post that includes so many amazing recipes like Strawberry & Cream Marshmallows, Matcha Green Tea Marshmallows, Key Lime Marshmallows and more!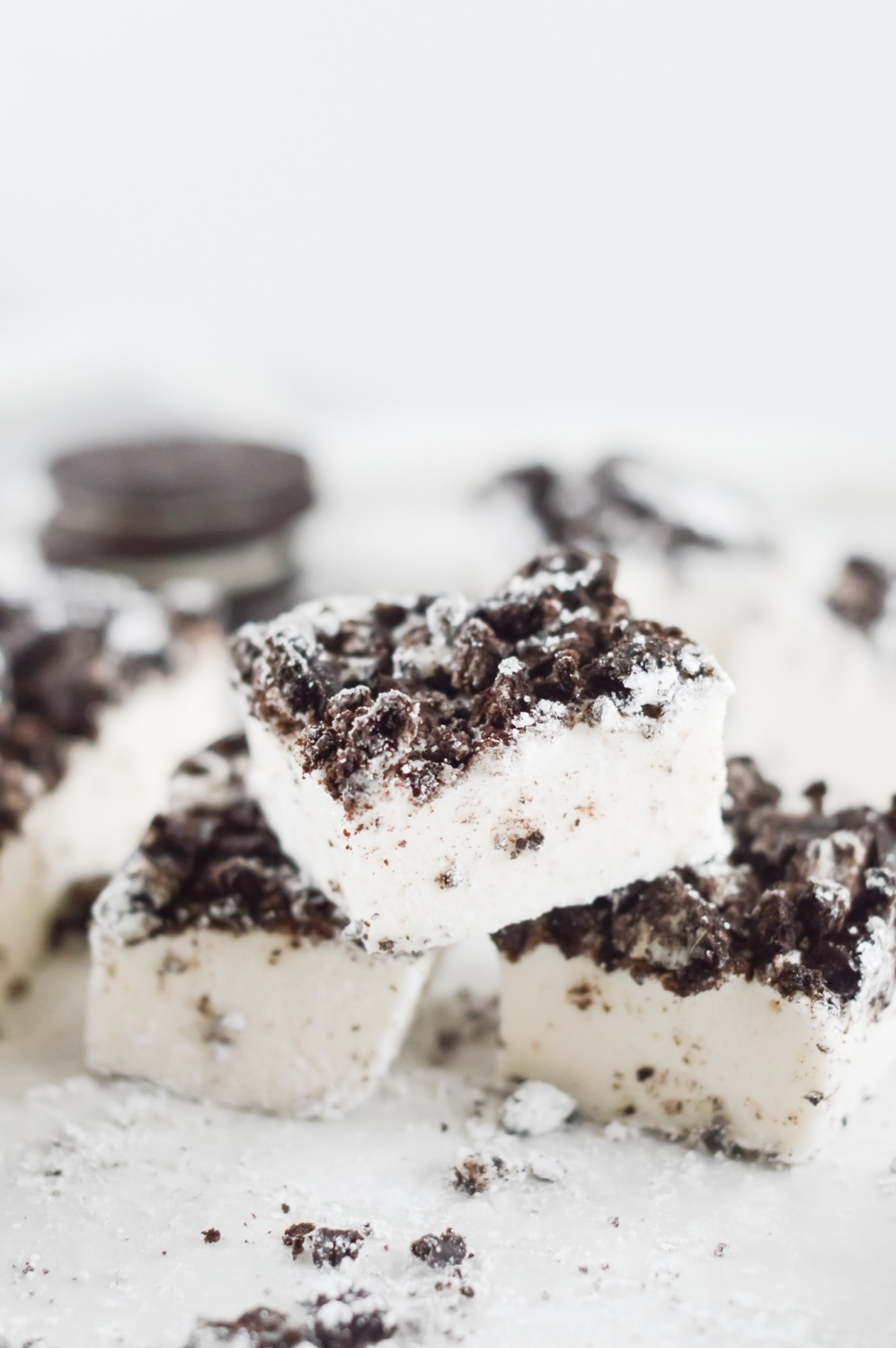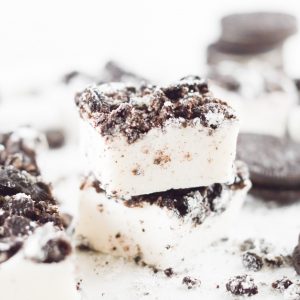 Irrestible Oreo Marshmallows Recipe
These Oreo Cookie Marshmallows have a sweet cookie crunch and are so delicious!
Ingredients
8

Oreo Cookies

1 1/2

Packets Knox Unflavored Gelatin

1

Cup

Cold Water

divided

1/2

Cup

Light Corn Syrup

1/2

Cup

Sugar

1

Tablespoon

Clear Vanilla

1/2

Teaspoon

Salt

1/4

Cup

Powdered Sugar

1/4

Cup

Cornstarch
Instructions
Place the Oreo cookies in a baggie and smash into large chunks.

In a small bowl, combine half of the cold water and the gelatin and stir slightly. Set aside.

In a small boiling pot, combine the corn syrup, sugar, salt, and the rest of the water. 

Stir well on low until sugar has dissolved. Turn the heat up to medium heat and allow the mixture to lightly boil until it reaches 240°F or a small drop in cold water immediately sinks to the bottom and becomes solid. This will take around 7-10 minutes.

Place the vanilla in the gelatin and then add the hot mixture quickly and then using a hand mixer with a whisking attachment, whisk on high until the mixture looks like a thick marshmallow cream. This will take 10-15 minutes.

Take a small square dish, spray with nonstick spray then dust liberally with powdered sugar and cornstarch. 

Pour the mixture into the dish and top with the crushed cookies. 

Set overnight then remove from the pan onto a surface dusted with powdered sugar and cornstarch. 

Slice evenly into squares and dust the edges with powdered sugar.

Store in an airtight container, in cello bags in the fridge for up to 3 weeks.
Let's Be Friends!
Insta | Pinterest | Enews | TikTok