This candle DIY is oh so pretty and would make such a great gift! I love the way that candles fill your home with a gorgeous scent. And lavender is one of my absolute favorite scents. It's calming, tranquil, and is a crowd pleasure. Turns out, lavender essential oil causes your brain to release serotonin. That's what produces the relaxing effect that people feel when breathing it in.
The lavender buds on top are also super pretty. So let's get to making this DIY Beeswax & Lavender Candle!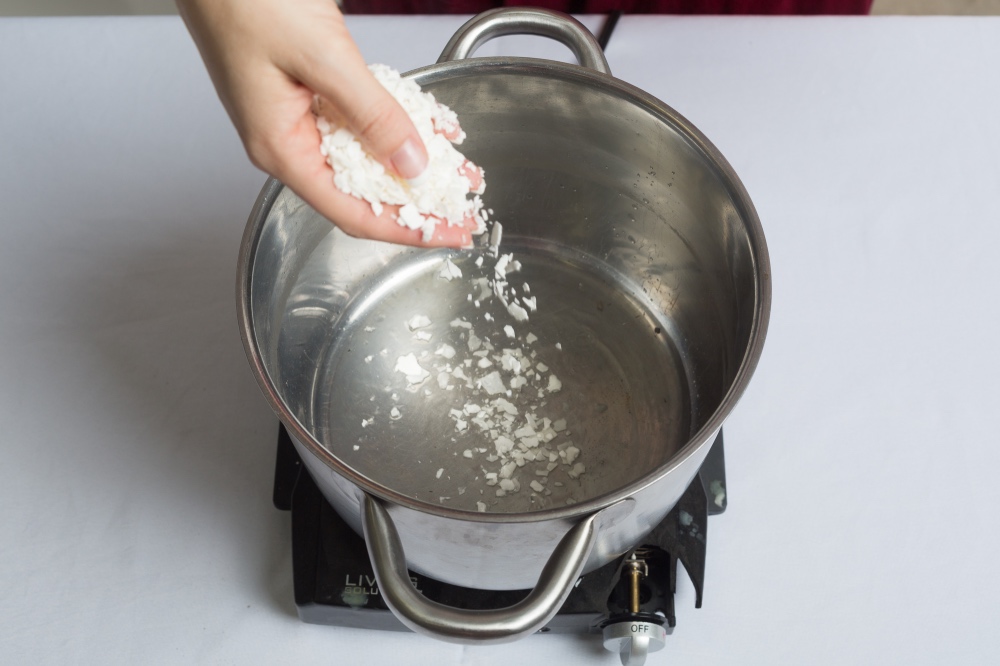 Supplies:
A Glass Vessel
A Cotton Wick
A Pencil or Dow Rod to Hold the Wick in Place
12-16 oz. Soy Wax
2 oz. Beeswax
Lavender Essential Oil
Lavender Buds
First, get your wax melting on low heat on a hot plate or stovetop. Low is best because the candle will cool faster and you run less risk of accidentally burning off your essential oil. Stir the wax occasionally, and continue to heat until it's thoroughly melted.
Prep your DIY Beeswax & Lavender Candle vessel but wrapping your wick around a skewer or a pencil. Twist the wick around the skewer until the metal piece at the bottom of the wick perfectly rests on the bottom of the glass vessel. Make sure your wick is in the very center of the vessel.
Chop up a few bits of beeswax to add to the candle later and set aside.
Pour your liquid wax into the vessel. Don't add your essential oils until the wax starts to solidify. You will know it's solidifying because the color changes from translucent to opaque. It always starts from the bottom and works it's way up. When the wax starts to become opaque at the bottom, that's when you want to add your lavender essential oil. The amount of drops can vary but I would say, for this size vessel, use about 30-50 drops.
Once your essential oils are mixed in, and the candle is beginning to solidify, wait until almost the entire candle is opaque and begin sprinkling in your beeswax and lavender buds!
This will cause them to sit on top on the surface of candle which is just so pretty.
Viola! A gorgeous DIY Beeswax & Lavender Candle that would make a great gift for a housewarming or a Galentine's Day gift too. It's so easy, you have to make this for yourself!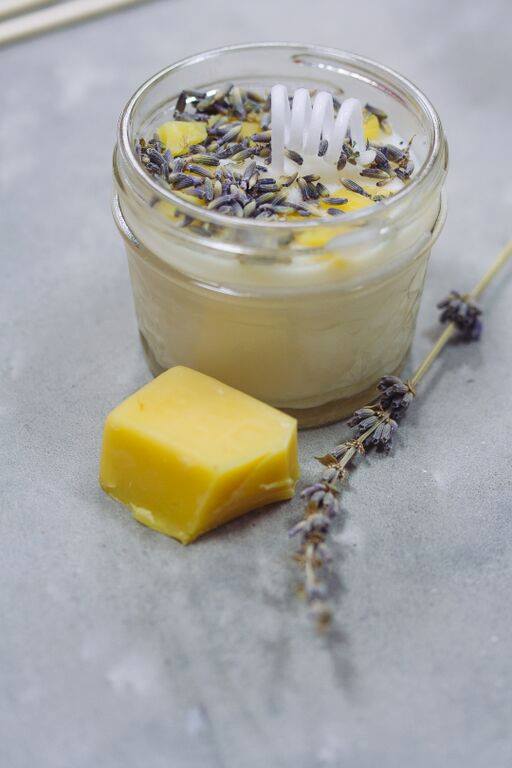 Let's Stay Friends!
Insta | Pinterest | Enews | TikTok