This craft kit was originally part of the January 2019 Craft in Style Subscription Box. Now you can buy the Gilded Dinosaur Terrarium Planter Kit as a standalone kit! These DIY Gilded Dinosaur Planters are so much fun and are perfect for any home or office. What's awesome is that gardening can be really hard to do in the winter and it's when we need greenery the most.
We need fresh, clean, greenery especially in the wintertime. If you spend much time indoors, which most of us do in the winter, it's great to create the opportunity to get plenty of fresh air. And house plants are perfect for that!
These DIY Gilded Dinosaur Planters are perfect for air plants and succulents. Really, any small plant will work. We'll talk about care a lot in this blog but if you want to read more about how to care for air plants go here. And if you want to read more about how to care for succulents go here.
Supplies to make a DIY Gilded Dinosaur Planter
Gilded Dinosaur Terrarium Planter Kit
-or-
XL Dinosaur Toys
A Box Cutter
Liquid Gilding
Disposable Paint Brushes
Aquarium Rocks
Succulents and Soil or Air Plants
First, start by cutting a rectangular opening at the top of the dinosaur planter. Safety with box cutters is wildly important so be careful where you position your hand during the step. Be sure that your hands are never in the pathway of your cut.
You will likely need to make several passes to get your rectangle completely cut out. And that's okay.
Your cut will likely leave uneven edges and even some bits of plastic that hang down. Once the rectangle is completely cut out, make a few more passes with your box cutter along each edge to clean these up. To do this, it's all about the angle of your blade. Try to make these last cuts even and smooth.
Now for the fun part! We're going to shimmer this dino up with gorgeous liquid gilding. If you know me at all, you know that I love gilding. We've made Gilded Seashell Candles and Gilded Animal Place Cards too.
There are a few things to know about gilding.
First of all, liquid gilding is a bit fumey. So be sure that you are working in a well ventilated area. And when you can keep the lid on the gilding. Second of all, it will destroy any paint brush. That's why I recommend using the cheap disposable brushes. Always have a few of them available for any project.
Last, gilding is like glue. If any liquid gilding gets on the thread of the bottle or around the edges of the lid, you may not be able to get the lid back off once it dries! Be sure to keep it really clean as you work so that you can use your gilding again and again.
Your dinosaurs will likely need a few coats of gilding. And there are so many angles to these dinosaurs, that your gilding will need to happen in several sessions. The good news is that gilding dries really quickly! It usually just takes about 30 minutes to dry.
Once your gilding is done, add a thin layer of rocks inside. You always need a layer of rocks at the bottom of any terrarium so that the water can drain away from the roots when you water it.
Next you will want to add your plants! In most cases, you will need to break the soil away from the roots first. And after the plant is in place, if there is any extra room in the dinosaur add more soil.
Because your dino is wider than taller, you will want to check that your soil is filled in along the length of the dinosaur. This will ensure that the plant holds in place and doesn't warble or fall over.
Decorating the top is just about finding your style! I wanted something bold and bright so I added some hot pink rocks which look fab with the gold gilding. Although I added succulents in both of my toys, air plants are a great choice too!
If you want to add air plants, you can bypass adding the rocks and soil. Instead just decorate and style it up anyway you like. Just be sure that you are able to remove the air plant anytime you need to water it. Remember, air plants don't need soil but they do need plenty of water.
Here's my favorite method on how to water air plants.
So cute! So now that your DIY Gilded Dinosaur Planters are done, let's talk about care a bit more in depth. First of all, whether you chose to plant air plants or succulents, you will want to keep your planter near a window. It doesn't matter if it's super sunny or shady, as long as it's near a window.
The amount of water will vary based on the amount of sun but in general waterings will be minimal – probably once a week or so. Both air plants and succulents will give you warning signs when they are not getting enough water. Air plants leaves will start to look dry. And the outer leaves will turn brown. For succulents, they will wither, and look like your fingers do when you've been in the pool too long.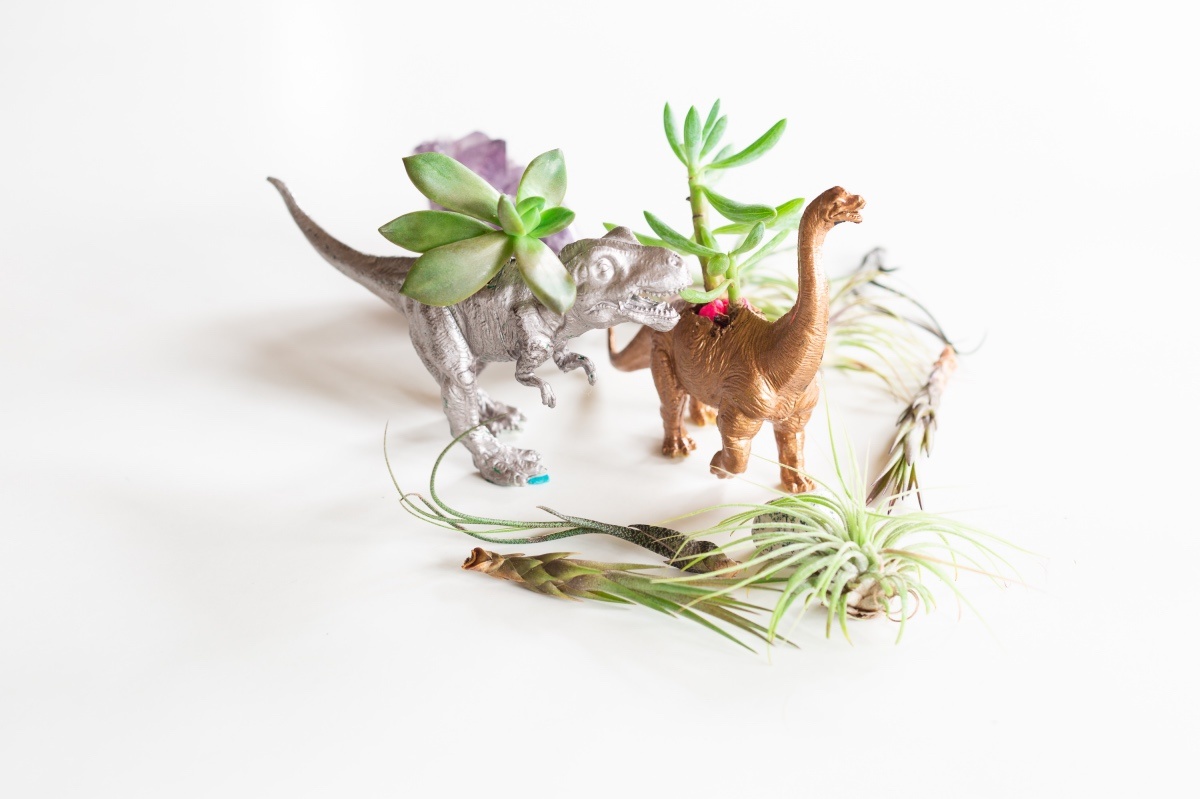 We've included links to where you can read more about care at the top. And just in case you missed them here's a how to care for air plants guide. And here's a how to care for succulents guide.
Last, if you are looking for December's Craft in Style Instructions, visit the Wood Box Desktop Calendar DIY here and Stationery Marbling Instructions here.
Let's Stay Friends!
Insta | Pinterest | Enews | TikTok