I'm sure you'll have seen grid mood boards already all over Pinterest! I definitely have and have become kind of obsessed with how they look, that I ended up wanting to make my own for my workspace. And being a designer and creative, I always print and sketch so much! I love gathering pretty postcards, photos and prints, and I definitely needed a place where to showcase them all and look at them for inspiration.
Let's be honest, purchasing a ready-made grid mood board might be the easier option, but they can be quite expensive… and making them from scratch is much more fun!
The biggest challenge for me was finding a metal grid panel that was big and solid enough. Definitely look out for it in garden or craft stores. I actually ended up finding mine in the backyard being old and used, and even a bit rusty. But it worked!
Gold DIY Grid Mood Board
Materials:
Large metal wire mesh (on Amazon here)
Gold Spray Paint (on Amazon here)
Wooden mini paper clips
Nails & hammer to hang
Method:
1. If you use an old grid, make sure you trim any edges or adapt the panel to your size preferences. If your panel is slightly rusty like mine was, you might want to consider using a rust-proof primer first!
2. Cover a surface with old newspaper foils and lay the panel on top. Start painting your grid with the gold spray paint until all the surface is covered on one side. You can decide whether to paint the other side or not: I painted both sides of my grid just to make sure the original colour didn't pop through anywhere!
3. Let it sit for at least 4-5 hours, or even better overnight, just to make sure the paint is completely dry before you hang your mood board on the wall. Then take your grid panel and position it against the wall you'd like it to be hung on, and use a pencil to make marks of where you'll need to put nails in the wall.
4. Once your nails are set, hang your grid mood board and start decorating it! Use mini paper clips to attach postcards, prints or photo and get creative!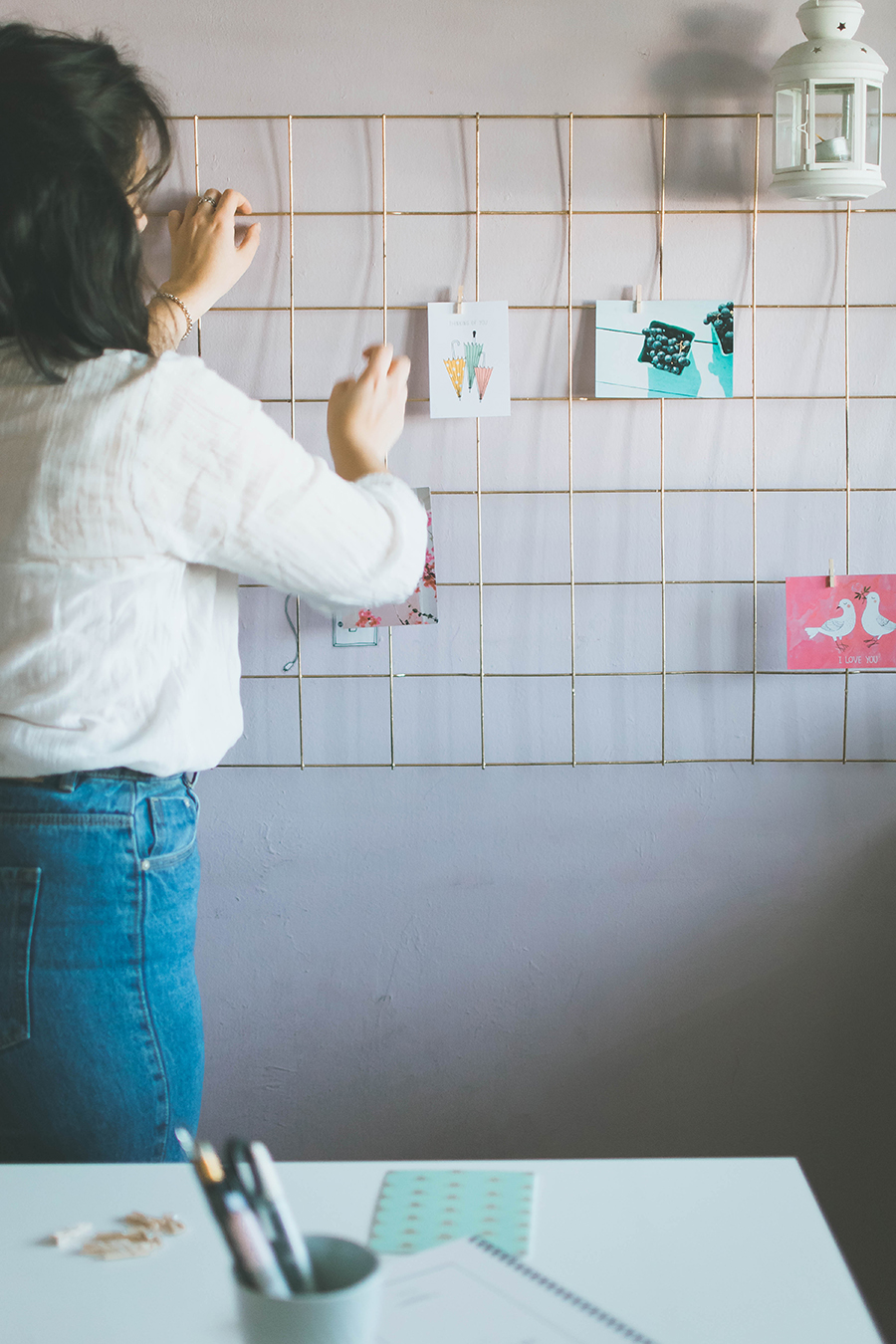 Yes, it's that simple! But it immediately transformed my workspace and created a place where to display all my inspiration. Let me know if you give it a go!
Let's Stay Friends!
Insta | Pinterest | Enews | TikTok