Looking for some pops of color in your life? This DIY Rainbow Polka Dot Printed Bandana is just perfect for that! It's has summer written all over it and a whole lot of fun. It's an easy way to try out wood block printing. The DIY Rainbow Polka Dot Printed Bandana requires minimal supplies and minimal amounts of time too! You can make this from start to finish in less than 30 minutes.
So let's do this.
Supplies:
Plain White Cotton Bandana
Acrylic Paint
Palette
Wooden Skewer (or Teeny Tiny Dow Rod)
I chose acrylic paint in neon yellow, neon pink, turquoise, mint green, and sea foam. But you can choose any colors you like!
I always like to start with the lightest color, so I started with the neon yellow. Use the flat end of the skewer to make a polka dot. Be sure to dip the skewer in your paint after every dot. You can also methodical with the skewer and place it on the the bandana evenly in one gesture.
I free-handed the placement of all the dots. There's not right or wrong to this so have fun!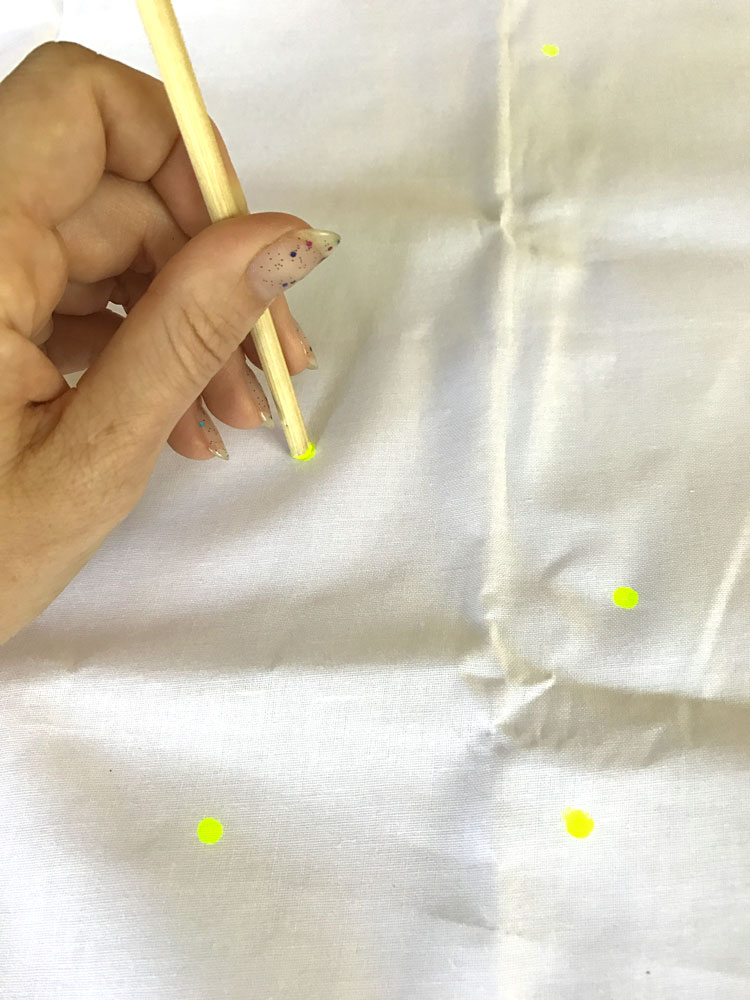 Build your polka dot composition one color at a time and rinse your wooden skewer thoroughly between every color.
When I got to the turquoise, which is one of my most favorite colors in the world, I wanted to be sure that the colors blended well. So I mixed some of the turquoise with a bright blue and into the robin's egg too. This created a bit of an ombre effect that I just loved!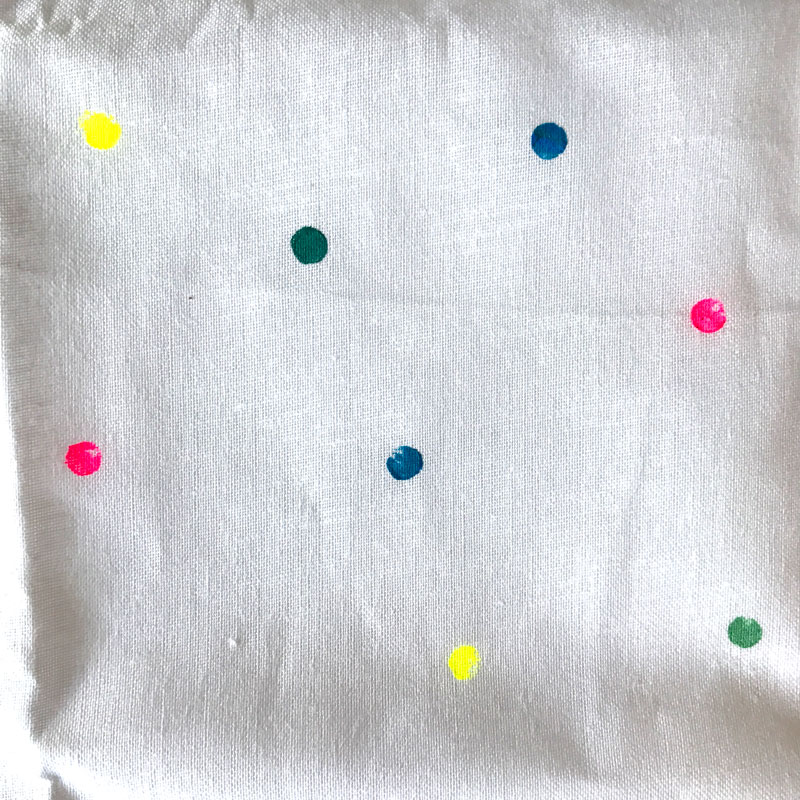 Just keep building up the composition and keep adding cute little dots sporadically across your bandana.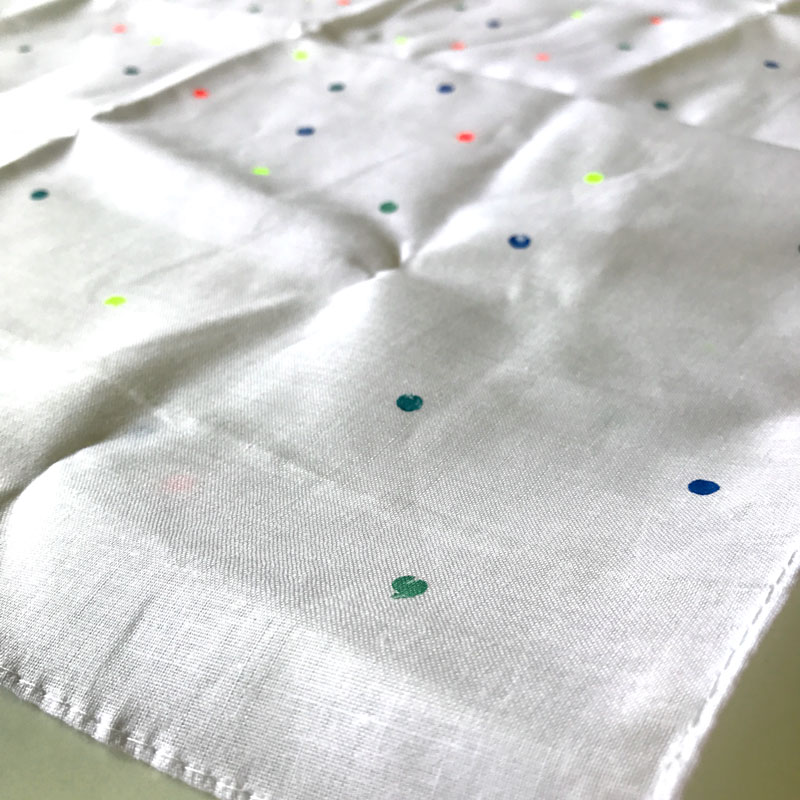 Not all of your polka dots are going to come out perfect but it's no big deal! Just go with it and love the imperfections. Some dots were lighter than others, and some had little bits of the polka dot missing. But it still looked cute enough to love it and wear it!
Acrylic paint only takes about 10 minutes to dry, so your DIY Rainbow Polka Dot Printed Bandana will be ready so quickly! The coolest thing about using acrylic paint for printing is that you don't have to heat set it like silkscreen ink. It dries to a permanent finish.
And your DIY Rainbow Polka Dot Printed Bandana is machine washable and safe in the dryer too! Yippee.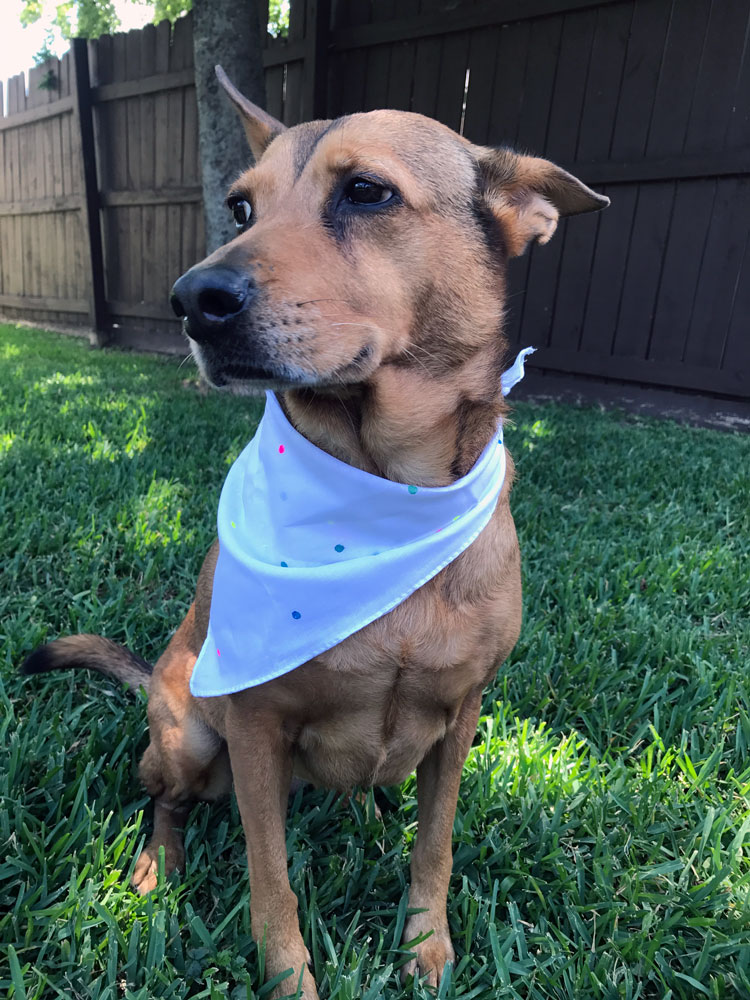 This is my cute lil princess Dr. Girlfriend modeling the DIY Rainbow Polka Dot Printed Bandana. You can wear it too. You can wear it like Punky Brewster around your wrist. Add it to your suit jacket for a pop of color or be like Aerosmith and tie it around a microphone.
So enjoy your DIY Rainbow Polka Dot Printed Bandana!
Let's Stay Friends!
Insta | Pinterest | Enews | TikTok