As Urban Outfitters is the villain to all indie designers, Modcloth is the heroine. Modcloth works with over 700 independent and small designers around the globe and offer contest to allow customers to vote on new designs into production at Modcloth. Urban Outfitters on the other hand, notoriously steals from small designers – like this designer or how about this one too.
Here are some giftable items perfect for fall from Modcloth. There are planters, mugs, and more. Everything is the color of the leaves changing. You don't have to wait until Black Friday for holiday deals. ModCloth's got awesome events to enjoy right NOW! Starting today, spend $150+ & receive a gorgeous FREE gift. Also I hear later in the week, another fab sale will be launching, so stay tuned! Whether you're stocking up on stocking stuffers or picking a perfect party outfit, make sure ModCloth's on your list!
Gift With Purchase Event
Start: Monday 11/16 @ 12 pm EST
End: While supplies last
LP: http://www.modcloth.com/shop/newarrivals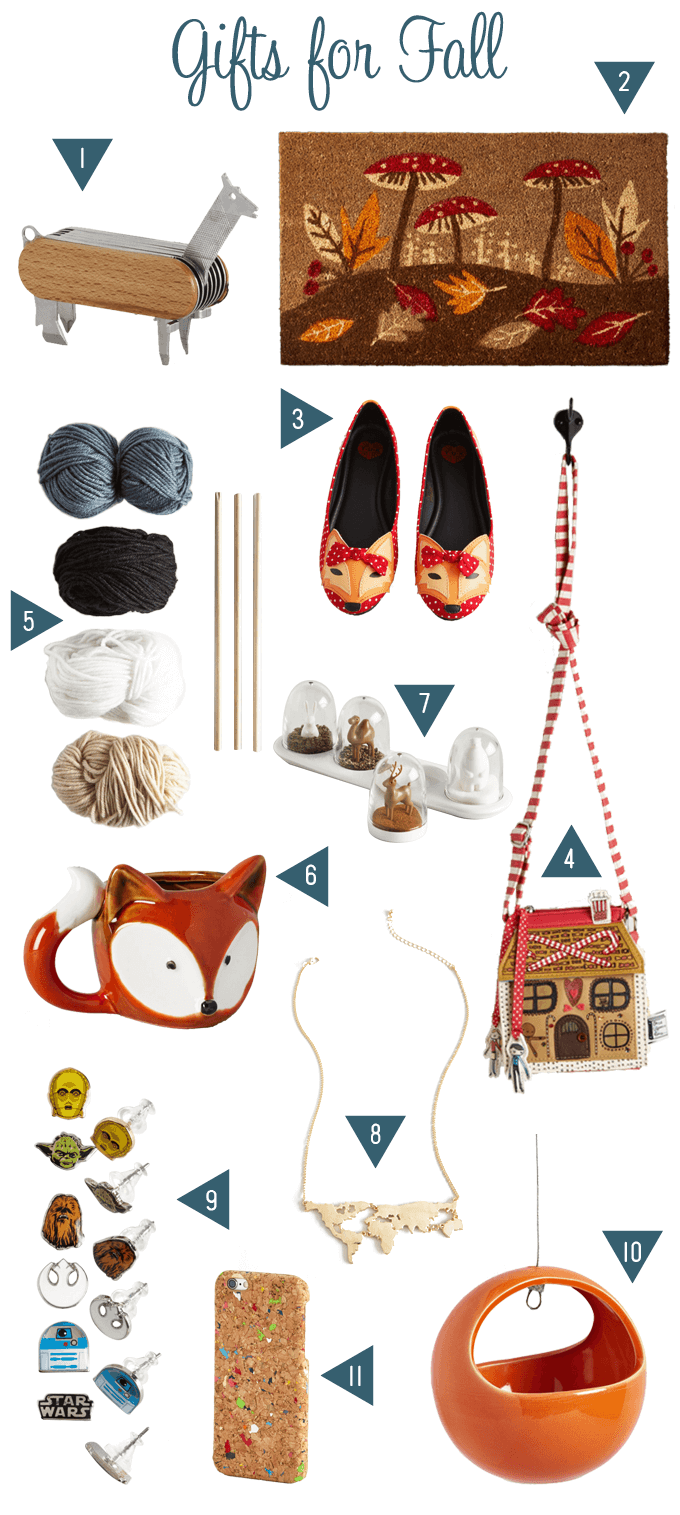 <<1. What is this a Llama? Modus Oper-Handy Multi-tool $24.99>>
<<2. A Scandinavian Folk Style Welcome Mat. On Top of the Woods Doormat $34.99>>
<<3. Foxxxxxxy Clever So Sweet Flats in Red $59.99>>
<<4. A Gingerbread Purse with a Candycane Strap Moral of the Storybook Bag $44.99>>
<<5. Give yourself something to do during the Holidays! Paneled Perfection DIY Wall Art Kit $24.99>>
<<6. I bet the coffee tastes better from this mug! A Real Fox-er Upper Mug $14.99>>
<<7. Tis the Season Shaker Set $39.99>>
<<8. For the Worldly Traveller There's a Map for That Necklace in Gold $19.99>>
<<9. For the Nerd Girls Out There!! Endorse the Force Earring Set $19.99>>
<<10. A super cute vintage inspired planter. Growing Up Hanging Planter in Persimmon $29.99>>
<<11. Keep it neutral and protect your phone with cork. Corks for Me! Iphone 6/6s Case $14.99>>
**This post contains affiliate links and we will be compensated if you make a purchase after clicking through these links. That being said, Pop Shop America does not work with brands it does not believe in. All opinions and commentary are genuine.
Let's Stay Friends!
Insta | Pinterest | Enews | TikTok