Do you have a magical person in your life that just loves Unicorn Recipes? Then you must make them this Rainbow Unicorn Fruit Parfait Recipe! It's the healthiest way to eat a rainbow unicorn dish.
This recipe uses our Rainbow Unicorn Yogurt DIY that you can find on the blog here. It's actually really easy to make. All you need is yogurt and food dye in an array of pretty colors! We recommend using whole milk yogurt for these fruit parfaits because the yogurt is thicker and thus will make prettier more even layers.
We were inspired to make this Rainbow Unicorn Yogurt because we couldn't get enough Rainbow Unicorn Recipes – Unicorn Hot Chocolates, Cheesecake Bars and Adorable Swirly Cookies. But in searching for the best recipes online, we found that all of them were super sugary and sweet!
We created these Gorgeous Rainbow Unicorn Fruit Parfaits to be a healthy alternative to these Gorgeous Rainbow Unicorn Recipes! This would make a perfect breakfast for a princess. It would be great anytime and is healthy enough for everyday!
We used only fresh fruit for this recipe which was so fun to search for! We wanted the brightest colors of pink, purple and blue so we used: raspberries, blueberries, pomegranate, and dragonfruit.
But you could use any fruit you like! If you like more pink and orange colors, you could consider strawberries and cantaloupe. As long as the color palette is soft and pastel, or made up of pinks, purples, and blues, you'll have a perfectly Unicorn look!
From here, it's all about layering. Be careful when you layer the Rainbow Yogurt not to overmix it. If you overmix, it could turn brown!
Be gentle when you add the berries, so that you can keep the layers even and separate. If the yogurt covers the fruit too much, you will lose the layering effect.
Everything about this Gorgeous Rainbow Unicorn Fruit Parfaits Recipe, requires you to be gentle. Place the berries gently and place the yogurt gently too.
One of our favorite ingredients for this recipe was the dragonfruit! This particular dragonfruit was bright gorgeous magenta. We had never seen that before! Usually it's white with black specks. So this was a magical surprise!
Once you have created your layers, serve your Gorgeous Rainbow Unicorn Fruit Parfaits Recipe right then! It's princess party perfect. It's great for a magical and healthy breakfast.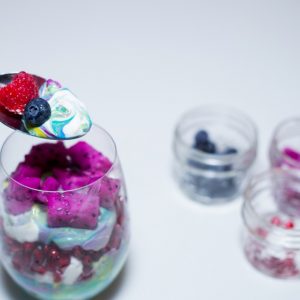 Gorgeous Rainbow Unicorn Fruit Parfaits Recipe
This Rainbow Unicorn Fruit & Yogurt Parfait is the perfect snack for any magical person.  It's the healthiest way to get a little rainbow in your life.
Ingredients
1 1/2

cup

Rainbow Unicorn Yogurt

recipe from Pop Shop America

1/8

cup

Blueberries

1/8

cup

Raspberries

1/8

cup

Pomegranate Arils

1/8

cup

Dragonfruit
Instructions
Before you start, be sure that your Rainbow Unicorn Yogurt is chilled.  This will help the layers stay still and vibrant.

Also, be sure that your fruit is completely dry.

In a glass, layer a small amount of your Rainbow Unicorn Yogurt.  Then top with blueberries.

Repeat these steps but add raspberries next.  Be careful not to shake or push the layers down to the bottom.

Repeat layering the Rainbow Unicorn Yogurt and this time add pomegranate arils.

Add one last layer of Rainbow Unicorn Yogurt and top with dragonfruit.

Serve immediately to any magical person!
Let's Stay Friends!
Insta | Pinterest | Enews | TikTok