Do you love Rainbow Unicorn Recipes? Because I sure do! One of my favorite blogs that I've written is this collection of 15 different Rainbow Unicorn Recipes. There are so many adorably delicious ideas all in one place! I want to make them all.
The only issue is that they are all sweet. These recipes are so sugary! Cakes, meringues, cookies, and hot chocolate! When I was writing that blog, my teeth started to ache just looking at these recipes.
I craved a Unicorn Recipe that was healthy and less sweet. So I made this Rainbow Unicorn Yogurt Recipe that is low sugar, low fat, and makes a great breakfast.
And let's get started with our Rainbow Unicorn Yogurt Recipe.
This recipe is all about a gorgeous color palette! So don't skimp on your food coloring. I got mine at Michael's but you can find great ones on Amazon or a cake decorating store.
Pick a color palette that you really love! I always start with an ombre from mint green, to sky blue, to lavender. Then I add a couple of bright and cheery complimentary colors. In this case, I added sunshine yellow and baby pink.
You only need a small drop of color for this DIY Unicorn Yogurt. Be sure to mix the colors thoroughly and use a fresh utensil for blending each color. Or you can wash your utensil in between each color.
Cleaning and using fresh utensils will will keep the colors fresh and bright. Otherwise, you will end up with colors that you don't intend for!
When all your colors are blended, add them in individual layers into a bowl and add some white between each layer. The while helps the colors pop and give the colors space to marble, swirl, and blend without becoming mucky and brown.
I added equal parts color and equal parts white to make perfectly delicious rainbow swirls. Swirling the colors is the most fun and prettiest thing in the whole world. Be careful not to over swirl! If you swirl too much, all the colors will just blend into a mucky-smooshed-pea brown.
Viola Rainbow Unicorn Yogurt!
This would make a delicious breakfast or a healthy dessert too. I could imagine this being the perfect way to wake up your kids on their birthday. Or to serve at a special party. You could even surpise your kids by including this in their lunchbox for school.
It's just so pretty it deserves to be shown off!
To store your rainbow unicorn yogurt, keep it in the fridge. If your colors are already mixed, try your best to not swirl them additionally. And if you can, this is better stored with all the colors separated.
Then you can mix them when you are ready to serve the yogurt.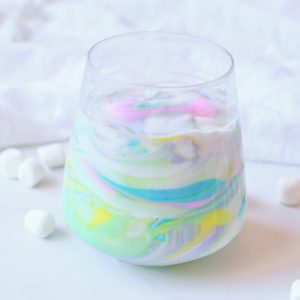 Rainbow Unicorn Yogurt Recipe
Here's the healthiest rainbow unicorn recipe around - it's Rainbow Unicorn Yogurt and it has the prettiest swirls of color!
Ingredients
1

drop

Pink Food Coloring

1

drop

Yellow Food Coloring

1

drop

Mint Green Food Coloring

1

drop

Sky Blue Food Coloring

1

drop

Lavender Food Coloring

8

oz.

Plain Yogurt

Toppings

like honey, fruit, or even candy
Instructions
Start by collecting the same number of bowls as colors that you are using.  We used 5 colors: pink, yellow, mint green, sky blue and lavender - so we had 5 bowls available to start this recipe.

Fill each bowl with a small amount of yogurt - around 2 ounces.

Add a drop of color to each bowl. For one bowl, add a drop of yellow. For another bowl, add a drop of sky blue. Keep the colors separate and just add 1 drop of color in each bowl.

Mix the color into the yogurt thoroughly.  Use a fresh utensil for each color - so that the colors stay separate.

In a larger bowl, begin to layer the colors. Start with plain white yogurt, and then a color of your choice. Continue to add white yogurt between each color. 

Use a fresh utensil when scooping each color of yogurt into the larger bowl to keep your colors fresh and bright.

Now using a slow and wide motion, swirl the colors.  Be careful not to over swirl or your colors will blend into a murky brown.

Serve with fruit, honey, candy or even plain!
So how are you going to serve your Rainbow Unicorn Yogurt? Tell us in the comments below!
Let's Stay Friends!
Insta | Pinterest | Enews | TikTok