In love with loquats?! You know I am! I've been gathering just enough to make this gorgeous everyday jam – Homemade Loquat Jam. It's simple and makes the perfect gift. It's made with a unique fruit, so you will never see this jam at the grocery store!
I've been talking about loquats a lot because they are so plentiful where I live. They're everywhere. And since they are in season right now (late April and early May – a little late this season) I'm thinking of great ways to use them. Their season is really short so picking and processing them is important!
So here's a simple jam recipe. It's a great way to can them and keep them for a long time!
Where to Find Ripe Loquats
Loquats grow throughout the south and especially around Texas. They are common to green spaces, and backyards. You will rarely see them at grocery stores or even farmers markets because they have a short season and don't travel well. So if you can pick them, use them! With any fruit that you are picking from a yard, be sure you know the history of the area! You will want to know what chemicals have been used nearby or if anything like paint or toxins has been dumped nearby. Only pick fruit from areas that you trust!
Loquats have a huge variation in taste and flavor depending on the quality of the soil. If a loquat tree is well taken care of the fruit will be so much more delicious!
Jam vs Jelly
Everyone always asks so let's discuss! You can absolutely make loquats into jelly. I am a jam fan myself because it's less work since you can allow the pulp to remain. The last thing I want to do is strain fruit. If you want less work – choose jam.
I prefer the loose, spreadable texture of jam and I prefer to not use as much pectin. Jelly will require more pectin to set properly.
Adding a Twist
This recipe is all about a simple, classic Homemade Loquat Jam. I used vanilla bean but nothing out of the box. If you want a twist, you could definitely dress this up! I think a touch of bourbon added near the end of the cooking process would add a remarkable flavor. I've also seen cardamom added to loquat jam too! Honey is always a great idea for a recipe like this.
About Sterilizing Jam Jars
This may be the most important step of making jam and jelly! Please don't ever skip this. Before you add your jam to the jars wash the jars thoroughly with soap and water. Then add them to a large pot of boiling water. The water should be a rolling boil. Cook the jars for 15 minutes to sterilize them and prepare them for the jam. Add the jam to the jars while the jars are still hot.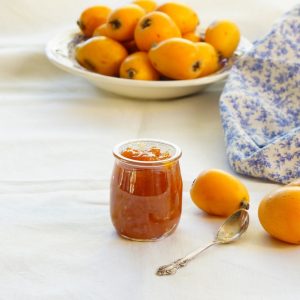 Homemade Loquat Jam Recipe
This simple jam is pure delicious! Make this homemade loquat jam with a little known fruit that is oh so tasty.
Ingredients
8

cups

loquats

2

cups

white sugar

1

vanilla bean chopped

1

lemon

1

tablespoon

pectin
Instructions
Thoroughly wash the loquats. Then chop and de-seed them. Slice them into quarter pieces or smaller and place them in a stock pot.

Juice the lemon and toss the loquats in the juice.

Chop the vanilla bean in pieces and add to the stock pot with the fruit.

Add the sugar and pectin to the stock pot and bring to a boil stirring often.

Once the fruit begins to boil, reduce to a simmer and cook for 1 hour. Continue to stir occasionally.

After 45 minutes, or near the end of the cooking time, remove the vanilla bean.

After 1 hour remove the jam from the heat and add to the jam jars while still warm.

Be sure to follow the sterilization guide for the jam jars included in this post! Do not add the jam to unsterilized jars!

Store in the fridge for up to a year and to use spread across your favorite breads, muffins, or add to ice cream!
Let's Stay Friends!
Insta | Pinterest | Enews | TikTok