Are you in love with these gorgeous little flowers? The state flower of Texas is quite a looker and makes for the perfect backdrop for springtime photos! Here's everything you need to know about the History of Bluebonnets, Where to Find Bluebonnet Patches, and how to grow them for yourself!
The History of Texas Bluebonnets
Bluebonnets, or Lupinus texensis, are a stunning little flower that blooms in early to late spring depending on the location. They grow to around 2 feet tall. It is said that they are named for a similar looking flower – the sunbonnet. And they are also referred to as a buffalo clover, wolf flower and el conejo, (Spanish for rabbit.)
It has been found in the wild with strange mutated colors such as all-white flowers, pink, and the maroon 'Alamo Fire' variation. These colors can be found commercially for yourself!
On March 7, 1901, the Texas Legislature adopted the bluebonnet, or Lupinus subcarnosus, as the state flower. But on March 8, 1971, the legislation was amended to include L. texensis and "any other variety of bluebonnet not heretofore recorded." At least four other species of bluebonnet grow in Texas: L. havardii, L. concinnus, L. perennis, and L. plattensis. L. texensis and L. subcarnosus are native to Texas.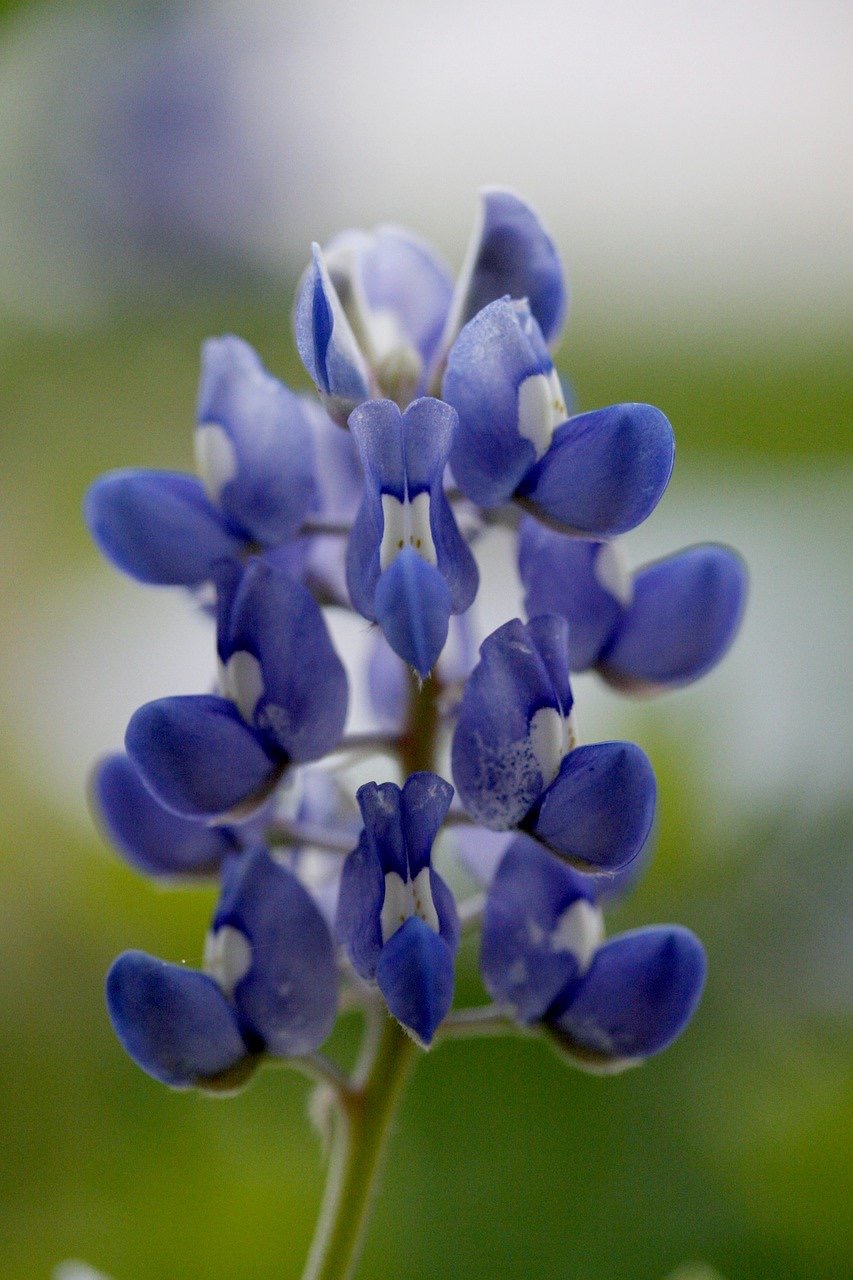 Where to Find Texas Bluebonnet Patches
Later, in the 1930s the Texas Highway Department began a landscaping and beautification program that put this little flower on the map. Bluebonnets now grow along most major highways throughout the state. The flower usually blooms in late March and early April and is found mostly in limestone outcroppings from north central Texas to Mexico.
In general, the first flowers open about March 15 in the southern part of the state, and in the more northern part of the state, first flowers may not show before May 1.
The best places to find patches are: Memorial Park Houston, Bluebonnet Capital of Texas: Burnet, Texas, Lady Bird Johnson Wildflower Center, Johnson City, Fredericksburg, Highway 16 from Fredericksburg to Llano, Brenham, New Braunfels, Ennis Texas, & The Bluebonnet Festival which is also in Burnet!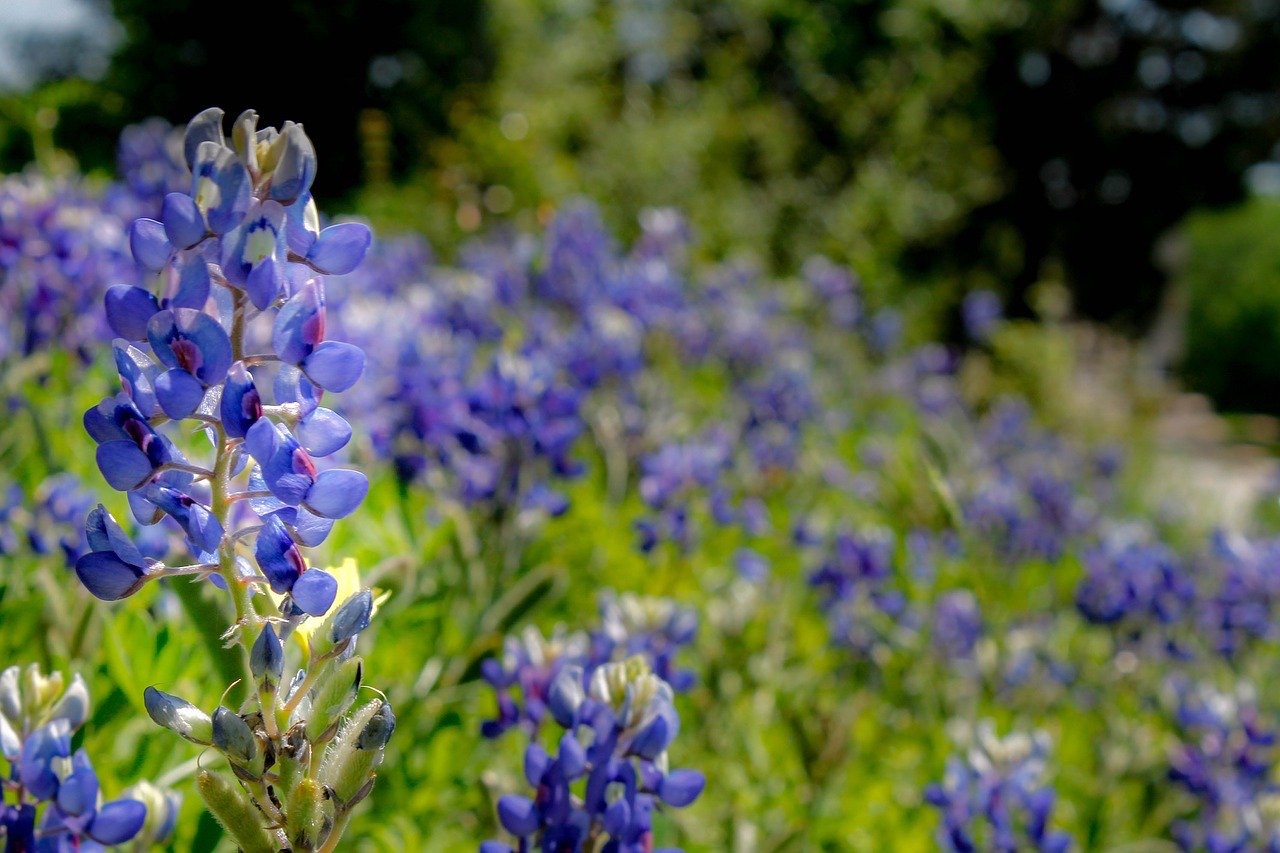 Growing Your Own Bluebonnets
Although bluebonnets are hard to get started, they can become easier as time passes. That's because it may take several years to establish a good patch. They need particular conditions to thrive. But once they are going, your bluebonnets should reseed and reappear each spring without much effort.
It's because bluebonnet seeds have a hard outer shell to protect from dry conditions. The plant grows better in moist years. It's best to scarify the seeds – a process that weakens the seed casing to encourage germination – before being stored.
How to Scarify the Seeds:
To aid in the germination of bluebonnets, scarify the seeds. Scarification means scratching or nicking the seed coats to simulate natural weathering process. Once scarified, most seeds will germinate quickly and should be watered regularly for several weeks, especially if the weather is dry.
To scarify the seeds:
1. Nick the seeds with a knife.
2. Rub the seeds with sandpaper (my favorite method.)
3. Freeze the seeds overnight, then quickly pour boiling water over the seeds and soak for several hours at room temperature (another easy method if you are familiar with seeds.)
After seeding, cover the seed with soil around one-quarter inch deep or just toss the bluebonnet seeds around a field like candy! Planting them does protect the seeds from getting snatched by birds or cooked by the sun. Water completely with gentle pressure. After the first watering, continue with additional light waterings every 3-5 for about 1 month as long as it's dry and not rainy. If it's rainy, try leaving the seeds alone.
Fertilizer only produces more leaves but not more blooms. So it's not recommended! After planting, watering, and cultivating, bluebonnets will begin to sprout and grow in 4-10 days. But the germination process can continue over 18 months or even longer depending on the elements!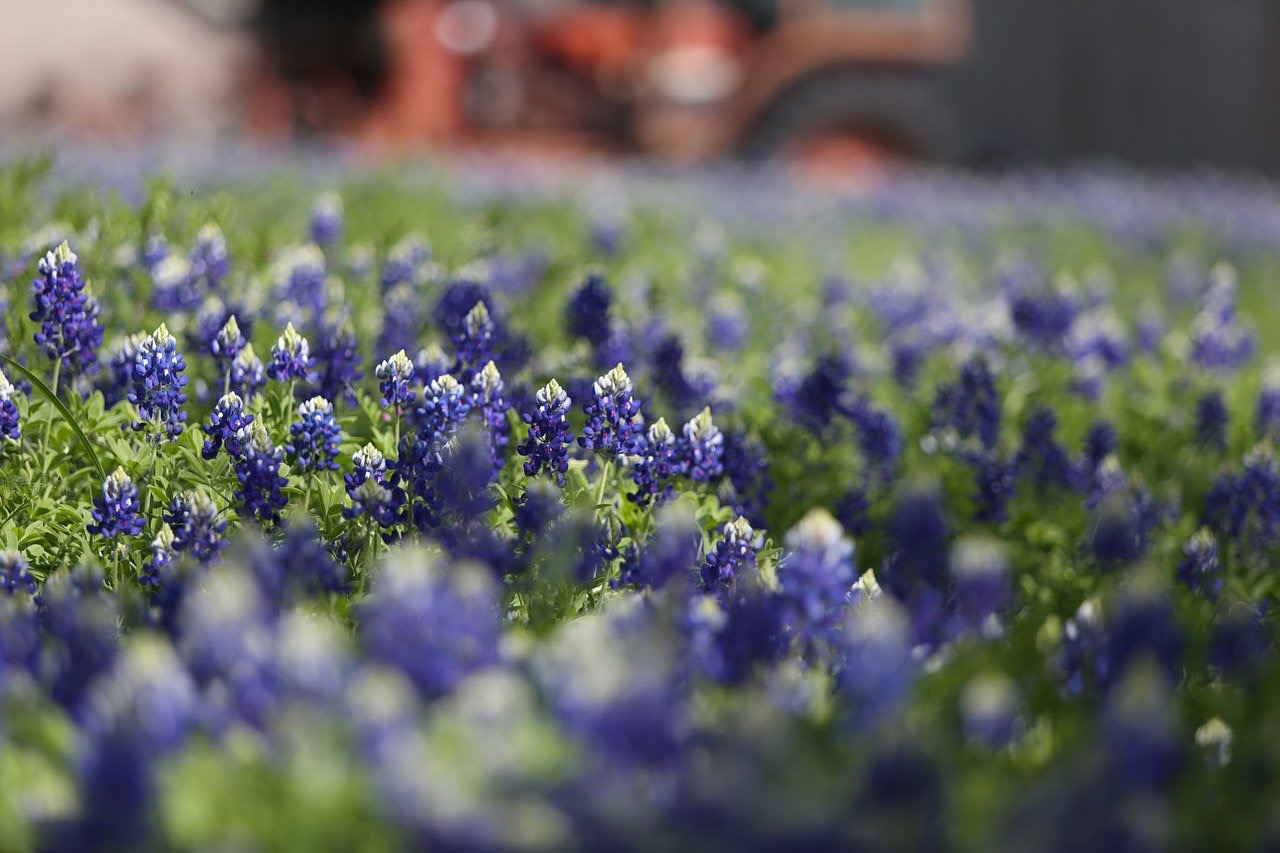 Where to Plant Bluebonnets
Wildly enough, Texas bluebonnets are adaptable to the rocky, hilly, alkaline soils of the Hill Country (central Texas.) They also love the frequent droughts and drier climate. They thrive in heavily disturbed, poor soils.
Most of all, the soil must be well drained. Full sun is also important!
Soil preparation isn't necessary for this reason.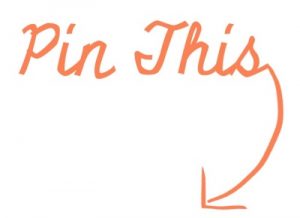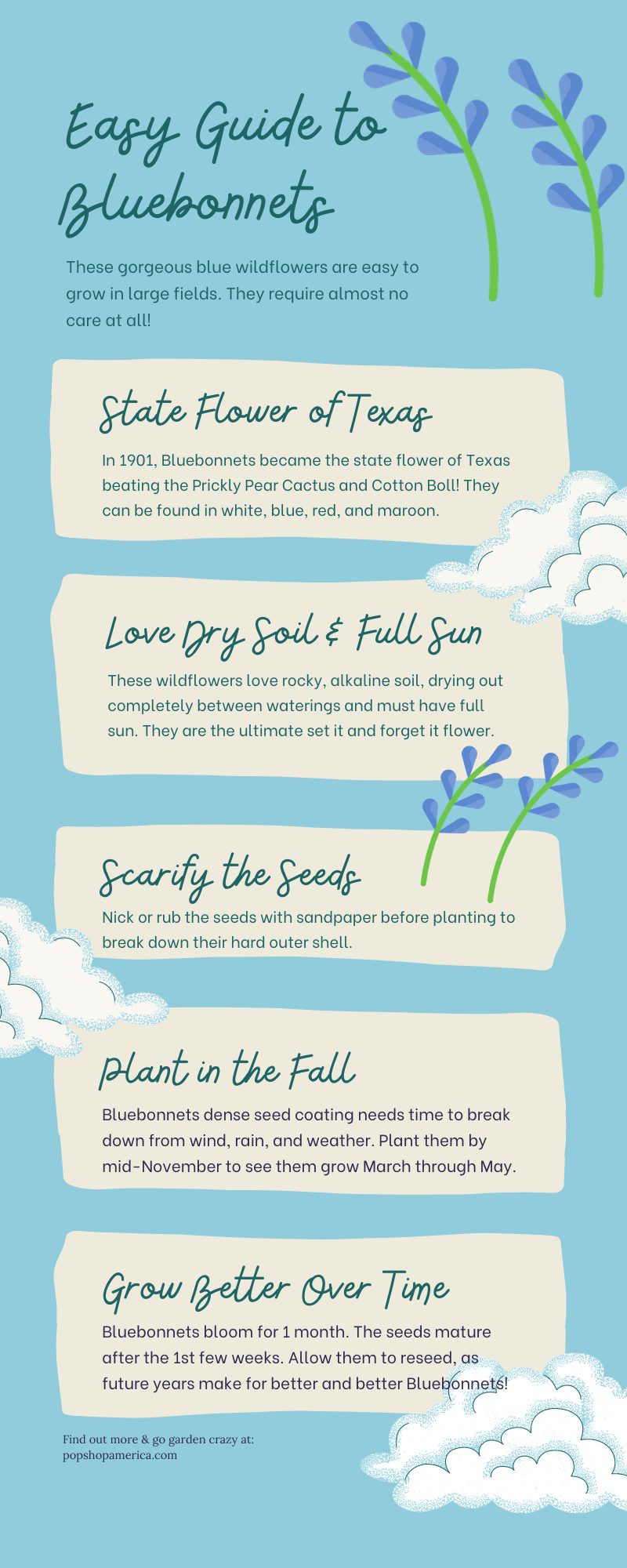 When to Plant Texas Bluebonnets
Bluebonnets must be planted September 1st to December 15th. However, before mid-November is ideal. Remember bluebonnets have a hard seed coat that must be penetrated by the elements of wind, rain, and weather over the course of a few months (but sometimes several years). So they must be planted early and they will often do better in years after their planting.
Once flowering, bluebonnet flowers bloom for around a month. Allow two weeks after the full bloom period has passed for the seeds to mature. Use the seeds to continue the cycle!
Let's Stay Friends!
Insta | Pinterest | Enews | TikTok