Are you ready to make the most adorable and hearty meal around? These Mini Lasagna Cupcakes are so much fun. They are so cute, they are perfectly sized for one person. They are crowd pleasers that are perfect for the whole family.
I mean, who could resist a lasagna cupcake? So let's make them!
Mini Cupcake Lasagna Cupcakes Ingredients
I chose to make a hearty and meaty lasagna with ground beef. But you could make this recipe vegetarian as well. To make it vegetarian, just replace the beef with all your favorites – especially carrots and celery – the main ingredients for bolognese. You could also add spinach and zuccini my favorite veggies to add to pasta.
Your other ingredients are: lasagna sheets, tomato sauce, garlic cloves, onion, mini mozzarella balls, parmesan cheese, and olive oil.
With any pasta dish, I always make sure to have sugar on hand as well as basil, oregano, thyme, chives and all your favorite Italian herbs.
Supplies & Tools You Need
To make this recipe, of course you need a cupcake pan. You can also use individual cupcake tins like what I used myself. Additionally, you will need a saucepan, stovetop, oven, and non-stick spray for your cupcake liners.
It's actually quite simple and dare I say mess free recipe.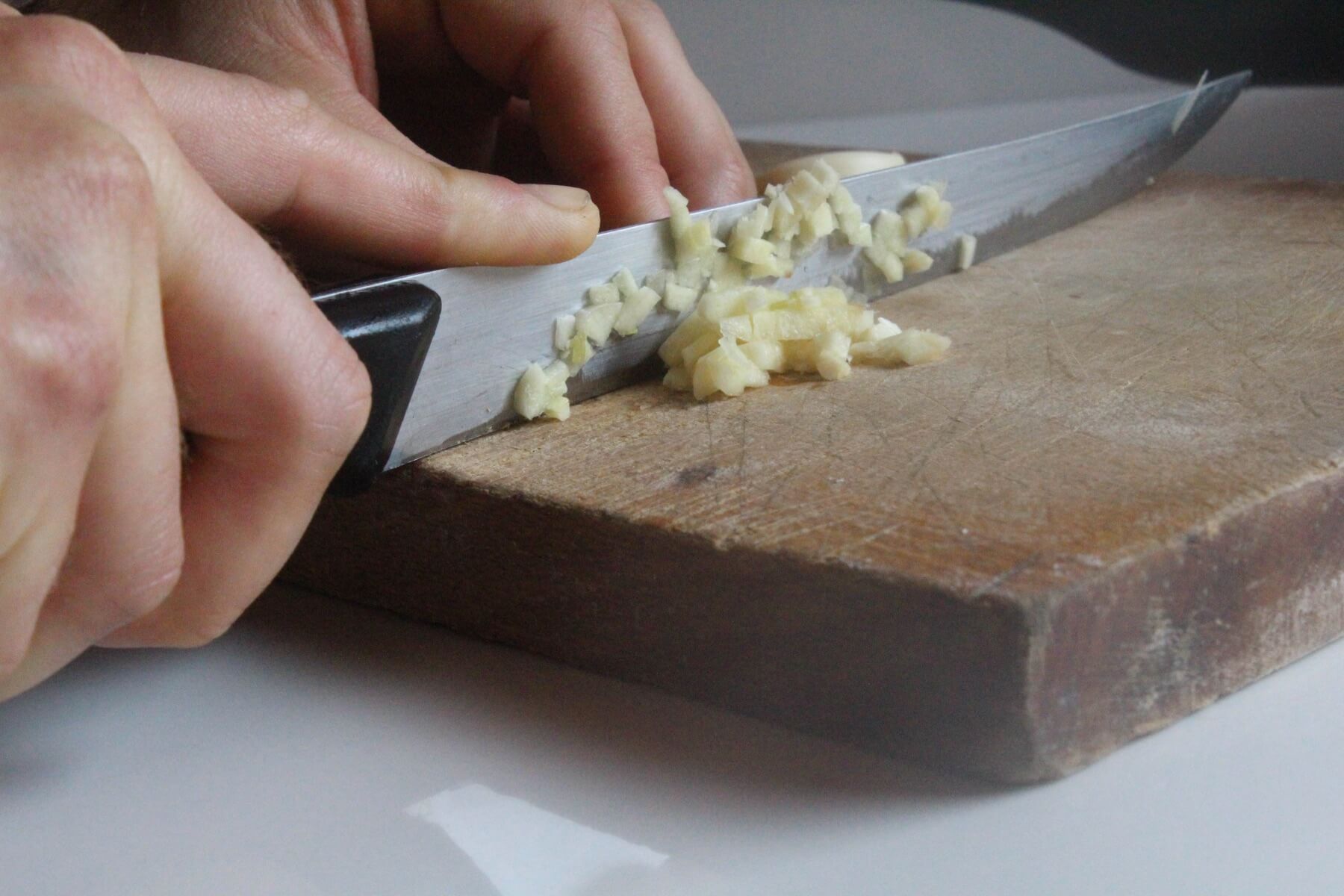 Cook the Lasagna Sheets
Start by heating your water to cook your lasagna sheets. As they say, a watched pot never boils! And it really does take a bit of time to get the water ready to cook the pasta. If you can't find mini sheets like mine, there are a few other options. First, you could snap regular lasagna sheets into pieces before you cook them. Or second, which is even easier, cook whole sheets of lasagna and then once they are cooked, cut them into smaller squares.
Make Your Tomato Sauce
To make your tomato sauce, you have to start with fresh vegetables! Of course, you could make the tomato sauce completely from scratch.
I like to use a pre-made pasta sauce but then add so many fresh ingredients to it that you would never know that it's pre-made. Your favorite brand is fine for this. I always use a pasta sauce that's very low fat, so that it doesn't get too oily when I add the fresh olive oil and sautéed vegetables.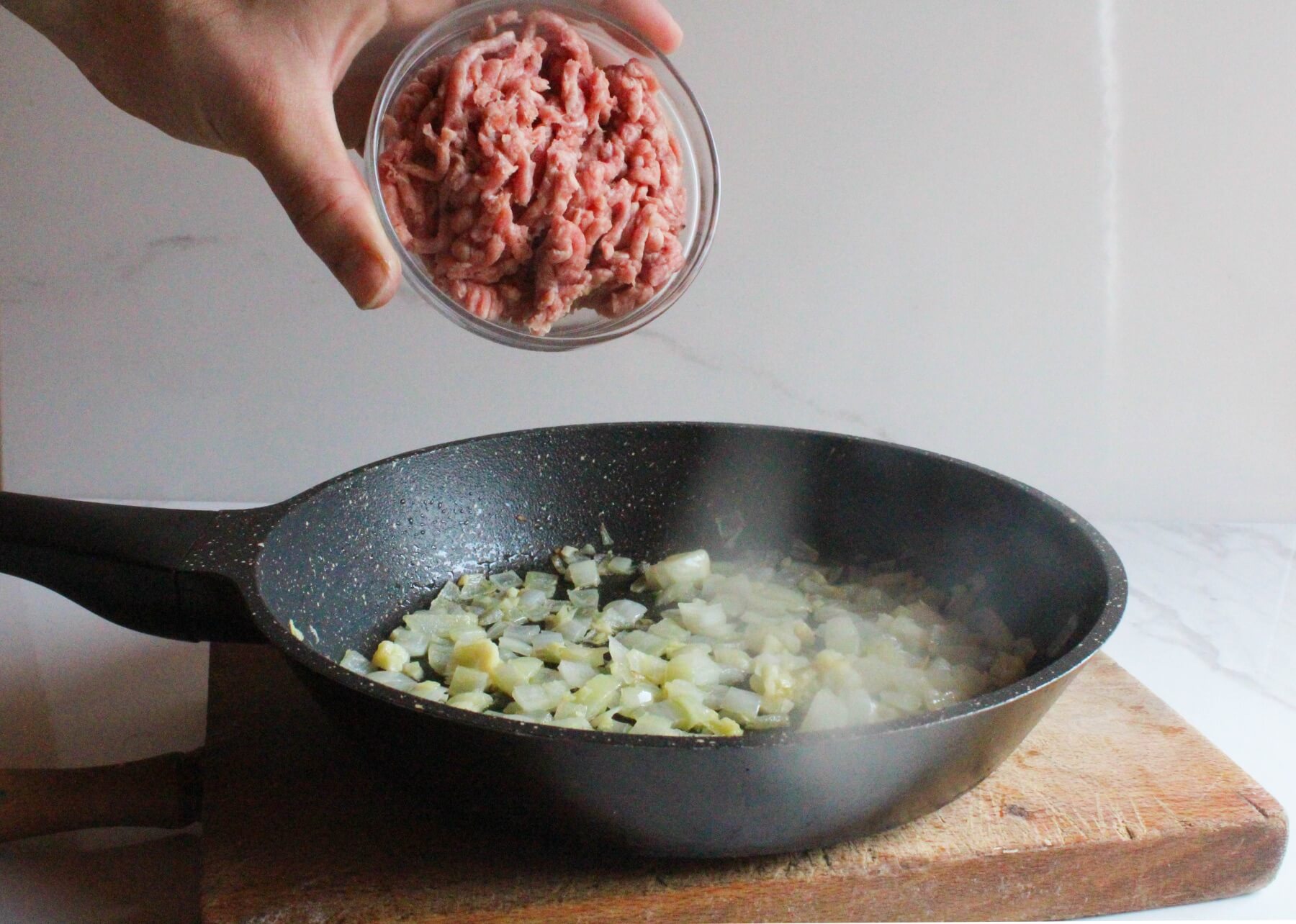 To make the sauce, start by mincing the garlic and dicing the onion. Both should be in small pieces so you can easily sweat them.
In a cast iron pan, add olive oil and the minced garlic on medium heat. Stir occasionally and cook for around 1 minute. Then add the onions. Sweat the onions by cooking them until moisture begins to release but don't cook them long enough to brown.
Last, add your dried herbs. Basil, oregano, thyme, and chives are all a must. But you are welcome to get creative here! Adding the herbs now, will help the flavor to come alive.
Once your garlic and onions are ready, add the ground beef. I would recommend using beef that's quite lean. If you want a flavor kick, try adding 3 parts ground beef to 1 part ground sausage. It will really be divine!
Cook the ground beef until brown stirring regularly.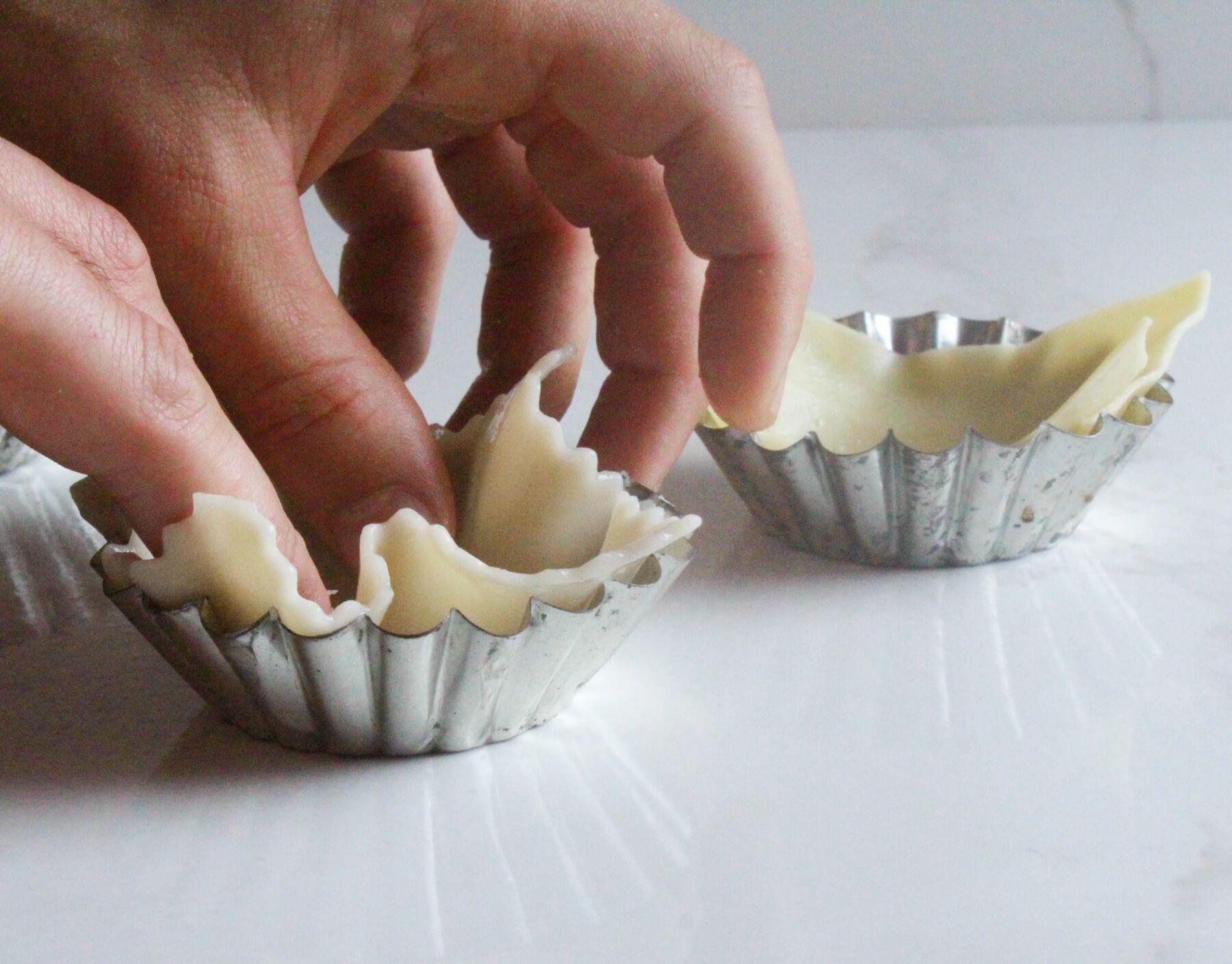 Next add the tomato sauce. Again, this could be any brand or any style. So, if you like a roasted garlic flavor – you could try that. Mushroom pasta sauce would be lovely too. One of my favorites is sweet basil which is a great choice for these Mini Lasagna Cupcakes.
Once your tomato sauce is warm, taste it. Pasta sauce has variation so now is the time to add more herbs, salt, pepper or whatever you like.
If your tomatoes are too acidic you can add sugar a tablespoon at a time. Sugar helps reduce the acid and brings out the sweetness in the tomatoes. Just be sure to continue to cook your sauce if you add additional herbs or sugar so that it can blend and meld into the flavor of the sauce.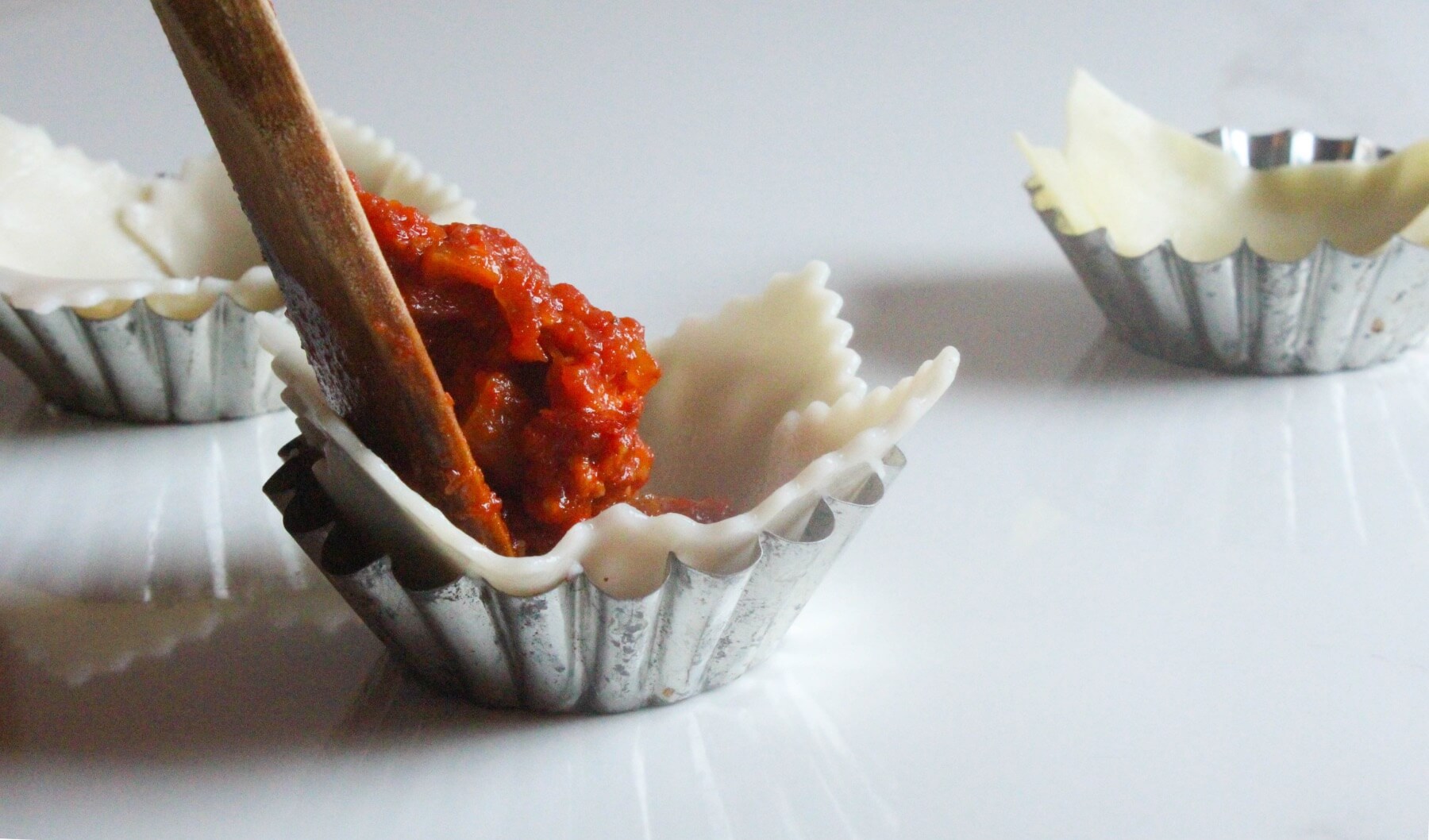 Prep Your Lasagna Cupcakes
Start by spraying your cupcake tins with non-stick spray. Then place your cooked lasagna sheets inside the cup so that all 4 corners are even. Along the shorter sides of the sheets, fold the pasta over each other, so that the sheet will fit inside the cup better.
Then begin layering!
Fill each cupcake almost to the top with tomato sauce making sure that what you add is chunky, hearty and not too runny.
Next layer on fresh mozzarella. I recommend shredding it first, but adding mini mozzarella balls straight into your lasagna cupcake can be incredible too. Next sprinkle with parmesan.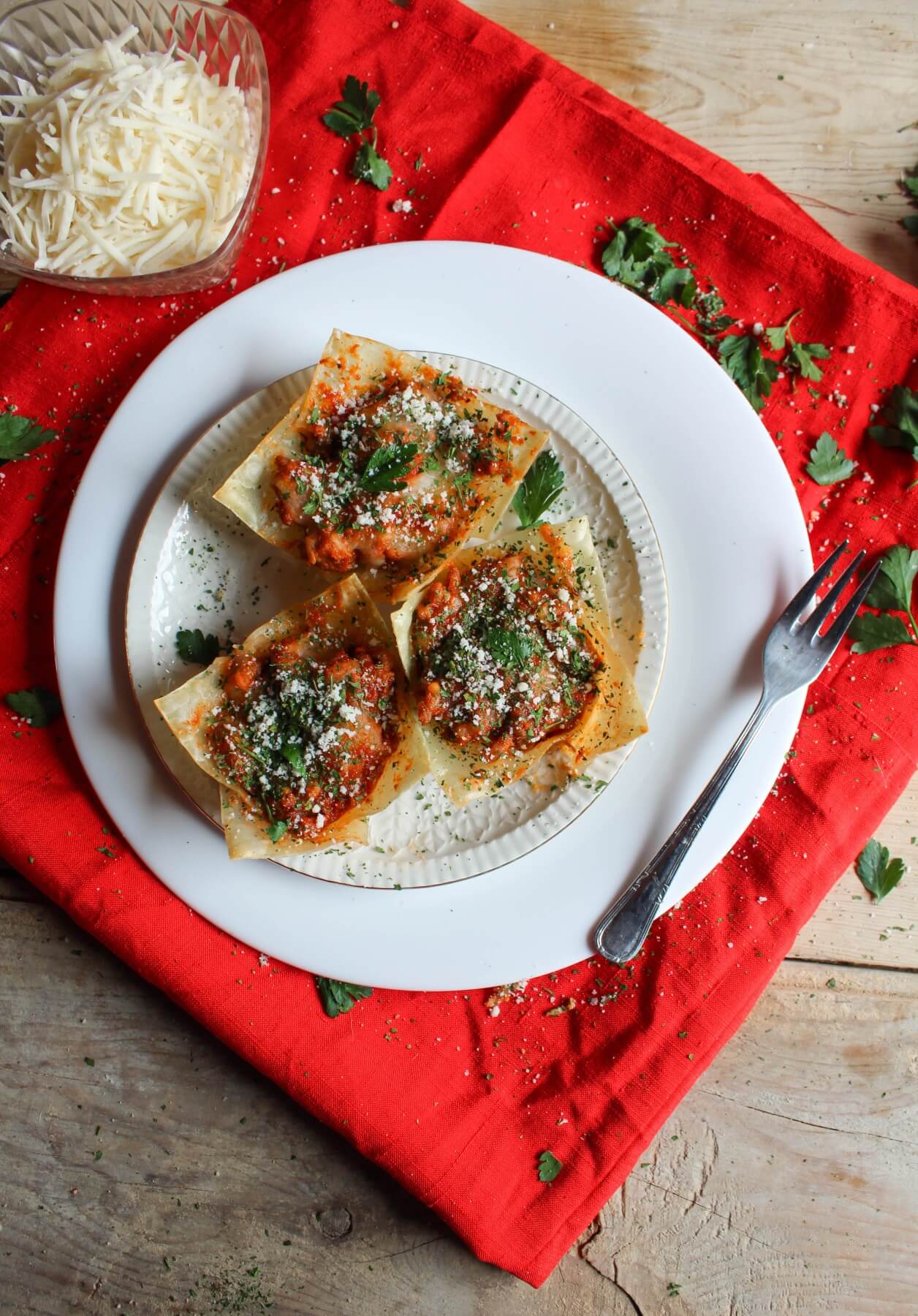 If you want to really do it up, you could also add a creamy soft cheese like ricotta. It's my absolute favorite – especially in a pasta dish like this!
Once you've topped your lasagna cupcakes with cheese, they are ready to bake.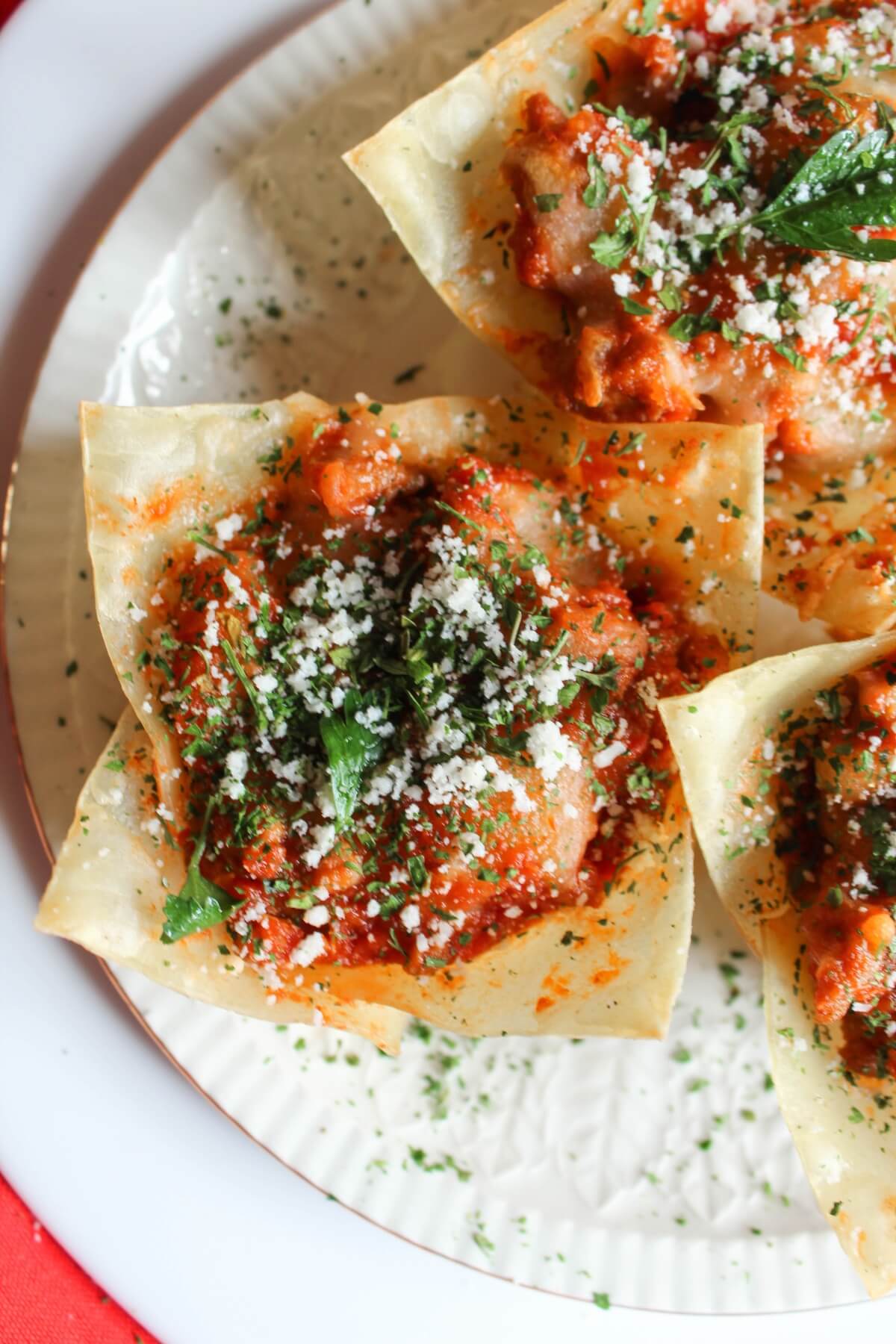 How to Bake Lasagna Cupcakes
Your Lasagna Cupcakes will cook at 350°F for around 15 minutes. Since your lasagna sheets, meat and veggies are already cooked, your goal should be to give your Lasagna Cupcakes a golden tinge.
And additionally you will want to see all your cheese gooey and melted. If you want to brown them a little more than I did, you could cook them for around 20 minutes.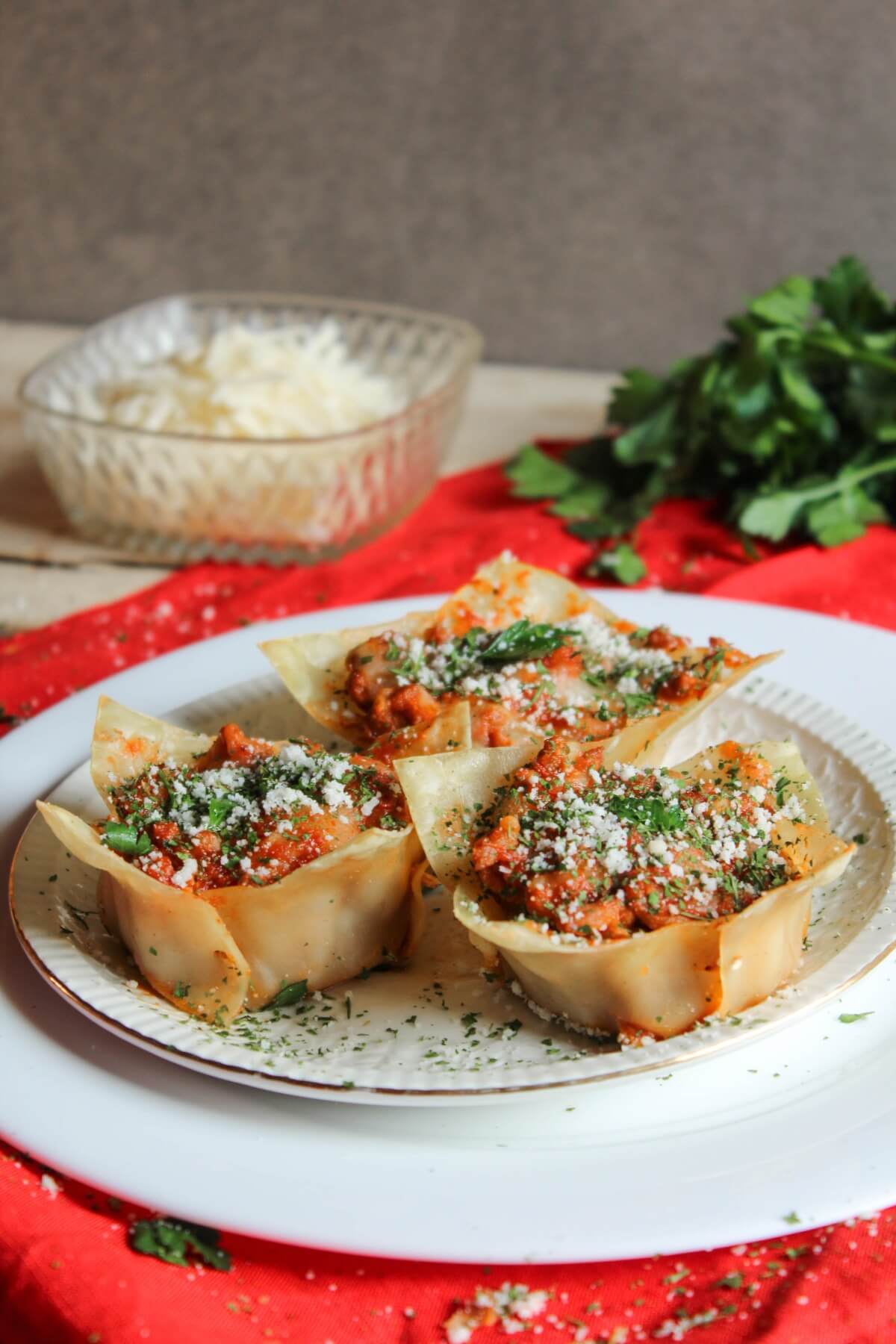 Because of the moisture in the sauce, you don't run the risk of burning them if you decide to brown the cheese a little more.
So just keep your eye on them while they are cooking!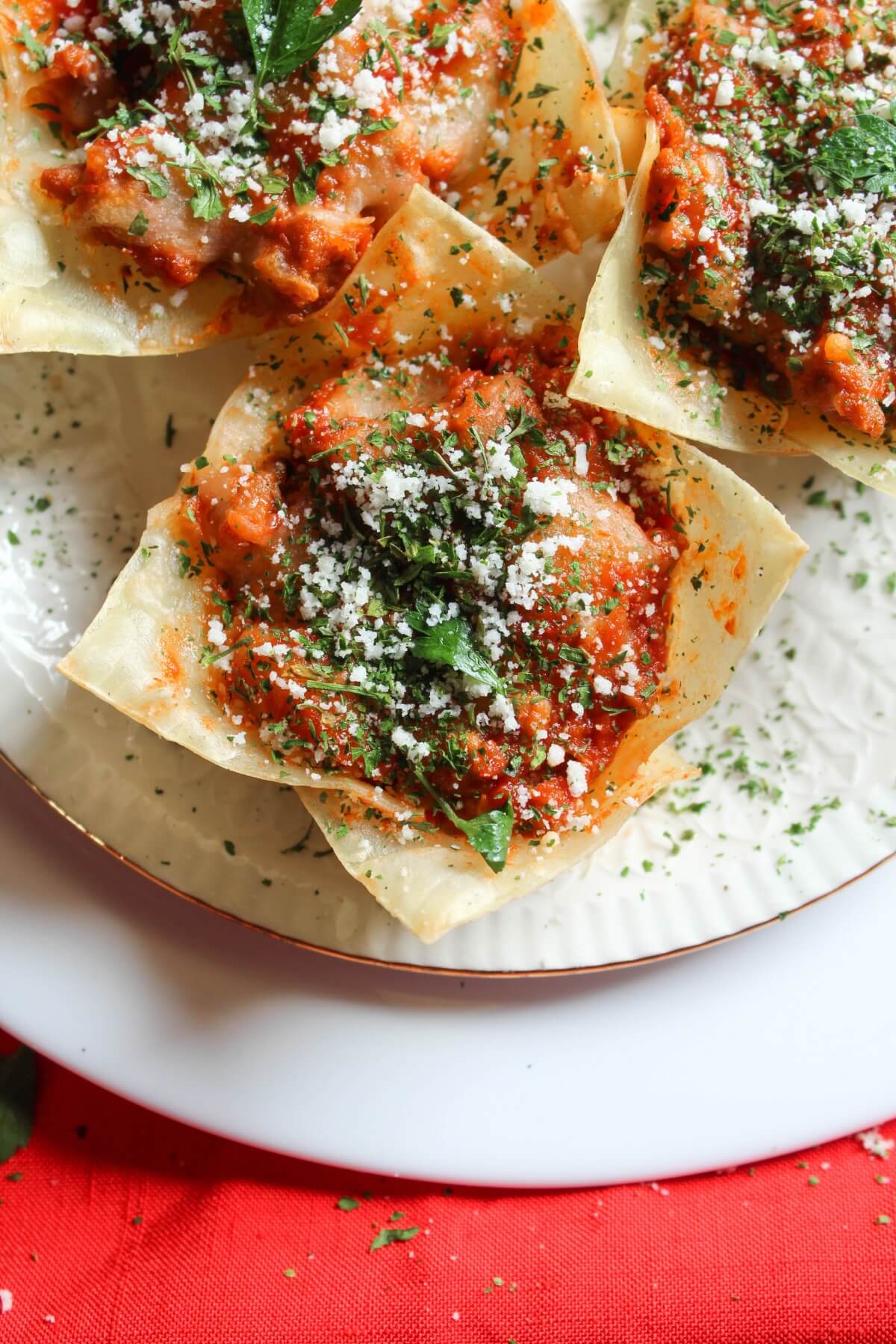 Before you serve your cupcakes, sprinkle them with fresh parsley and allow them to cool for 5-10 minutes. Pasta sauce becomes lava when heated, so be careful! You could even test one before serving them if you want to be extra cautious.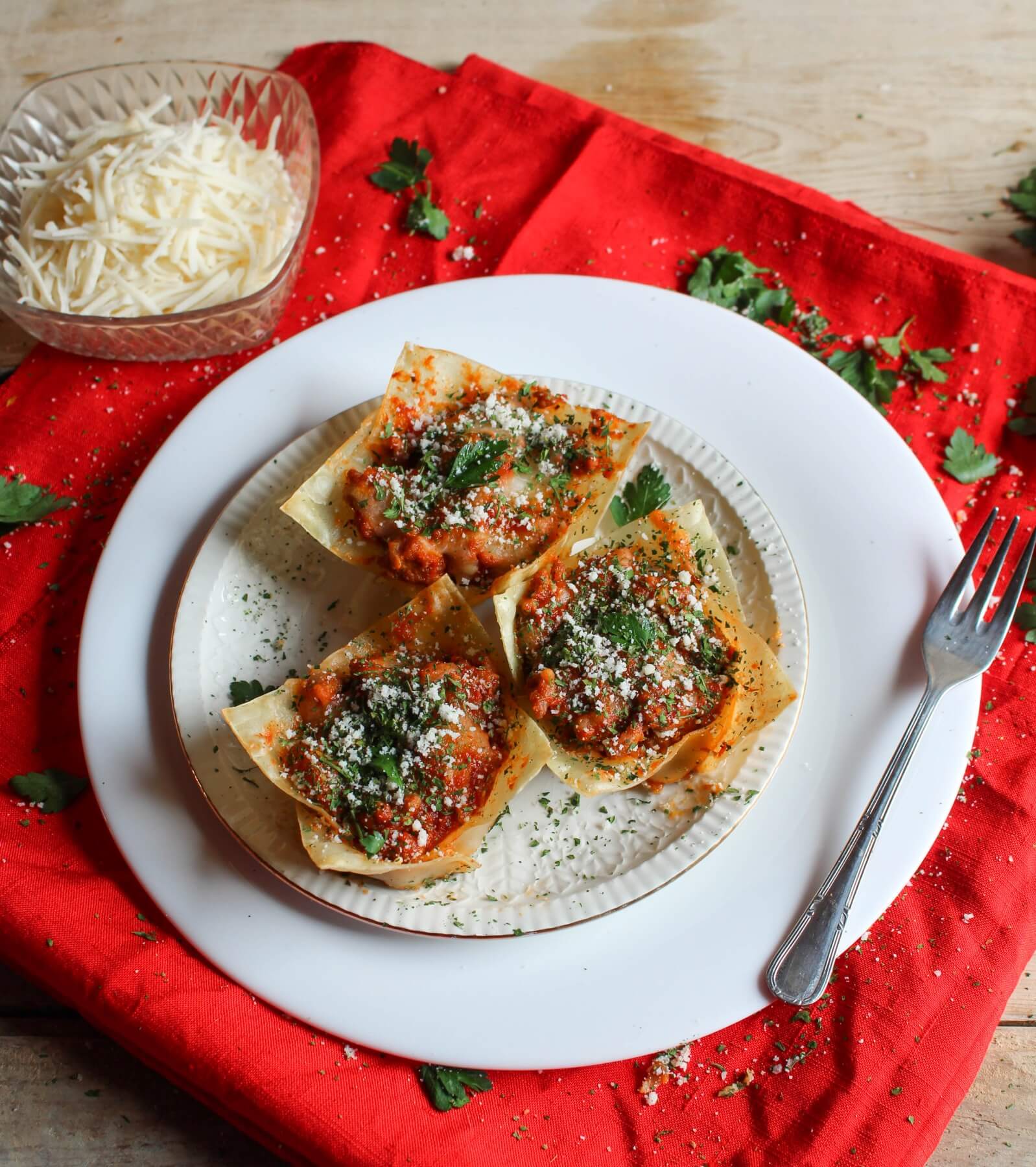 How to Serve Lasagna Cupcakes
These Lasagna Cupcakes are so easy to serve! They are a perfect party food because of their individual serving size.
You could add them to a buffet or add them to any game night snack set up.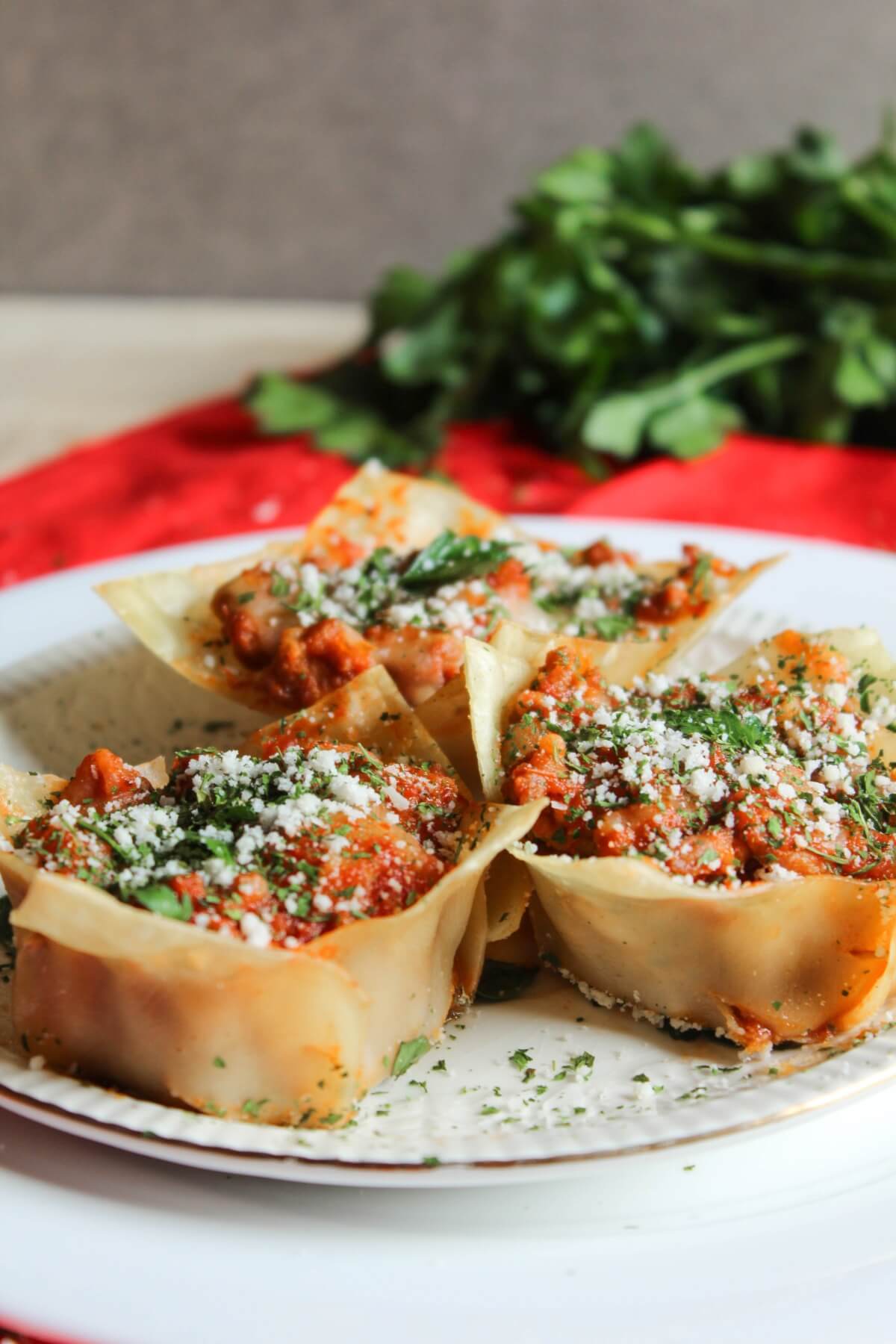 They pair well with salads, breads, or roasted vegetables. Because it's a fun food, it's an anything goes kind of meal!
They are kid friendly and so they are perfect to eat on their own without a side dish needed.
They would be so fun to add a party set up with other miniature food like mini meatloafs, mini quiches, or mini pot pies!
And you could pair them with actual cupcakes too!
How to Store Lasagna Cupcakes
To keep your Lasagna Cupcakes for later, place them inside an air tight container and store them in the fridge for up to 3-5 days.
Because they are so saucy, they won't reheat evenly in the microwave, so be careful that you don't have cold spots. What's even easier is to reheat them in the oven for around 15 minutes at 350°F – the same time and temperature that you originally cooked them.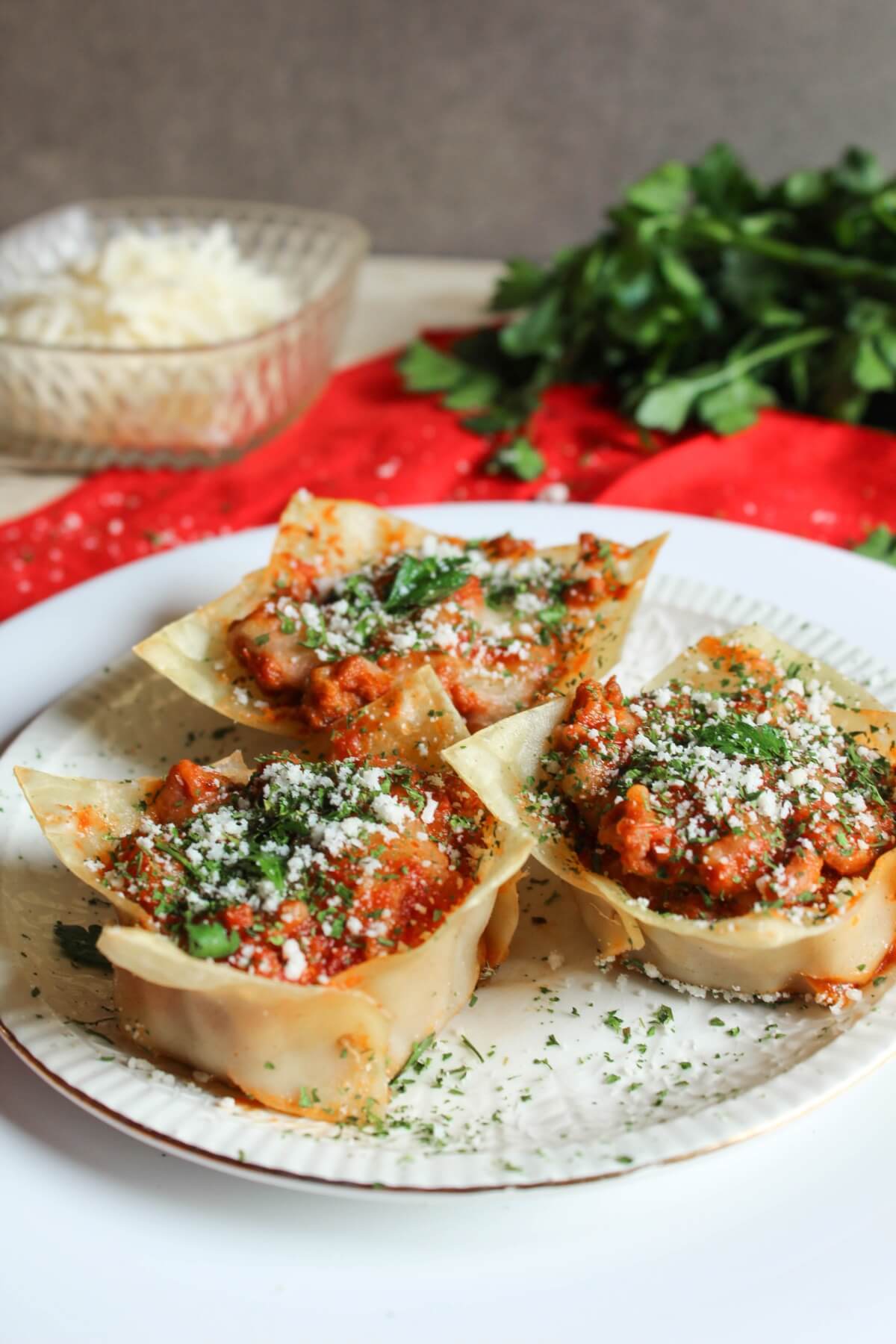 Irresistable Mini Lasagna Cupcakes Recipe
These easy to make Lasagna Cupcakes are so much fun! They are party perfect and kid approved.
Ingredients
12

lasagna sheets

8

oz

of tomato sauce

8

oz

of lean ground beef

2

garlic cloves

1

cup

of chopped onion

12

fresh mini mozzarella balls

4

oz

of grated parmesan cheese

1

tbsp

of oil

fresh parsley

Plus: sugar

basil, oregano, thyme, chives, salt & pepper to taste
Instructions
Preheat the oven to 350°F.

In a large stock pot, bring 6+ cups of water to boil. Add a pinch of salt.

Cook the lasagna sheets for around 10 minutes, or until al dente, stirring occasionally.

Spritz the cupcake molds with non-stick spray.

Drain the water and place the pasta sheets in the cupcake molds. You can cut them if they are too big for your molds or you want to trim them so they fit better.

While your lasagna sheets are cooking, finely mince the garlic and dice the onions.

Add a tablespoon of olive oil to a cast iron pan and turn the heat to medium. Add the garlic first and allow it to sweat for around 1 minute before adding the onion.

Continue to sweat until moisture is released but the and onions and garlic are not brown. Then, add a pinch of each of your dried herbs: basil, oregano, thyme, chives, salt and pepper.

Next, add the ground beef and cook until golden brown stirring regularly.

Once your meat is brown, add your tomato sauce until warm. Once your sauce is warm, taste it and add sugar and additional herbs if needed. Continue to cook until your sugar and herbs have melded into the sauce.

Once your sauce is cooked, fill the lasagna cups with the sauce.

Top with grated mozzarellas or just place the mozzarella in the center of the cup. Then top with grated parmesan.

Place the lasagna cupcakes in the oven and cook for around 15 minutes or until lightly browned and the cheese is melted. For a more cooked cheese, you can bake them longer.

When you remove them from the oven, top with chopped parsley and let them rest for 5 minutes to cool before serving.

Enjoy!
Notes
Tip: If your sheets stick to each other, place them in another large pot filled with cold water and try to separate them there. If your lasagna sheets stick and tear, start fresh with new lasagna sheets.
Tip: You can make this pasta sauce vegetarian by skipping the ground beef and adding your favorite veggies instead. Carrots and celery are the foundation of a delicious bolognese sauce and spinach and zucchini are great choices too. You can even add wine to the sauce, but should cook the sauce a bit longer before adding it the lasagna cup. Make sure the alcohol is reduced and that the sauce is thickened.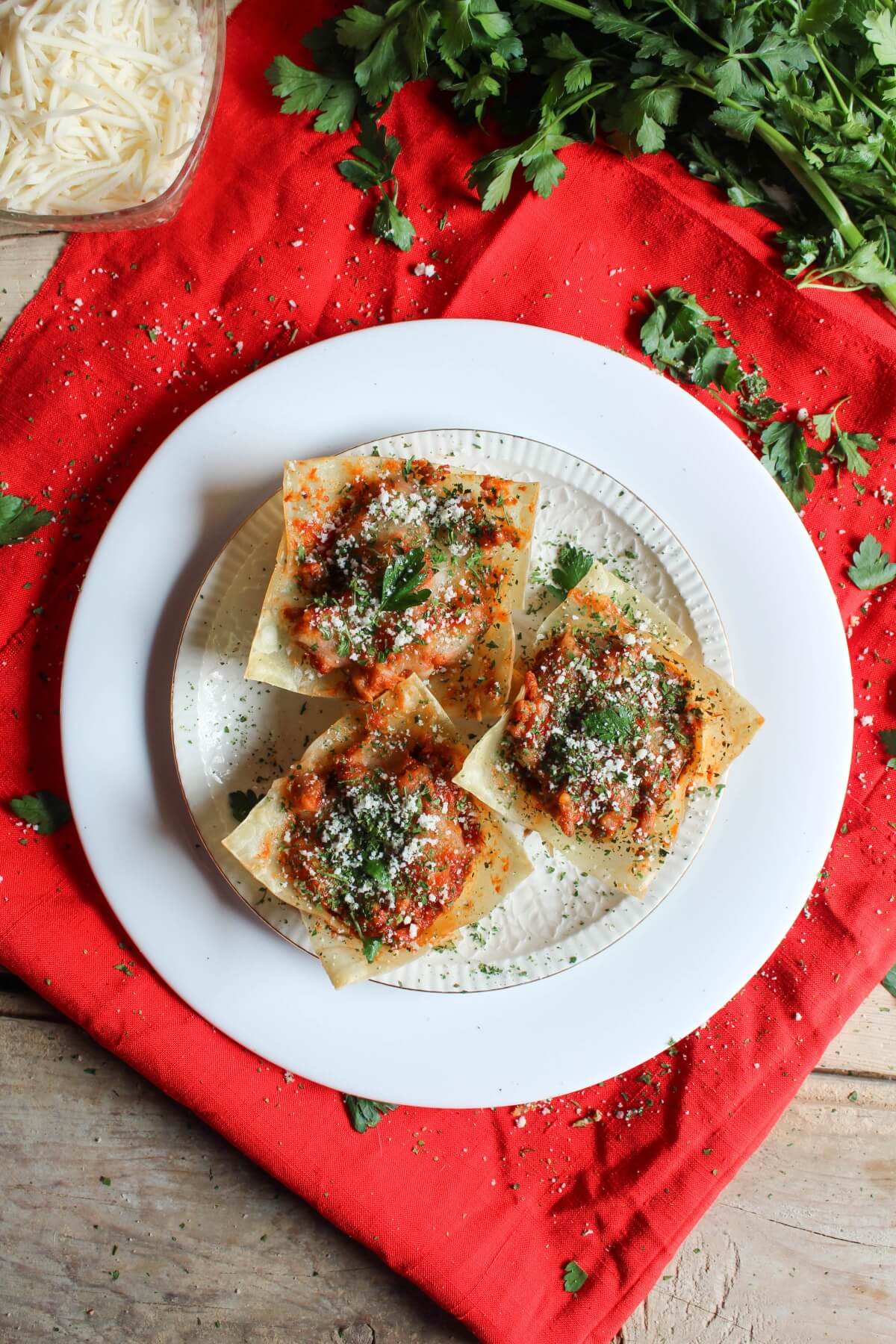 Let's Stay Friends!
Insta | Pinterest | Enews | TikTok