You have not lived until you've had slow roasted tomatoes. Seriously, if you haven't eaten this dish before, you need to stop whatever you are doing right now and get to it!
This Easy Slow Roasted Tomatoes Recipe with Garlic and Basil will forever change your life.
These tomatoes are the perfect replacement for pasta sauce which you'll never need to buy again. This Easy Slow Roasted Tomatoes Recipe with Garlic and Basil is so easy to make and never disappoints.
The important thing to know before you get started is when I say "slow roasted," I sincerely mean slow roasted! This recipe takes a full three hours in the oven! But somehow to the tomato changes into absolute magic over the course of three hours and you will just die when you taste them!
Although these oven roasted tomatoes take a long time in the oven, they are a snap to prepare! They will only take a few quick minutes to get into the oven.
First, just slice your tomatoes in half and place on a cookie sheet. I chose rainbow heirloom tomatoes. I always use small tomatoes because they are already so sweet. But you can use any kind of tomato for the Easy Slow Roasted Tomatoes Recipe with Garlic and Basil.
When you drizzle the tomatoes in olive oil, brush the oil across all the tomatoes. As you cook the tomatoes continue to baste them with your olive oil to keep them moist as they are cooking.
You won't believe it but that's really all there is to this recipe! It's easy to make but just requires a little bit of time and patience.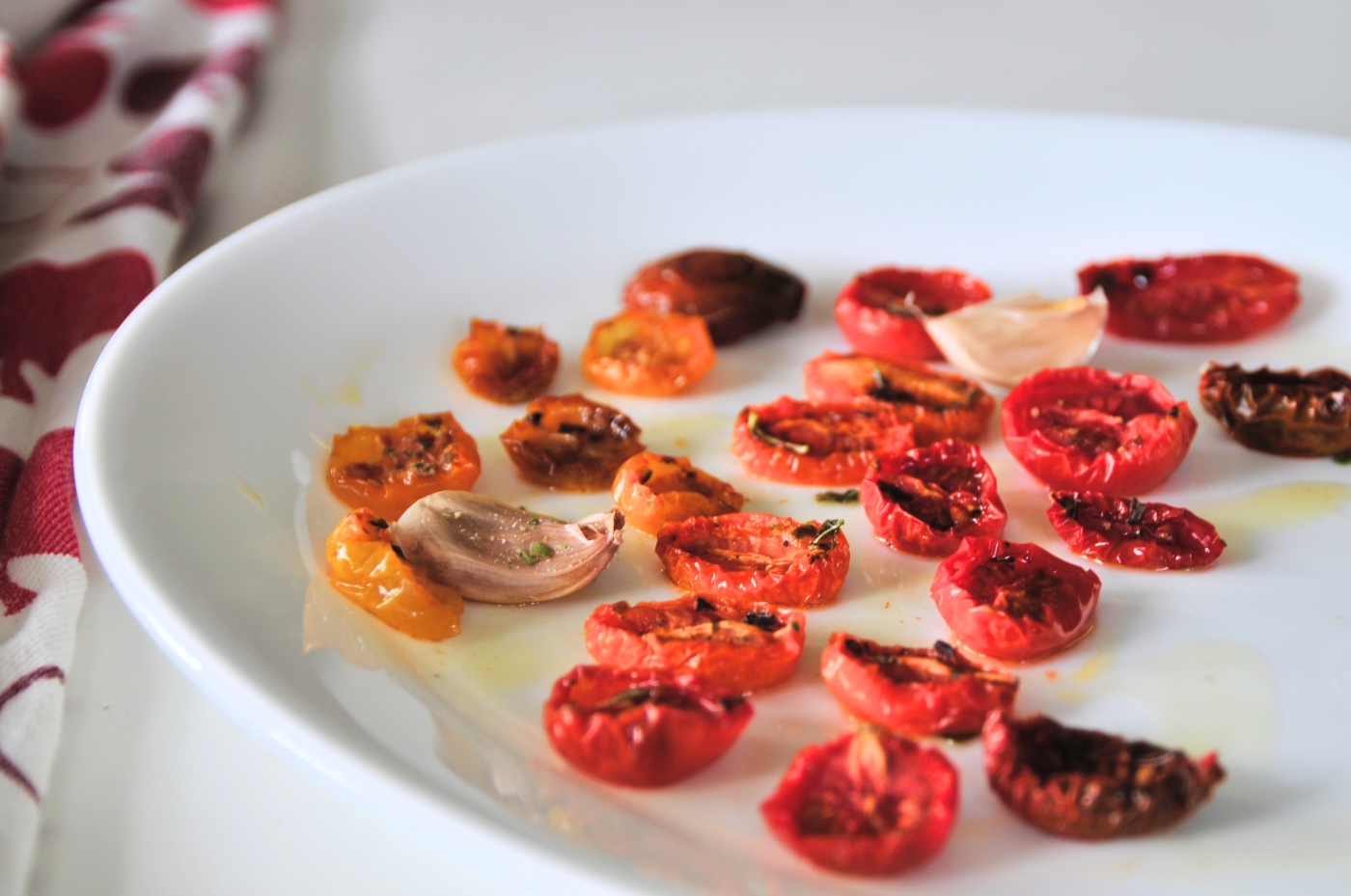 So what should you do with your Easy Slow Roasted Tomatoes with Garlic and Basil? Add them to fresh pasta in place of pasta sauce. Add them to avocado toast for brunch. Add them to an Italian Style sandwich. Put them in a cute mason jar and give them as a gift. Include them in a gruyere grilled cheese sandwich. Put them on top of pizza dough with fresh mozzarella for a traditional margherita pizza. The possibilities are endless!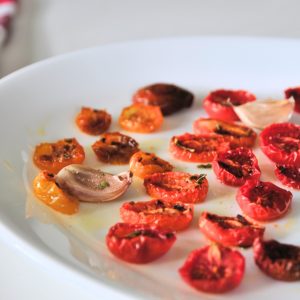 Easy Slow Roasted Tomatoes Recipe with Garlic and Basil
These Slow Roasted Tomatoes with Basil and Garlic are simply to die for!  They are easy to make, so let's get started with this delicious recipe from Pop Shop America!
Ingredients
1

carton Mini Heirloom Tomatoes

all colors!

5

cloves

Garlic

1

teaspoon

Fresh Basil

minced

2

tablespoons

Olive Oil

1

pinch

Fresh Ground Salt & Pepper
Instructions
Preheat your oven to 300 degrees F, and line a cookie sheet with aluminum foil.

Cut your tomatoes in half lengthwise.

Place the tomatoes face up on the cookie sheet and drizzle with olive oil and fresh minced basil.  Dried basil works, as well!

Scatter the garlic cloves around the sheet.  Baste the tomatoes so all of them have a bit of olive oil.

Add a pinch of fresh ground salt and pepper.

Oven roast for 3 full hours, basting the tomatoes with the juice and olive oil a few times throughout.

Serve fresh out of the oven!
Let's Stay Friends!
Insta | Pinterest | Enews | TikTok