This week, I chatted up Kristen M. Liu! It took all I had not to go full on fan-girl and scare her away. Her fun, naughty paintings are dreamy and electric. Every scene is like peering in on some big secret.
She's humble, she's determined, and she's brought to you by me, Nirvtastic. Enjoy! 
---
So, we'd love to know a little about you. Where do you come from? Where are you now?
I was born and raised in San Francisco but I came to Brooklyn for college and stayed after graduation. But I'm moving at the end of the summer to Los Angeles!
Have you always wanted to make art?
I've always really enjoyed making art, but I never seriously considered it as a "this is what I will do in life" option until the end of high school, when I realized that it was one of the things I appreciated most in life.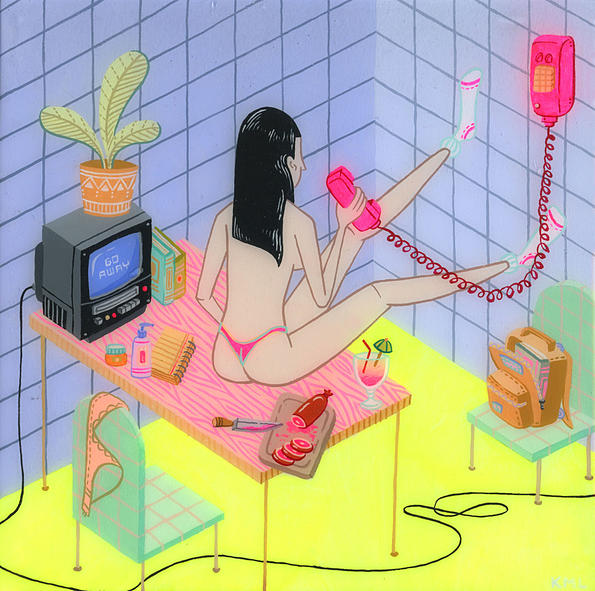 What's your studio like?
I've never had an actual studio. I've only ever had a small glass desk in my room that I work on, which is one reason I tend to work smaller too. I try to keep my desk fairly organized just because I hate it when my room looks crappy and messy. Also, I use 3 lamps in addition to the overhead light- it bakes me in the summer, but I can't work in dim lighting, it makes me feel depressed *haha. My dream studio would have giant windows, of course, but you work with what you get.
What's your process like? Do you sketch, take a walk, read a magazine, etc.?
I typically get an initial idea or image that I feel is really compelling, and then I'll do a quick thumbnail or two. My thumbnails are notoriously crappy, just really quick so I can get an idea of composition. Then I trace out the panel size onto a piece of tracing paper and begin the final drawing. I rarely draw directly onto the panel, just because I hate having eraser smudges. Once the drawing is completed, I'll transfer it onto the gessoed panel by retracing everything. I typically start by filling in the backgrounds of pieces first, so I can have an idea of what the color scale will be like and I just keep on going. Details are of course last, each painting is kind of like a multi-layered coloring book page that I've made from start to finish.
I see that your paintings have a definitive style and recurring color scheme(that I just love!). What inspires your palette?
Thank you! I've gotta say that candy stores and Polly Pocket are huge palette inspirations. I tend to paint things that are a bit more macabre in nature, so I offset that with pastels and neons. I don't want to make something that is only fluff and pretty, but I also don't want to make something visually ugly. So I compromise by depicting ugly things with a pretty palette.
Each work seems to tell its own story. Does this come easily, or does it take a lot of planning and brainstorming?
I think it just comes naturally. My second ultimate hobby in life is reading so I've just always grown up with stories, and it's how I tend to think of things. Something is much more interesting if it has a good story obviously.
Besides your fantastic painting skill, what makes you happiest?
Seeing my dog! I don't get to live with him, so when I do see him it's really special. I also enjoy watching trashy reality shows with friends.
I hope my work only gets better, I always tell myself, "You're only as good as your last piece." Fear of mediocrity is what drives me.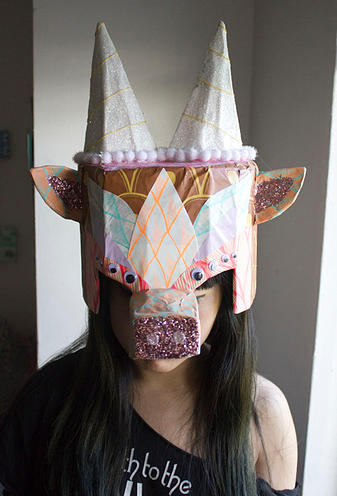 ---
Do yourself a favor and visit her website: www.kristenliuart.com
Or get sucked in to the awesomeness that is her Tumblr.
If you really wanna get your stalk on: Instagram, Society6, Artsy.net
Miss Liu was also featured in: Juxtapoz, Hi Fructose, Haha Magazine, Poppy Magazine

Let's Stay Friends!
Insta | Pinterest | Enews | TikTok