Fall is here! And I couldn't be more excited to show you this craft that was part of October 2018's Craft in Style Box by Pop Shop America. If you are just hearing about this box, it's a Subscription Box I created, where I send you new crafts to make every month!
Let's get to making stunning and easy to make a DIY Succulent & Leaves Macrame Wreath. If you missed the subscription, you can still get this kit here. This is a easy way to learn the basics of macrame and the wreath is so modern and minimalist. I just love it!
Supplies to Make a Succulent & Leaves Macrame Wreath:
Succulents & Leaves Macrame Wreath Making Kit
-or-
A 6 inch Wooden Embroidery Hoop
Glue Gun + Glue Sticks (or E6000)
Faux Leaves, Pinecones, Acorns, Mushrooms, Succulents
and Other Fall Inspired Greenery
Macrame Rope (We used 13 35 inch pieces)
Scissors
First let's start by tying the Macrame Rope around the wooden embroidery hoop. Follow this pattern.
In a nutshell, you can create this macrame knot by folding your rope in half. Hold the loop with one hand and the edges in the other like it's shown above. Then pull the two ends through the center of the loop and around the wooden embroidery hoop. While the rope is still lose, arrange the knot so that they line up with the knots next to them. Tighten the rope into place and repeat that process with all of your rope. Take your time and follow the photos!
If this is confusing, don't worry, you can get creative and make your own style knots! Just be mindful of lining up the knots and be sure that you have enough rope for the style you are going for.
Now it's all about embellishing your Minimalist Fall Wreath and giving it some style! You can decorate it any way that looks good to you. There are lots of cool pieces you can use: leaves, acorns, tiny mushrooms, pinecones, succulents, and more.
The easiest thing is to first lay out your pattern, and then use a glue gun to affix the pieces one at a time.
We added leaves and greenery to the top, but I'm also a fan of an asymmetrical wreath. Consider using just one side, or even work your way from the bottom to the top to to create a laurel shape.
If you don't have a glue gun, that's okay! You can use E6000 which is the best in the world! But it will take a full 24 hours to dry before you can hang it up. Until then, hold each piece in place for a few seconds after gluing. And until the items are completely set, keep it on a flat surface instead of displaying it on the wall.
If you use a glue gun, your greenery will be firmly in place within a few seconds.
To finish your Minimalist Fall Wreath DIY, let's customize the bottom edge of the macrame rope. Trim the ends of the rope into a style that you like. There are lots of different choices! We chose to angle the rope but keep reading to see lots of different ideas.
In this style, we angled the rope in one direction by cutting and trimming it. This will be easiest to do while it's hanging, and may take a few passes with the scissors to get it perfect.
If you want your Minimalist Fall Wreath to have an angled edge in rope, use a piece of paper to create a clear cut line. And use large scissors as small scissors will make this difficult.
You could trim the bottom the rope in either direction so the left edge hangs long or the right edge hangs long.
You could also create a straight edge at the bottom of your wreath! Again, use the paper to make yourself a clear cut line. You could use a ruler or anything straight. The reason we used paper is you can cut through it easily, making it ideal for rope cutting.
Cute right? I love how all of these different styles are all great.
You can unravel the rope by untwisting it at the bottom. Try to unravel it to the same height all the way across the wreath to keep it event.
It's really anything goes! One of my favorite shapes is a chevron. Using the same technique with the paper, make the center longer than both the left and right sides.
If you have to make this Minimalist Succulents & Leaves Wreath, shop the kit to make gathering the supplies so easy! And tell is in the comments where are you going to hang your Fall Wreath?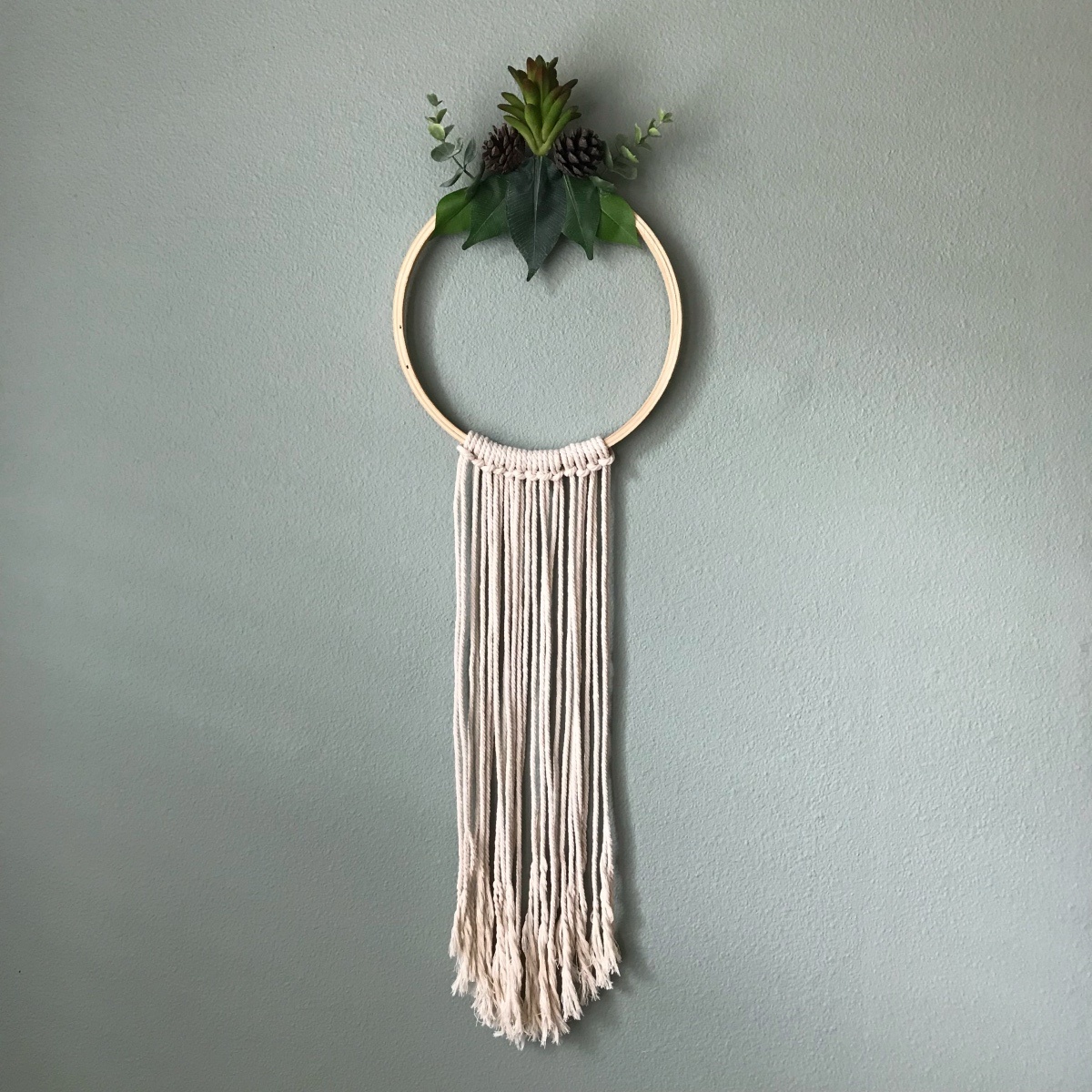 Let's Stay Friends!
Insta | Pinterest | Enews | TikTok