++Scroll to the bottom for the printable recipe card. Read on for the written recipe plus tips and tricks for perfect baking!++
Love a little pink pop and fizz in your dessert? These Pink Champagne Cupcakes are easy enough to make for everyday. But they are so refined that they are perfect for a NYE Bash, Valentine's Day, or a 21st Birthday.
This recipe uses a box cake mix and pre-made frosting – but adds some key ingredients and a little twist for a perfectly pink, light and fluffy dessert treat.
So let's make them!
Make a Pink Champagne Cupcake Batter
First, use a white (not butter, not vanilla) cake mix. The oil added is the same on the box instructions but there's a twist with your other ingredients. Because we are adding champagne, we're going to change the eggs – adding egg whites only instead of whole eggs!
The batter will include: 1 Box White Cake Mix, 1 Cup Pink Champagne, ⅓ Cup Vegetable Oil, and 3 Egg Whites.
About Pink Food Dye
There can be a lot of variation in your food dye based on the brand you choose and whether it's food dye or food gel. Start with 3 drops of dye in your batter, mix it completely and thoroughly, and see how the color looks. Your batter will always look darker than the cupcakes after they bake, but you do not need them to be dark to get the gorgeous pink effect!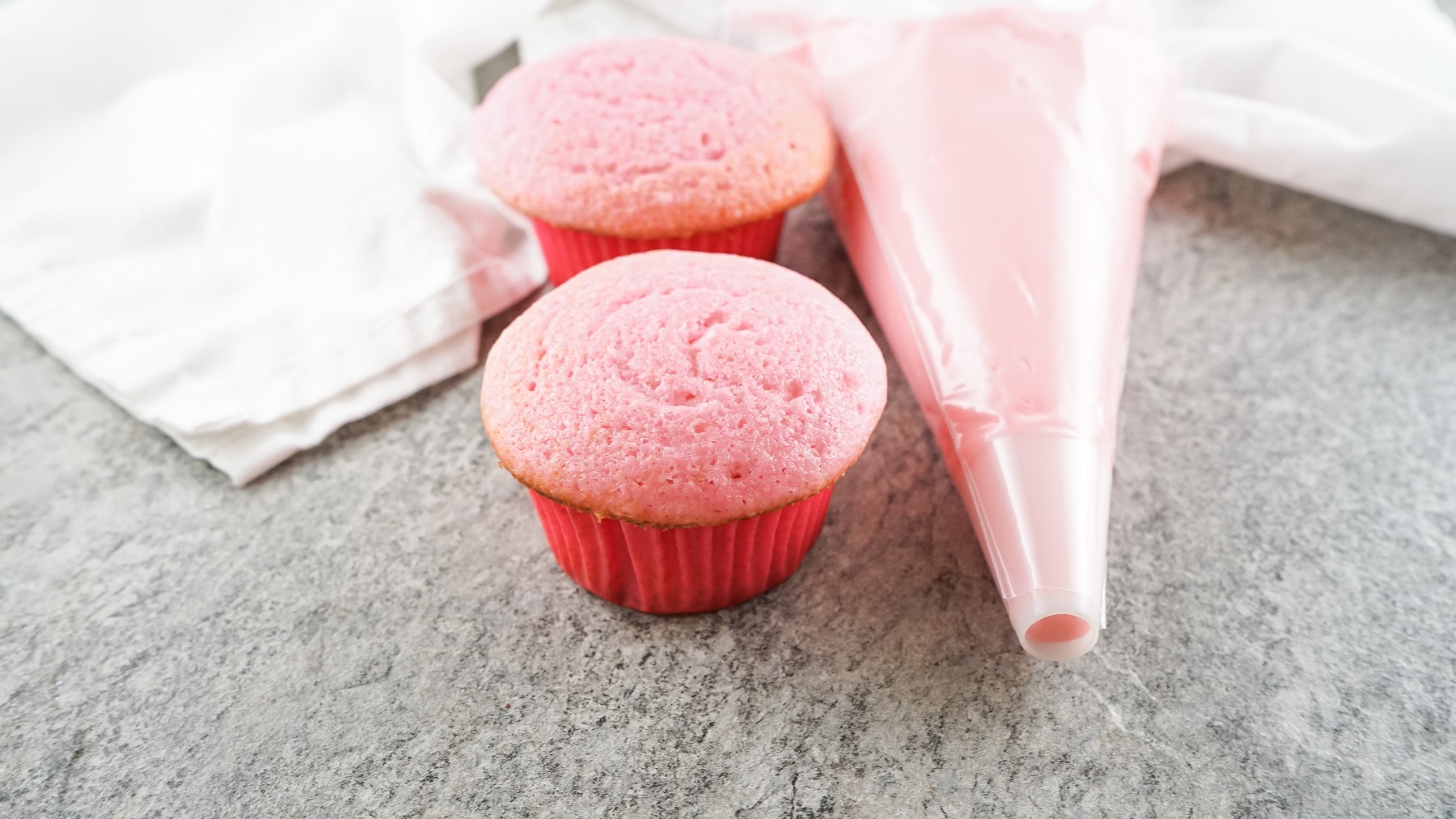 Baking the Pink Champagne Cupcakes
Fill your cupcake liners to 3/4 full and be careful to not overfill the cupcakes! The cupcakes will bake within about 15-19 minutes and no adjustment to your regular cupcake temperatures of 350°F. Just like you are used to, you will know the cupcakes are done when a toothpick poked into the center comes out clean.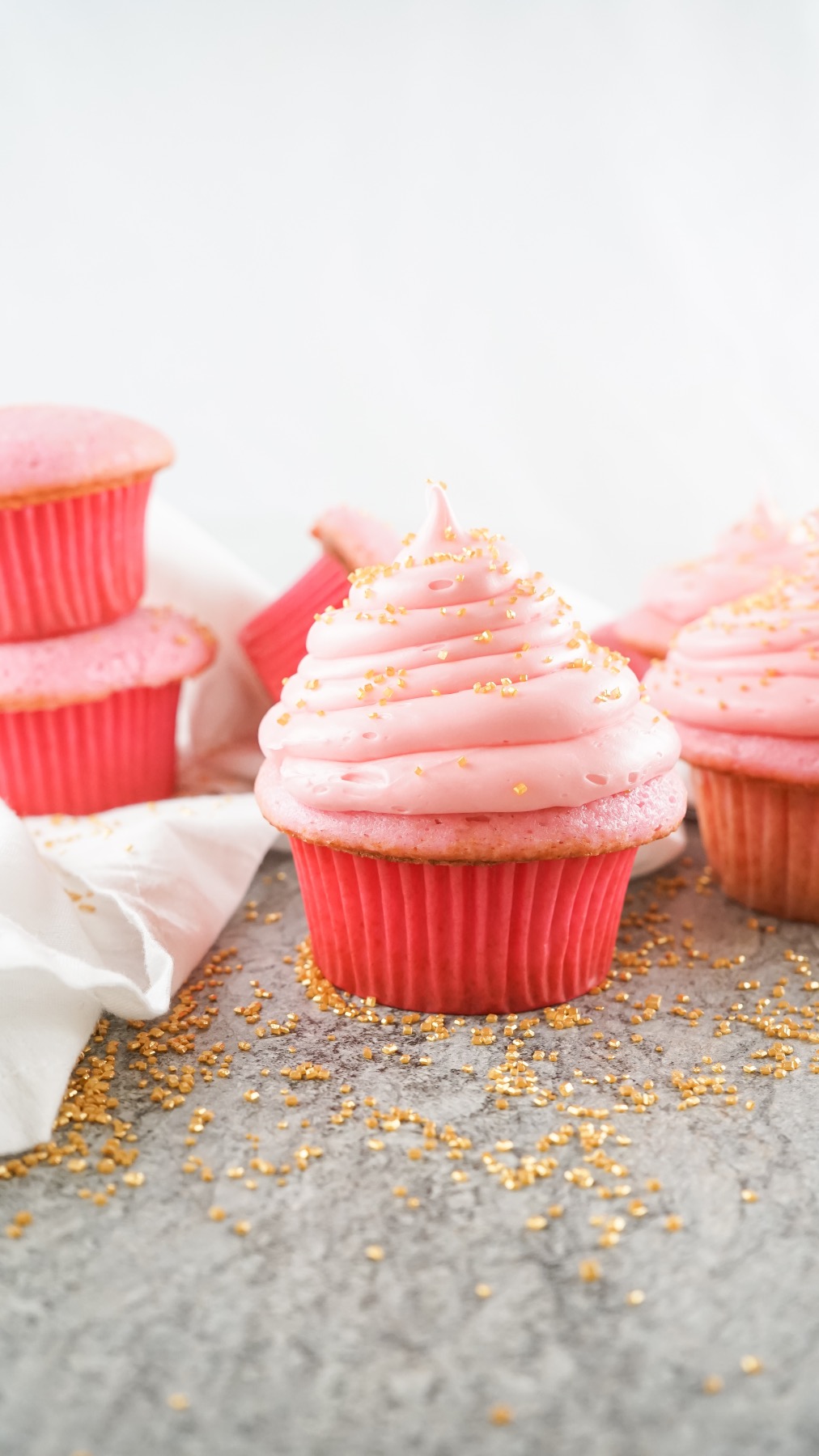 How to Make the Pink Champagne Frosting
Start with a regular container of white frosting, strawberry or cherry frosting. My favorite to use is a white frosting and add the pink color myself. To make the frosting, first combine the pink champagne and frosting. Mix until evenly combined. Then add powdered sugar and mix again.
Your frosting should now be the texture of your original frosting. If it's too runny, that's okay! Just add more powdered sugar, one tablespoon at a time until you reach the original frosting consistency.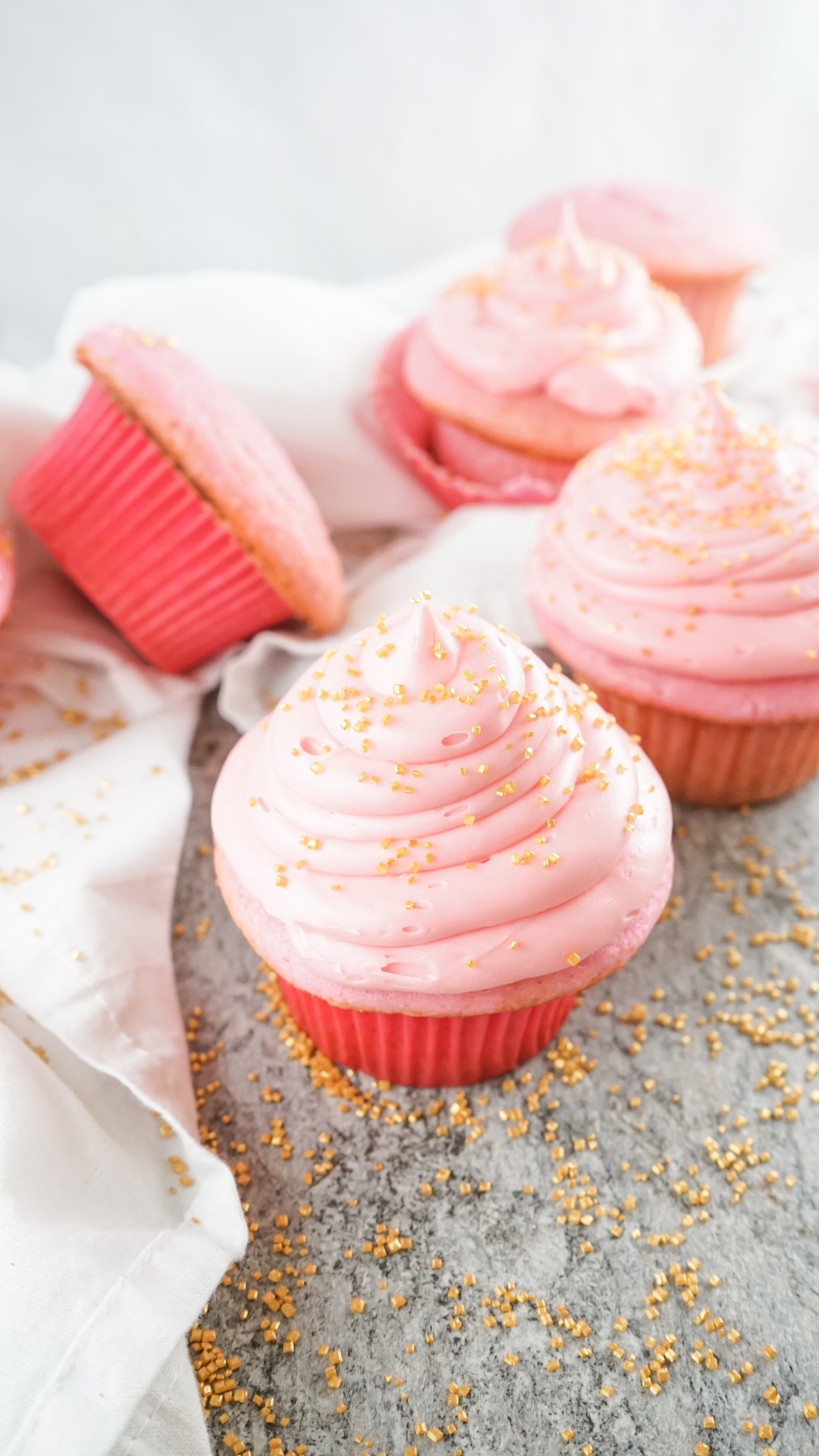 Now if you started with white frosting, add a few drops of pink food dye and mix it again until your frosting is a perfect shade of pink.
How to Frost the Pink Champagne Cupcakes
The frosting is a time to get creative! You can use any frosting tip and add as much frosting as you like! I wanted to make mine cute and perfect for showing off so I used a round tip with an opening at about .63 inches.
Then I piped my around in a circle, just like you would dispense soft serve!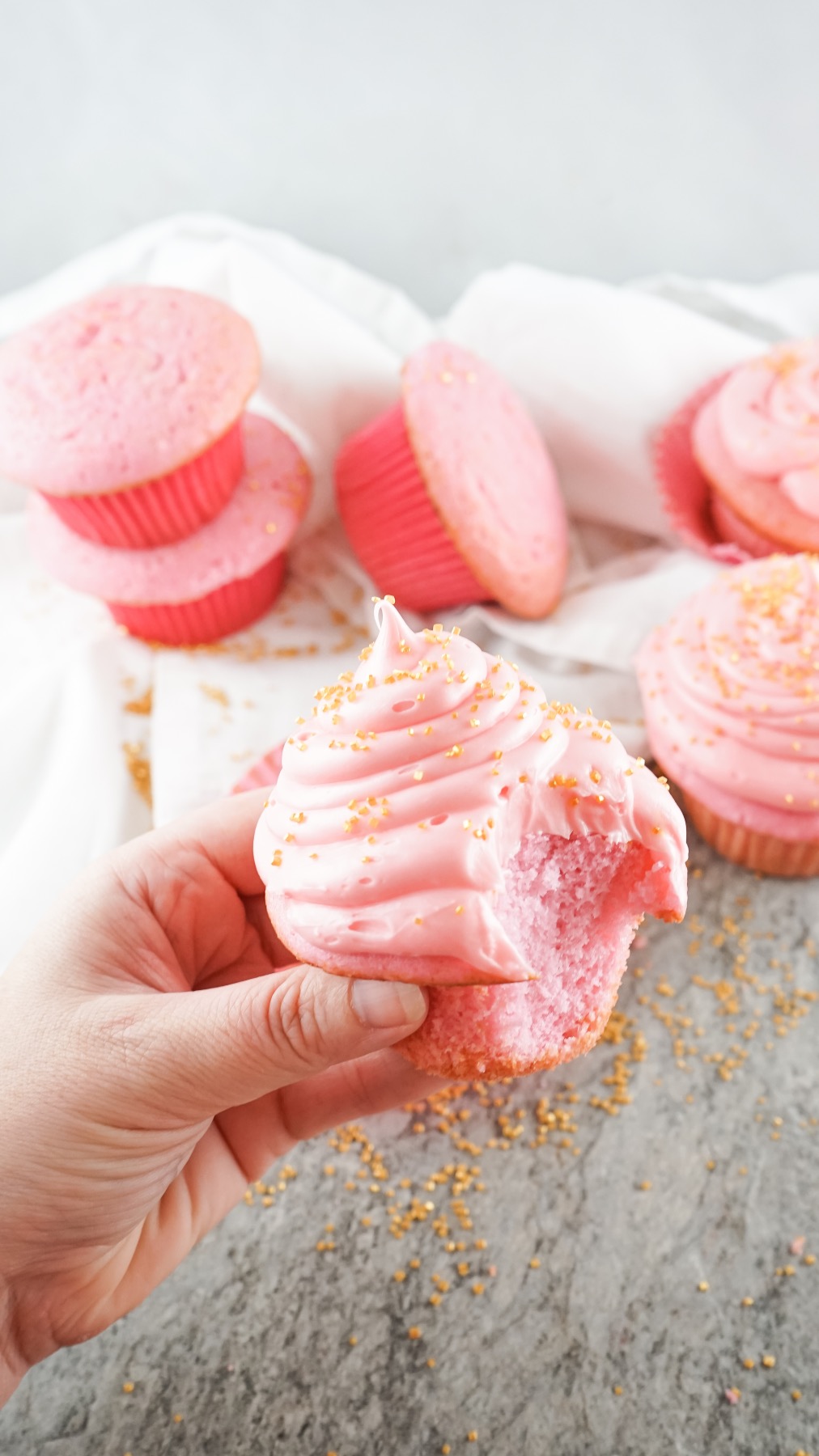 Of course, you don't have to use a pastry bag and pipe on the frosting. If you prefer, just grab a butter knife and spread the top of your cupcakes with the frosting.
Once your cupcakes are frosted they are ready to serve! You can also garnish them with a touch of gold glitter sprinkles for an added touch.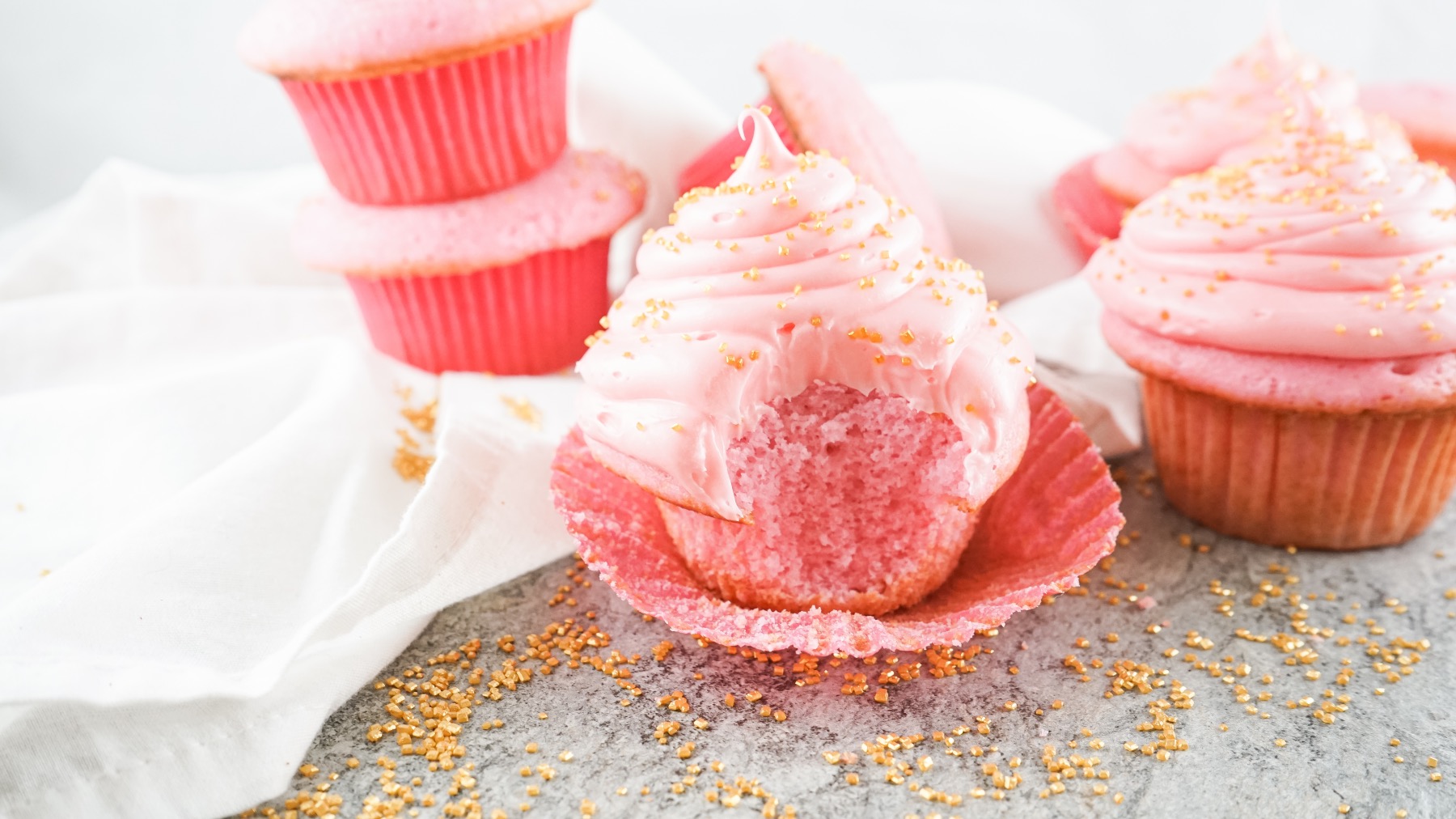 Common Questions about Pink Champagne Cupcakes
Can I make the batter and frosting from scratch? Yes! You can (mostly) follow your favorite standard white cake recipe and standard white frosting recipe. Then use this recipe to finish it. Just be sure to substitute the eggs for egg whites!
How should I store the Pink Champagne Cupcakes? Cake is always best at room temperature because a fridge will dry it out considerably. But use your best judgement on how you store your cupcakes.
How long do the cupcakes keep? If you keep your cupcakes out at room temperature, they can really only last for 2 days. So storing them in the fridge may be ideal if you need them to last longer, just be sure they are in an air tight container to prevent them from drying out too much.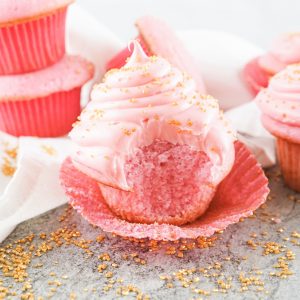 Pink Champagne Cupcakes Recipe
This pink champagne cupcakes will give you a reason to celebrate! They are gorgeous to plate and serve and delicious to eat.
Ingredients
Cupcakes:
1

Box White Cake Mix

1

Cup

Pink Champagne

⅓

Cup

Vegetable Oil

3

Egg Whites

3

Drops Pink Food Dye

Pink Cupcake Liners
Frosting:
1

Can

16 Ounces White Frosting (or Strawberry or Cherry Frosting)

2

Tablespoons

Powdered Sugar

1

Tablespoon

Pink Champagne

If using White Frosting

2-3 drops of Pink Food Dye

Gold Sprinkles for Garnishing
Instructions
Preheat the oven to 350°F and line a 12-cup muffin pan with pink or white liners. 

In a large bowl, use a hand mixer to beat together the cake mix, egg whites, champagne, and vegetable oil on low.

Add the food dye to the mix and beat again, this time on medium for at least 2 minutes or until fully combined. The batter should have no lumps.

Fill the cupcake tins to around 3/4 full. This will fill about 12 liners but if you have extra use additional lined cupcake tins instead of overfilling the first tin.

Bake for 15-19 minutes or until a toothpick comes out clean. Allow the cupcakes to cool completely. 

Once the cupcakes are cool, make the frosting. Combine the champagne and frosting together and mix well.

Add the powdered sugar to the frosting and mix until just combined. If your frosting is too thin, add more powdered sugar 1 tablespoon at a time, until you get the right texture.

If you started with a white frosting, add 2-3 drops of food dye and mix completely and thoroughly until you get the pink color of your dreams.

Use a frosting bag with your favorite frosting tip to apply the frosting to the cooled cupcakes.

Top with your gold sprinkles if desired and enjoy!
Let's Stay Friends!
Insta | Pinterest | Enews | Bloglovin