Looking for an easy bath soak recipe that will help you feel relaxed? This Forest Herb Bath Soak is full of gorgeous greenery and flowers. The greens and flowers make this soak so gorgeous that it's perfect to display near your tub.
It's healing for the skin and full of nourishing healing ingredients. It's the perfect alternative for someone that wants to make something similar to these Floral Milk Bath Soaks. But this recipe has more herbs than flowers and more earthy masculine scents. So let's make it!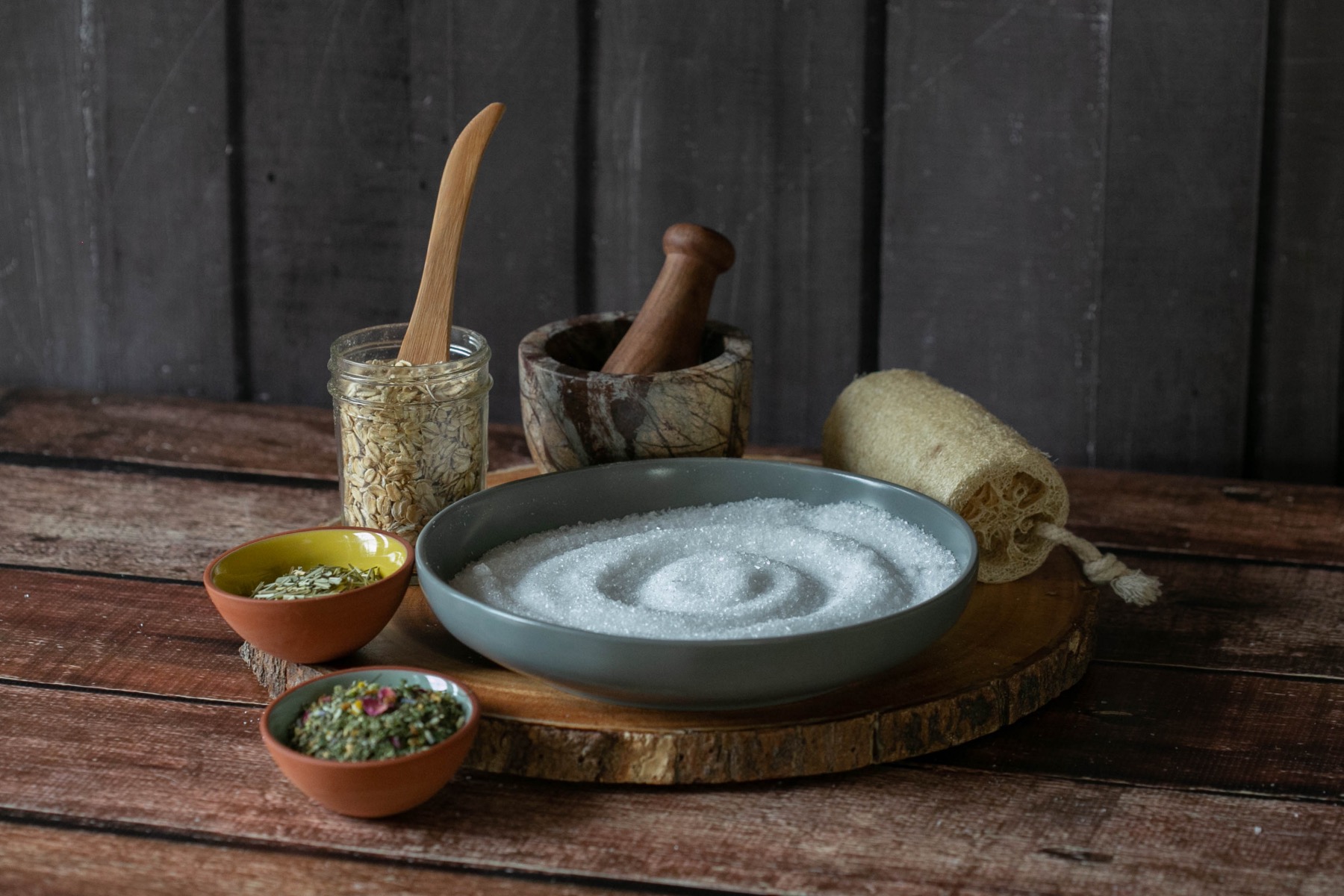 Forest Herb Bath Soak Ingredients
2 cups Epsom Salt
1 cup Oats
¼ cup Dried Lemongrass
Plus Sprigs of:
Whole Chamomile
Dried Lavender
Dried Rose Petals
Dried Lemon Balm
You could also get creative and use this recipe as a jumping off point for your favorite herbs and flowers. For example, pine would make a lovely addition. Marigold, sage, and rosemary are also gorgeous ingredients that are healing in a bath.
Get High Quality Ingredients
If you want to make a gorgeous soak, start with high quality ingredients! Use fresh or freshly dried herbs. A great way to understand the quality is to find herbs that are extremely fragrant. Make sure you use a brand of herbs that you like too!
Spice companies like Penzey's, Spicewalla, and Thrive Market are all great choices.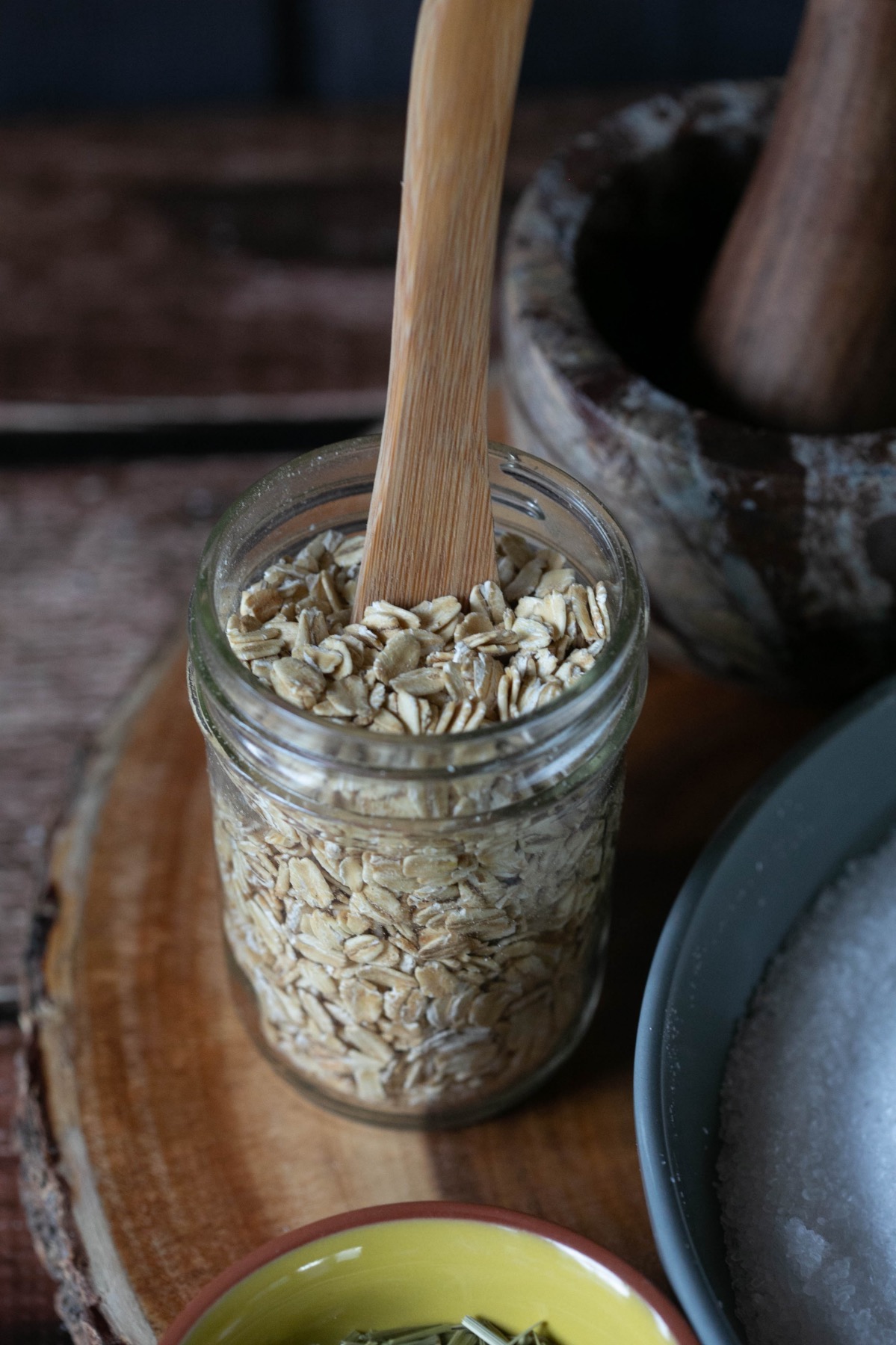 Herbs like lavender will have a body care grade and a food grade. Food grade is safe to eat, whereas body care grade is only suitable to use outside the body. Of course, I would always recommend opting for food grade because it's better!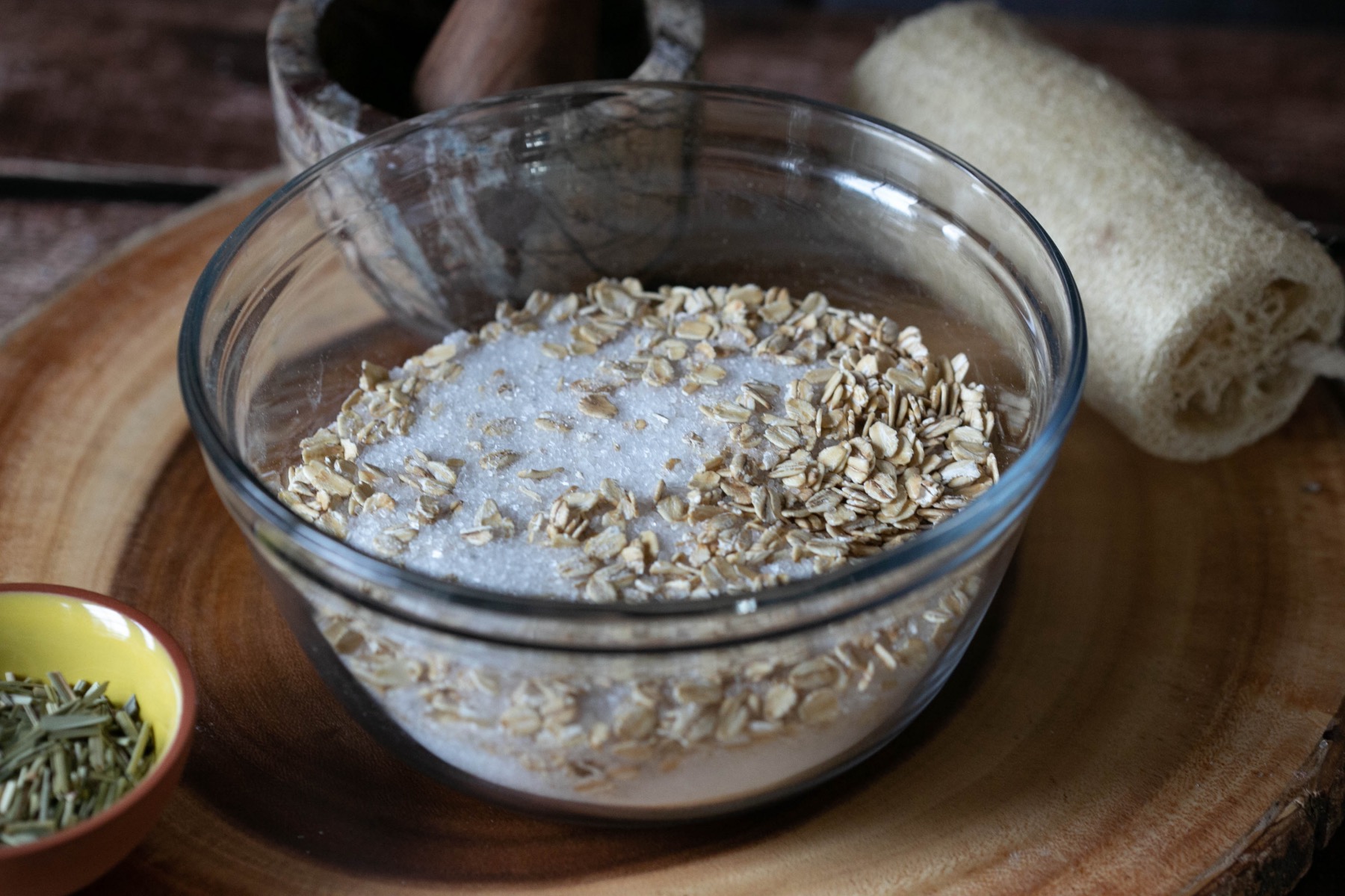 How to Make the Forest Herb Bath Soak Recipe
To make the Forest Herb Bath Soak, it's really quite easy! Gather your ingredients in a clean space. Start by blending together the oats and epsom salt. I recommend starting with blending these 2 ingredients first because they are chunky and big compared to your herbs.
If you blend everything all together, most of your herbs will settle to the bottom because they are so small!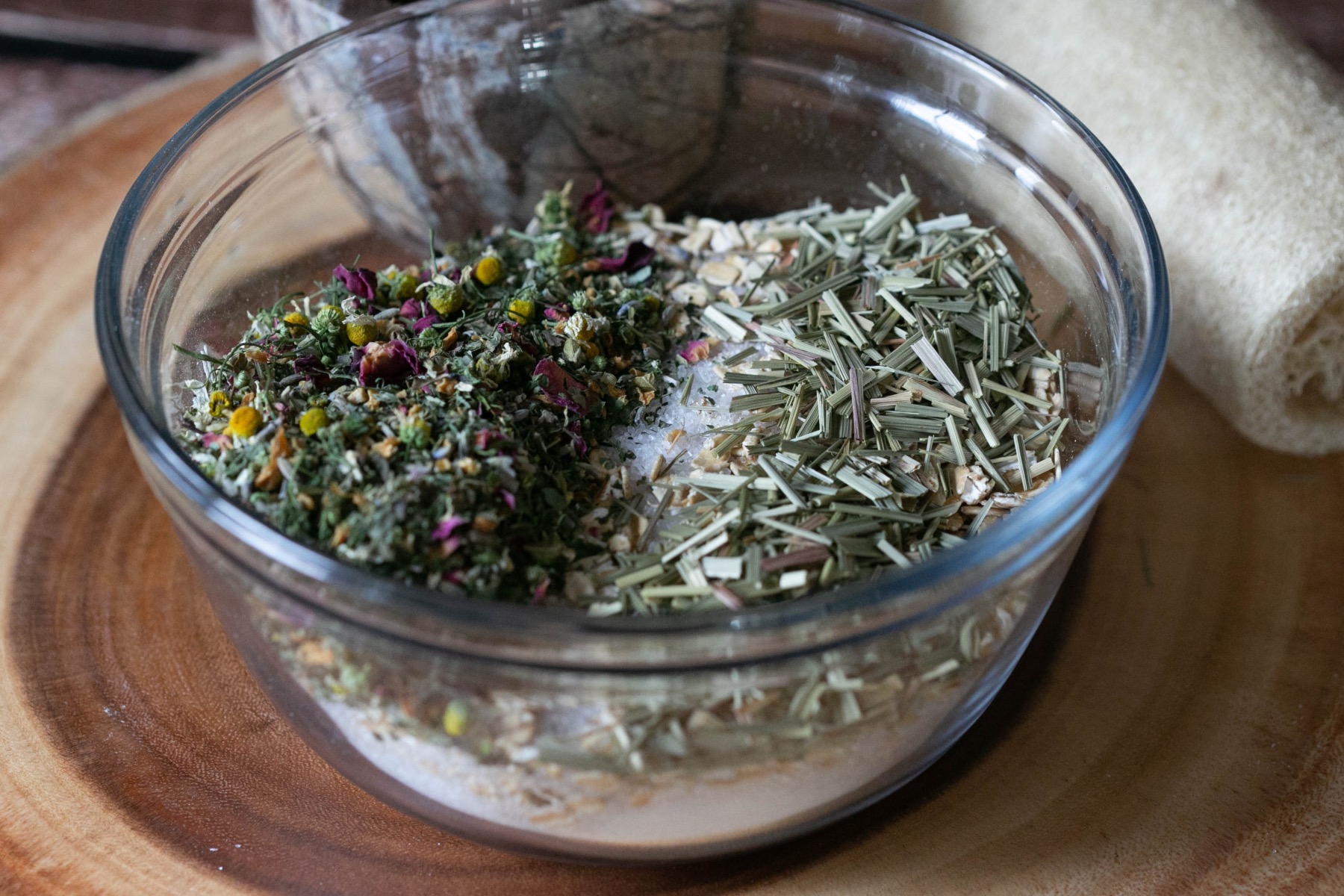 Instead, blend the epsom salt and oats first, and once they are thoroughly blended, add your herbs and flowers next. Blend the herbs just until mixed and no more. That will also help prevent them from settling to the bottom of your blend.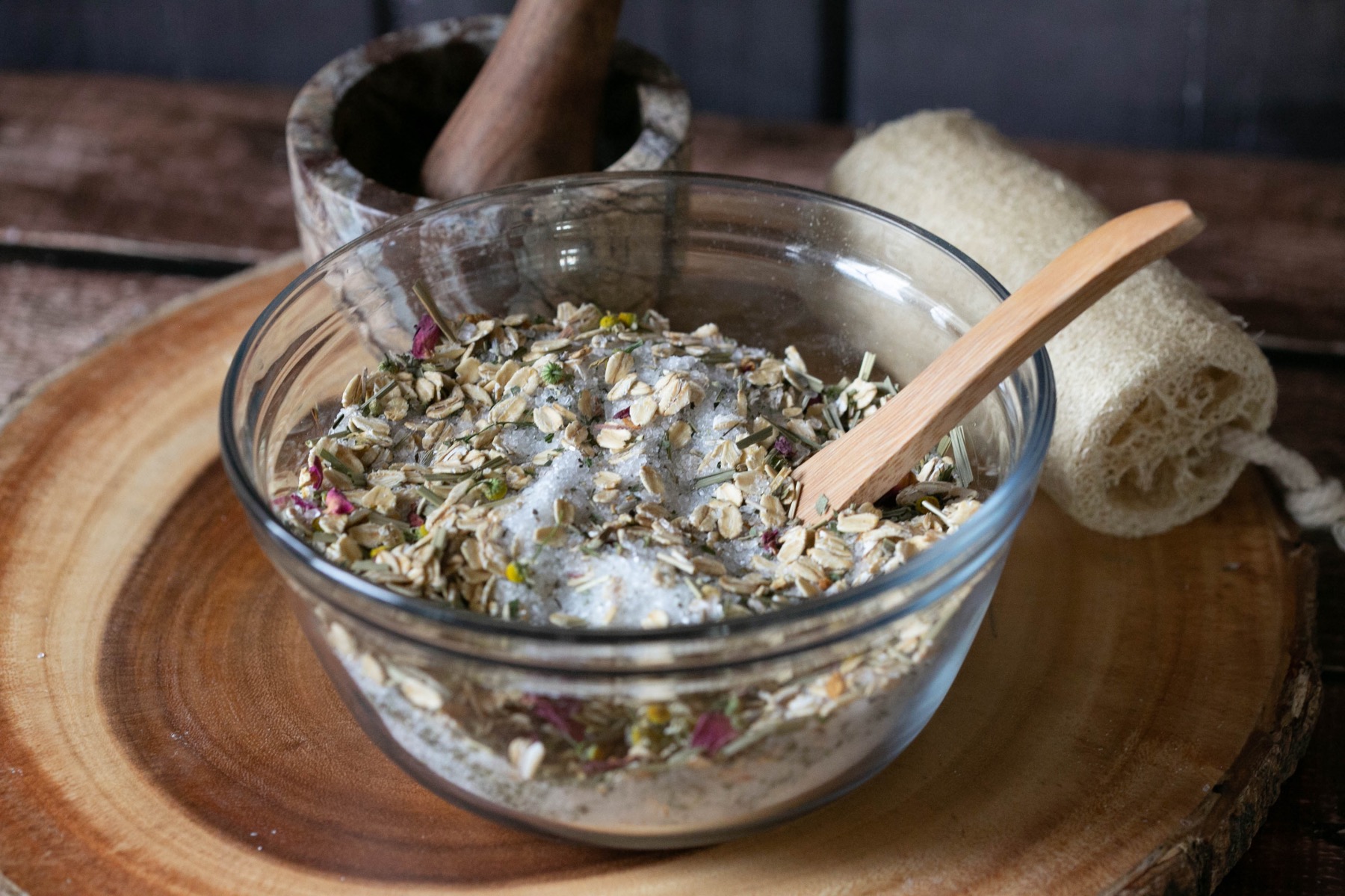 Prepping a Gorgeous Glass Jar
Now these Forest Herb Bath Soaks are so gorgeous, they are perfect to put on display! That's why it's fun to find a lovely glass vessel to store them. The container should be air tight – with a lid or cork.
But your container does not need to be sterilized like you would a food product.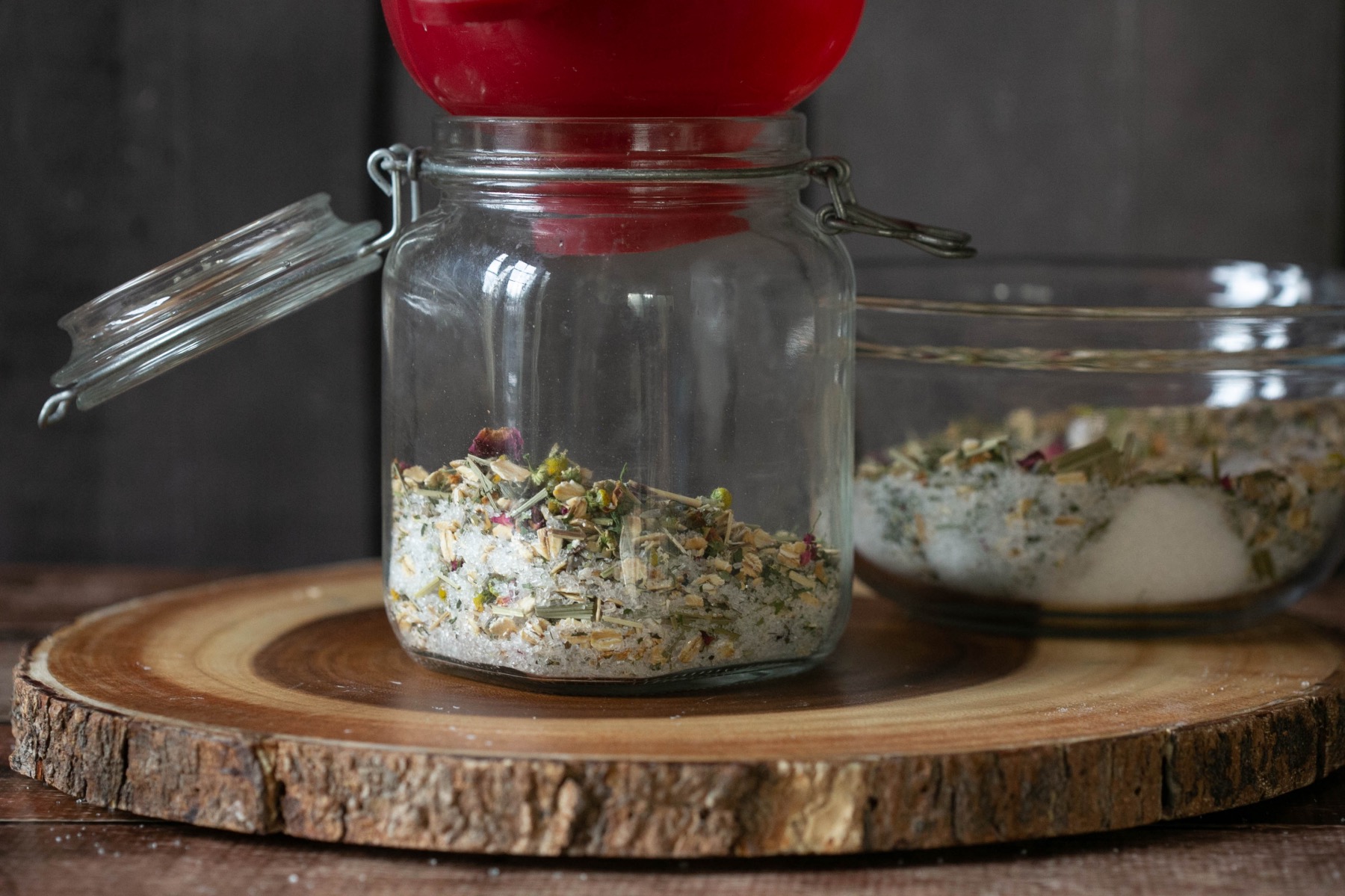 Instead, just wash and dry your vessel thoroughly before adding the Forest Herb Bath Soaks. Any drops of water will crystalize the bath soaks so pay extra special attention to your container being completely dry before you add the bath soaks.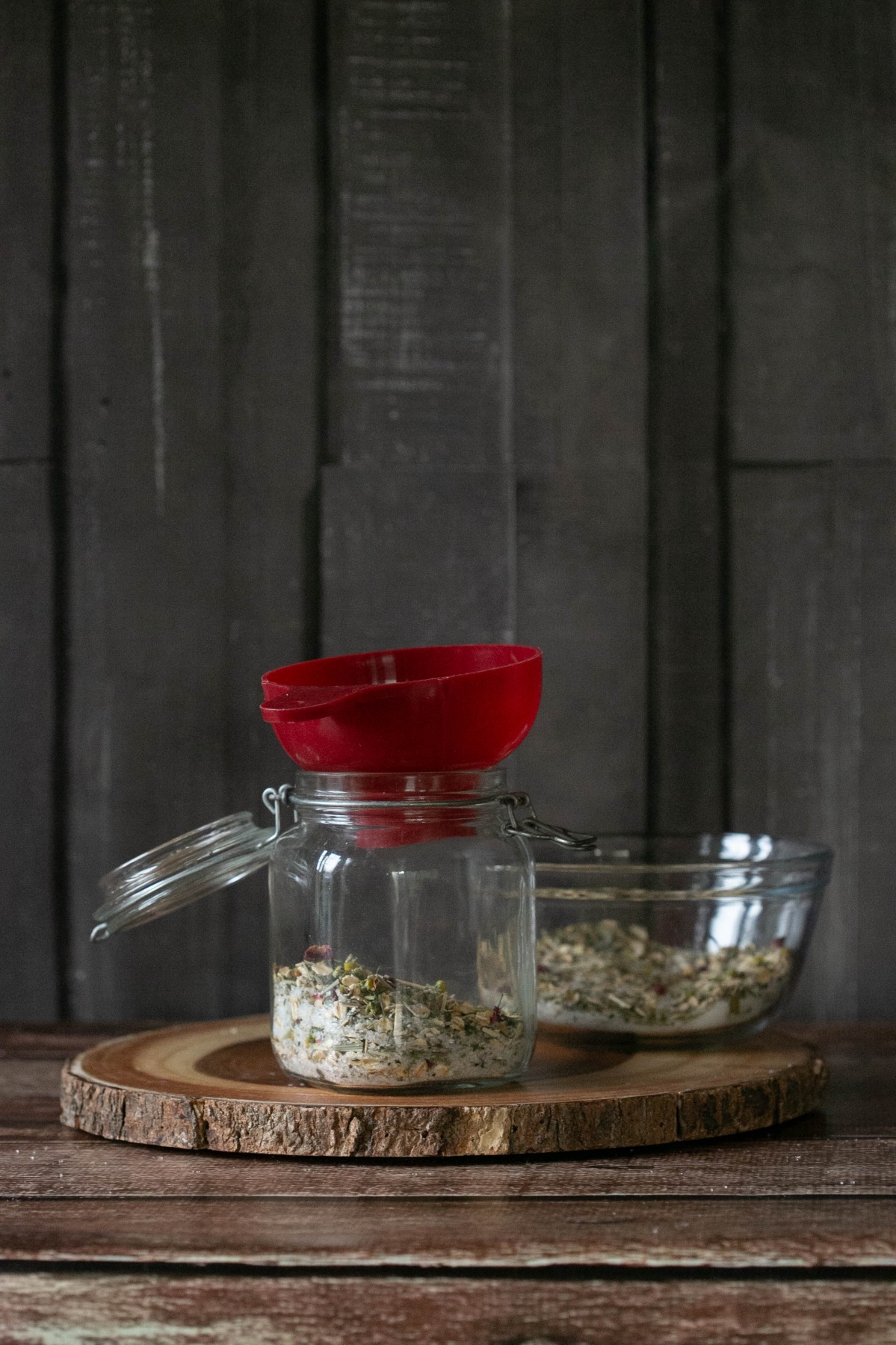 All you need to do to add the Forest Herb Bath Soaks is pour the soaks through a funnel until full. If your herbs begin to settle to the bottom, make sure the container is closed and sealed, flip your bottle upside down, and shake it to redistribute the herbs.
How to Store the Forest Herb Bath Soaks
Storing your bath soaks is so simple! They can last for months in airtight container. Again, just be sure that moisture doesn't get in and turn your soak into a large crystal.
Your Forest Bath Soaks can be used anytime and because they store so easily and look so gorgeous they make a fabulous gift!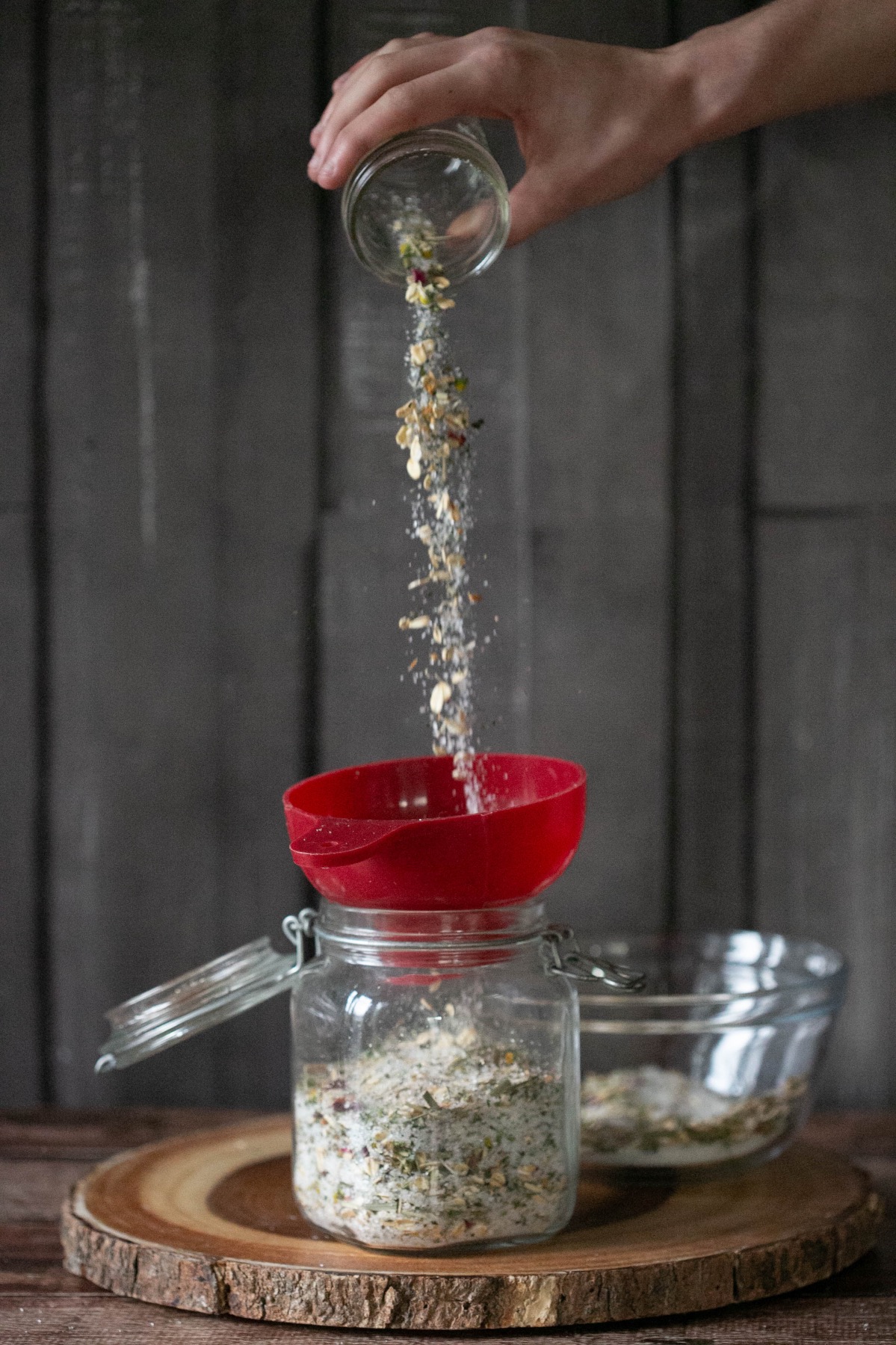 They are perfect in the winter time when you want to stay warm and they are perfect for anyone that is soaking in epsom salt for healing and injury or post workout.
They would make a lovely addition to a housewarming gift basket with these other bath soak recipes: DIY Matcha Bath Soak, Oatmeal & Lavender Bath Soak, Pink Rose Salt Soak, and Floral Milk Bath Soaks.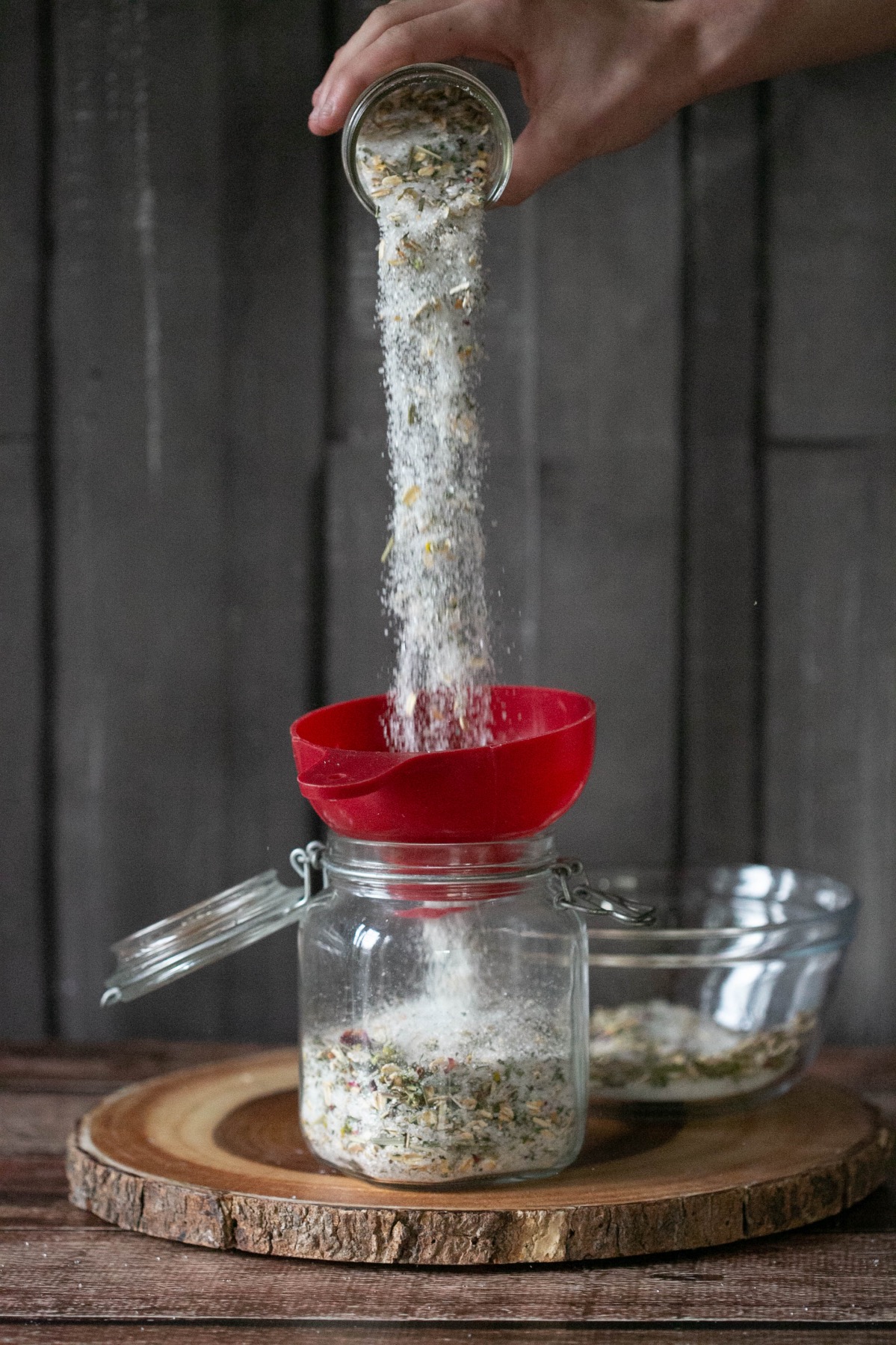 How to Add Forest Herb Bath Soaks to a Bath
To use: add ¼ -½ cup to a warm bath. That's all! And the ingredients have so many different benefits. Here's a few.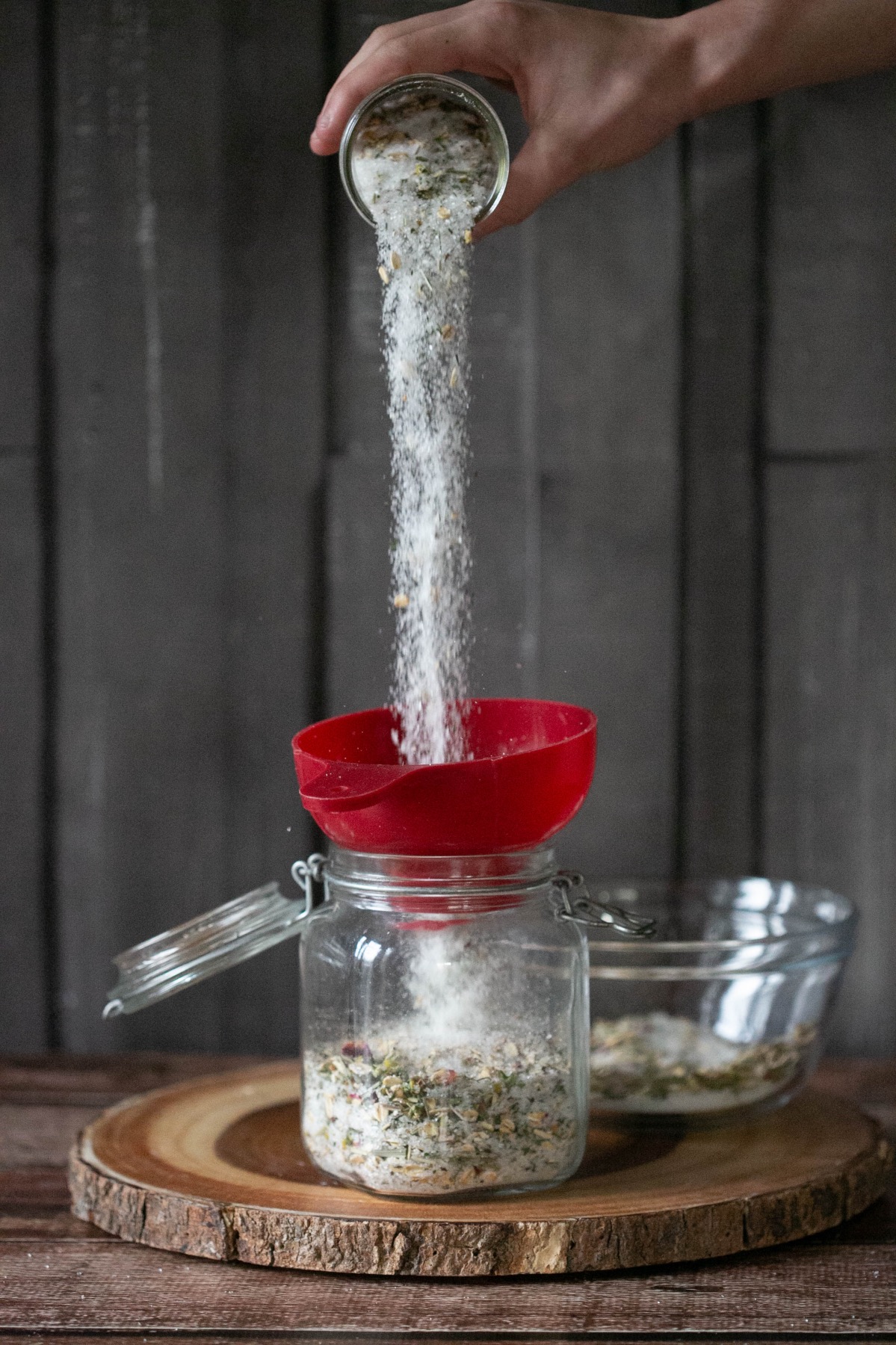 Epsom Salt: Is used to soak and aids with muscle soreness and stress.
Oats: Oats have both anti-inflammatory and antioxidant properties. They are rich in vitamin E, ferulic acid, and aventhramides among other nutrients.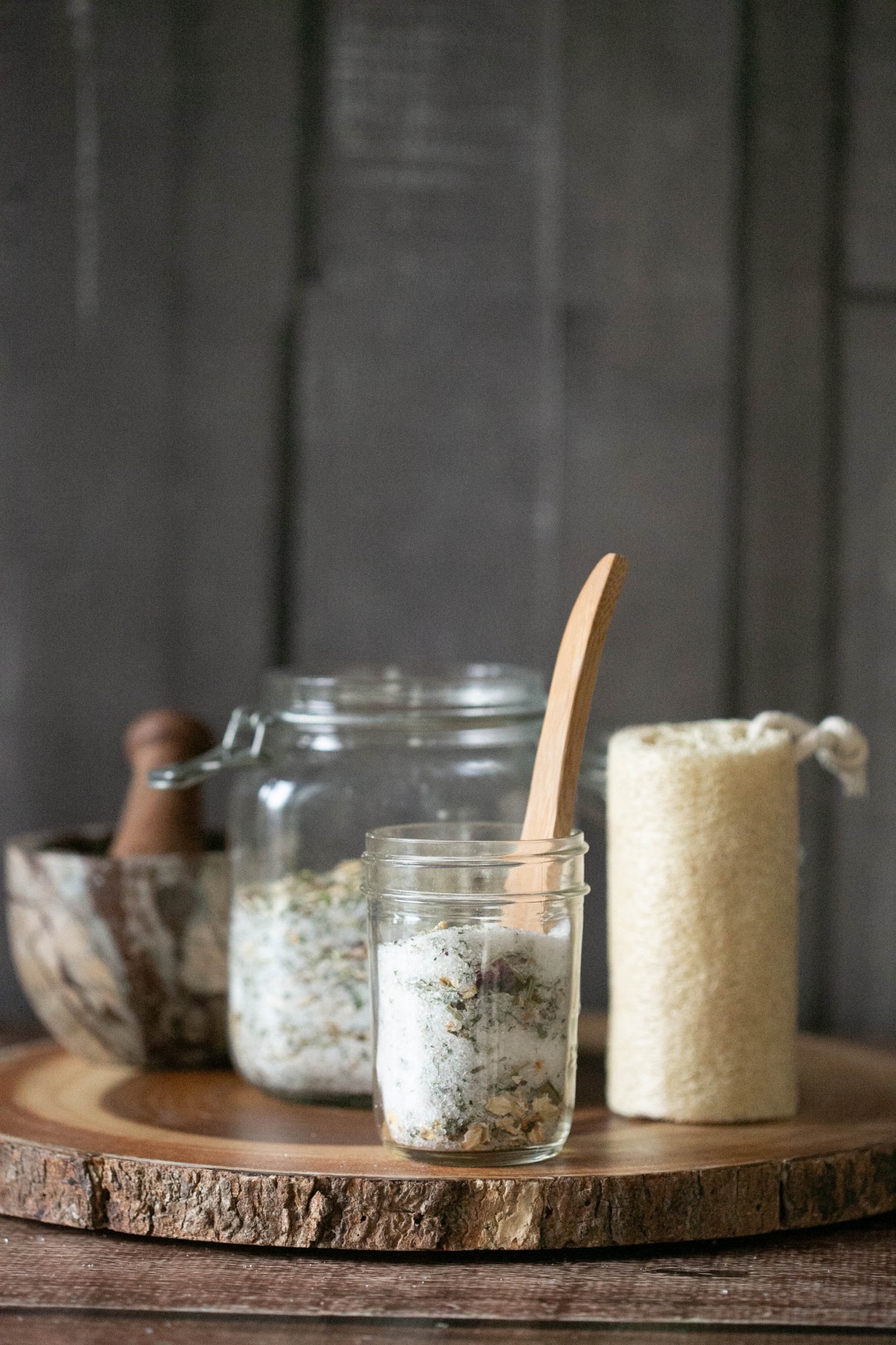 Lemongrass: Is another anti-oxidant that prevents the growth of bacteria and yeast.
Chamomile: Helps you relax and is perfect for irritated and red skin. It's great for eczema and other skin conditions.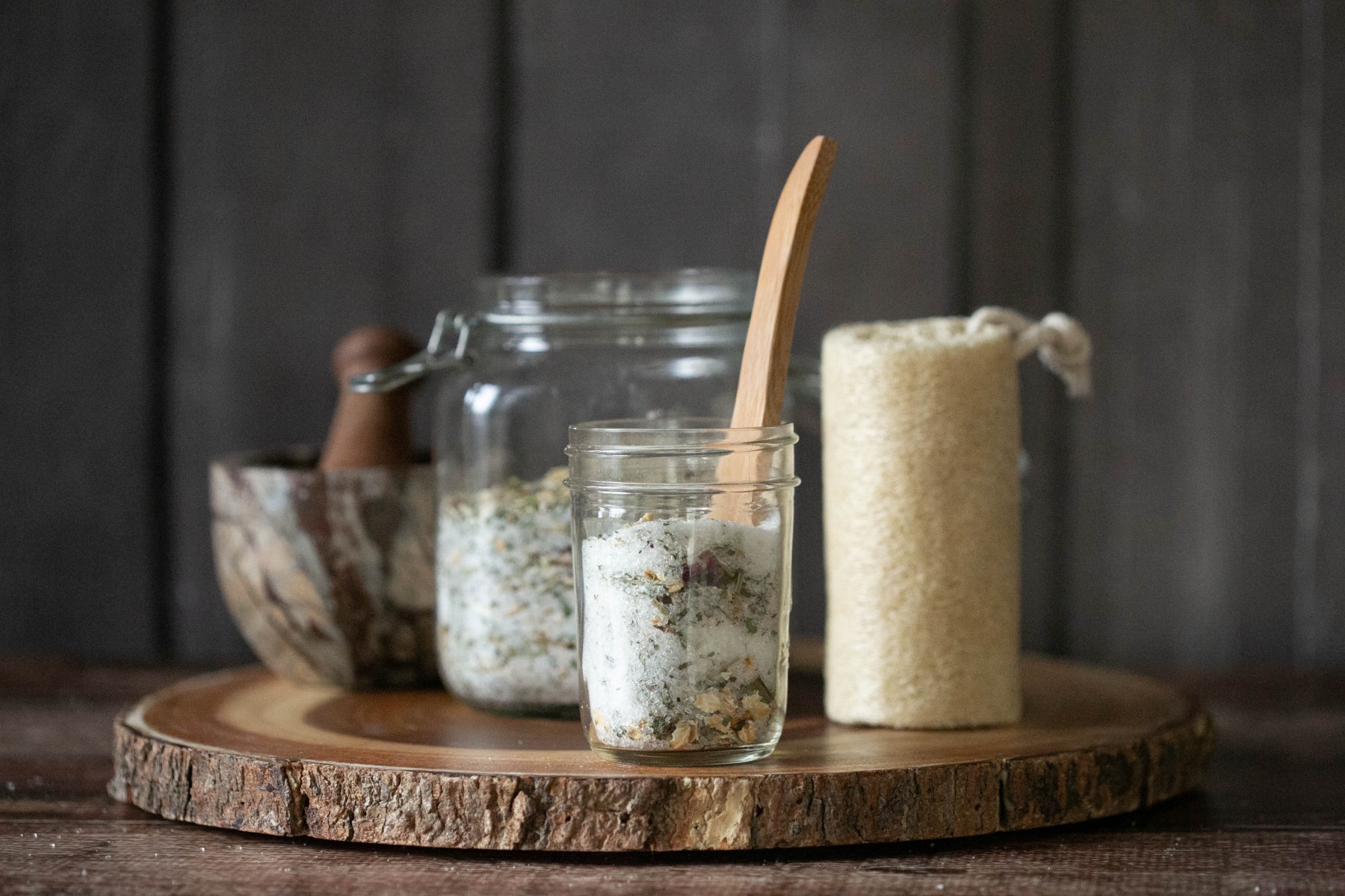 Lavender: This flower, much like chamomile will also help you relax. It aids with restful sleep and is calming to the skin as well. "Brain scans using positron emission tomography show that lavender oil works via serotonin-1A receptors in the brain, reducing their binding potential so that levels of free serotonin and related neurotransmitters rise, resulting in reduced anxiety." – From psychreg.org.
Rose: This flower is regularly used for aging skin or sensitive skin that needs gentle ingredients. The anti-inflammatory properties of rose help diminish puffiness and redness, evening out skin tone. Rose is also full of natural oils that hydrate skin, which soothes irritation and reduces dullness. People use it for dark spots and reducing wrinkles.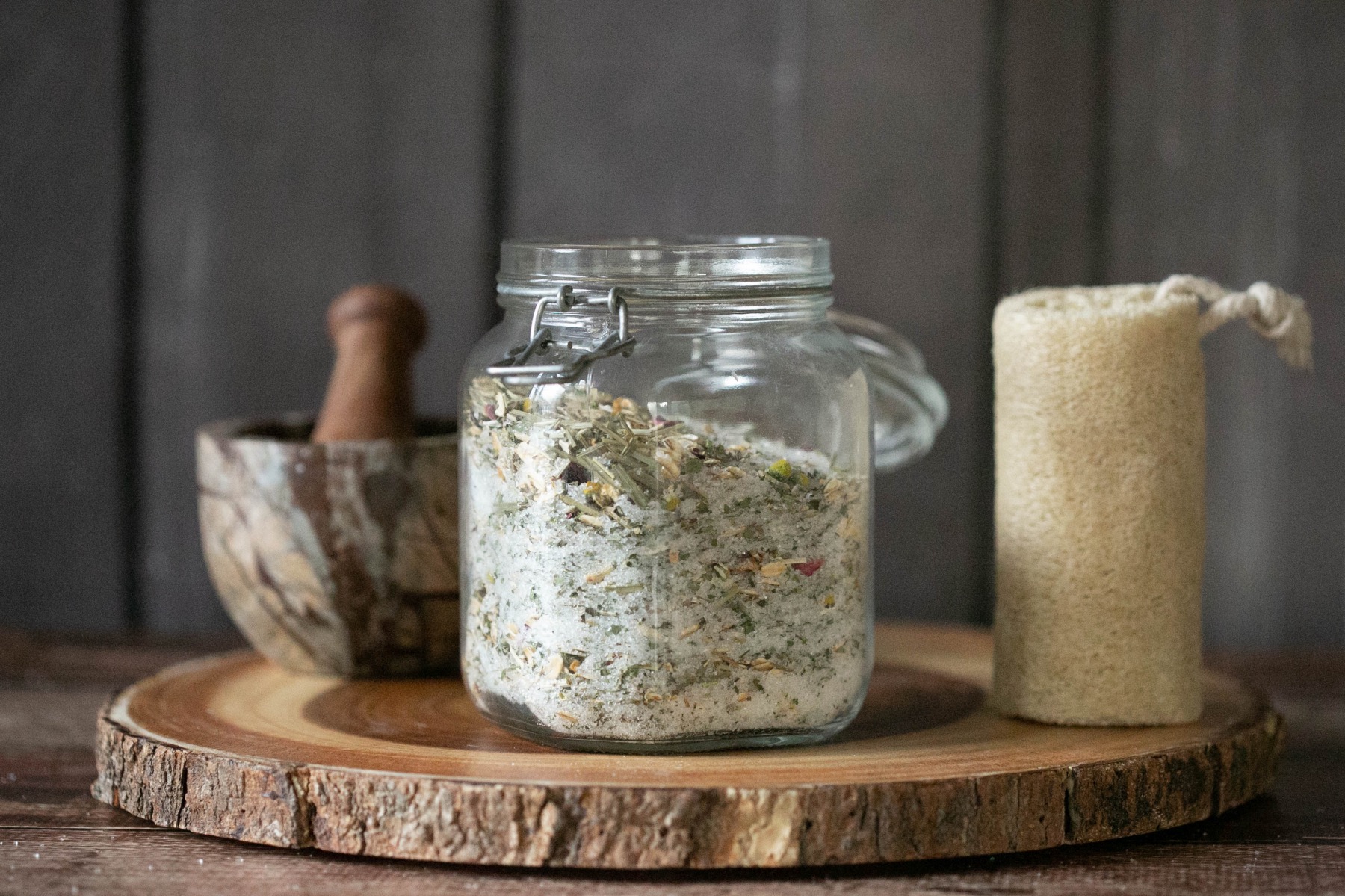 Lemon Balm: Often said to ease stress and anxiety, lemon balm contains a compound known as rosmarinic acid that appears to have potent antioxidant and antimicrobial properties.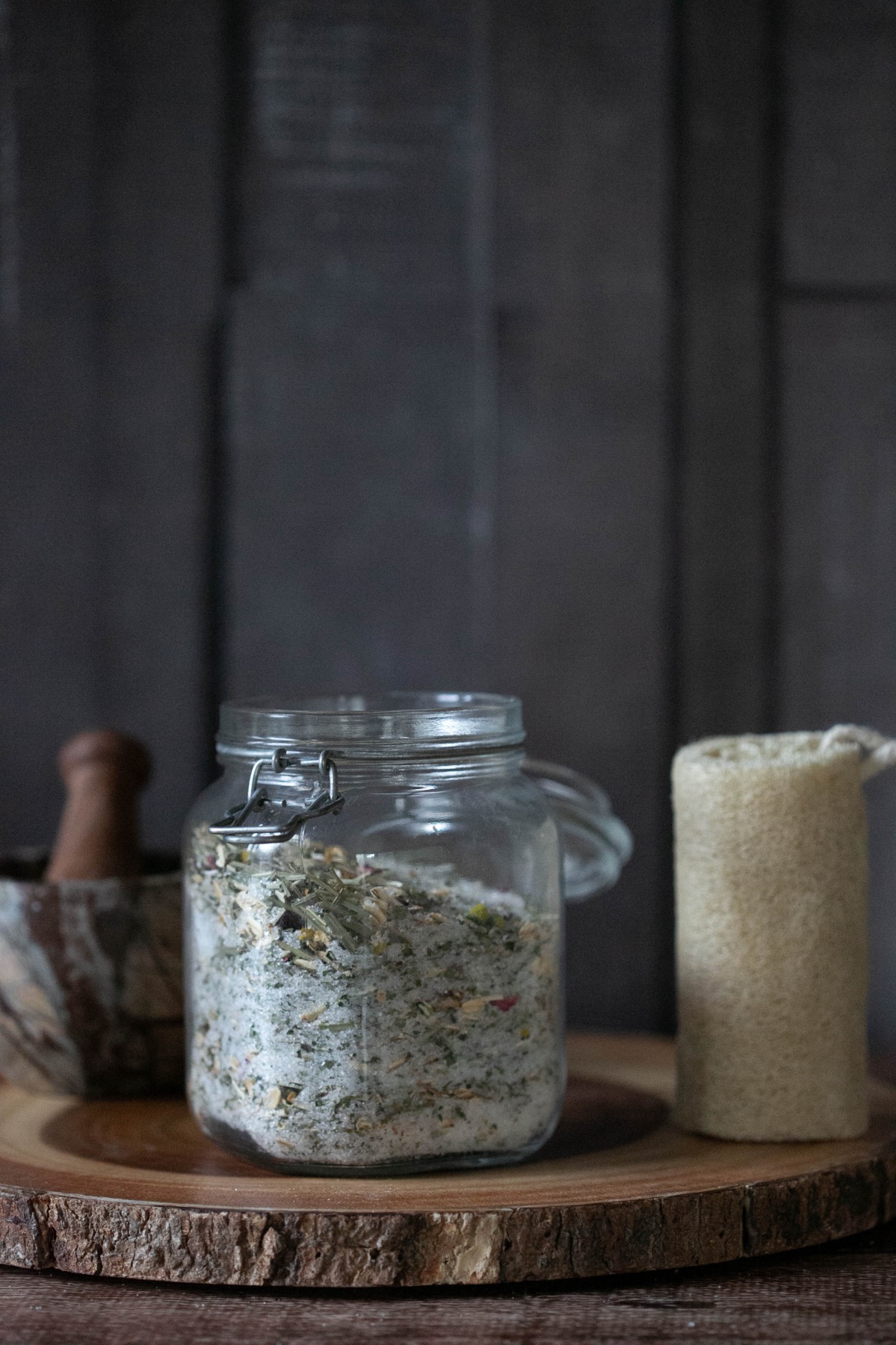 Are you planning on making these Forest Herb Bath Soaks? If so, show us in the comments what bottle you used to store them in! We want to see. Any happy crafting….And happy soaking too!
Let's Be Friends!
Insta | Pinterest | Enews | TikTok