Do you love vinegar as much as I do? I just love crafting homemade salad dressings and using it to add that pop of acid flavor to tons of different dishes. But if you want to give your vinegar just a little twist then you must try an Infused Vinegar!
You could use lots of different herbs and spices. We're making Rosemary Infused Vinegar because rosemary is so delicious and it's a simple recipe to get started.
This was the 3rd part of our Craft in Style Box for June 2019! The box is full of hot sauce recipes and cool summer culinary delights. You can find the first part – How to Sterilize Hot Sauce Bottles here and a Traditional Ruby Red Hot Sauce Recipe here.
What Type of Vinegar to Use
You can use actually use any type of vinegar. But you may prefer a vinegar that has a delicate flavor. For an infusion, my first choice would be a white wine vinegar. A rice wine vinegar which you may know from sushi rice, would be a lovely choice.
Balsamic would be my last choice, because it already has a dense and powerful flavor. But again, any vinegar could work: white vinegar, apple cider vinegar, red wine vinegar, or sherry vinegar. Whatever your taste!
How to Make Rosemary Infused Vinegar
If you want all the supplies you need in one kit, shop the Craft in Style Subscription Box for June of 2019 now. First gather a vessel where you can store your finished vinegar. This could be the original bottle of vinegar if you want to use the whole bottle. Be sure that the vessel has a lid and a narrow neck. In some cases you may want to sterilize the bottle first.
Next add your spices. For this recipe, I used a 5 oz. bottle and 2 tablespoons of rosemary. Your measurements don't have to be precise, but use this as a guide. First, add the vinegar and spices to a saucepan and bring the heat to a simmer. Immediately remove from the heat.
Carefully pour the entire ingredients including the spices in the bottle, add the lid, and place it on the counter. Some people even put the vinegar in a sunny window. Allow it to brew and marinade for 2 weeks. Viola! Rosemary Infused Vinegar! Delicious!
How to Use Rosemary Infused Vinegar
Use this Rosemary Infused Vinegar in place of any vinegar in any recipe! My favorite recipe with vinegar is a simple salad dressing. To make it, combine 2 tablespoons of vinegar and an equal amount of oil. Add a pinch of sugar, salt, pepper, and garlic powder to taste. It's delicious and so much better than store bought salad dressing.
I also use an infused vinegar in soups, to add a pop of acid to veggies and lots of other recipes. Here are a few favorites: Balsamic & Garlic Roasted Cauliflower and Apple Cider Vinegar Cole Slaw. Yum!
If you are ready to make this Rosemary Infused Vinegar, then here's your recipe card! And if you love crafts like this, you better shop the Craft in Style Subscription Box.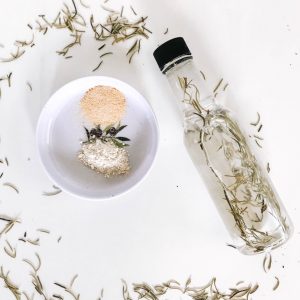 Rosemary Infused Vinegar Recipe
Add a pop of herb flavor to your vinegar! It's perfect for a variety of dishes.
Ingredients
2

tbsp.

rosemary

5

oz.

of a vinegar of your choice

we used white
Instructions
Add your rosemary to the vinegar and place it in a saucepan.

Turn the pan to high and heat the vinegar until it gently simmers.

Immediately remove the vinegar from the heat and add the entire mixture including the herbs to your bottle.

Allow it to steep for 2 weeks, turning occasionally.
Let's Stay Friends!
Insta | Pinterest | Enews | TikTok