One of my favorite things about glass etching is how versatile it is! The only type of glass that you can't etch are some products by Pyrex. But anything else can be etched – from mirrors, to windows, mason jars, candle vases and more.
And once you decide what you are going to etch, there are infinite styles you could consider too. Glass etching is also quick (you only leave the cream on for 10 minutes) and glass etching cream will last for a long time.
Here are 15 DIY Glass Etching Projects that are Beginner Friendly. Click the links to see each full tutorial with instructions from beginning to end. So let's get started with the glass etching inspiration!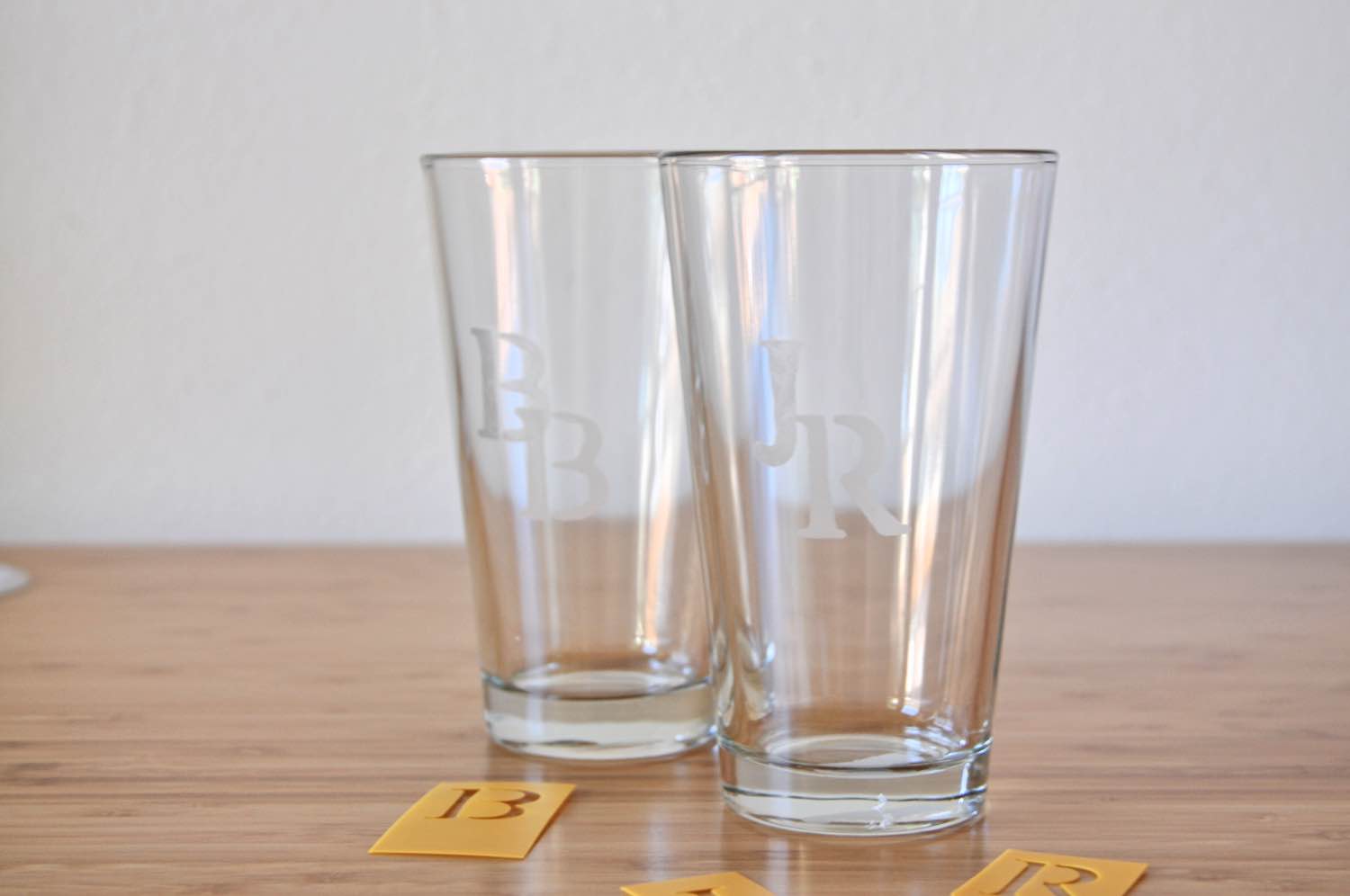 Personalize your drinkware with this simple tutorial. All you need are alphabet stencils and pint glasses to make these.
How gorgeous is this?! This tutorial uses a Voss Water Bottle (or you can use any glass water bottle.) Just add an array of floral stencils and viola.
In the mood for something spooky? These luminaries use a bat stencil to create a candle holder that's perfect for Halloween.
Love Harry Potter? Then make these Deathly Hallows glasses. You could substitute the Harry Potter stencil for a different art stencil of your choice! There are not limits to this diy.
Wine glasses would make a great gift. These are Mother's Day theme, but you could make some that are perfect for a wedding or a holiday gift. Pair it with a bottle of wine for something special!
This jar is personalized and filled with bath fizzies but wouldn't this make a lovely laundry soap holder or cookie jar? Most of the tutorials so far have used pre-made stencils, but this uses a custom made stencil with a Cricut Explore.
How much do you love these etched casserole dishes? You could stencil your favorite recipes, your last name and give it as a wedding gift, or could stencil common kitchen measurements.
This cookie jar went from normal to adorable with just frosted stencil that reads treats! And remember glass etching only takes a few minutes, so you can add a bit of style to anything glass.
Mine not yours. Keep your candy to yourself by adding your name or your initials. This diy uses just a simple mason jar.
White Lights and Wednesday is so clever, she added the glass etching cream to a squeeze bottle to hand draw these gorgeous flowers! You have to check this out.
Are you as overrun with glass ornaments as I am? Well give them a pop of style with just some simple frosted glass!
This centerpiece is holiday perfect! Glass candle holders are a perfect way to spread your holiday message and look so gorgeous with a touch of frosted glass.
When love is in the air, make these! It's a perfect way to celebrate that special someone.
This diy doesn't even use a stencil, instead, it uses painter's tape in fun shapes and patterns.
Just a trim of frosted glass turns this mirror from ordinary to extraordinary.
What I love about this DIY is how they used star stickers to make the clear glass the positive space and the rest of the jar the negative space. Remember, with glass etching you are always creating a black and white silhouette but you get to choose if you are etching the positive or negative space!
So what diy are you going to try and what surface do you want to glass etch? Tell us in the comments!
Let's Stay Friends!
Insta | Pinterest | Enews | TikTok