Giant paper flowers may be my most favorite thing in the world! Well all flowers are my fave when I put it like that. ? And small paper flowers like these are wonderful too! They make the best photo props and photo backdrops. It would be lovely to buy them pre-made – but are even lovelier when they are handmade! You can choose the styles, colors, and create cool color combinations when you make them yourself.
Although they are laborious to create, they are so gorgeous when you follow DIY tutorials and create them yourself. Just look at all the styles that can be made! So here are 15 Giant Paper Flower Tutorials that are also free to use so you can create your own display or photo backdrop. Enjoy and happy crafting.
Here is a simple giant flower that's so lovely in pink! It's the perfect one to get started with your first paper flowers.
It's like a magical flower forest! These oversized flowers are made with tissue paper and a concrete and chicken wire base. These are the flowers of my dreams.
Create an otherworldly experience with these hanging wisteria flowers! Abbi Kirsten Collections is full of amazing paper flower tutorials and this is one of my absolute faves!
Oh Happy Day creates tons of fun photo backdrops. This flower installation has the prettiest color palette and looks wonderful in tissue paper!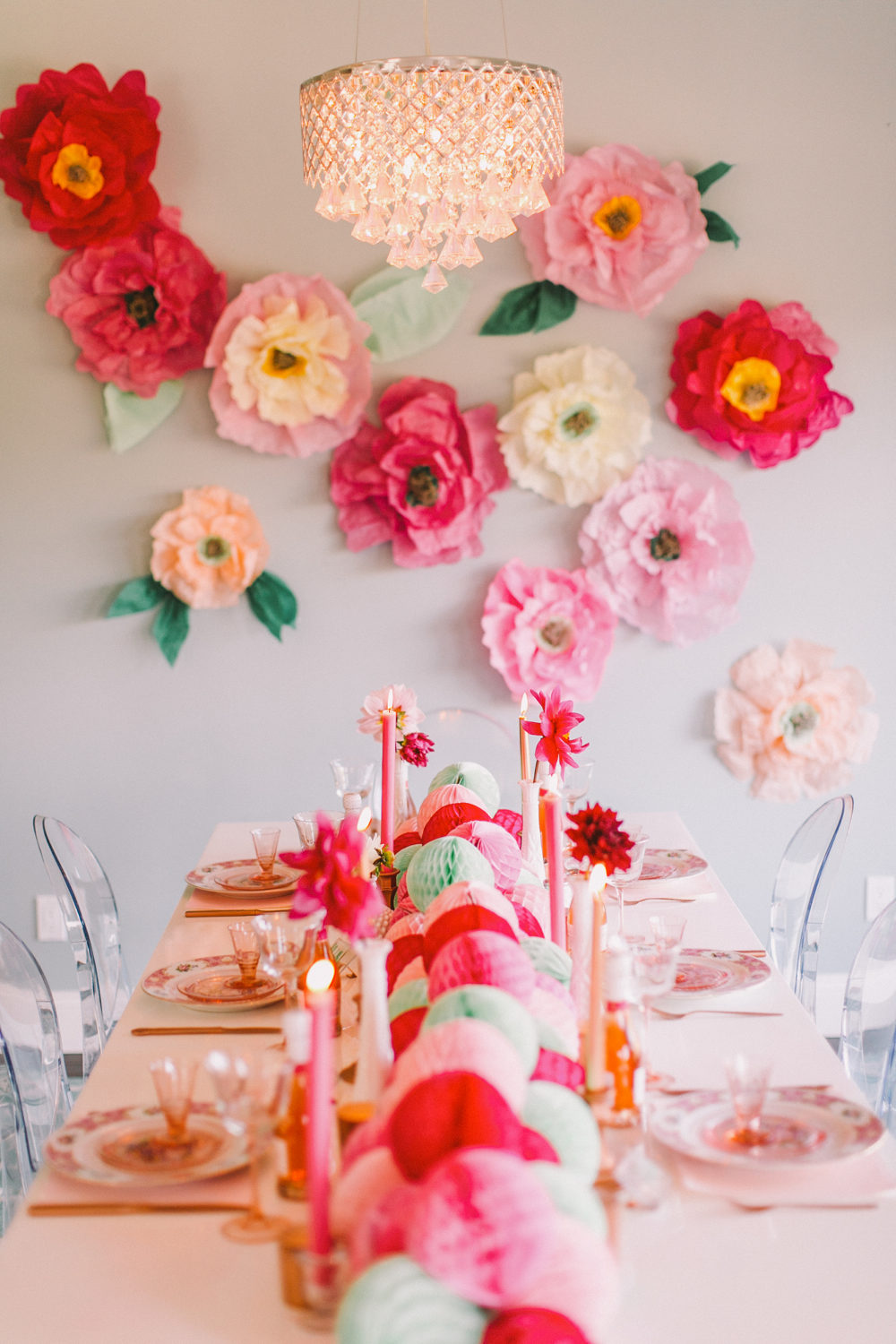 When you need the table decor to match the wall art for a perfect party, take a look at this tutorial! It's full of bright colors making this party decor so lively.
If you need a palette cleanser here's a gorgeous array of lots of different flowers all in white.
Spring is here! This cascading flower display is full of simple shaped templates that come to life when they are all strung together!
How much fun is this daisy wall?! Daisies are a joyous flower and these pops of yellow are just perfect.
These roses are perfect for holding! They are made with crepe paper a popular choice for paper flowers.
Can you believe that this magical flower arch is made with coffee filters. This diy is proof that gorgeous crafts can be made with simple supplies.
Wowie Zowie! If you need some seriously bright colors, take a look at this decoration from Oh Joy!
Create an ombre color palette with each and every flower! These flowers are big and perfect for hanging on any wall.
Do you love poppies as much as I do? These paper poppies come in an array of red, purple, and pink and are so different than some of these other flower templates.
These peonies are so detailed and perfect. This is actually the 3rd tutorial from Abbi Kirsten Collection and her blog is a must read if you are thinking about making your own paper flower backdrop or photo prop.
It almost looks like a daffodil! These size of this flower is impressive and it's dreamy too!
If you need even more paper flowers in your life try these Teeny Tiny Flower Barrettes or this Paper Flower Boutonniere.
Let's Stay Friends!
Insta | Pinterest | Enews | TikTok