Are you bored of your lunches or is it just me?
I prefer to take my lunch with me to the office. I work in a big warehouse where I spend most of my time on a computer but often help pack our craft supply kits. I don't like eating out all the time. It's not healthy and I'm trying to +adult+ by saving money when I can.
That's why I love these 19 Adult Lunch Box Ideas that aren't just sandwiches or leftovers. Instead it's so many different ideas that are fast to make, easy to create, have simple ingredients, and are pretty healthy too. I hope this gets you excited about lunch again like it did for me!
Pinwheels are often made with flour tortillas by placing all your favorite ingredients on top of a flat tortilla. Then you roll the tortilla up and slice it into sections. But my favorite pinwheels are the ones that are made with just deli meat and ingredients on the inside.
It's packed with protein, skipping the bread and flour and a perfect way to get tons of veggies into your lunch. There are so many different ways you can made pinwheels, but this recipe is one of my favorites.
Pasta salad is the perfect meal prep make ahead meal because it's so easy, hearty and keeps all week long. When I make a pasta salad, I prefer a vegetarian version packed full of vegetables and a lemon vinaigrette dressing. That way it's healthy, light, and easy to nosh on all week at the office or as a snack when you get home.
You may be thinking "duh, I've heard of salad before". 😂 But since there are so many different salad recipes with unique lettuces, no lettuce, dressings galore, and an array of fruit and vegetable toppings, this is a meal that you could make again and again and never redo. So here are 21 different salad recipes just to get you excited about this healthy and fun meal.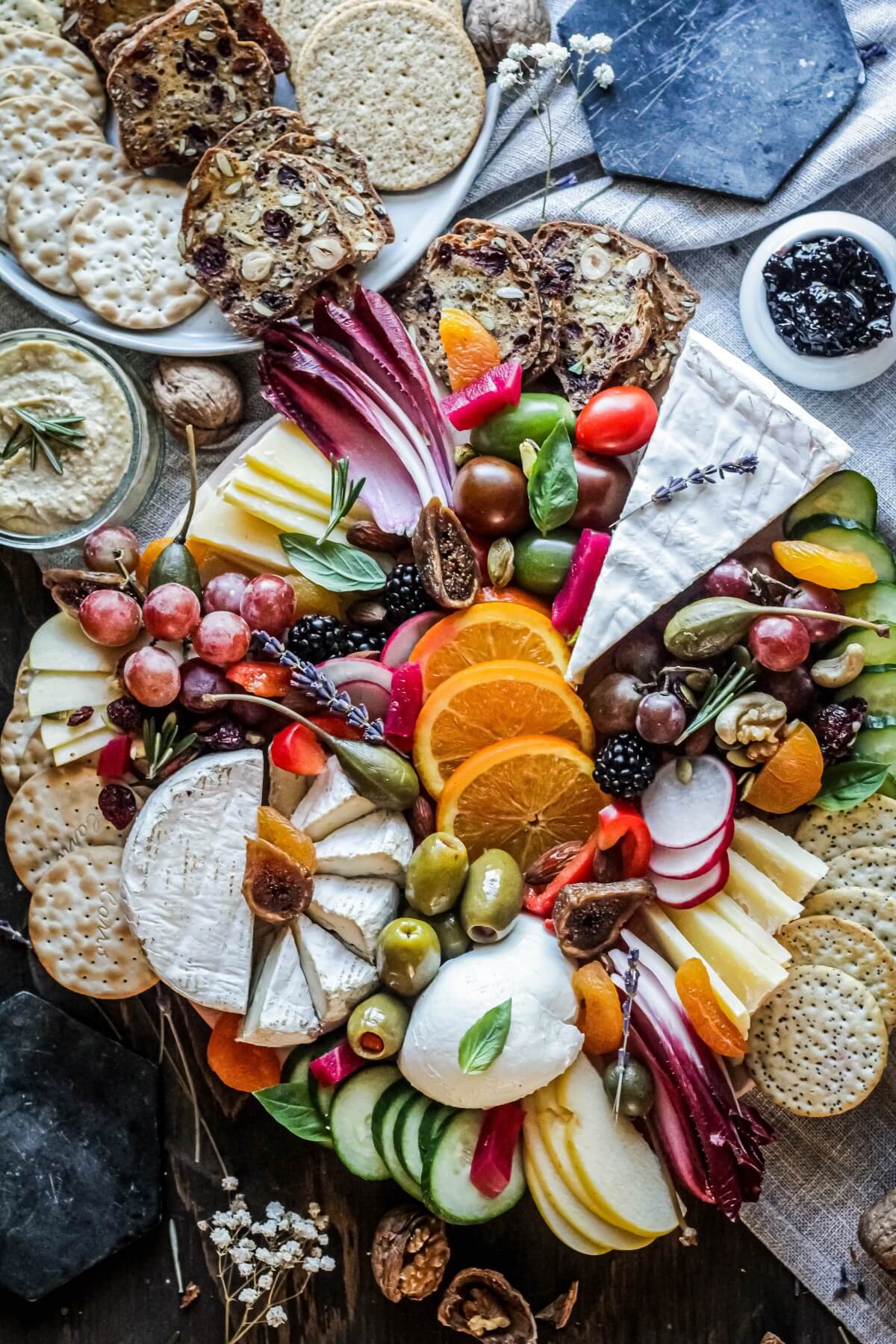 It's Lunchables for grown ups! Now this may seem like a terribly unhealthy meal but there are so many ways to make it a filling and healthy lunch. First of all, add less cheese and replace it with hummus. Add extra fruit, nuts and olives which are healthy additions. Or just have fun with this meal and enjoy it for what it is!
Speaking of hummus, it's packed with protein and easy to take with you to the office. It's the perfect dip for all your favorite veggies like carrots and celery. If there is any one recipe that you should follow, it's this one from Rainbow Plant Life. You can also find this recipe as a Youtube video here.
The gorgeous topping is fried lemon garlic and parsley for color. It's irresistible, right?
This recipe is my personal go to lunch. If I can't think of any other ideas, it's my staple. My tried and true that I eat at least one week out of the month. You can vary the vegetables you include. For example I always include tomatoes, cucumber, radishes and rainbow carrots. Do you have a favorite vegetable that you would like to include?
If you are looking for a vegetable full lunch but tired of salads, this is the perfect idea! It's great when you end up with a few leftover vegetables that you don't know what to do with. And it's part healthy and part delicious.
The secret to a great ranch and veggie plate is fresh made ranch dressing!
Aren't these the cutest sandwiches you've ever seen?! Apple slices are an easy and perfect addition to a take to the office lunch. And the peanut butter is a perfect way to make this meal heartier. I also recommend adding granola for an added boost.
You could also add raisins, dried fruit, nuts, and honey too.
Which one would you pick – hummus stuffed deviled eggs or guacamole stuffed deviled eggs? I don't think I could choose! Keto fans love eggs as a protein source because of it's protein to fat ratio. Although we are removing the yolk here and replacing it with other ingredients, this is still a super healthy protein packed dish!
My favorite chicken salad recipes are the ones with pecans and grapes! It's a little crunchy and a little fruity. This chicken salad recipe is perfect to eat on it's own. Or you could make lettuce wraps or top your favorite salad with it. It could even be a great addition to a charcuterie lunch.
This is like a deconstructed sandwich without the bread! These lunch kebabs are such a fun twist on a classic lunch. This one can be made with ham or turkey, cheese, cherry tomatoes, olives, and lettuce. But you could also make them with pepperoni, mozzarella, and tomatoes (like a pizza) or with chicken, cheese, and tortillas (like a chicken quesadilla). Of course, I can't take credit for these ideas, they are all in the recipe tutorial by Lil Luna.
This is what I ate for lunch today! Lettuce wraps are another awesome alternative to bread for a lighter and healthier meal. Tuna salad is the perfect protein to add inside. This recipe that includes lemon and dill is such a delicious way to prepare tuna salad. I always add egg to mine and you could an array of crunchy veggies to this wrap too.
With a rainbow of colors like this, how could anyone resist? Spring rolls are an exotic twist on an ordinary lunch! The rice paper wrappings are available at almost every major grocery store. And you can fill the rolls with anything your heart desires – not just veggies like these rolls. You could make them traditional with tofu or shrimp and rice noodles. Or you could get totally creative too.
Nori, or seaweed, is another ingredient available at most major grocery stores. And one that is not enough everyday – it's something we only think about on special occasions or when we are eating out! And it's a great alternative to bread. But there are so many ways to make sushi at home. You could use an easy recipe like this. Or even skip the rice and make a roll that looks exactly like the spring rolls above. Or you could add your favorite teriyaki, fish, and more.
Talk about quick and easy! Why would bagels be limited to breakfast when a lox and bagel is perfect for lunch as well! Smoked salmon and cream cheese add protein while capers and onions add a touch of vegetables. And this is another great starting point for a creative bagel lunch. For example, one of my favorite ways to eat a bagel and cream cheese is to add fresh grated beets, carrots, lettuce, tomato, and sprouts with tons of fresh cracked salt and pepper.
Gazpacho is a chilled soup that only requires a blender and fairly long list of ingredients (cucumbers, tomato, bell pepper, onion, garlic and more). That means this recipe could be created in an office! And because it's chilled it can easily store in the office fridge too. It's healthy, light, and full of gorgeous, fresh vegetables.
These skewers are part salad and part decadent treat! Instead of a standard Caprese salad, these skewers also include bacon and basil pesto. To make these well, it will take a lot of prep work but the pesto and balsamic glaze could be used again and again.
If you aren't obsessed with chia seeds yet, here is a reason to get excited now. Chia seeds are filling and full of protein. They are as easy to prep as overnight oats. All you need to do is soak them overnight with your favorite non dairy milk or yogurt and add fruit, honey, nuts, or granola. They are full of Omega 3's, calcium, phosphorus, and an array of antioxidants.
Now these are best taken to work deconstructed so the chips will stay crisp. Or better yet, these no bake nachos are easily kept at the office in their raw ingredient form so you can slice and prep your nachos in just a few minutes.
---
Which of these 19 Adult Lunch Box Ideas are you most excited about? Tell us in the comments! And is there a favorite easy and maybe even healthy lunch that we missed? Tell us below and we'll add it to the list.
Let's Stay Friends!
Insta | Pinterest | Enews | TikTok