Get in my belly!
The most delicious thing in the world to me is a perfect cheese plate. It's a fun appetizer and it even works as a dessert. A cheese plate is perfect for a picnic and perfect around the holidays.
The gooey, the creamy, the totally decadent goodness. And you don't even have to cook!
Here are my top tips on How to Make the Best Cheese Plate in the World.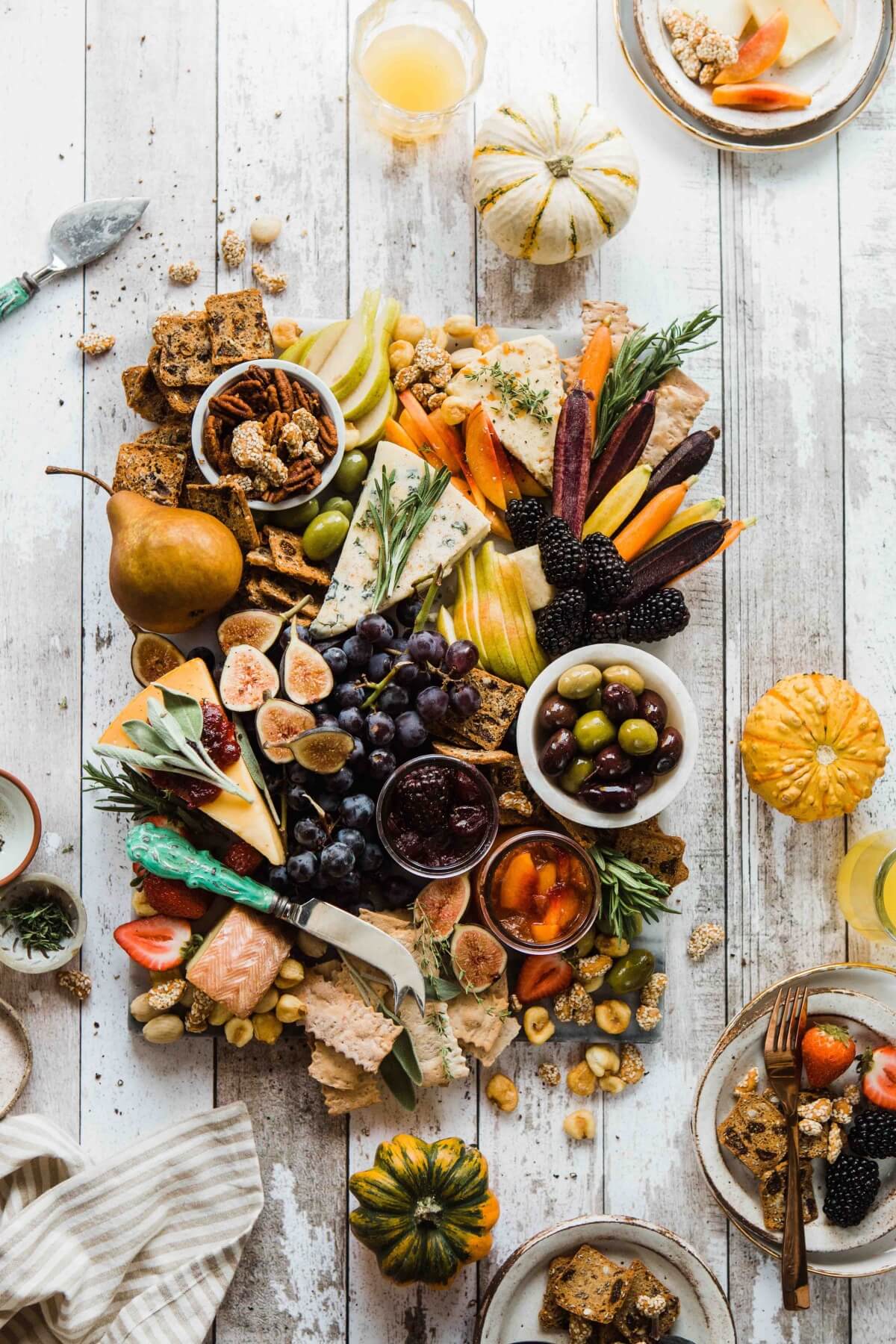 Think Out of the Box
The Best Cheese Plates need something special! Add something special by adding a new cracker that you've never tried before, or guava instead of apple. Whatever you choose think fun and new.
Add Hummus
It's something healthy to break up the decadence of cheese. I love adding hummus or baba ganoush and veggie slices too. Endive is also a nice ingredient to use with your hummus and so underappreciated.
Make a Breaded Baked Brie
Here's one of my favorite recipes for a baked brie in a puff pastry. It's a fun and exciting addition to any cheese plate! But you can also bake brie without a puff pastry and cover in dried cherries and other dried fruit.
Always Include a Chutney
Chutney, chutney, chutney! So yummy and so perfect with light and creamy cheeses. This ingredient is a must for me! Chutney is really just the same thing as fancy jam. I like to choose ones that have herbs or a savory note to them. I also love chutneys from unique fruit like figs, loquats, and dewberries.
Always Combine Fruit, Nuts, Crackers, and Cured Meats.
Having a bite of everything is a must! Make yourself a well rounded plate but adding fruit, nuts, crackers, olives, fresh bread, chutneys, and cured meats. You don't have to choose them all but choosing a few is a must.
Go for the Best Cheese You Can Find
The quality of the cheese makes all the difference! If you want a budget cheese plate, less cheese is better than inexpensive cheese! You can always save a little by reducing the cheese and cured meats and adding more fruits and veggies. Goat cheese, cheddar and mozzarella are always decently affordable options.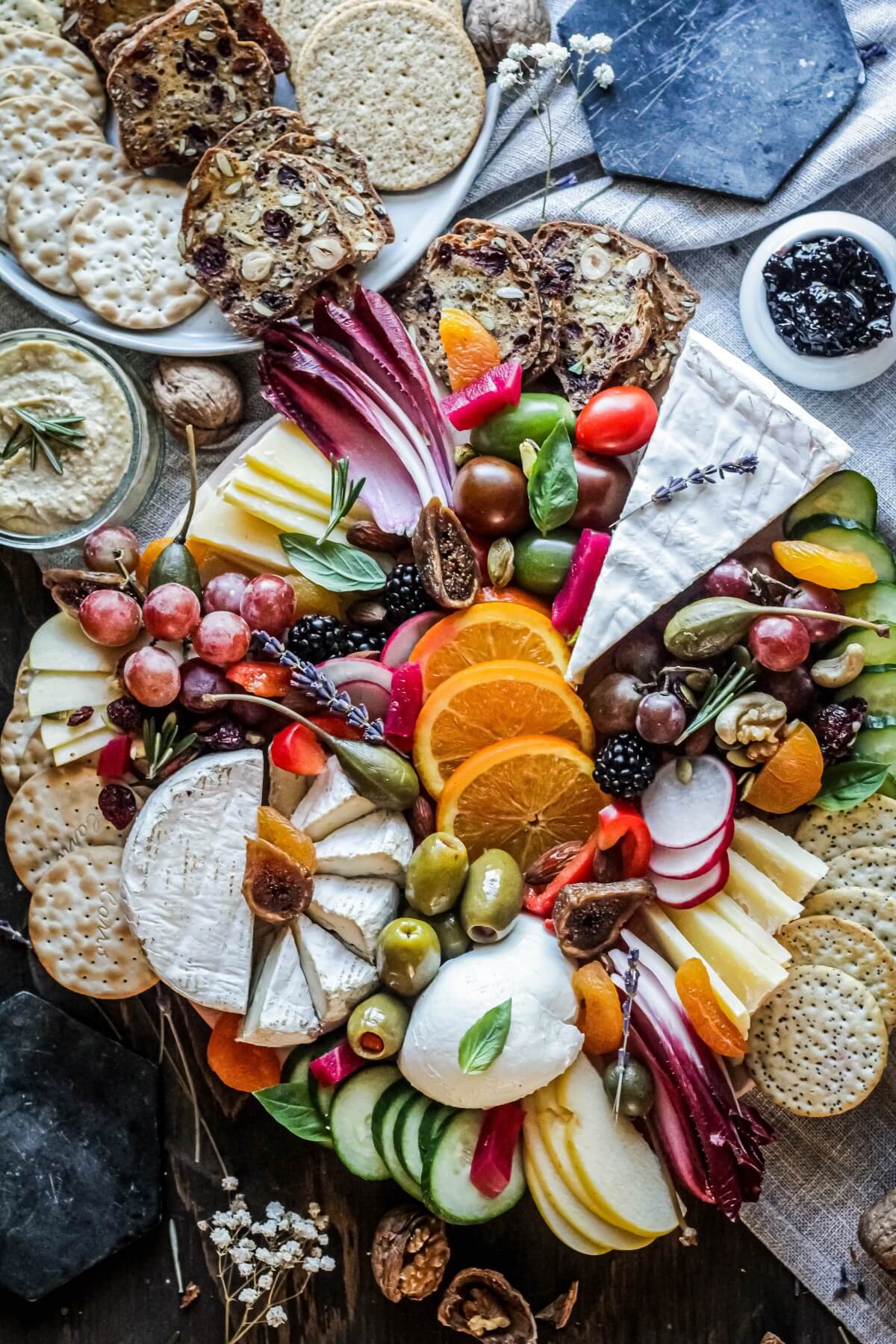 Get Different Types of Cheese
Having a hard cheese and a soft cheese is a must! Having a creamy cheese and one that is more robust makes all the difference. Including a few different cheeses with different qualities is a must!
Consider Presentation
My favorite thing is when all of the little morsels are lined up, organized, stacked, and plated in a cute way. Use your best dishes, color patterning and organization skills to make The Best Cheese Plate truly special.
You may notice with all these cheese plates, all the ingredients are grouped together and there's no empty space on the boards. Making the cheese boards feel full, gives them gorgeous presence on the table.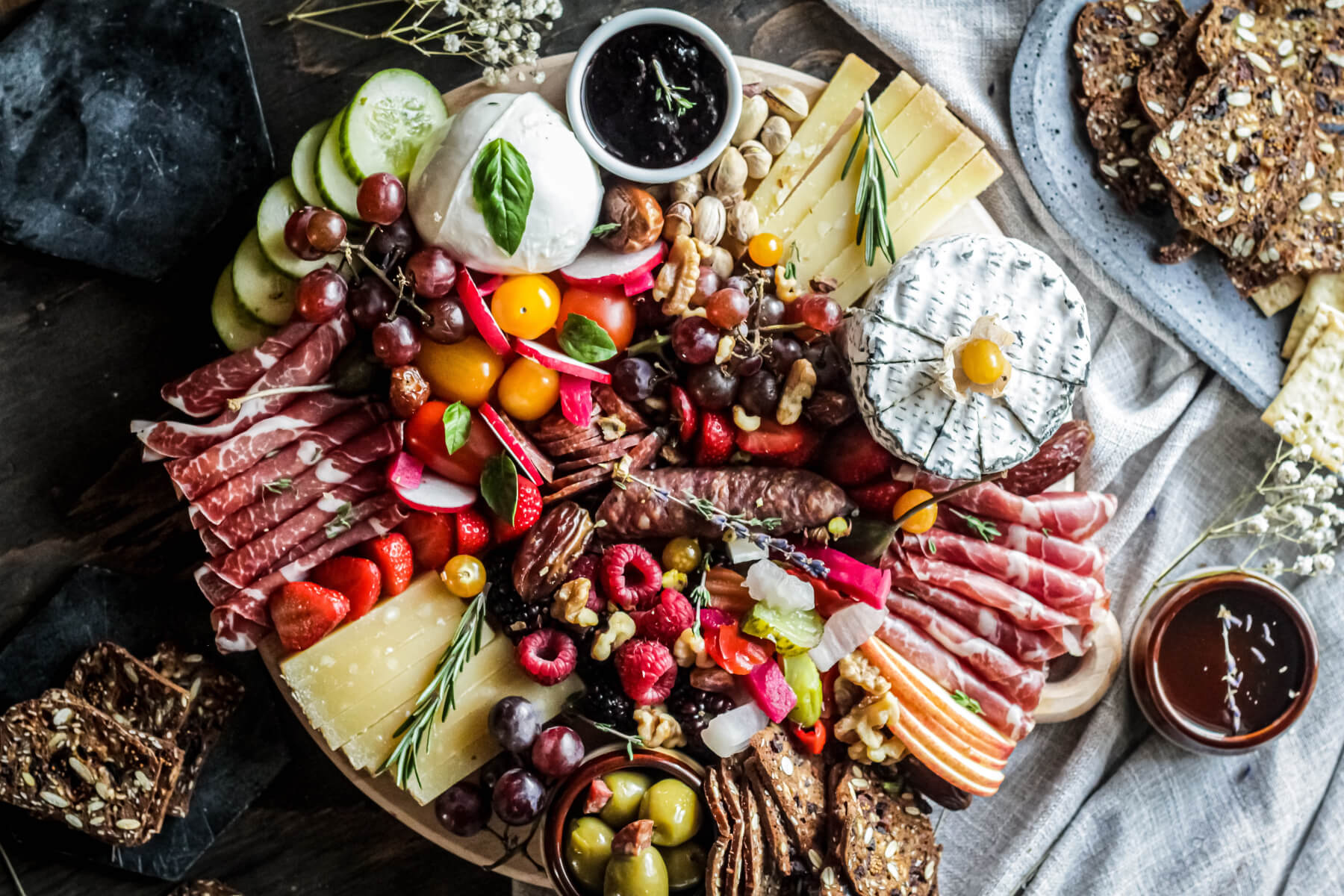 Decorate your Cheese Board
Add fresh herbs to your plate or a bouquet of fresh flowers. Plate your cheese plate on a piece of marble or a wood cutting board. The sky is the limit to how you can style your cheese plate your way.
Label Your Cheeses
Label your cheeses like this with adorable tags. This is something you could DIY that would be so useful for a party. It's a fun way to keep everyone informed about what their eating and help people find their new favorite cheese.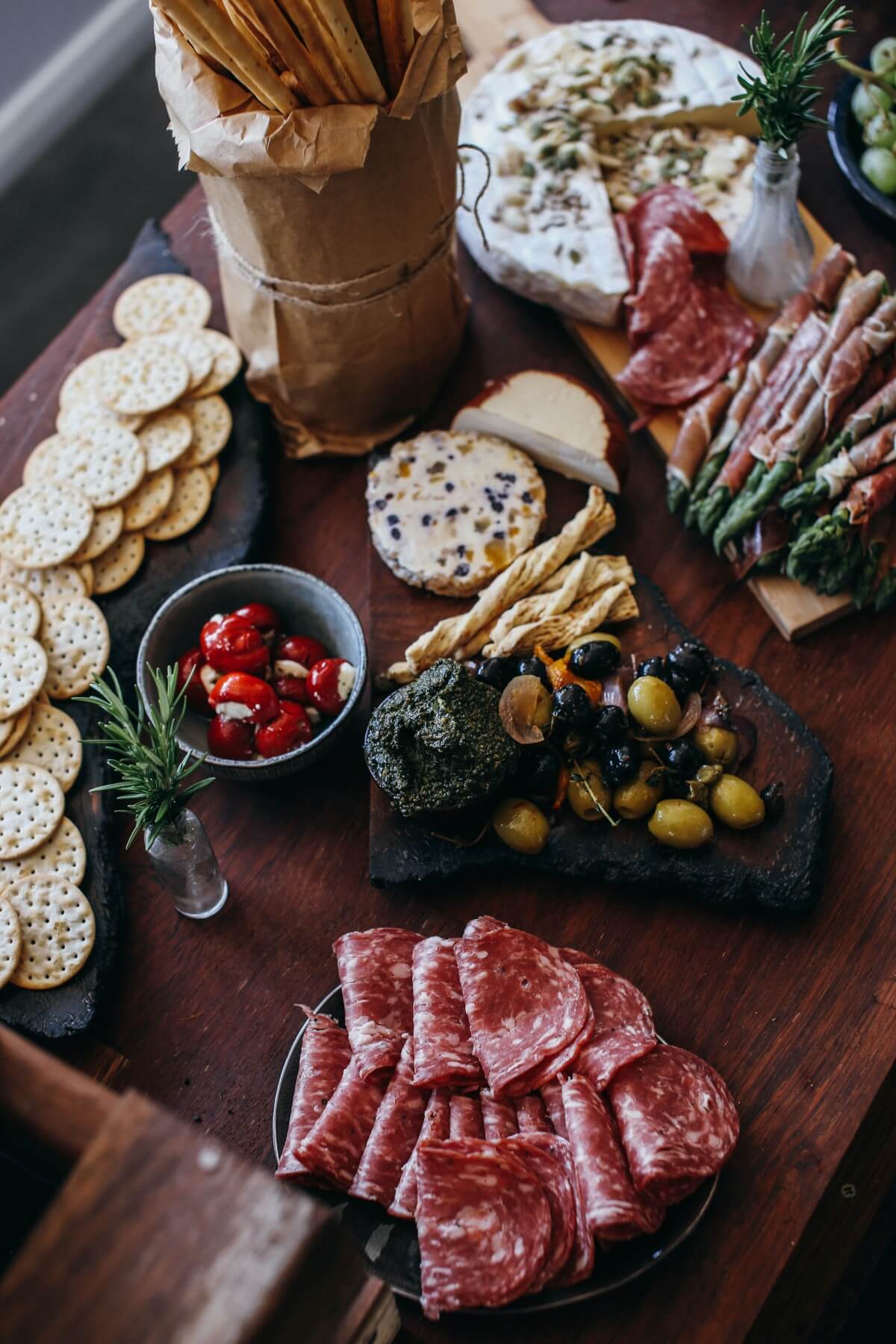 Add a Surprising Twist
Nothing is better than the element of surprise. Add something unexpected to your cheese plate every time! There are so many different ideas but you could consider: Apple Butter for dipping, a creamy cheese dip like this Blueberry Goat Cheese Dip, or Kale Chips.
Add Elegant Fruit
Elegant fruit that you don't see everyday is such an incredible cheese plate upgrade! Try blood oranges, figs, champagne grapes, persimmons or currants. Anything that's local and seasonal is your best bet.
Separate and Slice Your Cured Meats
Nothing is lovelier than a perfectly sliced piece of Soppressata or a perfectly rolled slice of prosciutto. Be sure to prep and plate your cured meats into bite sizes!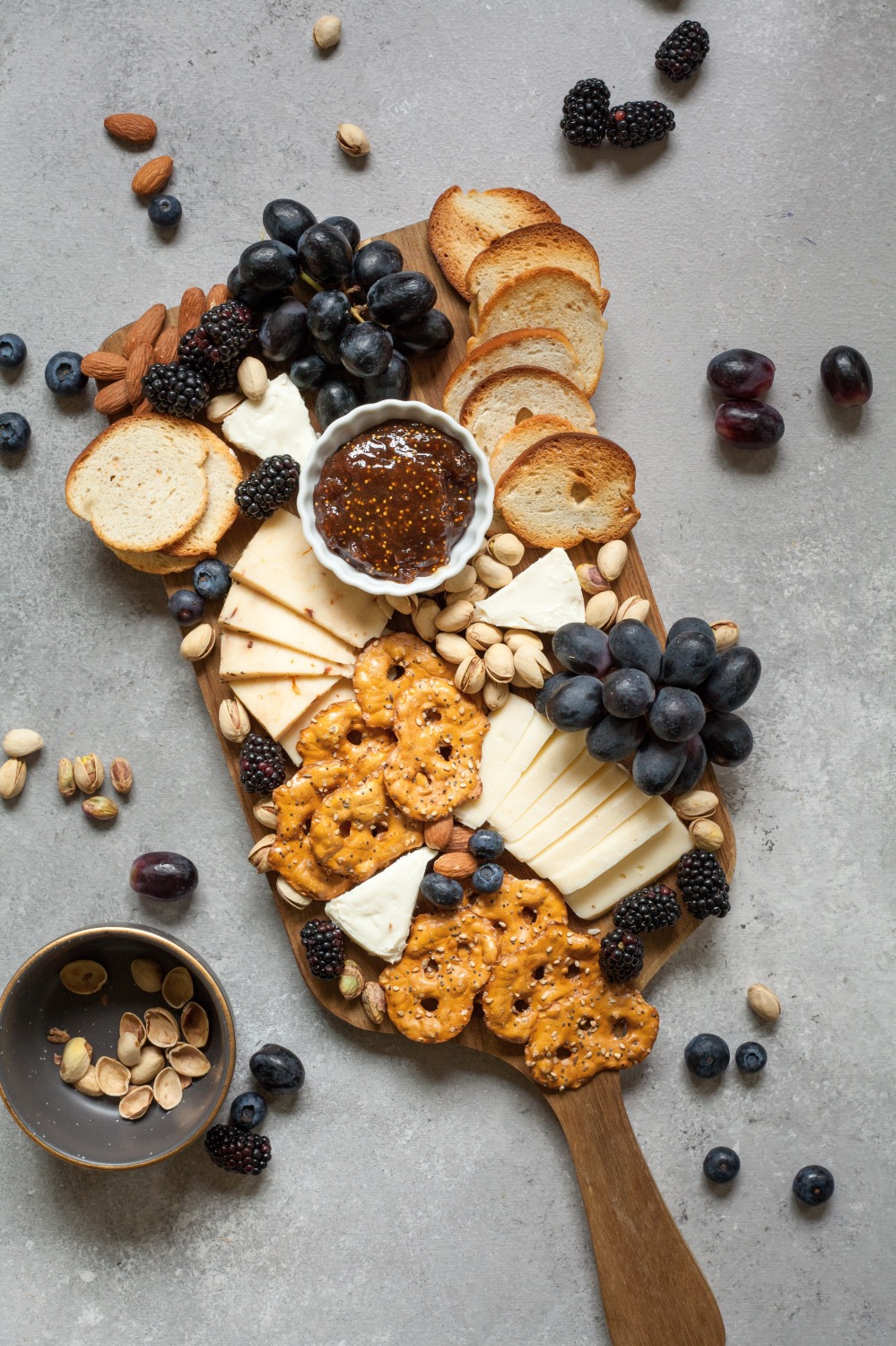 Get Fresh Bread from a Local Bakery
Fresh vs. store bought. What a difference! Bread is an easy and inexpensive upgrade that will make such a lovely dish. And if you are thinking about a cheese plate that won't leave you hungry, this is a must.
Eat Every Last Bite
Well that's just a must! And it's the most fun part.
Happy Eating!
Insta | Pinterest | Enews | TikTok
Let's Stay Friends!
Insta | Pinterest | Enews | TikTok