Happy Day! Am I allowed to be more excited about this recipe than any other I've created? Because I am. This is one of my favorite dishes in the whole world. I make it a lot – especially during colder times of year because it's warm, healthy, and comforting all at the same time. I make this almost as much as these Simple Drop Biscuits that I go on and on about!
Using balsamic adds a pop of acid and brings out the natural sweetness in both the carrots and beets. It's a way to caramelize them and create a gorgeous browning and roasted flavor. It's so perfect! So let's get started making these Balsamic Roasted Beets and Carrots!
Chop Your Veggies
First of all, to make this recipe you will need to peel and chop your veggies. I recommend cubing your vegetables into 1-2 inch sections. You certainly don't need to make them like mine! I only did that to create some gorgeous photos.
You will want your beets and veggies to be the same size as each other. They cook at almost the same rate, cutting them evenly will help them cook evenly too.
Toss the Ingredients in a Bowl, Then Add them to a Sheet Pan
Your veggies will need to soak and marinate inside your olive oil, vinegar, salt and sugar mixture. It's not only important for them to be evenly coated across every surface of every vegetable piece. But it's also important for them to be dripping with this mixture. It will help make the flavor punchy and amazing!
Roast them for 1+ Hour
I have no explanation for this, but when I make these Caramelized Beets & Carrots like this, it takes me longer to roast than using ordinary butter and herbs. I have no idea why, but do expect that your beets and carrots will still be quite crunchy after 30 minutes.
Make sure you give your vegetables plenty of time to roast! Then serve them immediately while they are still warm. There are lots of dishes you can pair them with! I often eat them solo because beets and carrots are so hearty. This dish is perfect for winter so you could also pair them with something meaty like a Garlic Marinated Steak or keep it vegetarian with this Chick Pea Chili. What are you going to pair yours with?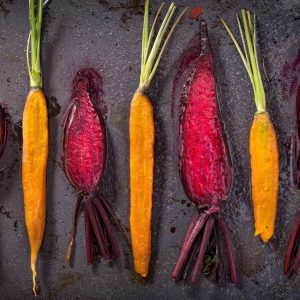 Balsamic Roasted Beets and Carrots Recipe
Vinegar gives your roasted beets and carrots a touch of acid and brings out its sweetness. That's why you must make these Balsamic Roasted Beets and Carrots!
Ingredients
2

cups

Red Beets

or Half Red and Half Golden Beets

2

cups

Carrots

1/2

cup

Olive Oil

1/2

cup

Balsamic Vinegar

2

teaspoons

Sea Salt

2

tablespoons

White Sugar
Instructions
Preheat your oven to 400°F.

In a large bowl, mix together your olive oil, vinegar, salt and sugar.

Peel your beets and carrots and then cut them into small cubes around 1-2 inches in size.

As you cut them, add them to the bowl of olive oil and vinegar and continue to toss covering all of your vegetables.

Once all your vegetables are cut, toss this in the olive oil and vinegar 1 more time and let them soak for 5 minutes.

Then place your veggies on a sheet pan and drizzle a few tablespoons of the olive oil and vinegar on top.

Roast the beets and carrots at 400°F for around 60 minutes or until tender. Toss them every 15 minutes while they roast.

Serve warm!
Let's Stay Friends!
Insta | Pinterest | Enews | TikTok