Poutine is a popular Canadian comfort dish – and it's one I didn't even know existed until about 6 months ago. I was at a restaurant and one of their specials was a sausage poutine, and the description sounded promising: sausage, gravy and cheese curds over hot French fries. I mean, would you be able to resist? So I tried this magical dish and fell in love – and then I learned that I'd been missing out on this glorious dining experience for years. 
So I immediately set out to recreate the dish at home so that my husband and toddler could fall in love with it like I did. And then I realized that I could do so much more to the classic poutine recipe, because there are so many ways to vary the type and kind of ingredients used in it.
First up on my list? A sweet-and-spicy, sauce BBQ Pulled Chicken and Black Bean Poutine. Here you go – and you're welcome!
BBQ Chicken and Black Bean Poutine – the Ingredients
This recipe consists of all your comfort food favorites:
chicken covered in bbq sauce
crispy French fries
cheddar cheese curds
black beans
and a thick gravy made from chicken broth, cornstarch, flour, and salt and pepper.
Yo could also make homemade French fries if you'd prefer to take the extra time!
Making the BBQ Chicken Poutine
Start by cooking your chicken.
You can use any method of cooking – baking, boiling, pressure cooking, slow cooking, etc – to cook your chicken. If you do any method beside boiling, baste your chicken with a 1/4 cup of bbq sauce before cooking. It'll help seal some extra saucy flavor into your chicken. Obviously, if you boil your chicken, you'll have to cook it plain.
When your chicken is cooked, shred the chicken. Use two forks to shred or put the chicken in a bowl and use your hand mixer to shred it – it takes no time at all! Pour 1 1/2 cups of barbeque sauce into the chicken and stir to coat the chicken. Stir in 1 cup of drained and rinsed canned black beans. Set the chicken mixture aside.
Time to make the gravy! 
Melt a stick of butter in a pot over medium heat. When the butter is melted, whisk in the flour until combined. Cook for about 3 minutes, whisking occasionally.
Pour in the broth and whisk to combine until smooth. Let your gravy come to a boil, stirring occasionally. When it is boiling, pour the cornstarch (mixed with 3-4 tablespoons of water) into the pot. Whisk constantly until everything is smooth and combined.
Tip: Make sure to whisk constantly as you pour in the cornstarch + water! Otherwise, your cornstarch will congeal into one gross, white mass (see picture below) and it definitely won't thicken your gravy. Not that I've learned this from experience…
Let the gravy simmer for about 5 minutes, until it is thickened to your liking.
Don't Forget the Fries!
Bake or air-fry your frozen French fries according to the bag's directions.
Assembling the BBQ Chicken and Black Bean Poutine
Place a pile of piping hot fries on each plate. Top with a scoop of bbq pulled chicken and bean mixture.
Spoon a decent amount of hot gravy over the top of each plate and sprinkle a handful of cheddar cheese curds on each to finish.
Let plates sit for a minute or two before serving; that way, your cheese curds will be soft and melty when you eat!
The Importance of Reheating Leftovers
The way you reheat the leftovers determines whether it remains delicious or loses lots of flavor.
To begin with, only cook as many fries as you are planning on using that night. Reheated, leftover fries are just not good. Always cook a fresh batch of fries if you can!
You can microwave the chicken covered in the gravy, but don't microwave your cheese curds. Just add them once everything else is heated – that way they won't get rubbery and gross.
Tips, Tricks and Substitutions
I don't like chicken. Can I use pork?
Absolutely! Pork will work similarly to chicken in this poutine. Feel free to sub a pound of pork for the chicken. 
What kind of bbq sauce is the best to use?
I like to use a bbq sauce that has a bit of a kick alongside the sweetness. The spice adds an extra flavor level to your dish. Some of my favorites are Famous Dave's Original and Buffalo Wild Wings' Honey Barbeque Sauce.
Can I use beef broth in place of chicken broth?
A lot of poutine recipes use beef broth or half-beef-half-chicken broth mixtures. Either option works as well as chicken broth; just be aware that beef broth is going to make a darker, heavier-tasting gravy.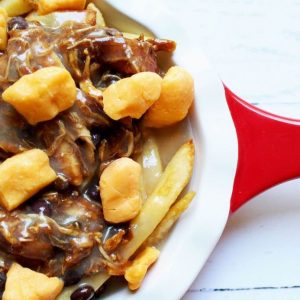 BBQ Chicken Poutine
Embellish the classic Canadian comfort dish with tender, saucy, spicy pulled BBQ chicken!
Ingredients
1

lb

boneless

skinless chicken breast

1 1/2

c.

spicy bbq sauce

1

c.

drained

rinsed canned black beans

32

oz.

chicken broth

12

oz.

cheddar cheese curds

1

stick

1/2 cup butter

1/4

c.

cornstarch

mixed with 3-4 tablespoons of water

1/4

c.

flour

salt and pepper to taste

1

bag

32 oz frozen French fries
Instructions
To make chicken:
Cook chicken by method of choice and shred. (I typically cook it in the slow cooker or Instant Pot with a 1/4 c. of bbq drizzled over top while cooking).

Mix 1 1/2 cups of bbq sauce into chicken. Stir in black beans and set aside.
To make gravy:
Heat a skillet over medium heat. Add butter and let melt.

As soon as butter is melted, whisk in flour and cook for 3 minutes, stirring often.

Pour in chicken broth. Whisk to combine until smooth, still cooking over medium. Bring to a boil, stirring occasionally.

When gravy is boiling, pour in cornstarch and whisk constantly until smooth and combined. Simmer for 5 minutes, or until sauce thickens. Season with salt and pepper to taste.
To assemble poutine:
Bake or air fry frozen French fries according to directions on bag.

Place a pile of fries on each plate.

Spoon a scoop of bbq chicken mixture on top of the fries.

Top with gravy. Sprinkle with cheese curds and let sit for a minute before serving (to let cheese start melting).
Let's Stay Friends!
Insta | Pinterest | Enews | TikTok