Move over Avocado Toast! We've got an easy brunch delight that is just as healthy and may be just a bit cuter. It's Berry Toast and it's the easiest brunch recipe in the whole world. It also happens to be totally delicious.
All you need are a few simple ingredients and just a little bit of style! This is one of those recipes that's more about assembling than actual cooking. So you will definitely want to think about luxurious, organic, in season ingredients for this Berry Toast Brunch Recipe. That's what's going to make this recipe to die for.
First of all, you are going to want to start with a delicious and handmade bread. You could try this Honey Whole Wheat bread which would be so delicious. If you want something super easy that doesn't require yeast, try this Drop Biscuit recipe, just leave out the savory herbs!
A fresh baked bread is going to be a lot more delicious in this recipe than a store bought, but anything that gets the job done will work.
Next you need to use beautiful, gorgeous, organic fruit or fruit that is totally in season. I picked a combination of lots of different fruit. I used peaches, apple, kiwi, raspberries, blackberries, strawberries, cherries, blueberries, and dragonfruit. I even used a hard boiled egg! I sprinkled the hard boiled egg with red chili flakes and all the fruit with dried coconut.
The trick with the fruit is to be sure that it's completely dry before using. Dry it very thoroughly. Use a super sharp knife when cutting the fruit and cut all your pieces evenly. That will make your Berry Toast Brunch Recipe the prettiest around!
You could use other fruit too just be sure that it's ripe and that all your slices are nice and even. I didn't however, cut the blackberries and raspberries because they are perfect the way they are!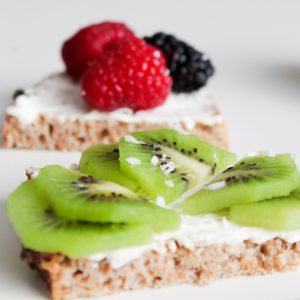 Berry Toast Brunch Recipe
This Berry Toast Brunch Recipe is almost too cute to eat!  It makes the perfect brunch and only requires minimal preparation.
Ingredients
4

pieces

Honey Wheat Bread

1

oz

Cream Cheese

Slices

of Peaches

Apple, Kiwi, Raspberries, Blackberries, Strawberries, Cherries, Blueberries and Dragonfruit

1

hard boiled Egg

1

sprinkle Dried Coconut Flakes

1

sprinkle Dried Chili Flakes

for the egg
Instructions
Toast your bread until golden brown.

Top each piece with a thick layer of cream cheese.

Evenly slice fruits.

Carefully arrange your fruit on top of bread, as pictured.

Sprinkle with dried coconut.

Slice your hard boiled egg in half.

Top bread with egg, chili flakes, and a touch of salt.

Serve warm wit mimosas or coffee.
Let's Stay Friends!
Insta | Pinterest | Enews | TikTok