If there's one thing I love it's Froyo! Going to the frozen yogurt place and piling up different flavors and toppings is the joy of my life. My favorite is the plain tart and I love it when there's flavors like Berry Tart or Orange Creamsicle Tart. I've been a long time maker of ice cream and even know some cool ice cream recipes like this.
But I just started making frozen yogurt recently and it's my new favorite thing! It's so easy to make at home and it's totally delicious. It turns out making plain tart froyo – like they have at every frozen yogurt shop is pretty easy, you just need to know a few tricks.
This frozen yogurt is best served the same day that you make it. If you get super into making ice cream, like I have, you'll learn about something called stabilizers. Stabilizers are an ice cream ingredient that prevents your ice cream from getting crystal crunches in every bite. There are many different types of stabilizers but the easiest is egg yolk – which you likely already have around the house.
If you want to adapt this recipe, to make it last in your freezer over several days – just add 2 or so egg yolks to your ingredient list. Place them in a separate bowl and warm your yogurt before adding it to the egg yolks. Add the yogurt very slowly. Once all your ingredients are blended, slowly warm the entire mixture on the stove and allow it to thicken. You want to peak your ice cream base at around 150° before allowing it to cool. Once your base, is closer to room temperature, place it in the refrigerator and allow it to chill for a few hours before churning it.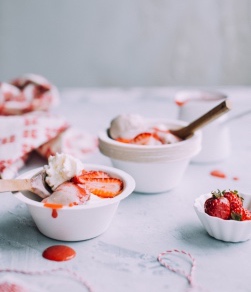 Plain Tart Froyo Recipe - Frozen Yogurt
This frozen yogurt recipe is so easy to make and is tart!  Just like kind you get at the yogurt shop.
Ingredients
3

cups

Plain Greek Yogurt

1/3

cup

White Sugar

1

heaping tablespoon Vanilla Bean Paste

or one Fresh Vanilla Bean Pod - scraped

3

tablespoons

Local Honey
Instructions
Blend all of the ingredients in a bowl.  Stir until mixed.

If you have an ice cream maker, add mixture to the machine and spin for 30 minutes.

No ice cream maker?  No problem!  Just add to a plastic tupperware and place in the freezer.  Take your mixture out of the freezer every 45 minutes and mix thoroughly until perfectly frozen.  Total time around 2-3 hours.

Serve fresh with mochi, sprinkles, or fresh fruit!
Let's Stay Friends!
Insta | Pinterest | Enews | TikTok