When did blood oranges become such a thing?! I can't get enough of that gorgeous ruby color and the citrus burst of flavor. That's why I created this Blood Orange Meringue Pie recipe here and this Blood Orange & Strawberry Sangria that is summer perfect here.
And now here we go! How about a creamy twist on a citrus dessert? Here's my new favorite a Blood Orange Chess Pie.
A Chess Pie is a traditional buttermilk pie that has simple ingredients and is simple to prepare. There's no sieving, straining, sifting or anything complicated to this! That makes this pie as fun to make as it is to eat. The basics are buttermilk and eggs with a bit of corn starch to help it thicken.
The Chess Pie is a traditional Southern Pie which means it's delicious, messy, and straightforward. Southern desserts are some of my favorite because they are more about flavor than presentation. So don't be afraid to try creating this pie. Just have fun with it!
Adding blood orange is a fruity and colorful twist on this recipe. I've seen a chess pie created with lemon, peach, chocolate, and lots of other ingredients. Fruit is always my favorite addition because it pairs with the creaminess of the egg and buttermilk perfectly.
To add the blood orange to a chess pie, we will use 2 medium sized blood oranges sliced thin for the top of the pie. Then we will use a bit of blood orange zest and a bit of blood orange juice for the filling in the pie. If you are zesting with a traditional zester, please instead switch to a microplane like this which will save you so much time. It's so much easier to use!
Now the trick with any pie is to get the top golden brown without burning the edges. If you find that your crust is browning before you are ready to take the pie out of the oven, cut strips of aluminum foil and gently wrap the edges of the pie crust.
With any creamy pie like this, it's ready when the top is golden and the filling is set. To know when it's set, you will need to pull the pie out of the oven and give it a jiggle and look to see that the center is holding together. It will still be quite jiggly.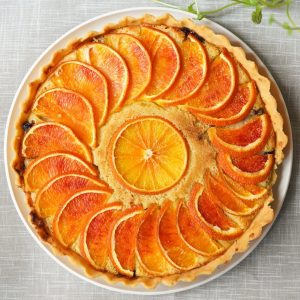 Blood Orange Chess Pie Recipe
Make this gorgeous Blood Orange Chess Pie for a summery treat!
Ingredients
1

pre-made pie crust

1/4

cup

buttermilk

1/2

cup

melted butter

1

tbsp.

blood orange zest

2

tbsp.

fresh blood orange juice

1

tbsp.

fresh lemon juice

1

tsp.

vanilla extract

1 1/2

cups

white sugar

2

tbsp.

cornmeal

1

tbsp.

flour

1/4

tsp.

salt

4

large eggs

2

medium blood oranges

sliced thin
Instructions
First, pre-bake the pie crust. Preheat the oven to 350°, brush the pie crust with butter, and fill the crust with pie stones. Bake for 10-15 minutes or until golden brown.

Allow the pie crust to cool.

Stir together buttermilk, melted butter, blood orange zest, blood orange juice, lemon juice, sugar, cornmeal, flour, salt, and vanilla extract until blended.

Before adding the eggs, whip them thoroughly in a separate bowl. Once they are blended, add them to the pie filling mixture.

Place the pie in the oven at 350° for 15-20 minutes, until the pie starts to thicken. Then quickly add your sliced blood oranges in a circular patter with 1 whole slice in the center.

Place the pie back in the oven until the filling is set around 30-40 more minutes. You will know it's set because the center will hold as you jiggle the pie.

If before then, your crust begins to brown, cover the edges with strips of aluminum foil.

Allow the pie to completely cool before cutting. Serve with whipped cream.
Can't get enough of this Blood Orange Chess Pie? Show us how yours turned out in the comments! And find lots of delicious foodie recipes on the blog here.
Let's Stay Friends!
Insta | Pinterest | Enews | TikTok