One part fruity and one part sweet! These cookies are the perfect combination of jam, light and airy sugar and perfect cookie crunch. What's so fun about these cookies is that is uses and almond based flour which gives it a rich and hearty flavor that's irresistible. I haven't made many fruit cookie recipes so this was fun and exciting!
Read on if you want to learn about this recipe and get lots of great baking tips – but if you are just looking for the printable recipe, scroll to the bottom.
You can find lots of different versions of the Apricot Linzer Cookies Recipe from different creators. This version has one extra step, because we are going make the almond flour from scratch. But it's actually very easy to do and makes for such a fresh and flavorful cookie!
If making almond flour is overwhelming, you can use pre-ground almond flour, or even regular flour and almond extract to simulate the fresh almond flour.
Another thing to know before you start, is that the mixed dough will need to be chilled for at least 2-4 hours. So prepare your dough with plenty of time to prepare, chill, and then bake it.
You can keep the dough chilled for up to 2 days. But it's best the same day.
As far as the shapes, a traditional Linzer Cookie is heart shaped with a smaller heart cut out. But you can use any shape! We used daisies which was fun. I've also seen stars or simple circles.
A traditional Linzer Cookie is also made with Seedless Raspberry Preserves – so the Apricot version is a simple twist! If you wanted to choose a different jam you could consider: seedless strawberry, fig, or even a Jalapeno Pineapple for something totally unique!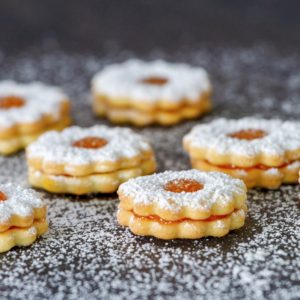 Apricot Linzer Cookies Recipe
Looking for a cookie with a fruity touch?  Make these gorgeous and traditional Apricot Linzer Cookies!
Ingredients
2

cups

All Purpose Flour

1

cup

Almonds

1/4

cup

Sugar

1/2

teaspoon

Cinnamon

1/2

teaspoon

Salt

1

cup

Softened Unsalted Butter

1/2

cup

Sugar

1

tablespoon

Vanilla Extract

2

Egg Yolks

1

tablespoon

Lemon Zest

finely grated

1/2

cup

Apricot Jam

1/4

cup

Powdered Sugar
Instructions
On medium heat, toast the almonds in a large saucepan while stirring frequently.  Remove the almonds once they are hot to the touch and fragrant.

Let the almonds cool completely and then grind in a food processor with the 1/4 cup of sugar, until fine.

In a separate bowl, combine the flour, cinnamon, and salt.  Then add the almond flour to this dry mixture.

With an electric mixer, beat the butter until fluffy, then gradually add 1/2 cup sugar while still beating.

Next, add the egg yolks, vanilla, and lemon zest to the butter.

Add small amounts of the flour to the butter mixture and continue to mix.

When the dough has formed, roll into a cylinder shape and wrap in plastic wrap.  Place in the refrigerator for 2+ hours.

To bake: Preheat your oven to 350 degrees, and line a cookie sheet with parchment paper.

On a floured surface, roll out cookie dough to 1/4 inch thickness.  Punch an even number of cookies with your chosen shape.  Then punch half of the cookies with a smaller shape cutter in the center, to make a hole.

Keep the dough chilled as you work.

Bake the cookies for around 12 minutes, or until golden brown.

Once the cookies are completely cooled, spread the apricot jam across the cookies that do not have the center hole.  Top these halves with the hole-punched cookies, pressing down lightly to make the jam peek through.

Dust with powdered sugar.
And you need something delicious to pair with these Apricot Linzer Cookies how about this Traditional Yogi Tea Recipe which is perfect for winter, these Strawberry Mint Mojitos which would be fabulous in the summer, or if you want to go super sweet you could consider these Hot Chocolate Recipes.
Let's Stay Friends!
Insta | Pinterest | Enews | TikTok