Having a breakfast in bed moment? This is the perfect, decadent way to enjoy brunch at home! These waffles are so much fun and delicious! They would make the perfect birthday breakfast or Valentine's Day in bed celebration. You know I love unusual pancakes and waffles so this really hits the spot.
I know they may look sweet, but we actually made this with little sugar because really! It just doesn't need it. But we did add luscious ingredients like a whipped cream cheese frosting and graham cracker in the waffles.
This is what brunch is all about. So scroll to the bottom if you want an easy printable, shareable recipe card. And keep reading if you want lots of helpful tricks and hints along the way.
This recipe starts with Graham Cracker Waffles! Yum. It's actually quite simple, we're just going to replace a bit of the flour with graham crackers instead and mix it like normal batter. There's nothing tricky about this but it is great to know that fresh crushing graham crackers will give you a really great flavor. It's much better than using already crushed graham.
And two, there is some baking technique. When you are making waffles, be sure that your iron is already hot and well greased. Then, after you add the mix, be patient and don't open the iron too many times! If your waffle is not ready opening it will break it. It's bad once but breaking it will leave your waffle a mess.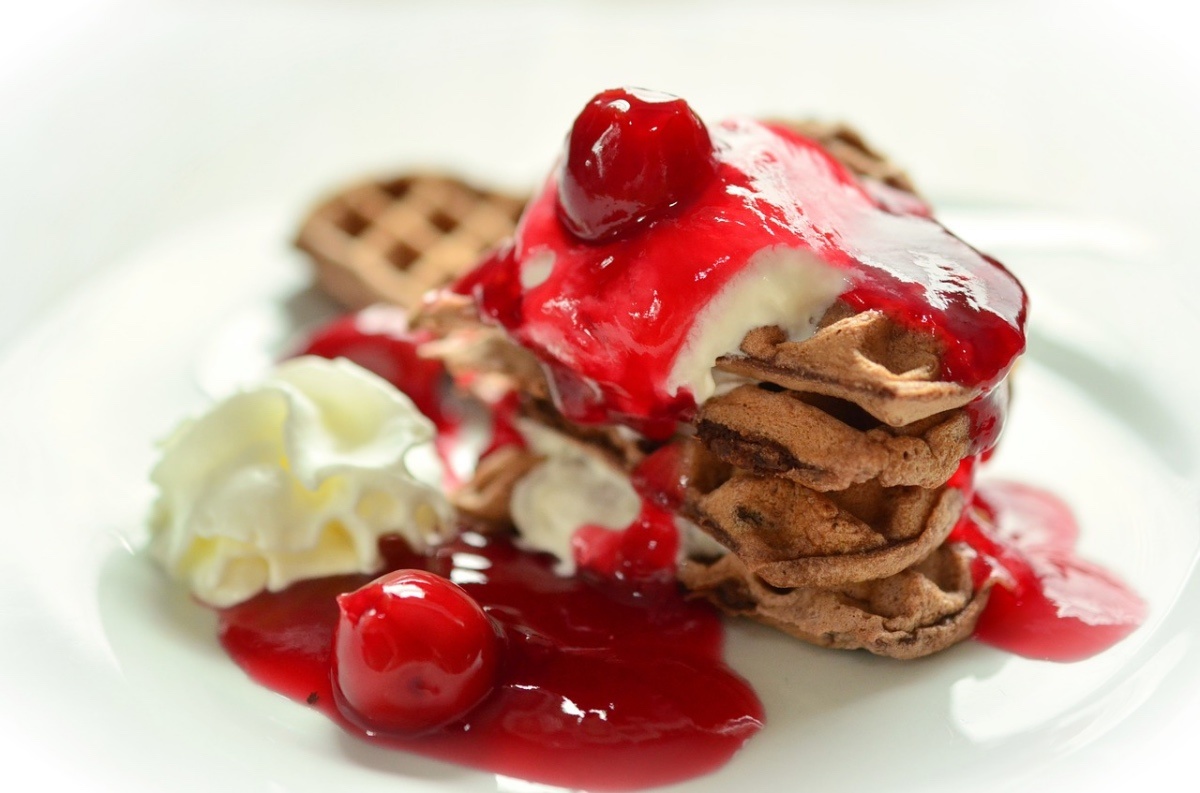 The next ingredient in this Cherry Cheesecake Waffles Recipe that I customized was the Whipped Cream Cheese. What I created is a classic recipe – but with much less sugar. I like it when my sweets, like waffles and cherries, are balanced with savory flavors. And cream cheese is just perfect for that!
I mixed the Whipped Cream Cheese while I was cooking the waffles that way it was extra fresh. But you could make the Whipped Cream Cheese ahead of time – even the day before if you like.
The last part of the recipe are the cherries and I gotta tell you, I took it easy. I just used jarred pie cherries like the kind I used in the Mini Hand Pies Recipe here. I love the comfort of these types of cherries and they are easy to find in juice or in sugar too.
If you wanted to use a fresh cherry that would be gorgeous and I would certainly not be opposed. Here is a great recipe for fresh cherry pie filling.
I heated the cherries on the stove because I wanted them to be warm like the waffles with a touch of cool Whipped Cream Cheese on top! You can add a touch of gourmet by adding a pinch of cinnamon and nutmeg into the cherries as they heat.
Once all of your ingredients are prepared, you just need to assemble them! Use a pinch of Whipped Cream Cheese or use a lot! Add a touch of butter or even drizzle your waffles with a touch of heavy cream or maple syrup. You could add a sprinkle of cinnamon on top or add toasted pecans!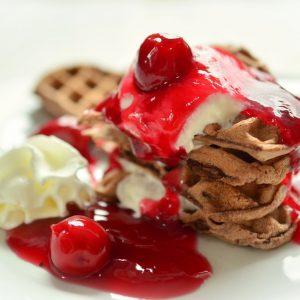 Not-Too-Sweet Cherry Cheesecake Waffles Recipe
Love the taste of cherry cheesecake and craving it for breakfast?  These Cherry Cheesecake Waffles have all the decadence of the dessert but aren't overly sweet, making them perfect for the morning!
Ingredients
1

cups

All Purpose Flour

8

Graham Crackers

crushed

1/4

cup

Brown Sugar

2

teaspoons

Ground Cinnamon

2

teaspoons

Baking Powder

1/4

cup

Honey

You can substitute White Sugar

1

tablespoon

Vanilla Extract

2

Eggs

6

tablespoons

Butter

melted

1

cup

Milk

more or less to create a great waffle batter consistency

8

oz

Cream Cheese

at room temperature

2

tablespoons

Honey or Maple Syrup

2

cups

Heavy Cream

1

teaspoon

Fresh Lemon Zest

1/2

teaspoon

Vanilla Extract

1/2

can Pie Cherries
Instructions
Let's start with the Whipped Cream Cheese!  Place your cream cheese, cream, honey or maple, 1 tsp. lemon zest and 1/2 tsp. of vanilla extract in a Kitchen-Aid Mixer, or a bowl with an electric mixer.

Whip on high speed until fluffy peaks form and the cream stiffen (around 12 minutes).  Set aside or place in the fridge until you are ready to use.

Next, heat your waffle iron and place your saucepan on the stove.  Crush the graham crackers into tiny pieces.

To make the waffle batter: mix together the flour, crushed graham crackers, brown sugar, cinnamon and baking powder in a bowl.  Begin to add the wet ingredients.

Add honey, melted butter, eggs, vanilla extract, and milk to the dry ingredients individually, stirring between each addition.

The batter will be a bit lumpy.  Spray non-stick spray on the surfaces of your waffle iron and add the batter in 1/4 cup portions.

As you cook the waffles, you can keep finished waffles warm by placing them in a low heat oven.

Next add the pie cherries on the stove and warm on medium heat. Stir occasionally and add a sprinkle of lemon zest, and cinnamon or sugar, if you wish.

To serve, plate your waffle then whipped cream cheese and cherries on top.  The warm cherries will melt together with the cream cheese.  Yum!
So how are you going to serve your Cherry Cheesecake Waffles? Tell us in the comments! And tell us what kind of cherries you used too!
Insta | Pinterest | Enews | TikTok