Get those island vibes any day of the week and anytime! This tropical smoothie bowl is so much fun because we served it in a coconut shell.
It's just like getting a coconut cocktail on the beach. But this Coconut Shell Tropical Smoothie Bowl is a whole lot healthier. It's fresh, fruity, rejuvenating and delicious. I even snuck in a tiny bit of veggies! But you will never taste it so don't tell!
This is the best way to make some tropical vibes in your home anytime.
So first, let's talk about busting open a coconut. That can be totally confusing but here's an awesome video that shows you all the steps. I had no idea that you could break them along the seam. The way I was taught was dead wrong but this easy video made a lot of sense.
Once you get your coconut shell halved, it's all about filling it with delicious ingredients. You don't have to use this delicious tropical recipe. If you have a favorite strawberry banana or greek yogurt smoothie, you could use that too.
What I really love about this recipe is that it has a lot of coconut flavor from the coconut milk and hint of coconut oil. That's why it's important to use raw coconut oil – it has more flavor. Adding the coconut chips on top makes is so perfectly tropical and fun. The kale just makes it a bit healthier. You could substitute the kale for spinach if you prefer.
If you want to get really wild, you could also carefully hollow out a pineapple and serve your Tropical Smoothie Bowl in it! Just be careful because pineapples can be a bit leaky. Any way you make this smoothie, all you need to do is add a straw for a bit of tropical paradise anytime.
Print this Coconut Shell Tropical Smoothie Bowl recipe to keep it for later or pin it on pinterest.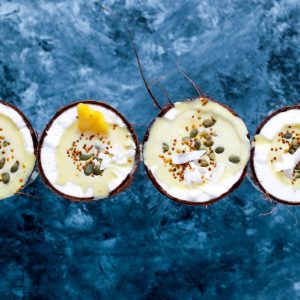 Coconut Shell Tropical Smoothie Bowl
Get tropical with this easy to make and totally delicious smoothie.  We even snuck in a bit of veggies!
Ingredients
1

Coconut

halved

4

cups

Coconut Milk

2

heaping tablespoons Raw Coconut Oil

1/2

cup

frozen or fresh Pineapple

1

frozen or fresh Mango

1/2

frozen or fresh Banana

1/2

Vanilla Bean

scraped

3

leaves

fresh Kale

Pumpkin Seeds

Chia Seeds or Coconut Chips for garnish
Instructions
Add all ingredients to blender except coconut oil and vanilla bean.

Blend ingredients until smooth.

Once the smoothie is even in texture, add the coconut oil and vanilla bean.  Quickly whip until smooth.

Pour into a coconut shell and top with toasted pumpkin seeds, chia seeds and coconut chips.

Add a straw and get those island vibes.
Let's Stay Friends!
Insta | Pinterest | Enews | TikTok